Daily Happenings at BLPS
22-01-2020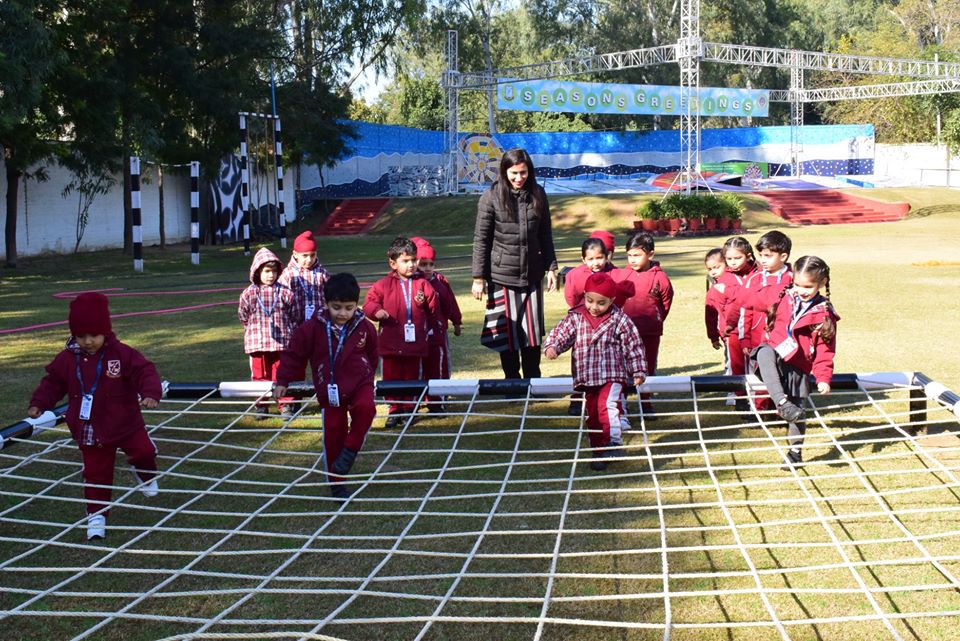 Dear Parents our Preschoolers studying in Nursery Adorables assisted by Archana Singla and Amritpal were actively engaged attempting obstacles on a specially laid out course , Preschoolers are geared up to crawl through trenches , under wire fences, jump through a mesh, squeeze through tyres and balance on beams. Preschoolers are lapping up obstacle races for reasons ranging from confidence building to leading an active lifestyle in their formative years. – Ekta Dhawan, Principal.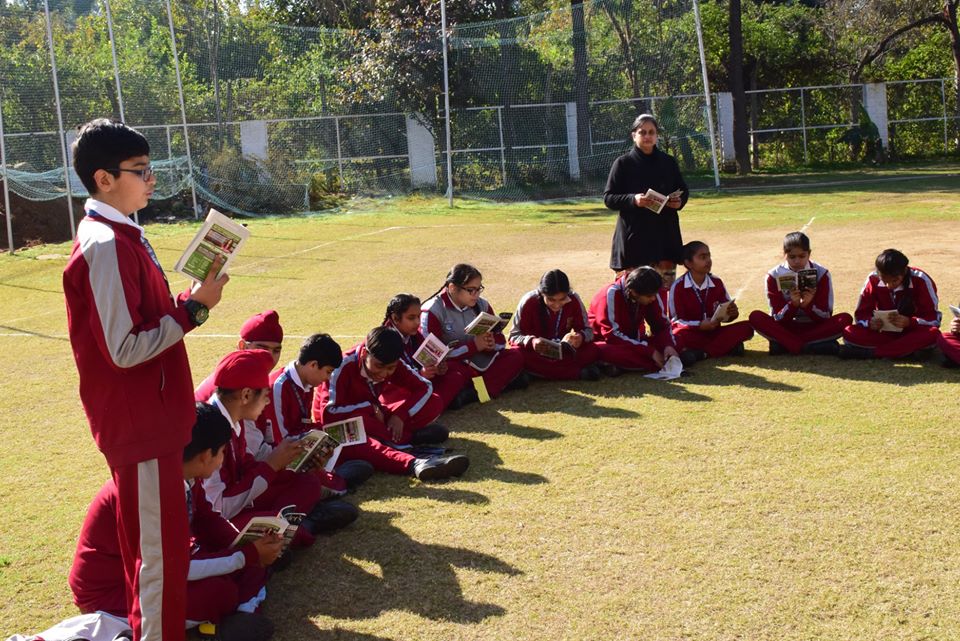 Dear Parents, Students Studying in Std VIII Adorables were engaged in their weekly routine of breezing through 'Readers Digest' , this Morning. The Reading engagement was anchored by Rashmi ( PGT). Article selected from the January 2020 edition, titled ' Extraordinary Indians' (incredible stories of everyday hero's,who transformed their own ad other lives through bravery,strength & perseverance) The Reading & Brainstorming lesson saw an active participation & aided in encouraging POSITIVE THINKING. – Ekta Dhawan, Principal.
---
21-01-2020
Dear Parents, Our Preschoolers studying in Nursery Adorables were joyfully engaged in outdoor games this Morning Dt: 21-1-2020. Children love to walk on balance beams, and they are going to try it with or without adult help. The world is a balance beam for young children.Being on balance is taught to enable preschoolers to even distribution of weight on each side. For young children, being on balance simply means not falling over,being on balance while moving.The cue's provided by the teacher for correct walking on a beam are a) Extend arms to the side & b)Look straight ahead, not down. Preschoolers were assisted by Anu Sagar. – Ekta Dhawan, Principal.
---
20-01-2020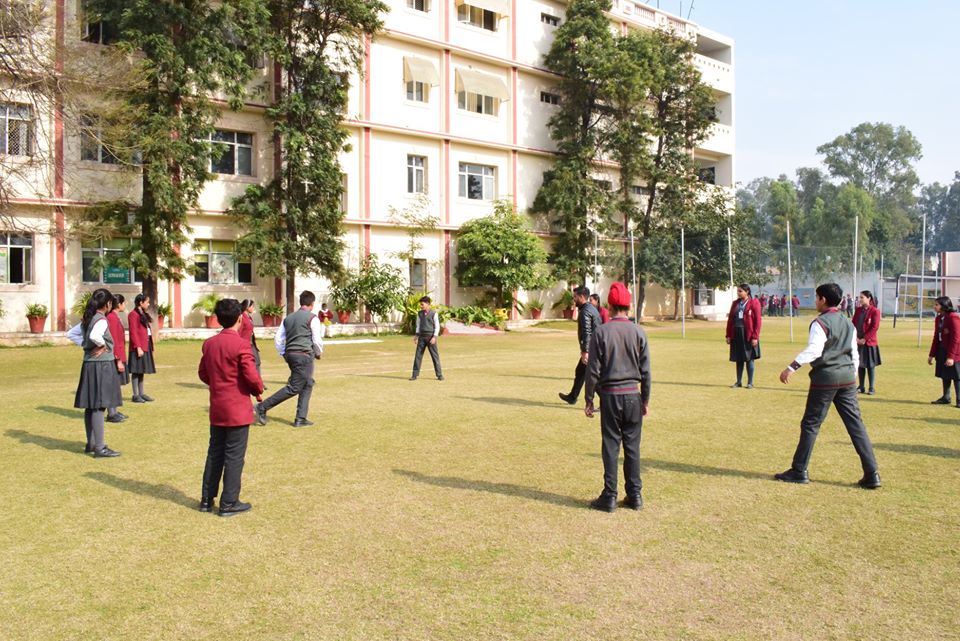 Dear Parents, Students Studying in Std VII Blossoms were engaged in their daily routine of a quick paced game of dodgeball this afternoon. the sport enables a good overall workout. Avoiding the ball gives a good cardio exercise and Students can improve their leg and arm strength through jumping and throwing the ball. Trying to avoid the ball or catch the ball also improves hand-eye coordination.- Ekta Dhawan, Principal.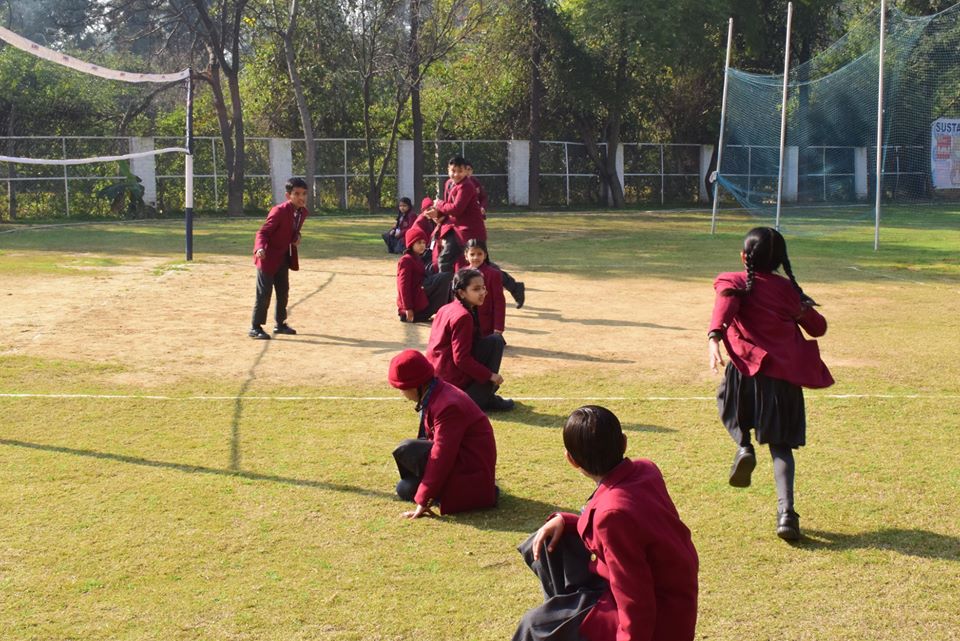 Dear Parents, Weather cleared up this Morning after a rather cold spell of week long overcast Winter, Students studying in Std III Adorables made the most of the balmy sunshine, actively engaged in warming up for attempting Athletics that included Sprints, supervised by Sports Coach Navnit. – Ekta Dhawan, Principal.
---
18-01-2020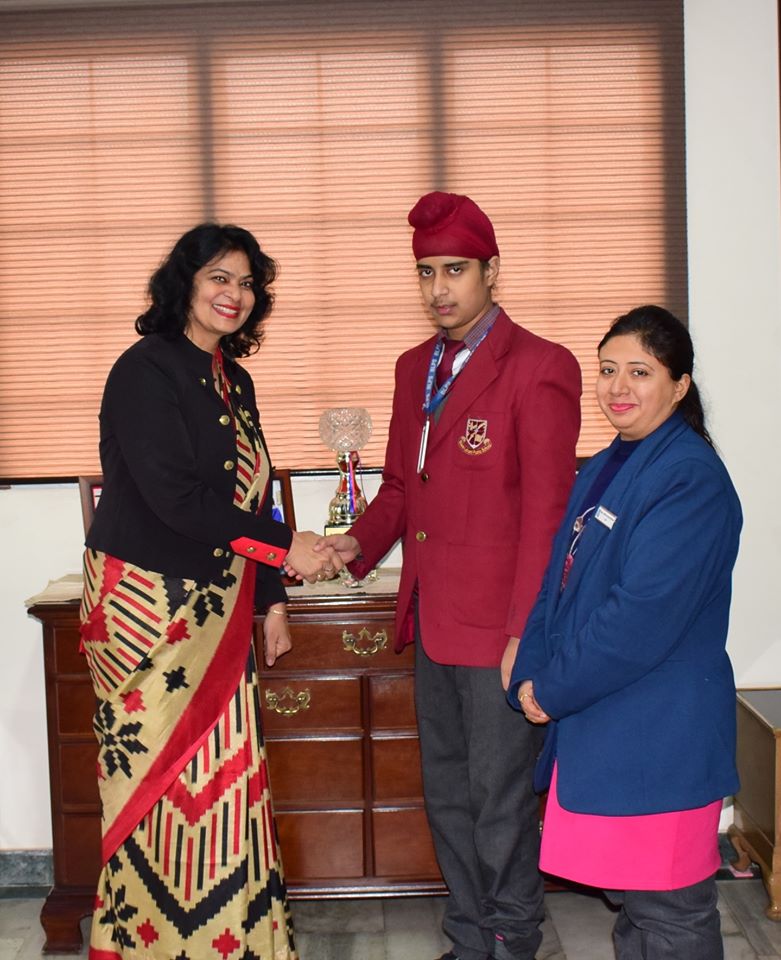 Dear Parents, The All India Aryabhatta Ganit Challenge Part II – 2019 was held at BLPS on 29-11-19. Our Student Prabasees ( Std X ) having scored Distinction in Part II of the Challenge has achieved the unique distinction of emerging in the Top 100 Students in the Country. The online examination is prestigious & aids students in enhancing reasoning skills, Importantly aids students in identifying opportunities to apply mathematics in a wide range of contexts throughout life. – Ekta Dhawan, Principal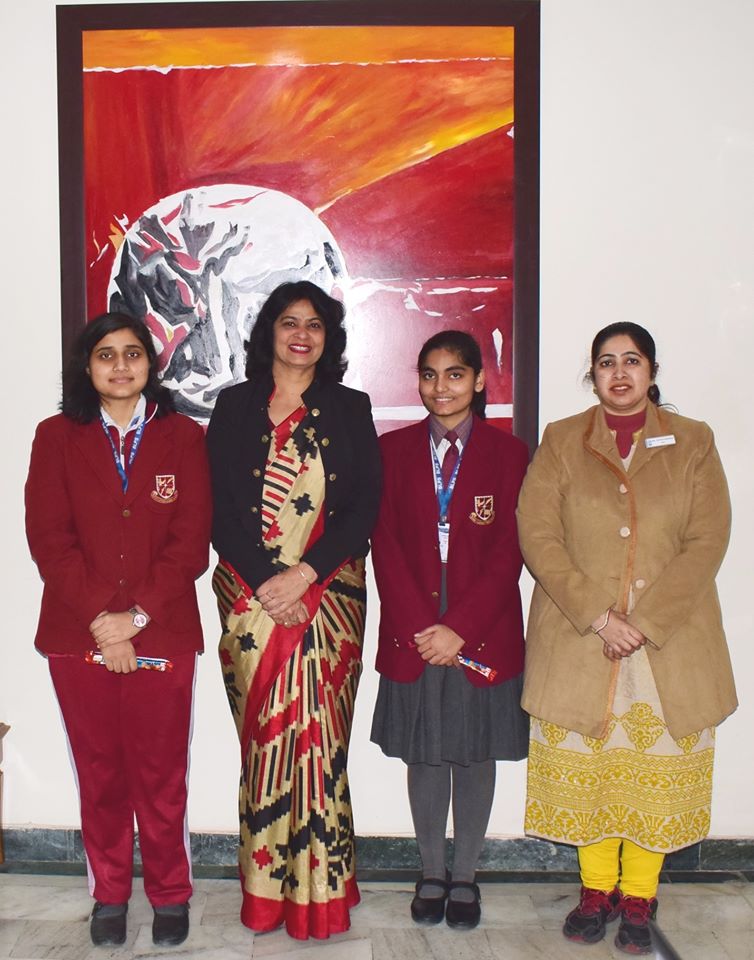 Dear Parents, Our students Sanjana & Priyanshi (Std XII ) appeared for Joint Entrance Examination(JEE) Main conducted by National Testing Agency-2019. The All India examination is conducted by CBSE in Schools throughout Asia. Sanjana scored 93.3 percentile & Priyanshi scored 91.45 percentile, which indeed is a Distinction. – Ekta Dhawan, Principal
---
17-01-2020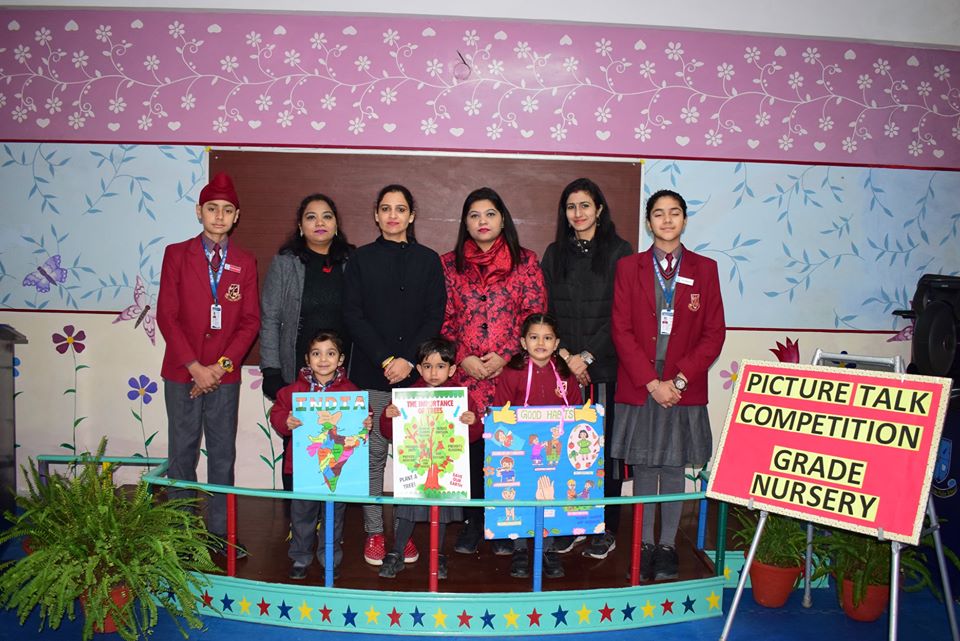 Dear Parents, Our Preschoolers studying in Nursery were happily engaged enacting solo performances based on a theme titled ' Describe a Photo' Preschoolers viewed photos carefully , took a few moments to think before expressing themselves within the stipulated time. kindergarteners spoke fluent English while explaining the portion of the picture, expressions revolved around their favourite national Icon,favourite cartoon character & favourite animal pets. – Ekta Dhawan, Principal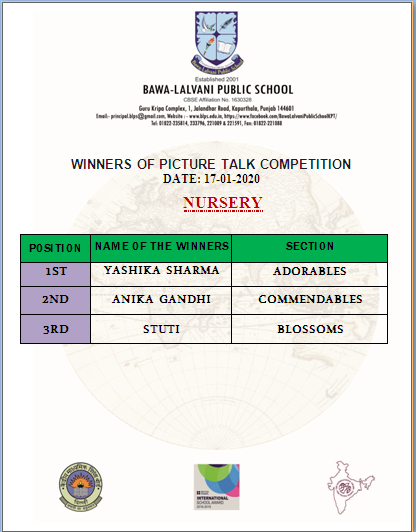 ---
16-01-2020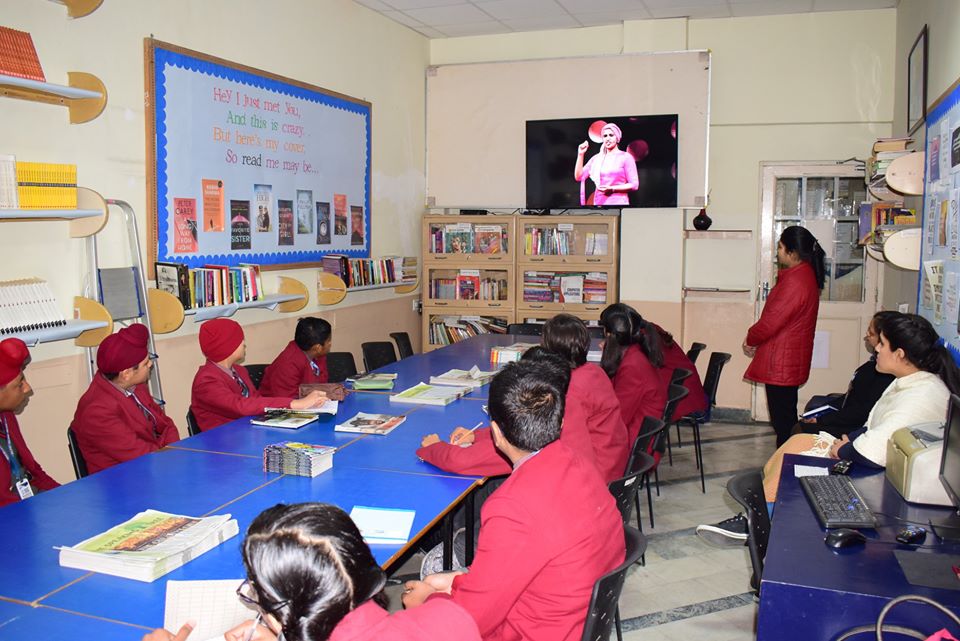 Dear Parents, Our Students studying in Std VII-A participated actively in a Daily Conversation Session (DCS) this Morning. The theme of the interactive conversation was , " Rejection teaches us how to Succeed " anchored by Sehla Praveen. The conversation concluded with an interesting Q&A which clearly signified that students understood the significance of earmarking priorities and sticking by them as a habit, throughout life -. Ekta Dhawan, Principal.
---
15-01-2020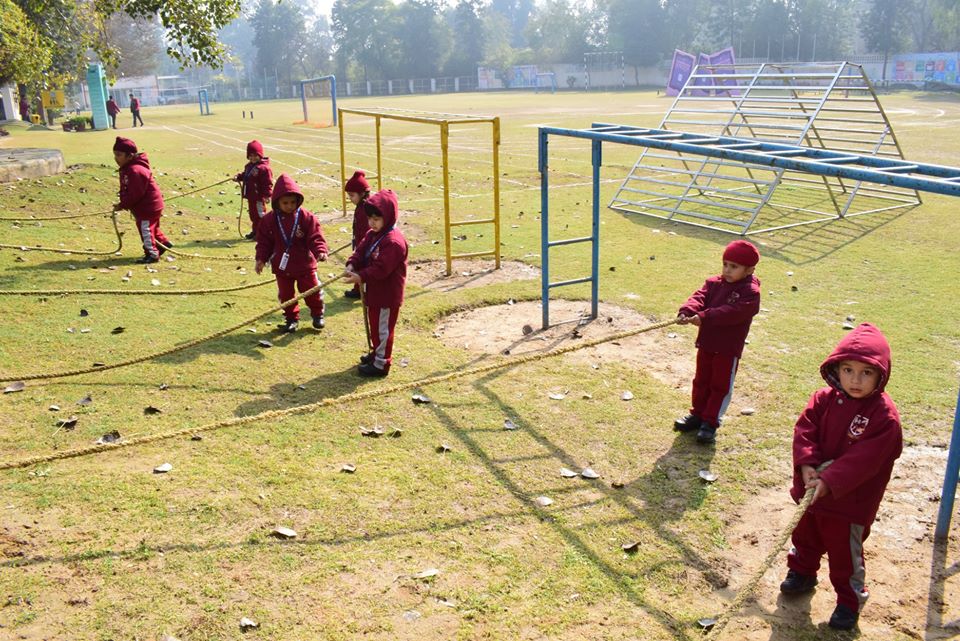 Dear Parents, Our Kindergarteners studying in Pre Nursery were actively engaged in Rope Traversing outdoors, today.Our climbing slopes have all the thrills they need! Kindergarteners were assisted by Ms.Isha Kashyap – Ekta Dhawan, Principal.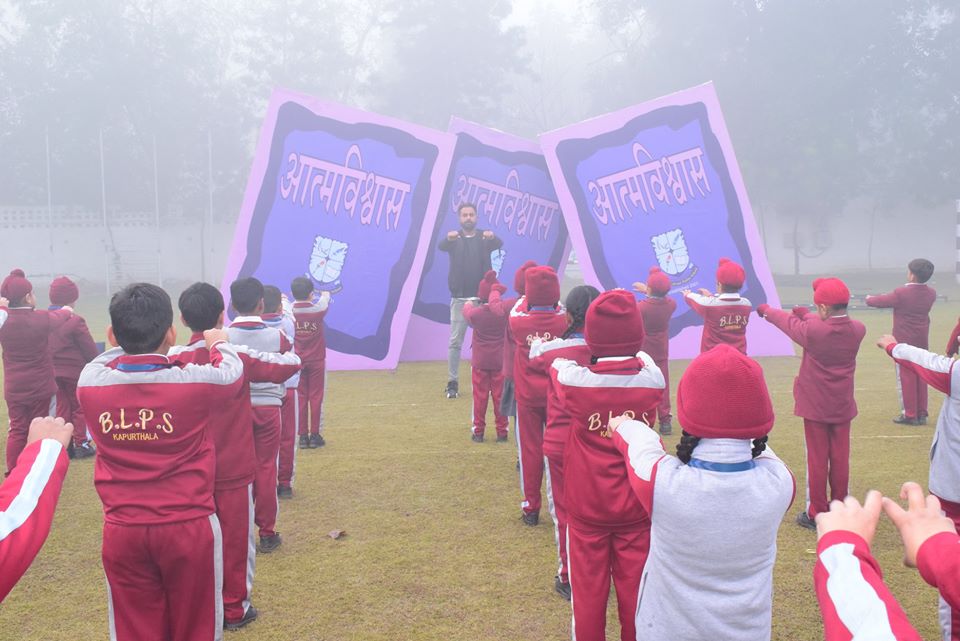 Dear Parents, Students Studying in Std 1 across to Std 5, have been engaged in Martial Arts (Karate ) lessons in School , at the start of the day.Karate lessons offer young students the opportunity to develop confidence and self-discipline. It inspires students to build the foundation for personal fitness. One of the best things about karate as a combat sport is that every student gets an opportunity to participate and develop their skills. The lessons are supervised by Sam -Martial Arts expert & Sports Teacher- Ekta Dhawan, Principal
---
11-01-2020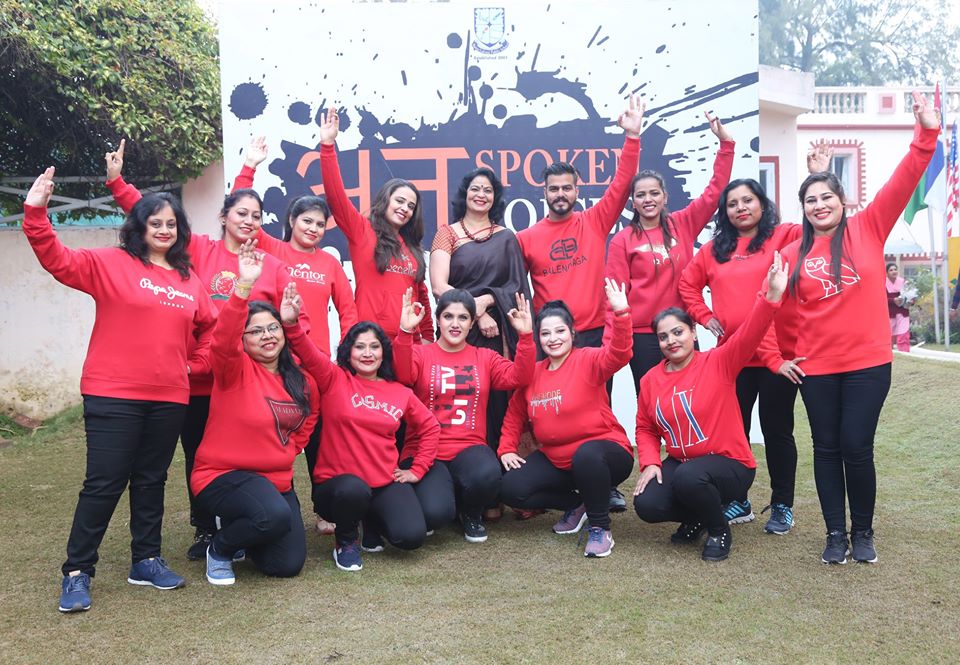 Dear Parents, School staff ' Lohri Celebrations 2020' this Morning Dt: 11-1-2020,was a quick paced concert designed to inspire and amaze, showing the exciting possibilities of music through the fascinating world of percussion , captivating folklore in a unique brand of music, combined with elements of Theater and comedy to create an unforgettable experience that their families raved about.- Ekta Dhawan, Principal.
---