Daily Happenings at BLPS
22-10-2020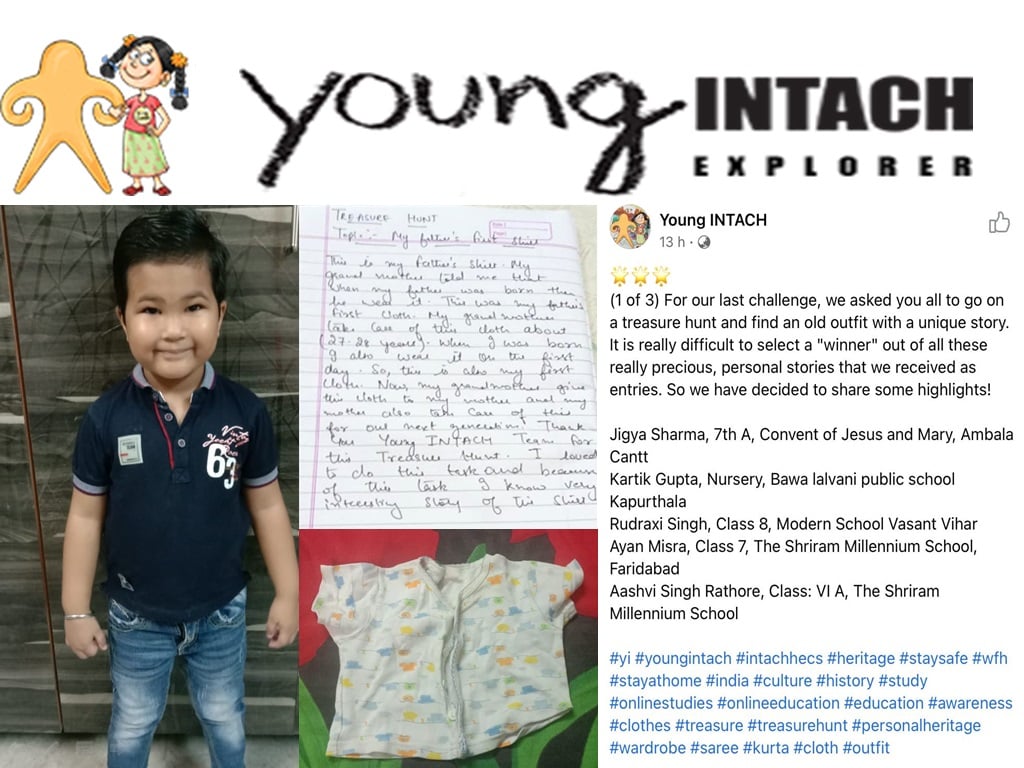 Dear Parents, Our Preschooler Kartik Gupta ( Grade Nursery ) participated in the Annual Young INTACH Treasure Hunt 2020, Dt: 19-10-2020. The theme of the event was 'Preserved Maiden Costumes & clothing from Yester Years ' , Every family archives costumes and outfits to pass on as part of legacy. Tangible cultural heritage is a bridge between traditional and contemporary living culture & values. It is the living expression of such traditions, handed down to us by previous generation that binds and strengthens communities. Kartik Gupta and family are elated to find their entry amongst the Top 5 in the all India Challenge, Congratulations!- Dr. Ekta Dhawan, Principal.
---
21-10-2020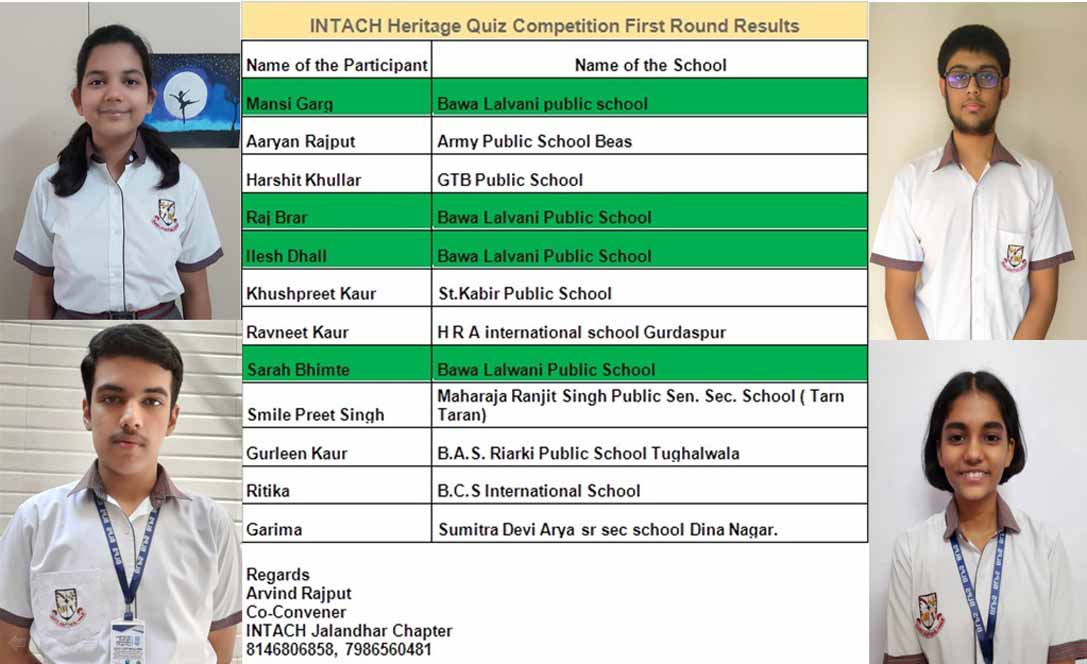 Dear Parents, Our School Team of Student comprising Sarah Bhimte( VIII ), Mansi Garg ( IX ), Ilesh Dhall ( X ) & Raj Brar ( X ) participated in the Annual Punjab INTACH Architectural, Cultural & Living Heritage Quiz Competition – 2020 dt: 19-10-2020. Our School Quartet has successfully made the cut to enter the Semi finals. There is no quicker way to learn more about Indian heritage in the school than taking part in the quiz competition. Our Students realise that the country is full of diverse cultures and each has its own specific beliefs that set them apart from one another and that learning about these historical structures play a very crucial role in the history of our Country & our Society. Our Students were mentored by Ms.Neha Khanna alongside valuable Parent support.- Dr. Ekta Dhawan, Principal.
---
13-10-2020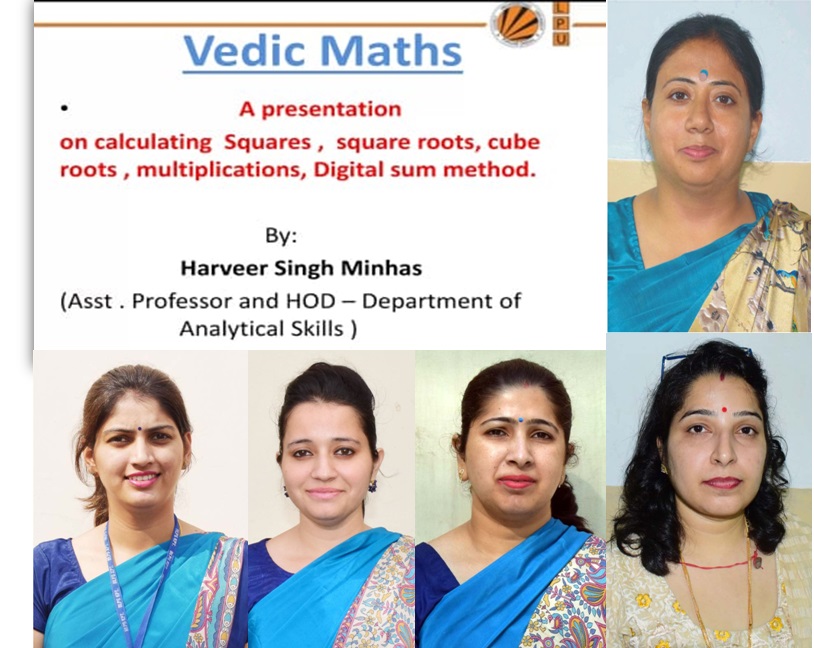 Dear Parents , Our Team of Academic Staff consisting of Nidhi, Gurjeet, Suchita, Priyanka, Nitika participated in Annual webinar titled ' Vedic Mathematics – Squares of Numbers, Roots, cube Roots , Multiplication, Digits Sum method ' Dt: 10-10-2020. The interactive webinar was anchored by Prof. Harveer Singh at LPU. Our School has decided to start the study of 'vedic' mathematics as a pilot project to eradicate the fear of Maths among the students and help them solve equations using 'vedic' tricks. It's basically a concept based on 16 techniques by the means of which, questions can be easily solved – Dr. Ekta Dhawan, Principal.
---
07-10-2020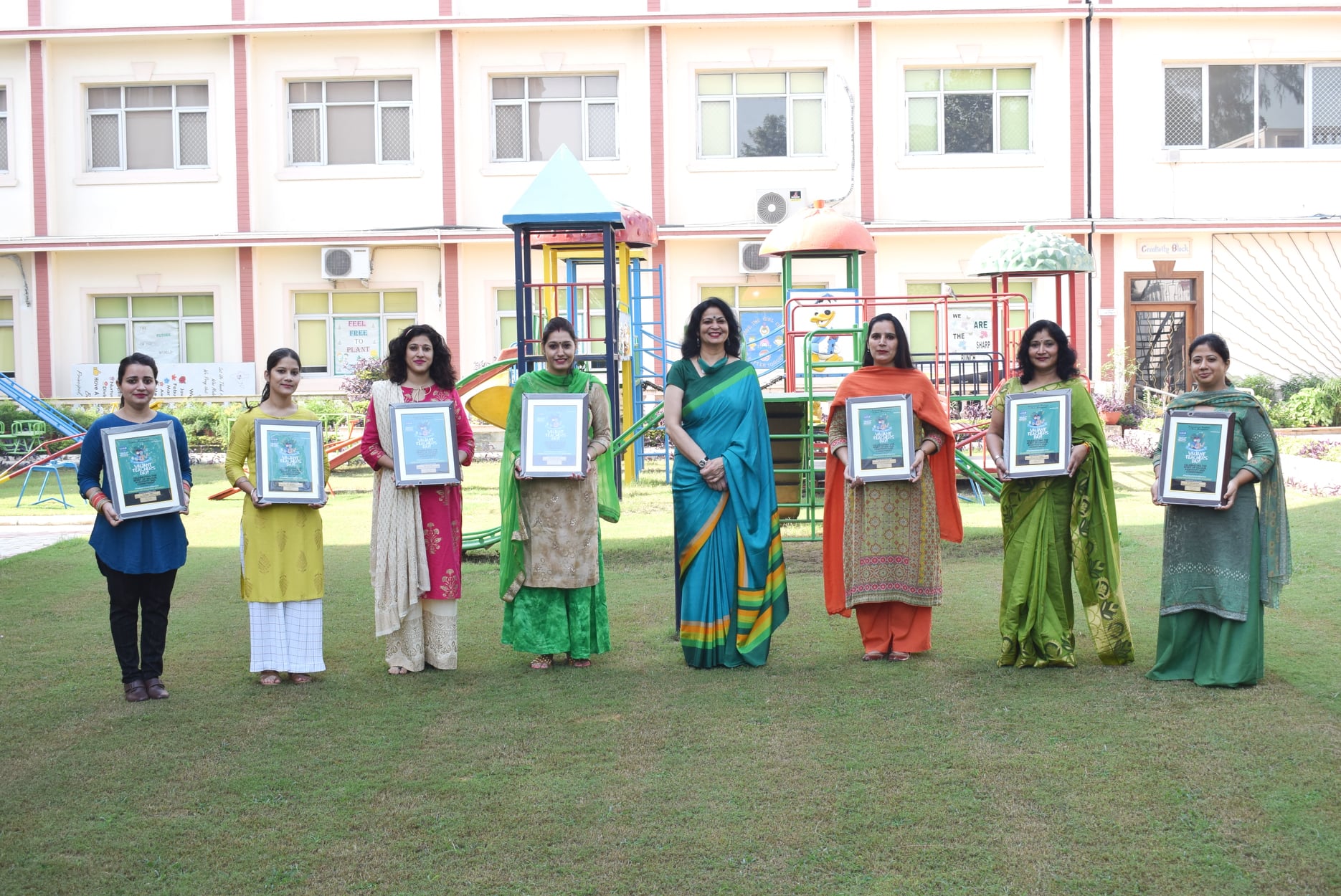 Dear Parents, Along with all 'Corona Warriors' stand our Teaching community. We are immensely proud of our Staff members Nidhi, Shweta, Gurjeet, Shaina, Arshdeep, Aarti & Praveen for being recognised with 'Unseen Corona Warrior ' Award by the Indian Institute of Hospitality Management (IIHM), for rendering SELFLESS SERVICE. Our Teachers have embraced the present situation with positivity and used it as a growth opportunity. They have been incredible as they leapt with zeal, commitment and creativity into this new way of online teaching. Teachers are producing online curricula, all while dealing with their own quarantined families. As the corona virus multiplies exponentially, so do the demands on teachers' schedules, they are confronted with ever-increasing obligatory meetings and training sessions while endeavoring to strengthening the delivery of instruction to their students over distance learning.- Dr. Ekta Dhawan, Principal.
---
06-10-2020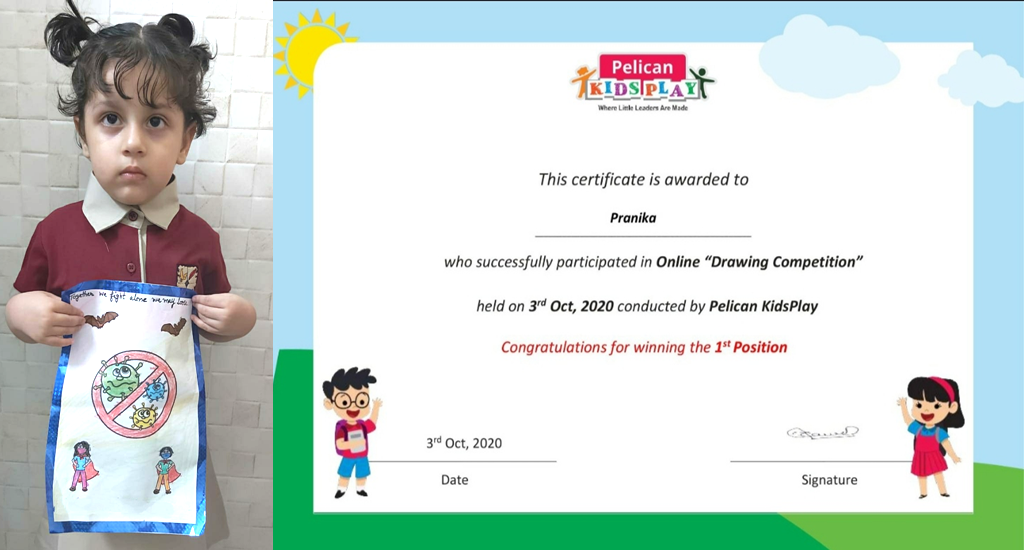 Dear Parents, Our Preschoolers studying in Nursery Dazzlers participated in Drawing Context 2020 for Age group 2yrs – 15yrs , organised by M/s. Pelican Kids Play. We've found that art contests offer children some great life lessons: Every contest has guidelines and a deadline, which gives a child a specific goal to work towards. The process of creating the artwork itself builds self-confidence, as the child goes from an "I can't draw" mindset to one of "I can enter this contest. Our Preschooler Pranika drew ' COVID 19 Together we fight, alone we may loose ' her entry secured her a Gold ( 1st Position in age group 3 – 5 yrs ) – Dr. Ekta Dhawan, Principal.
---
01-10-2020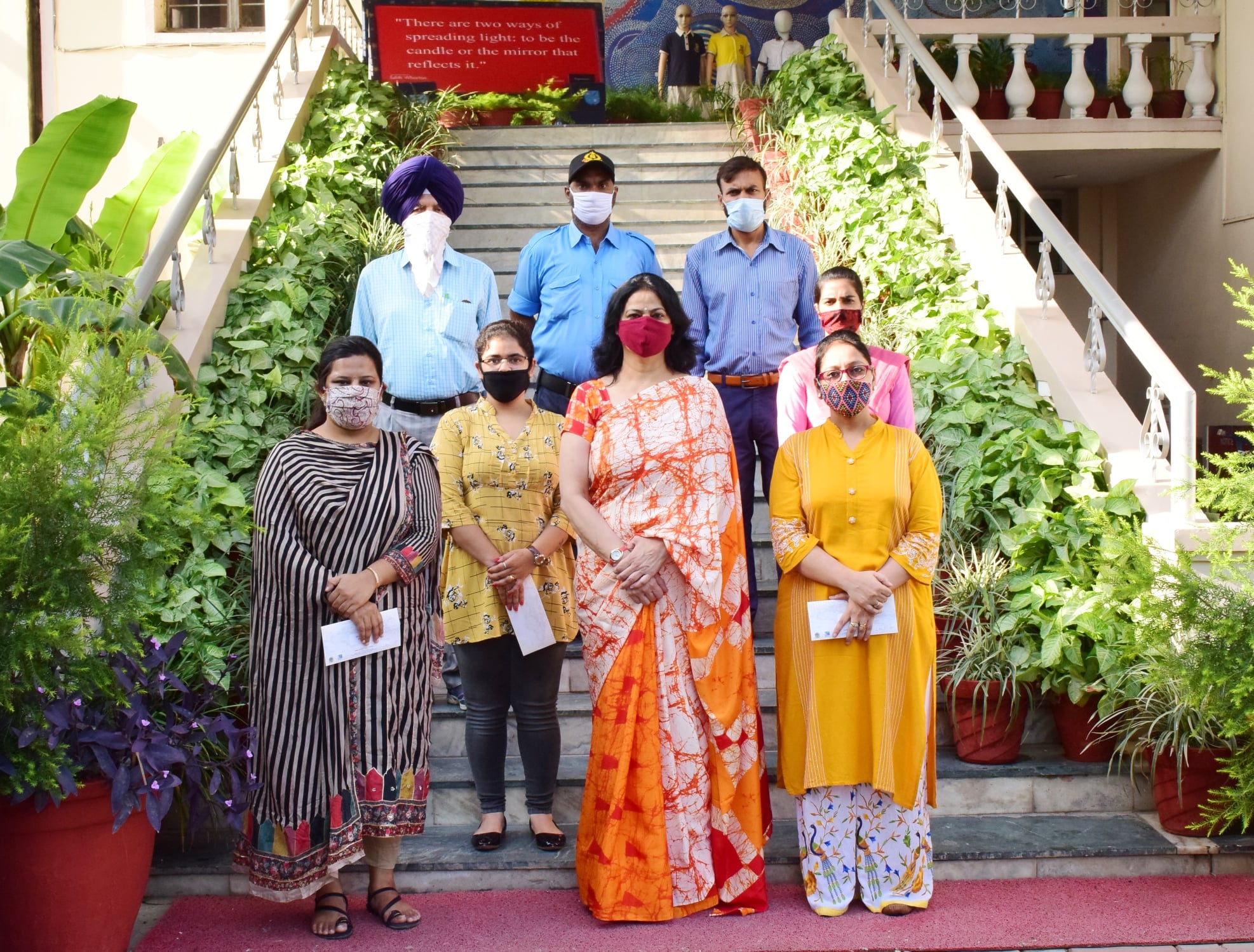 Dear Parents & Teachers, School's online classroom has gathered momentum with endeavors made by our September-2020 Star performers Ritika Rana, Shivani Soin & Manjula, towards further steadying the school's daily distance learning routine by Keeping it simple, building in as much contact as possible , laying an emphasis on happiness , significance and understanding. They have succeeded in attracting Brilliance in lesson delivery. We have been very lucky with the support from our Administration staff Nirmal Singh, Rajbir , Sandeep & Amarjeet Kaur they are amongst the kindest people ! Congratulations!-Dr. Ekta Dhawan, Principal.
---