Educational Advisor's Message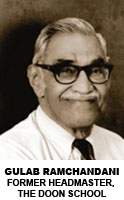 When we opened the doors of Bawa Lalvani Public School on April 1st 2002, in Kapurthala, the Governors did everything possible to make it a real "Quality" School. The Chairman & Board of Governors believe in holistic development of children. It is a privilege to be part of this Team and I can promise you that we will keep doing everything we can to induct into students all the qualities of Pluralism and good citizenship to make each parent proud of their child.
We designed the school for a capacity of 1600 students in quaint surroundings, central to the city and we took special care about the security of this campus.
The Promoters did not stint in providing adequate infrastructure facilities on the campus from laboratories to library, to sports grounds and on campus medical care.
We planned for not more than 20 students per class with a student/teacher ratio of 20:1.
The genuine care and concern for their girl students has been well rewarded with a well established reputation in Kapurthala.
The Students look so cheerful and happy that it speaks volume for the leadership and management of the Director and her Staff.
The School is also a Registered Centre for CBSE Board Examinations for Std X & XII.
With all these achievements, Bawa-Lalvani Public School continues to fulfil promises to make you proud! - Gulab Ramchandani,
former Headmaster, The Doon School, Dehradun
Mr. Ramchandani is an internationally renowned Educator, served as the headmaster for the Doon School for close to 10 years. He holds a vast knowledge and understanding of the school system and the right educational needs of children in their formative years. Having a first-hand experience of handling the students and operations of a boarding school, his counsel carries significance. Among his other contribution to the field of education in India, he is noted for bringing in modern management principles into the educational arena. His experience and advisory is assisting BLPS towards becoming a Centre of Excellence.