School in the News
Dear Parent, We are pleased to share and celebrate our school's successes by getting some coverage in the local & National media. When schools do well, the papers like to celebrate it , a school story is always a nice local issue that every Newspaper wishes to cover.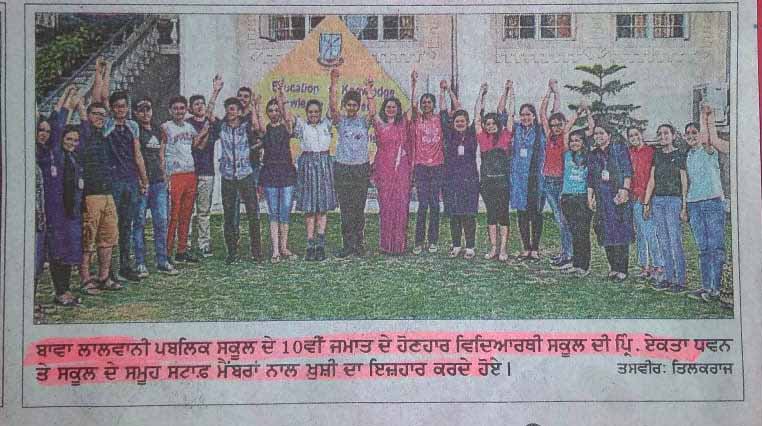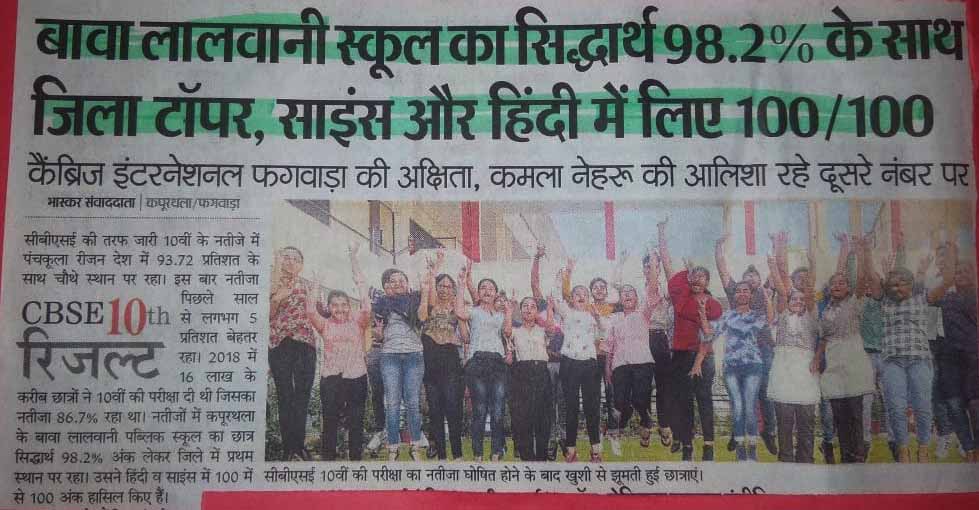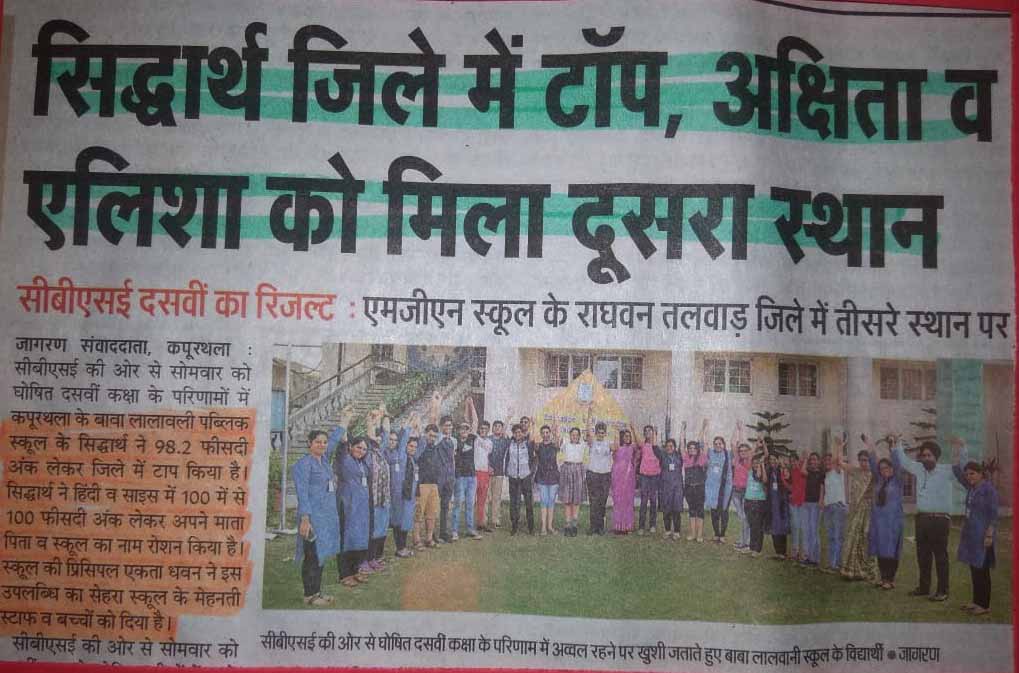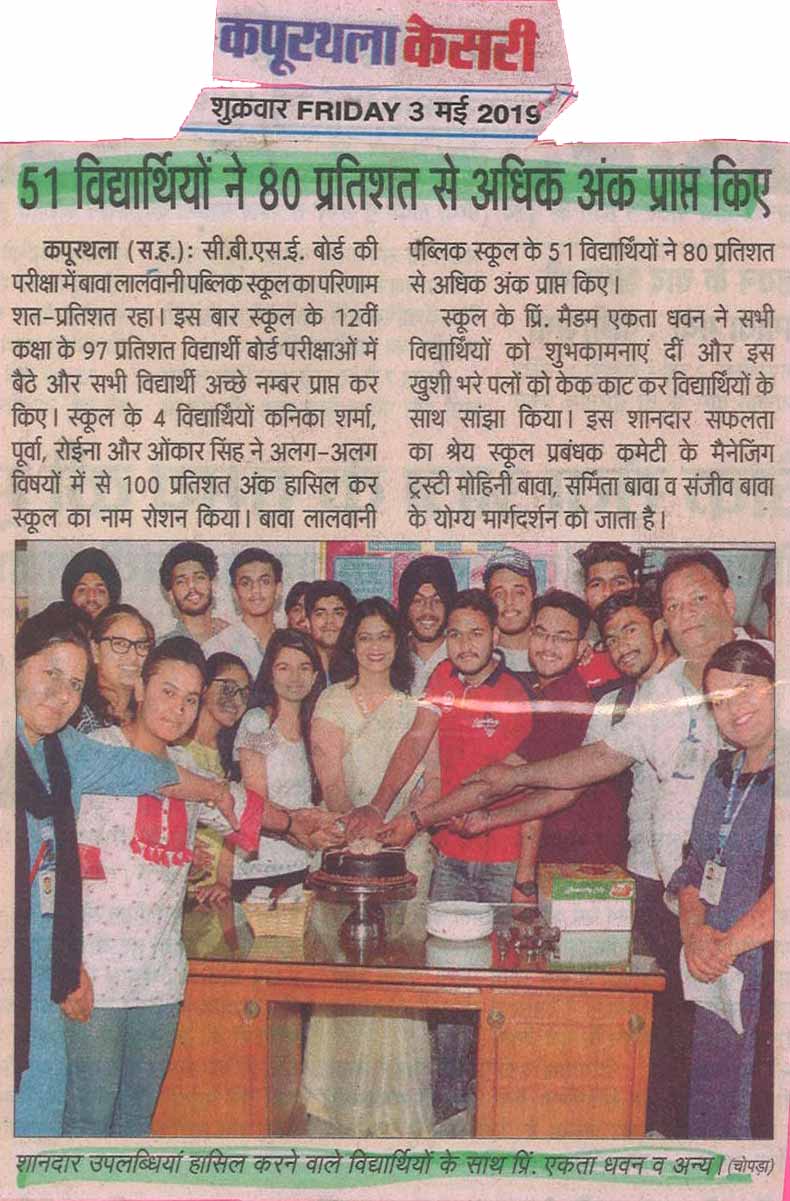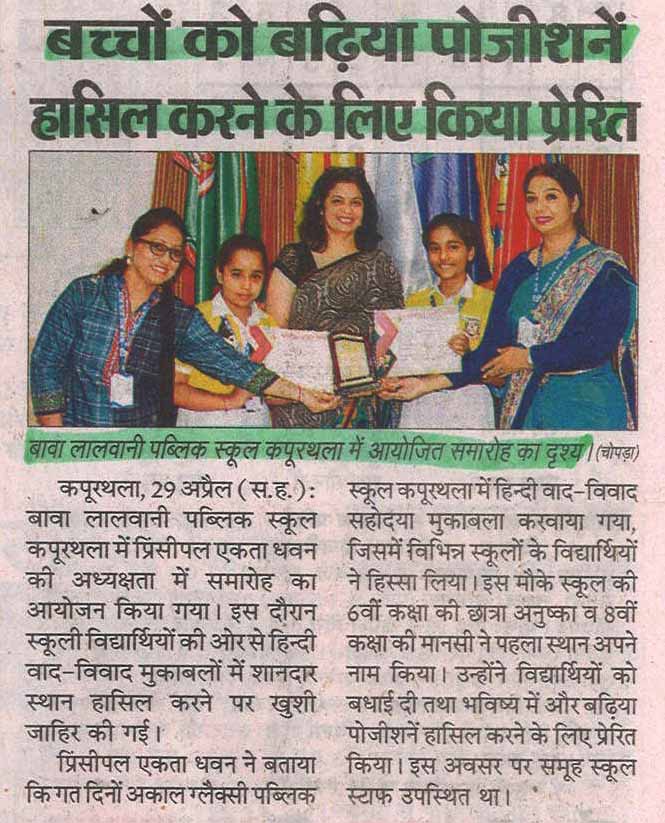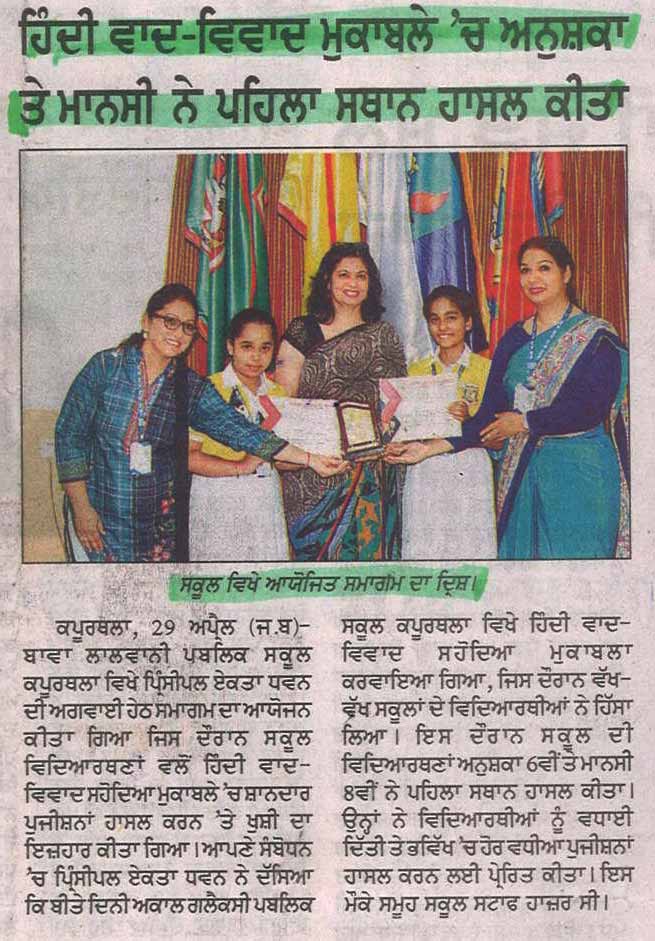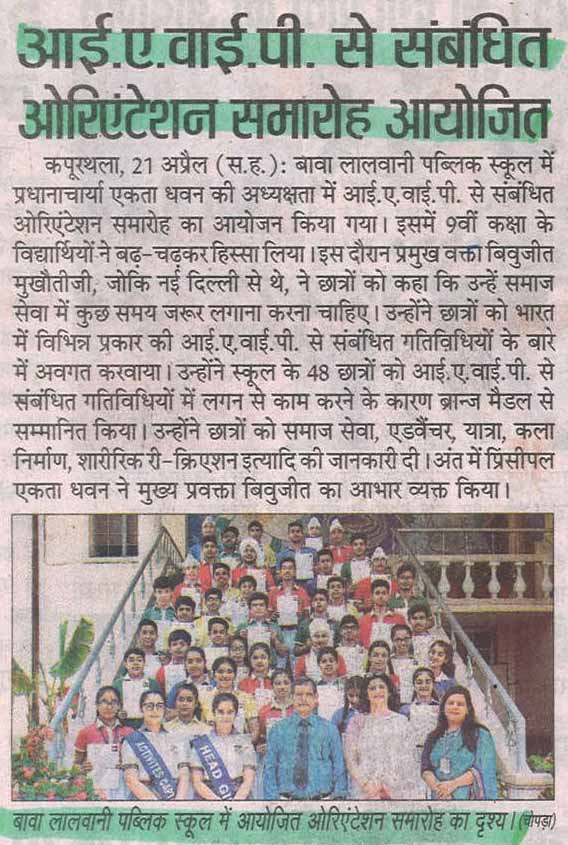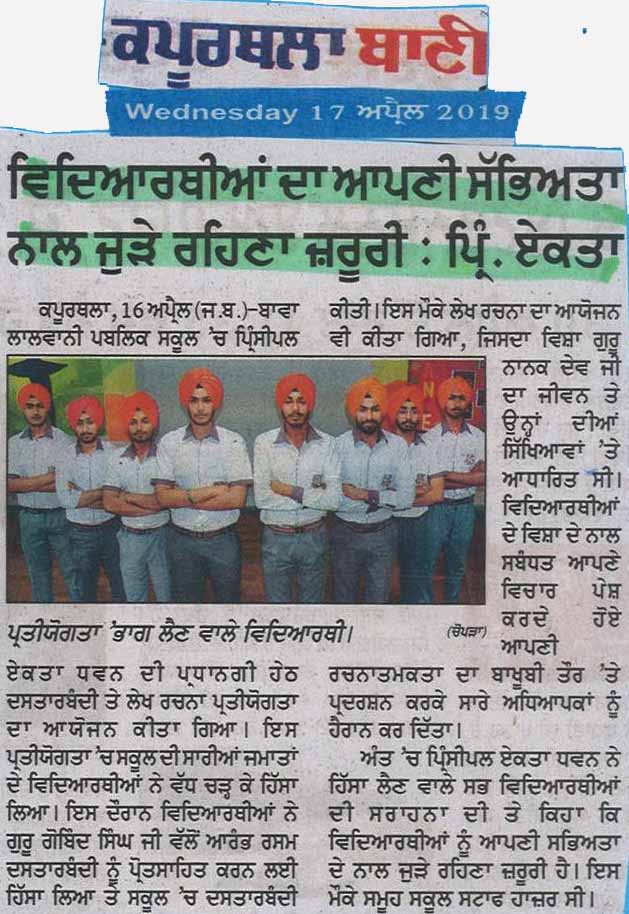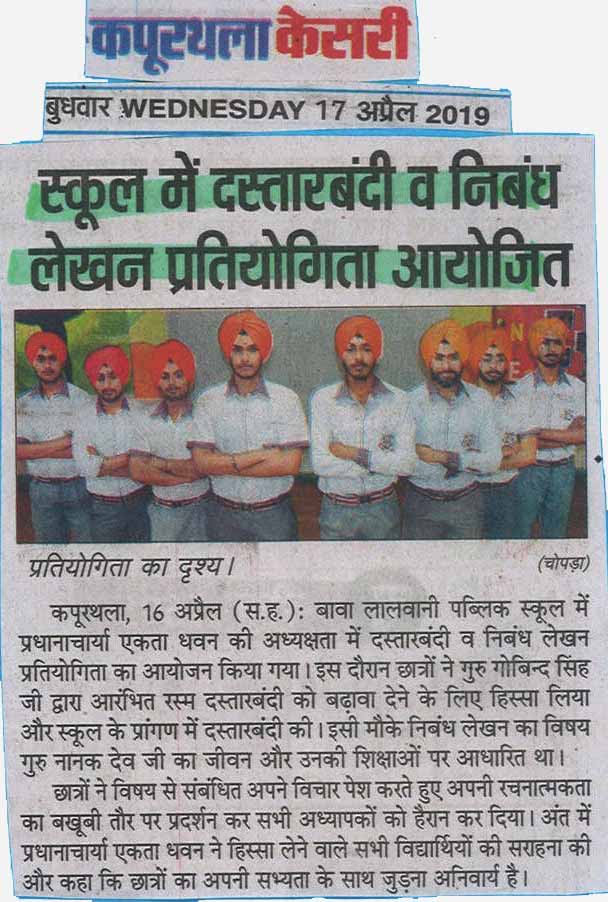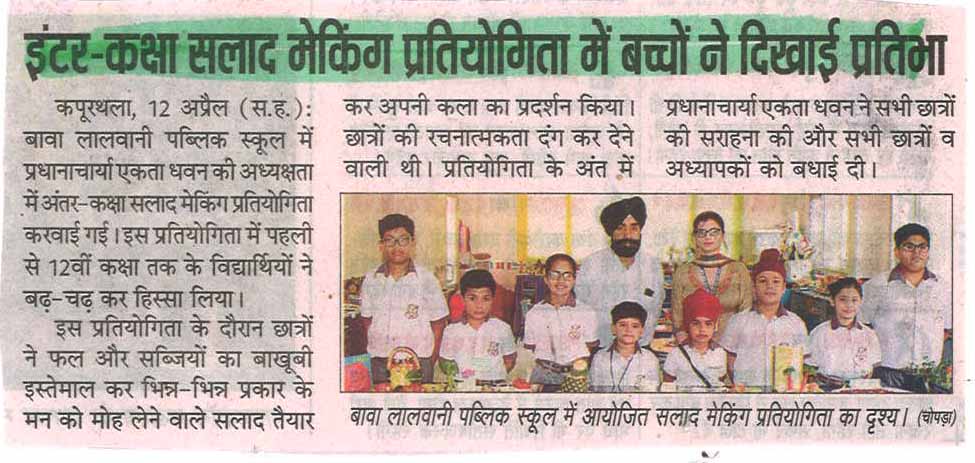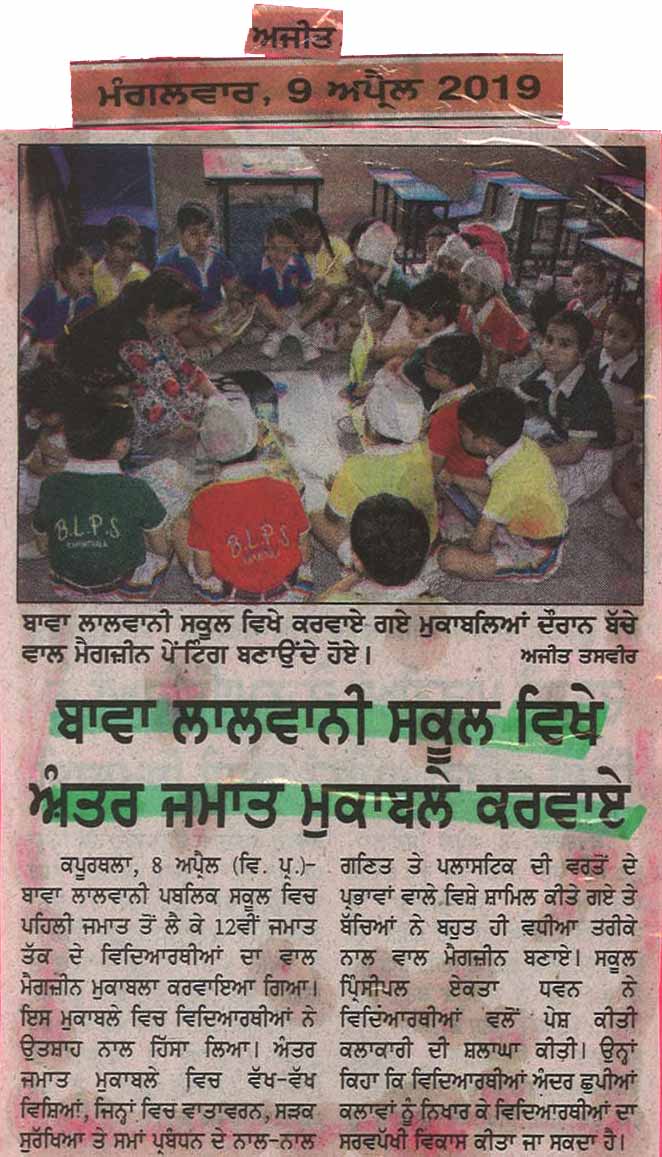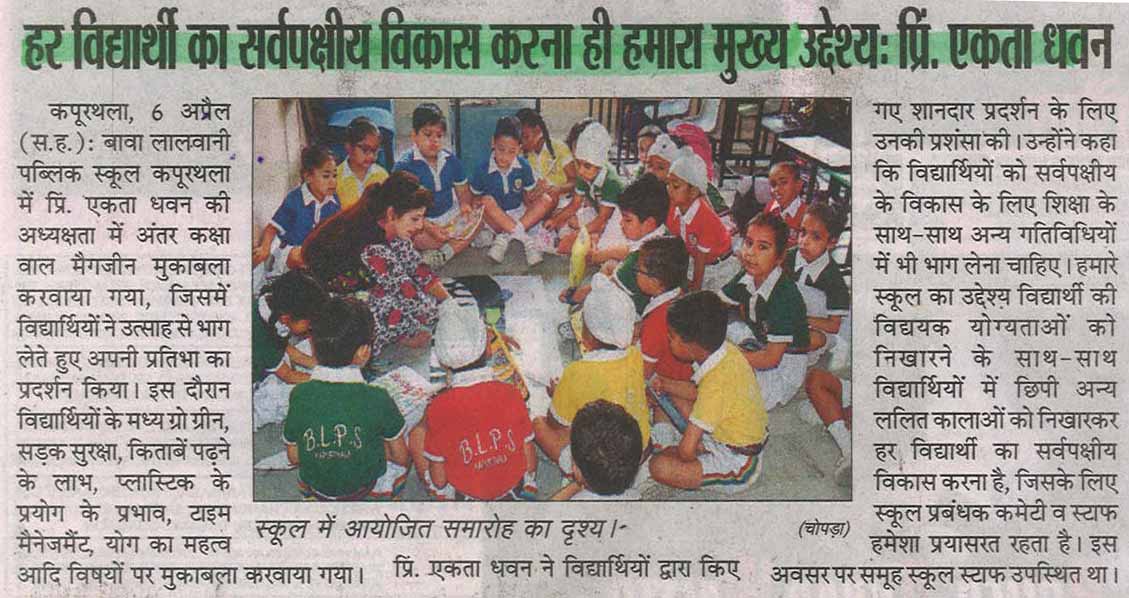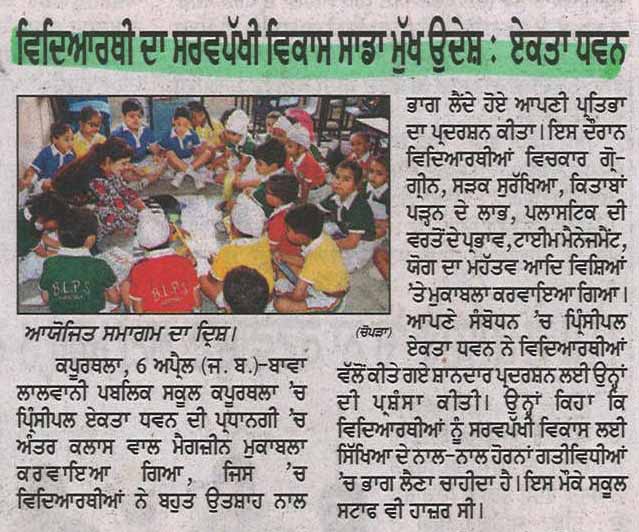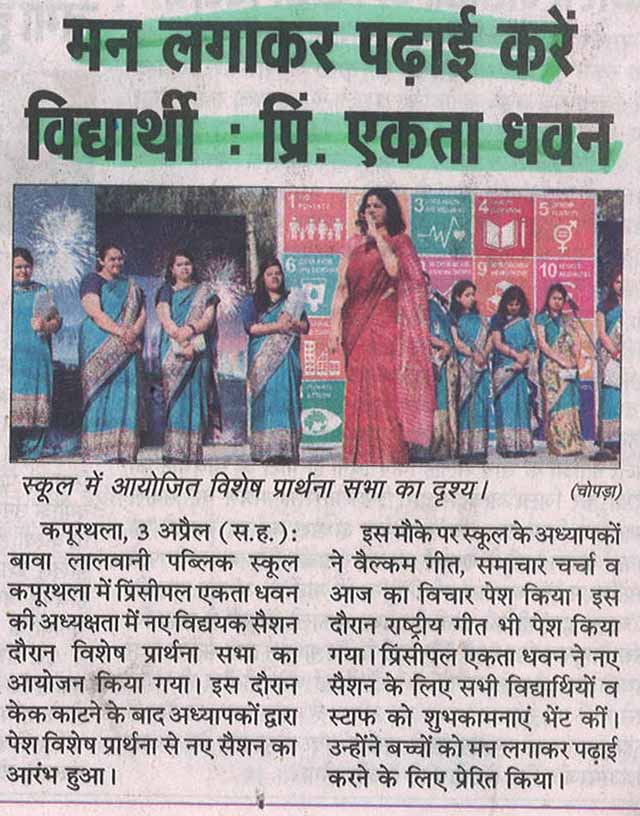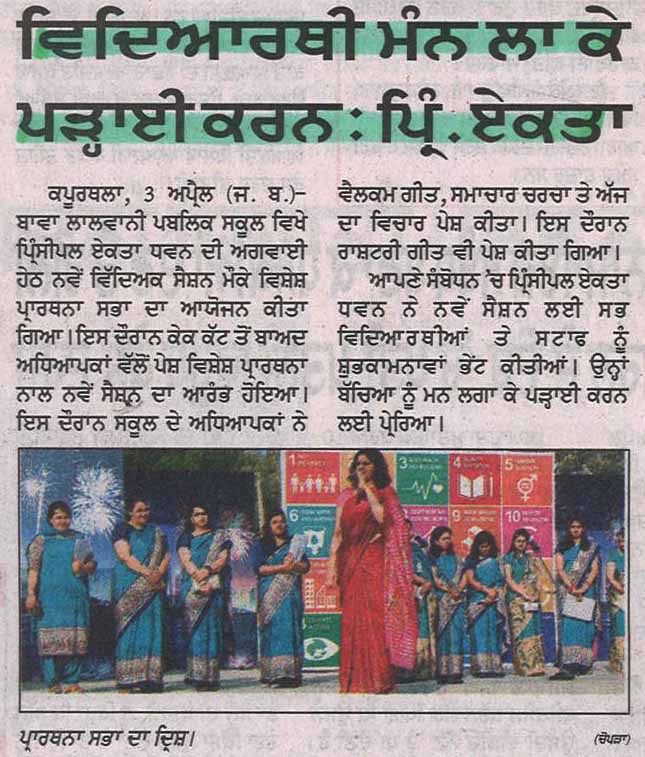 .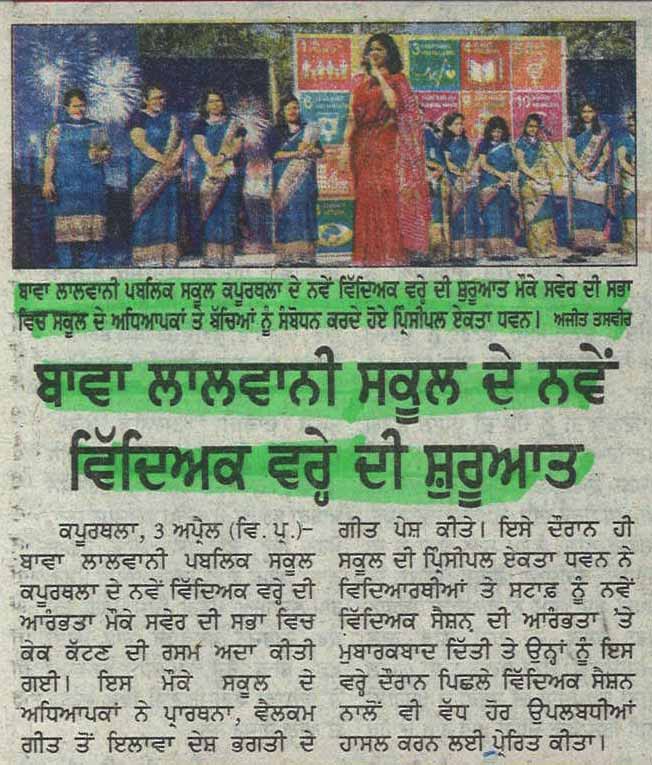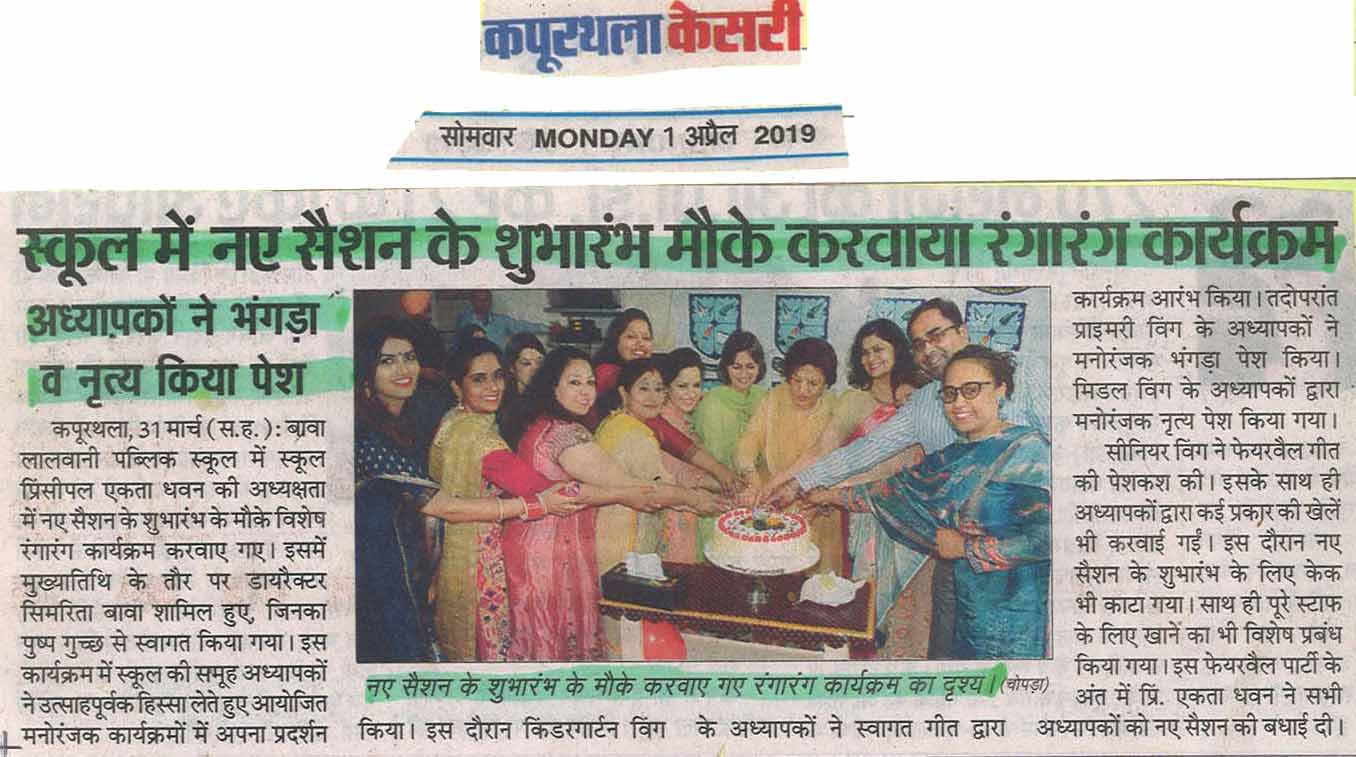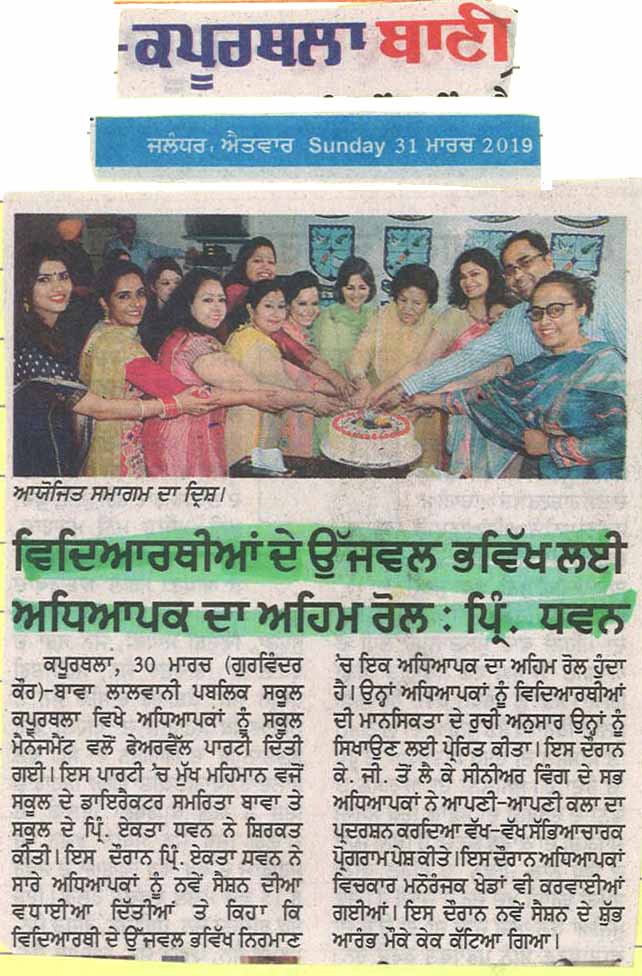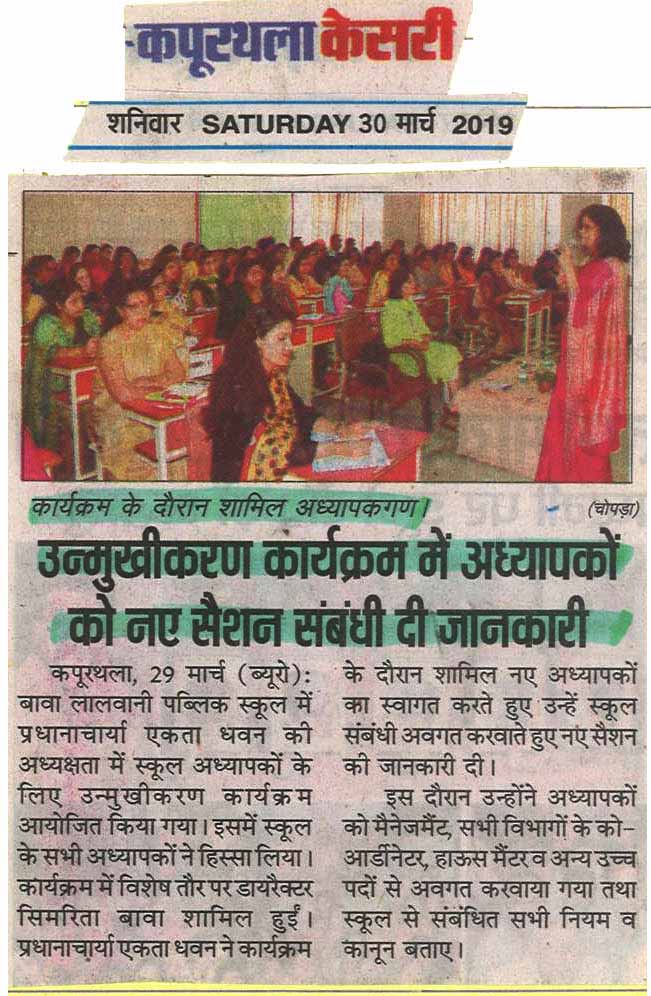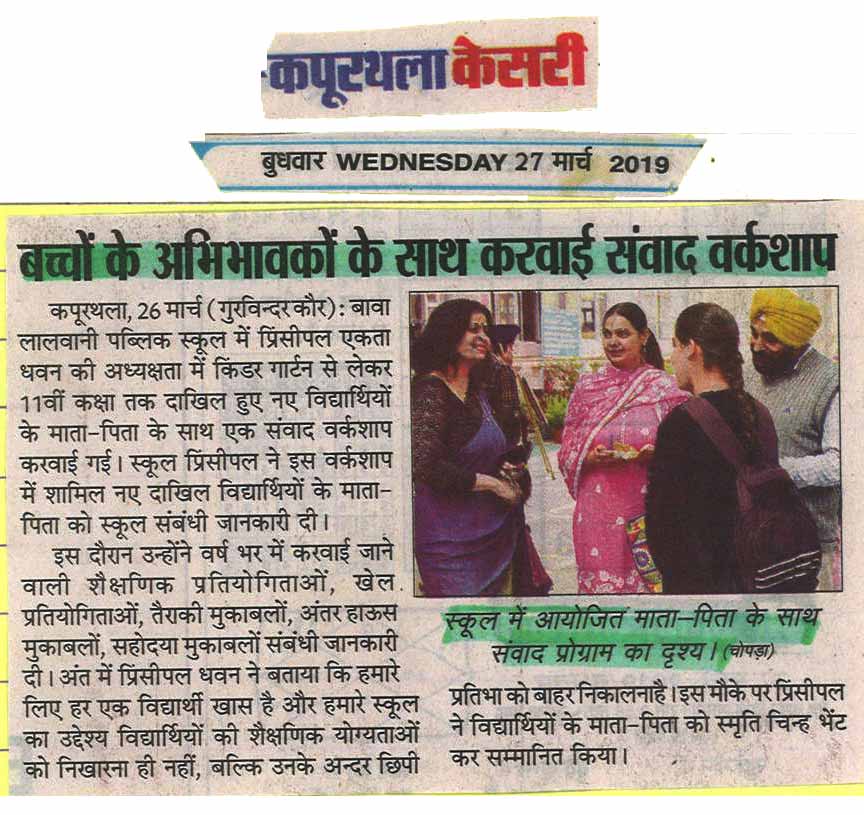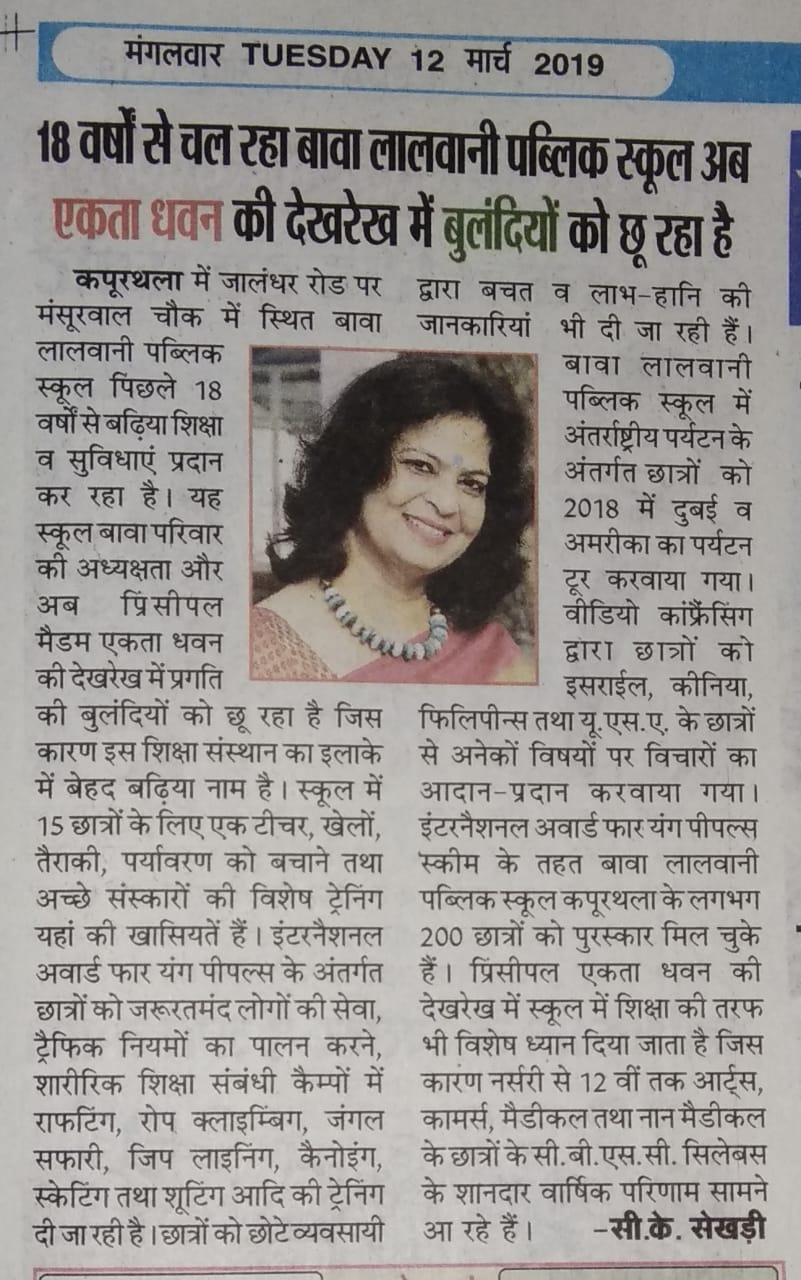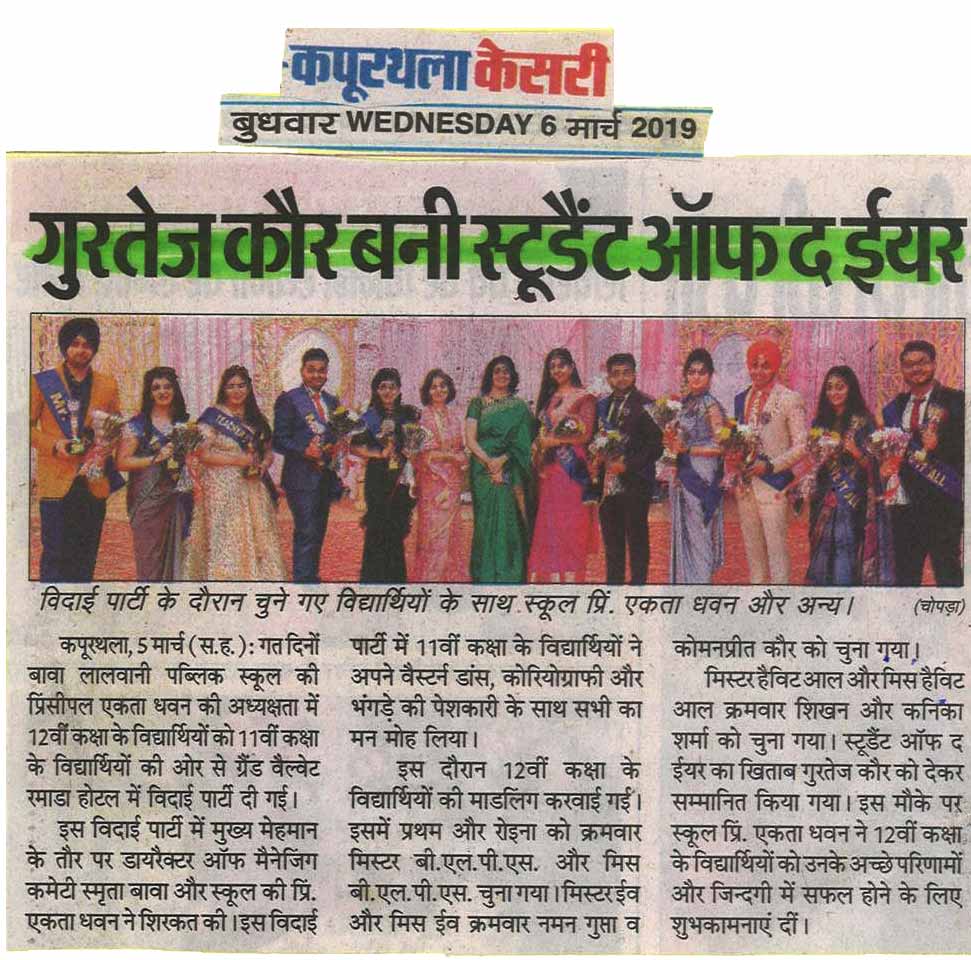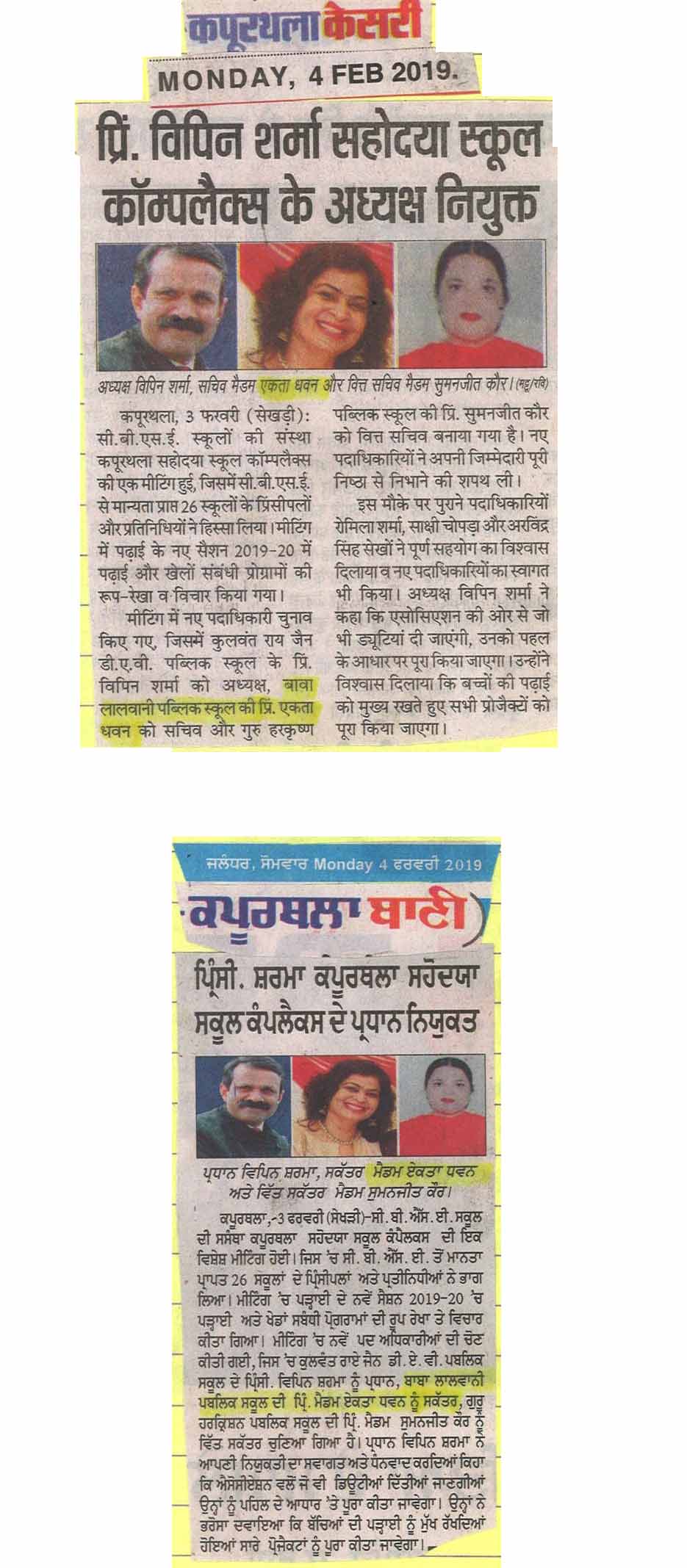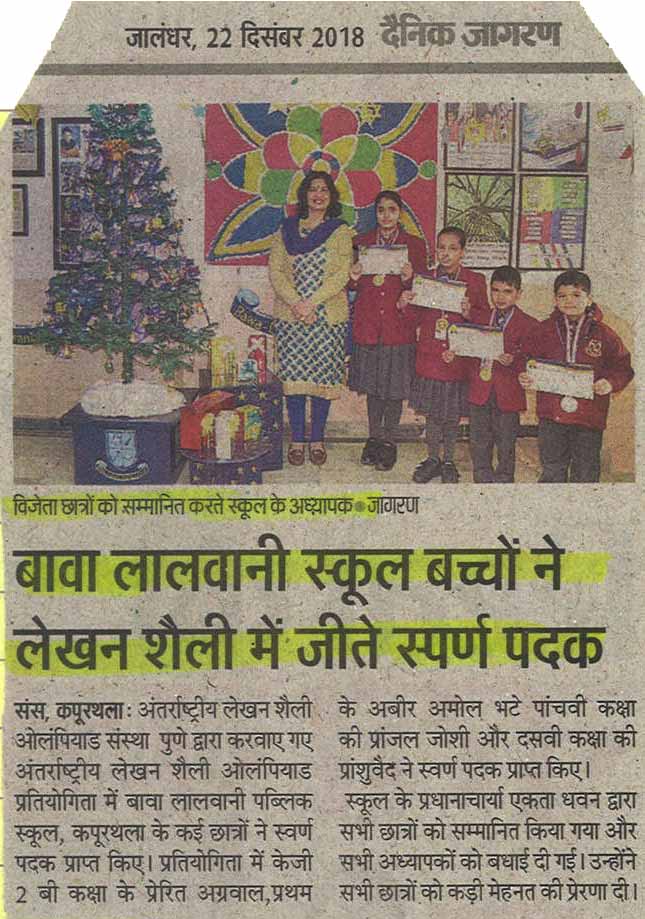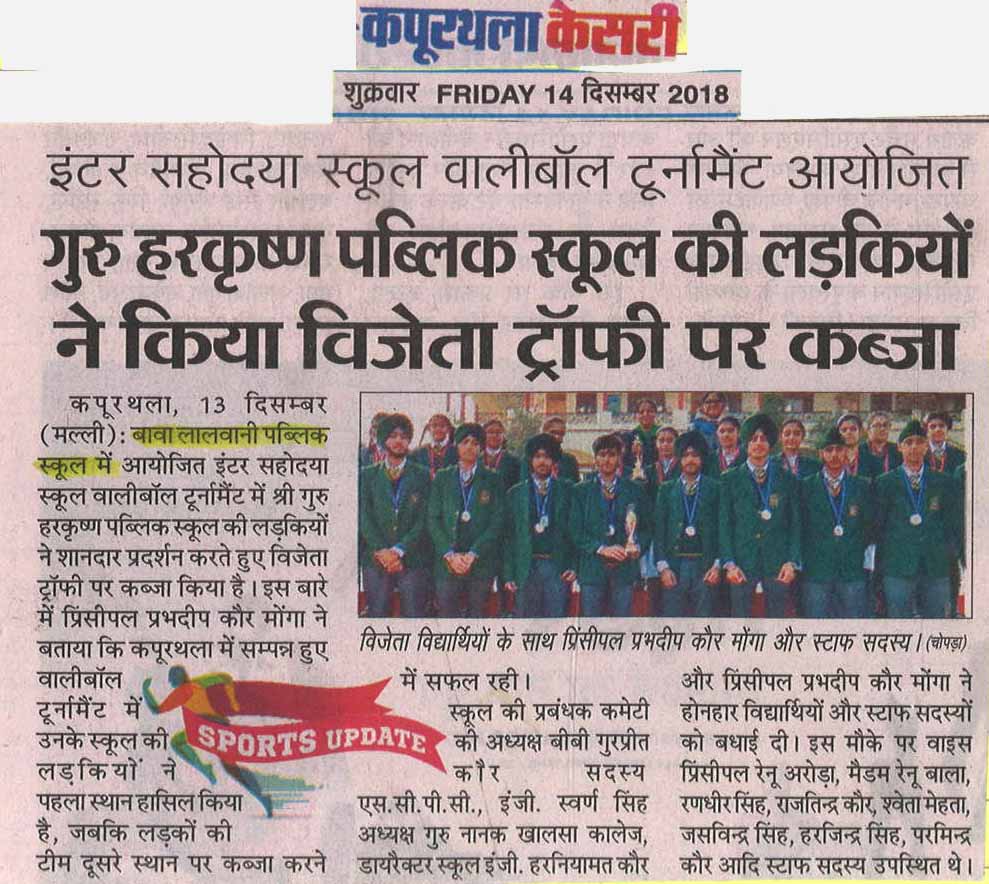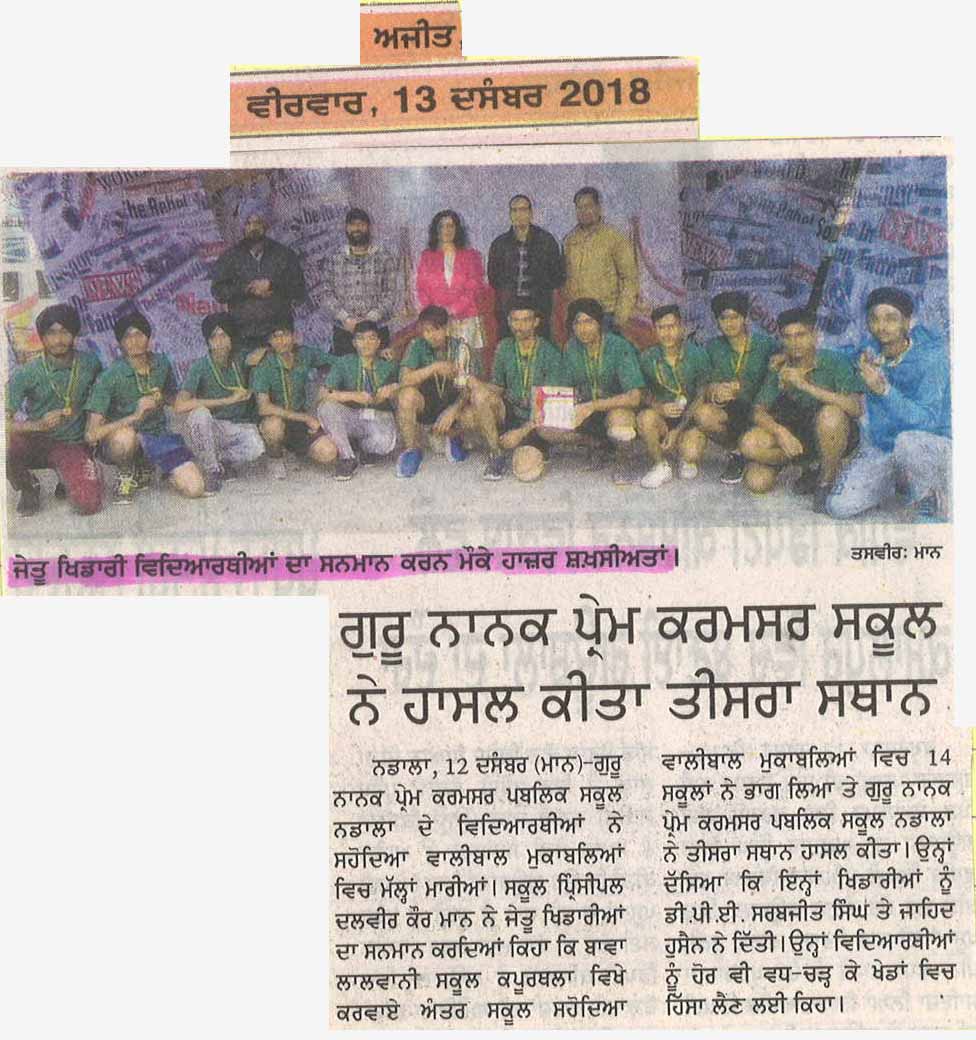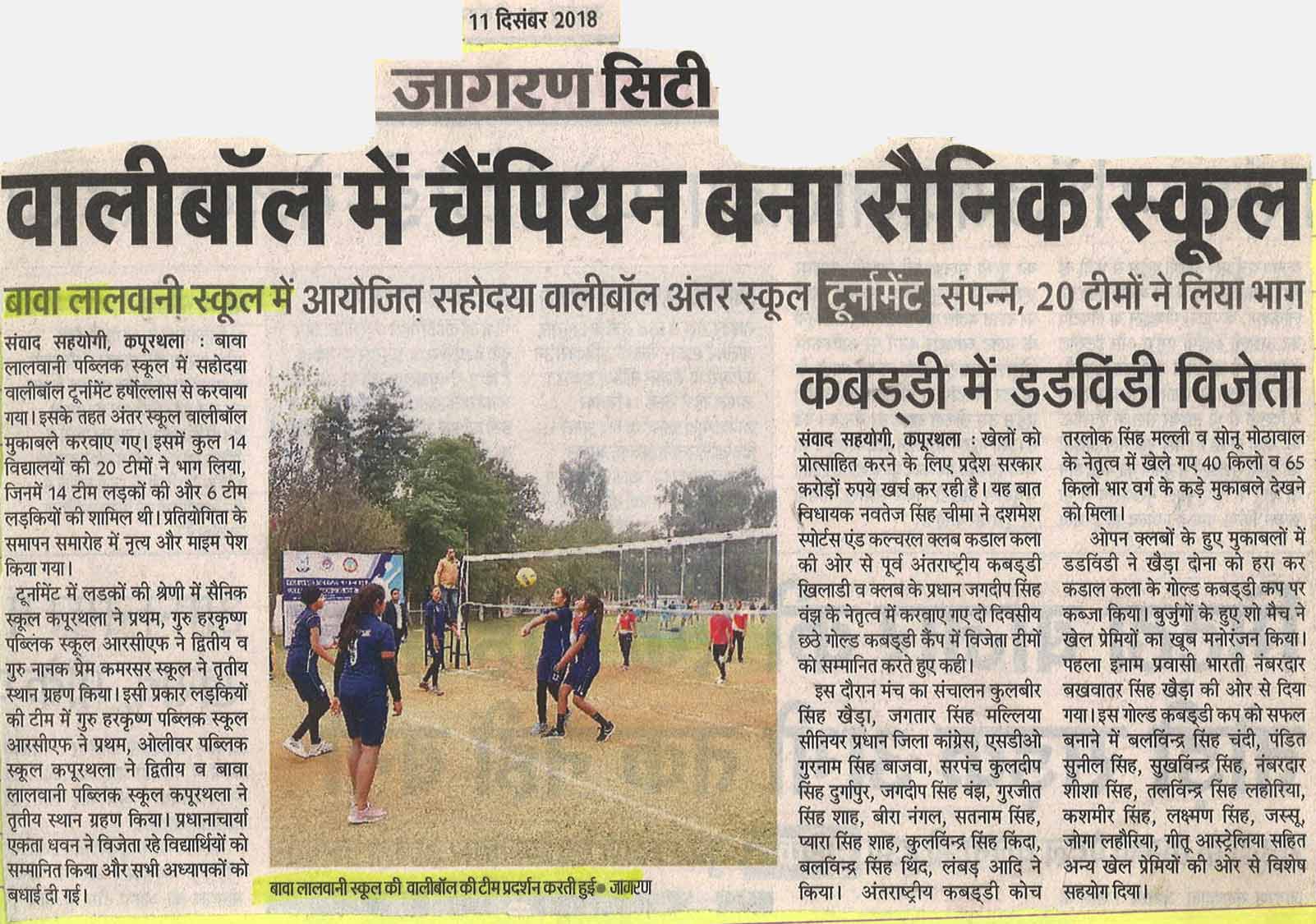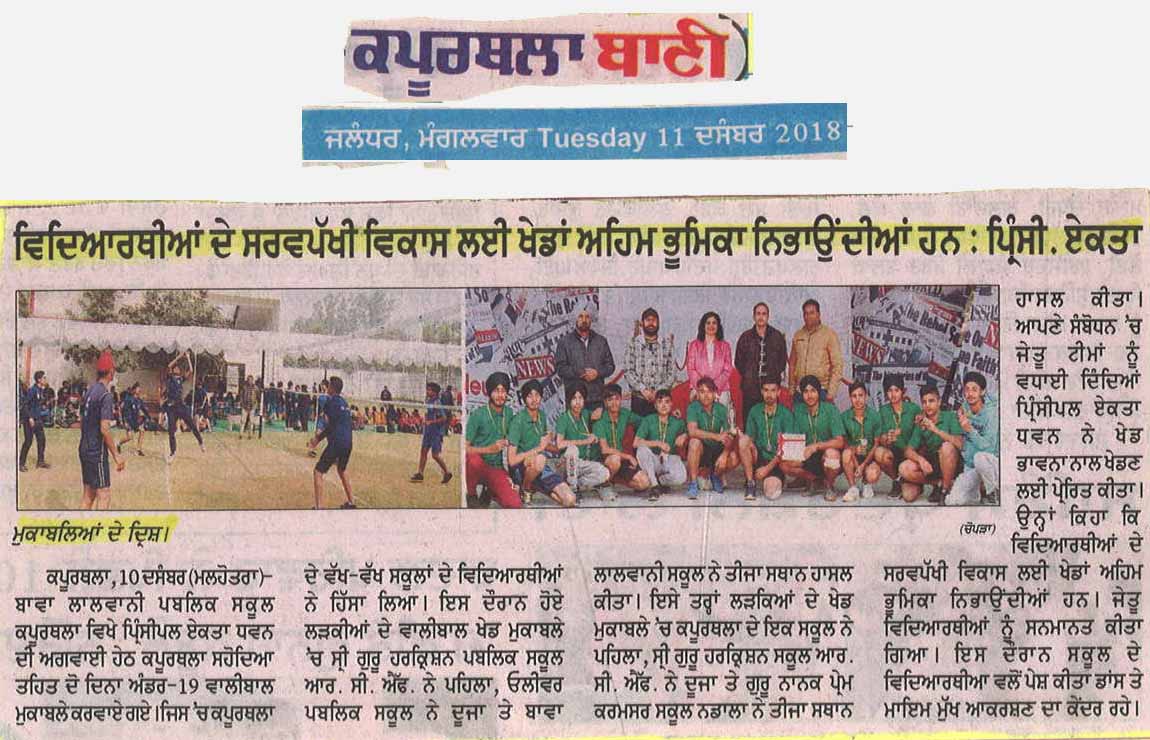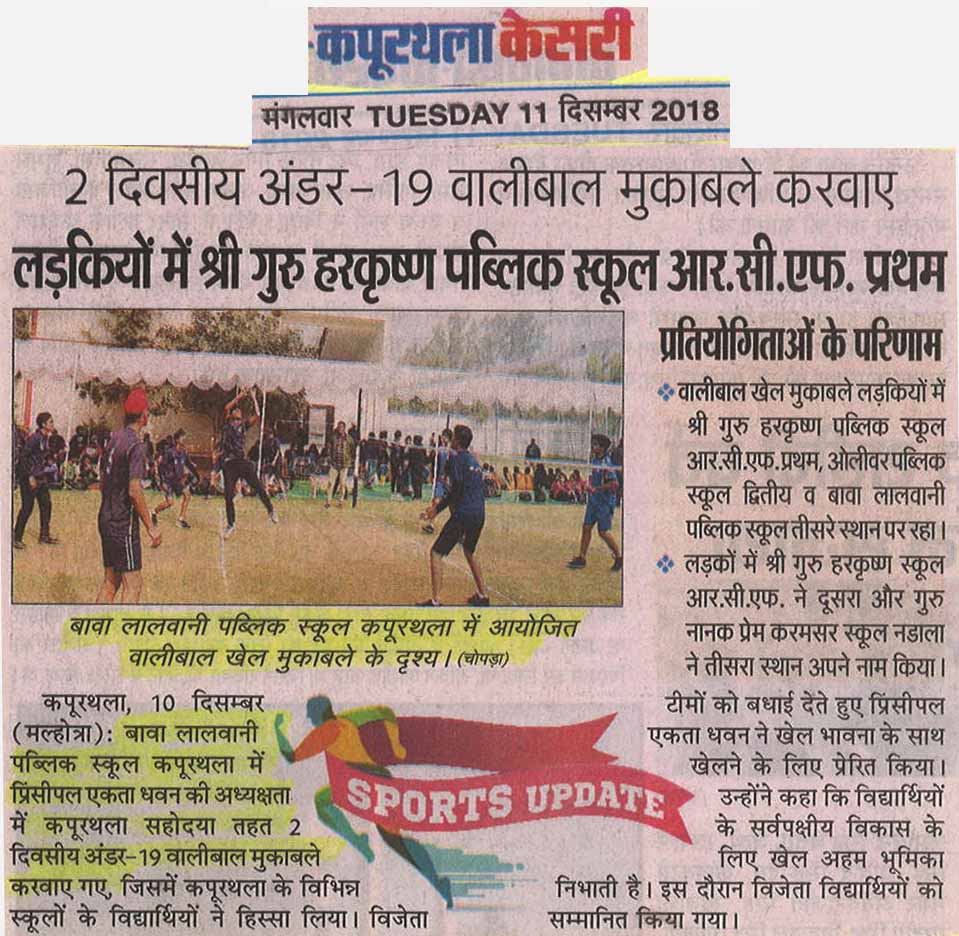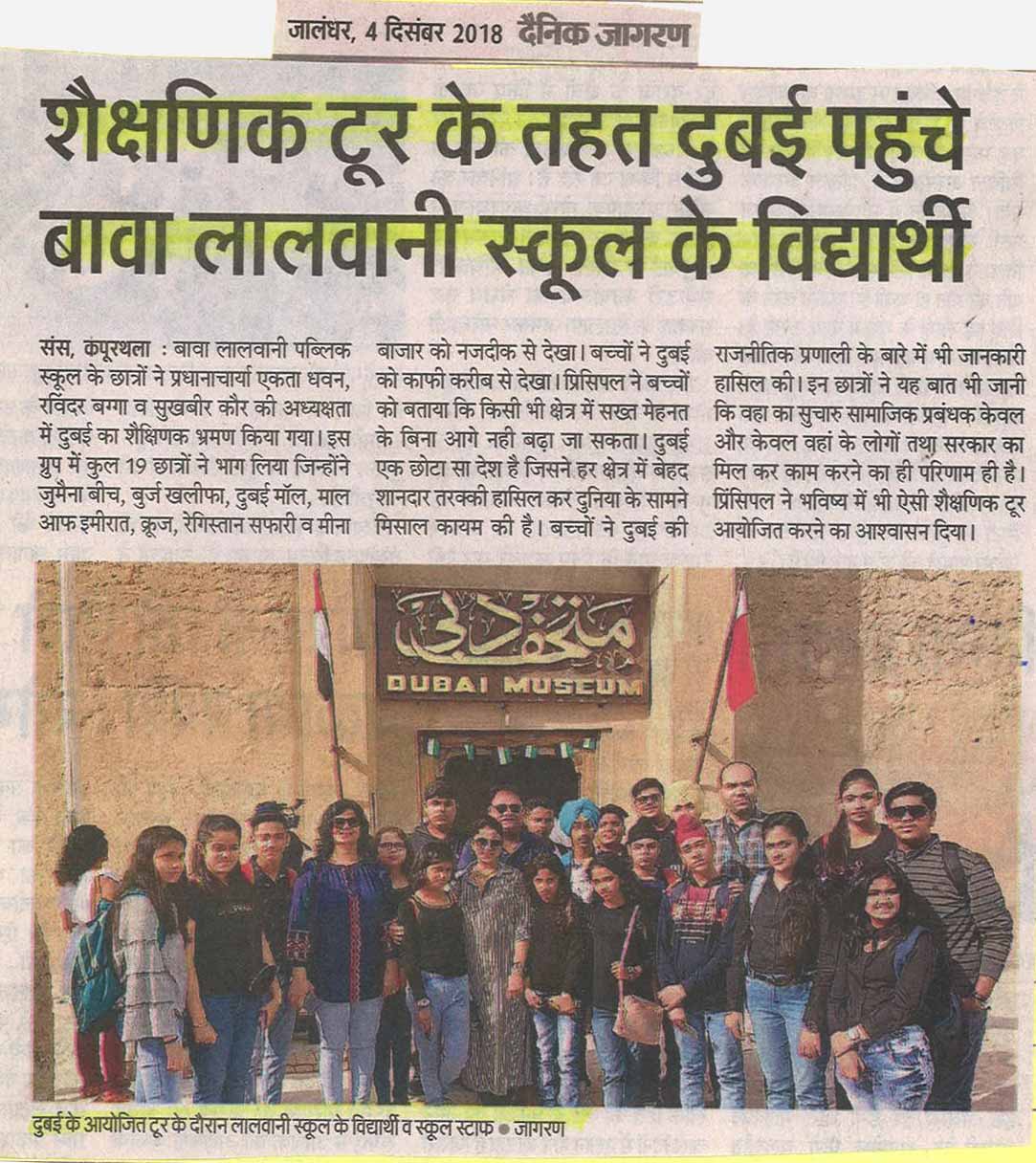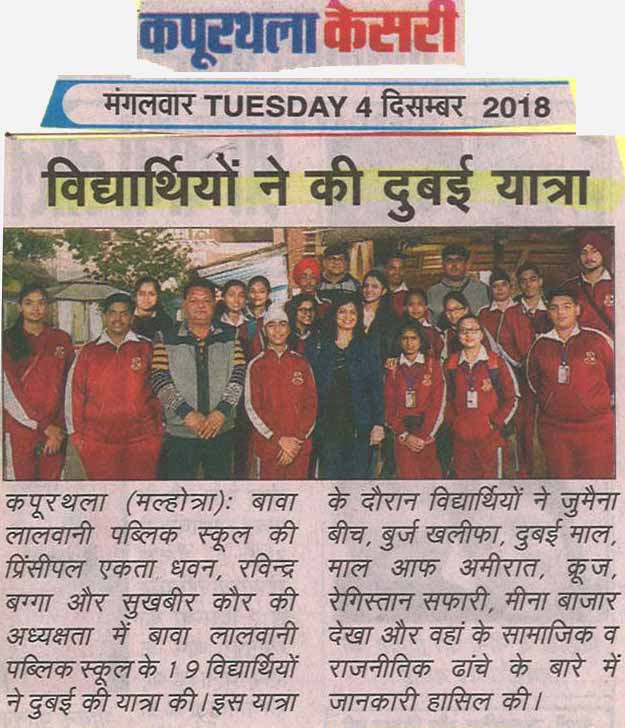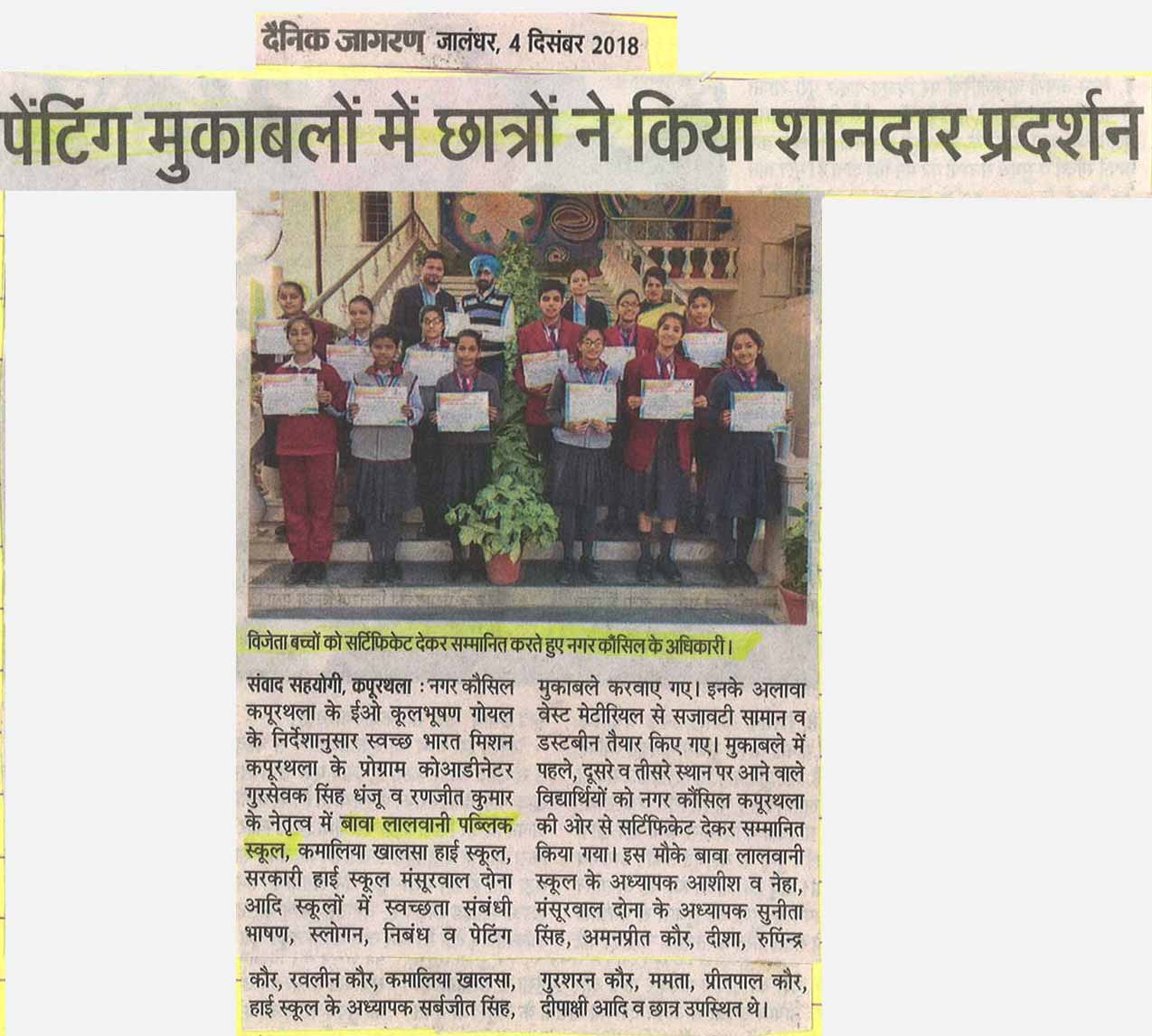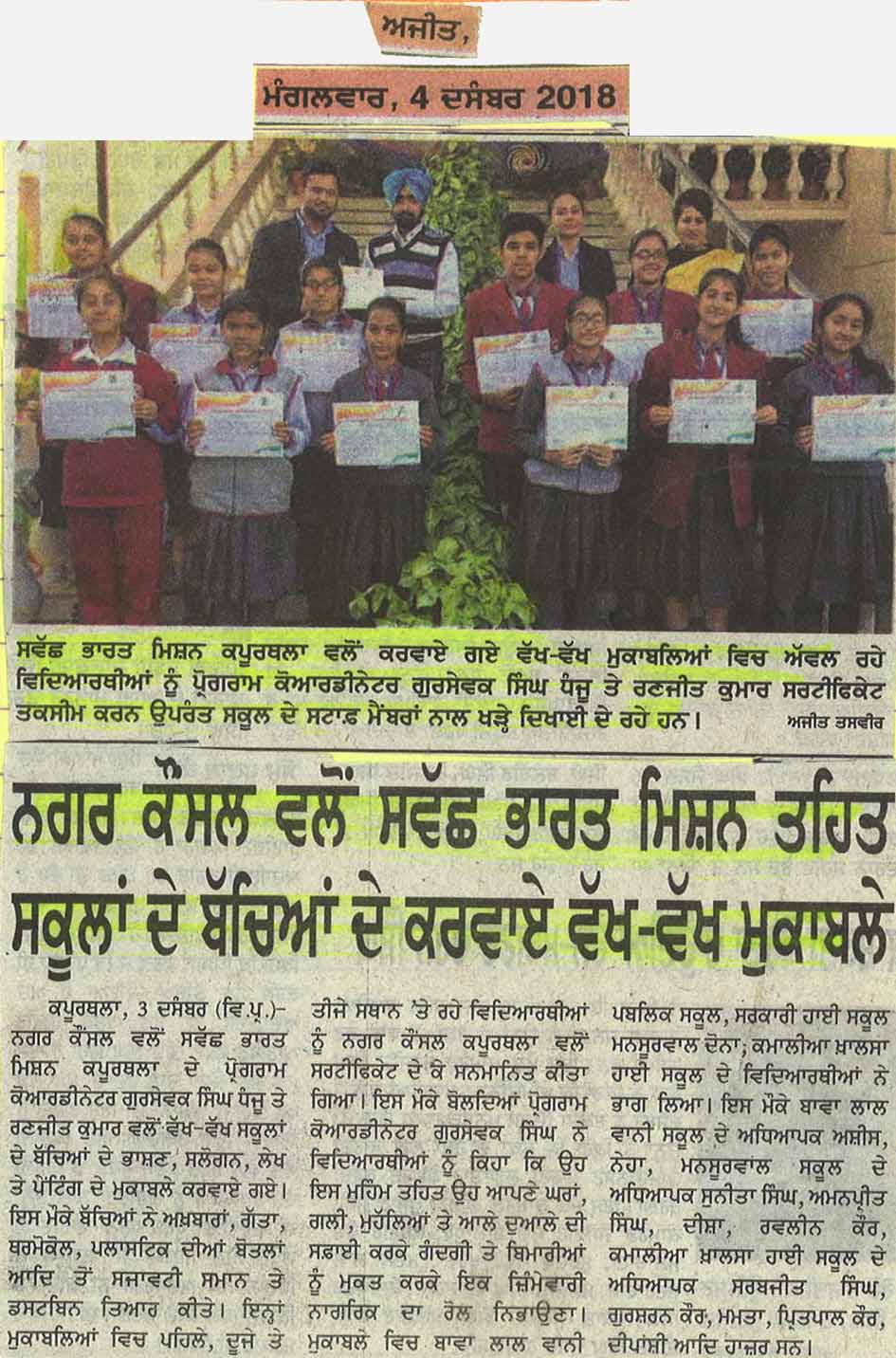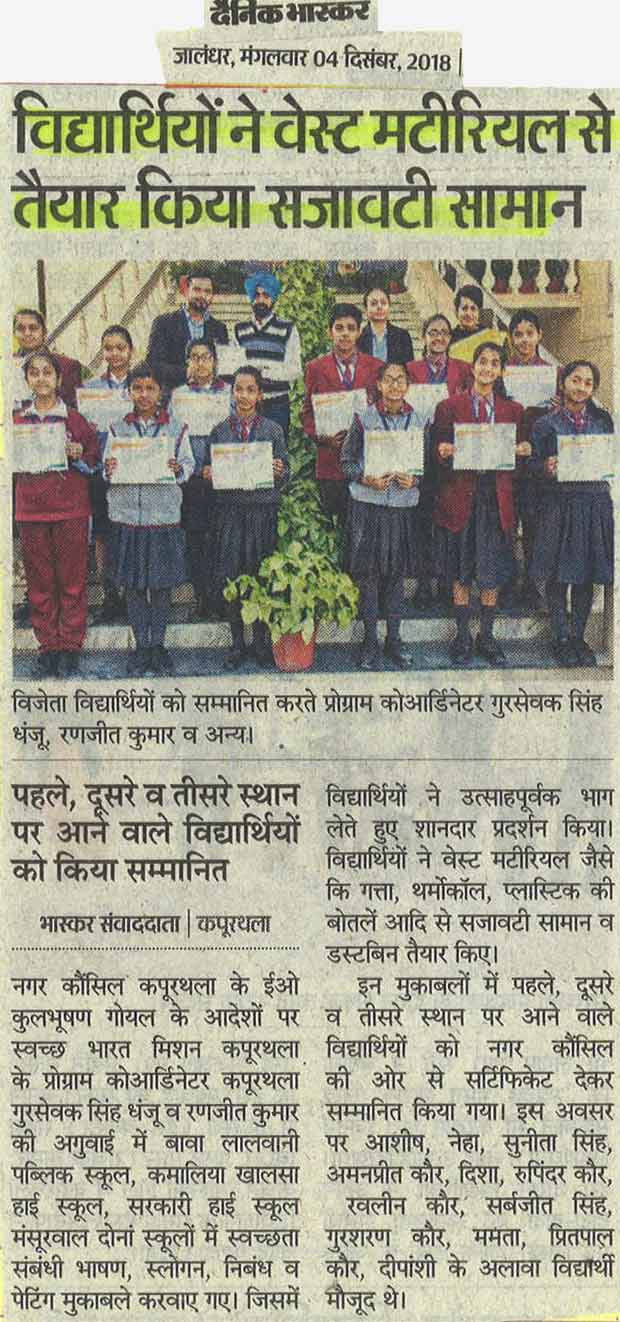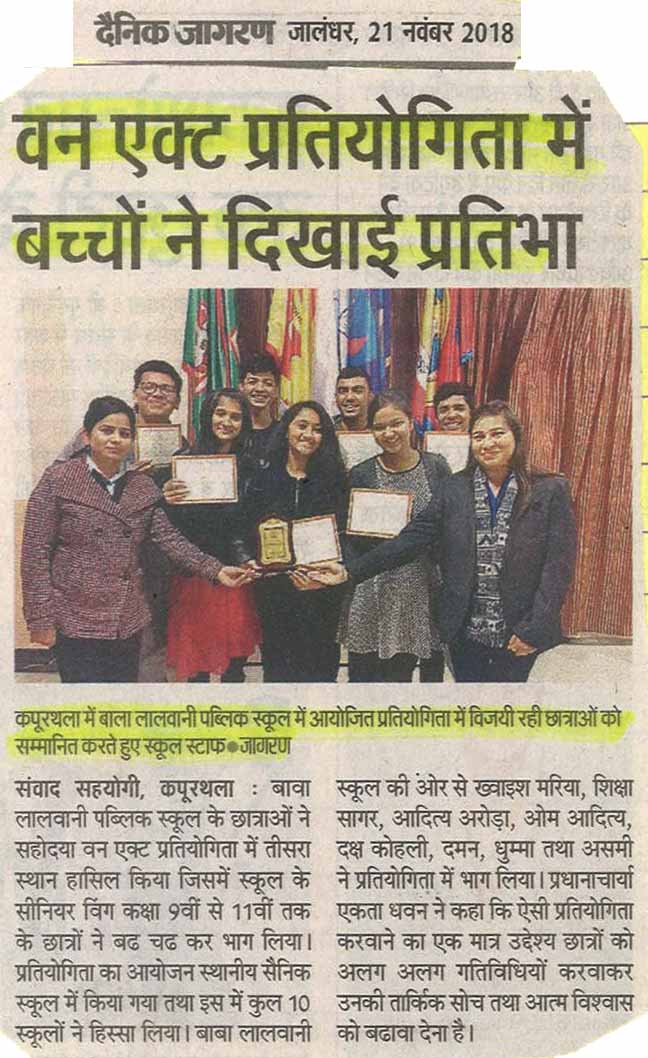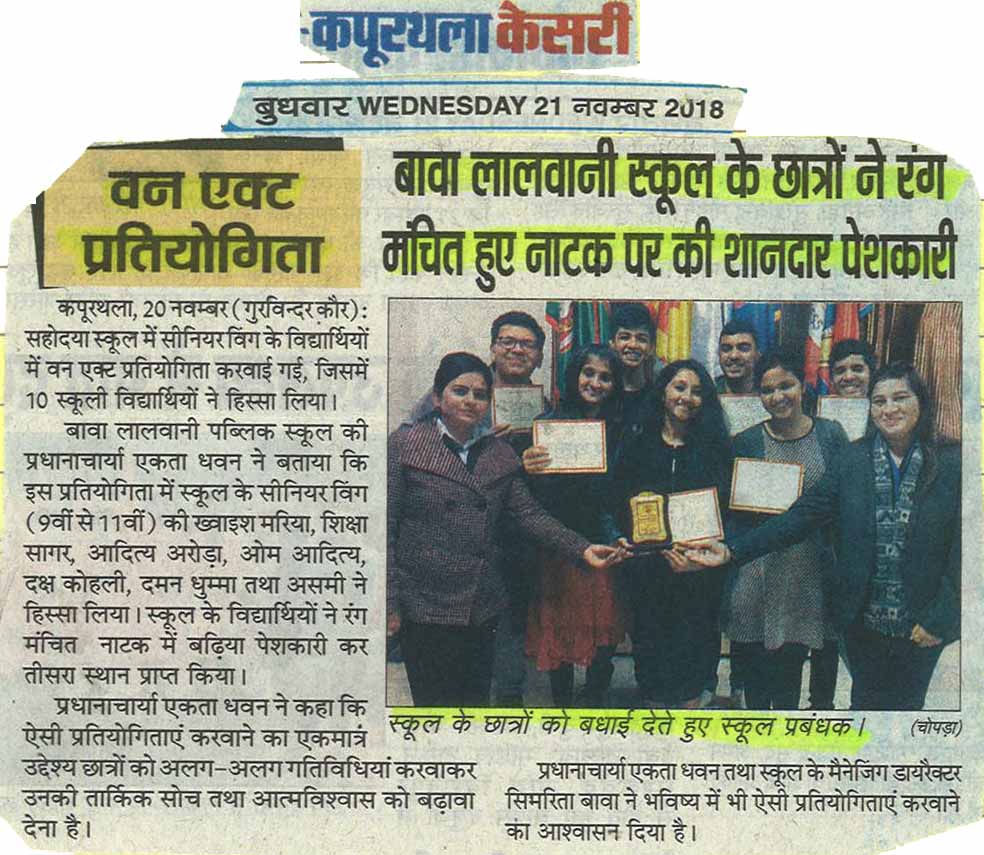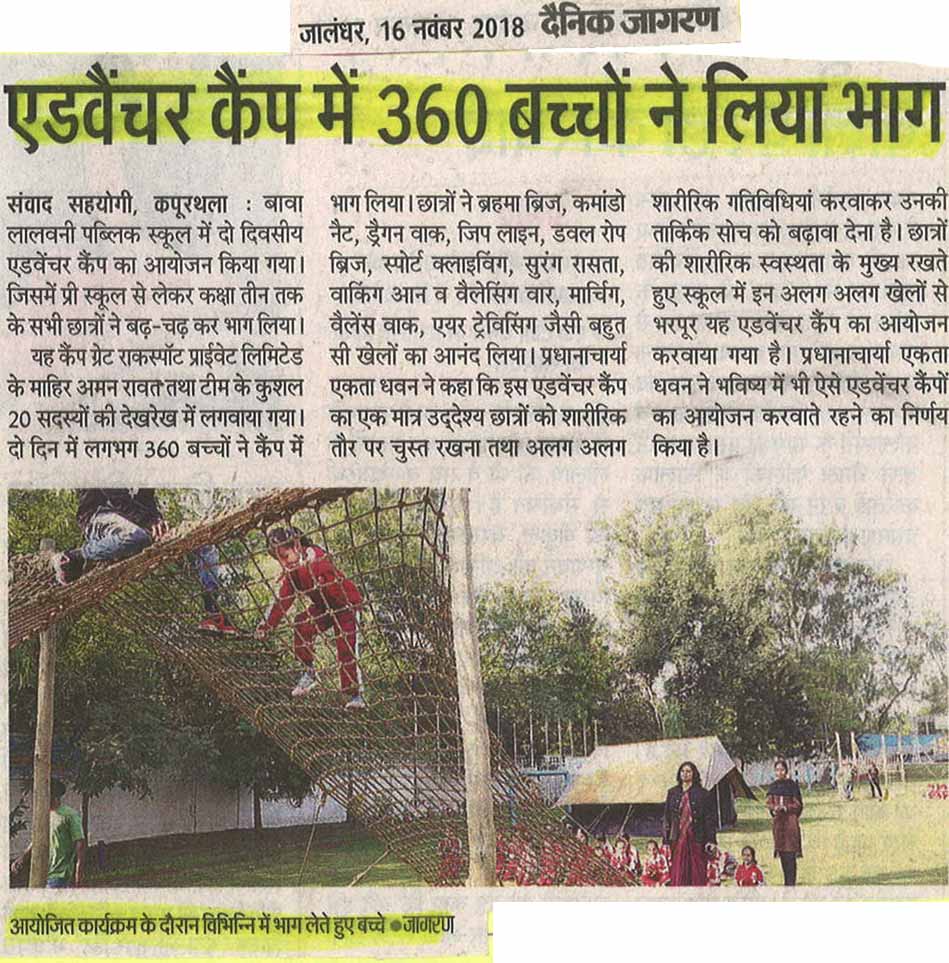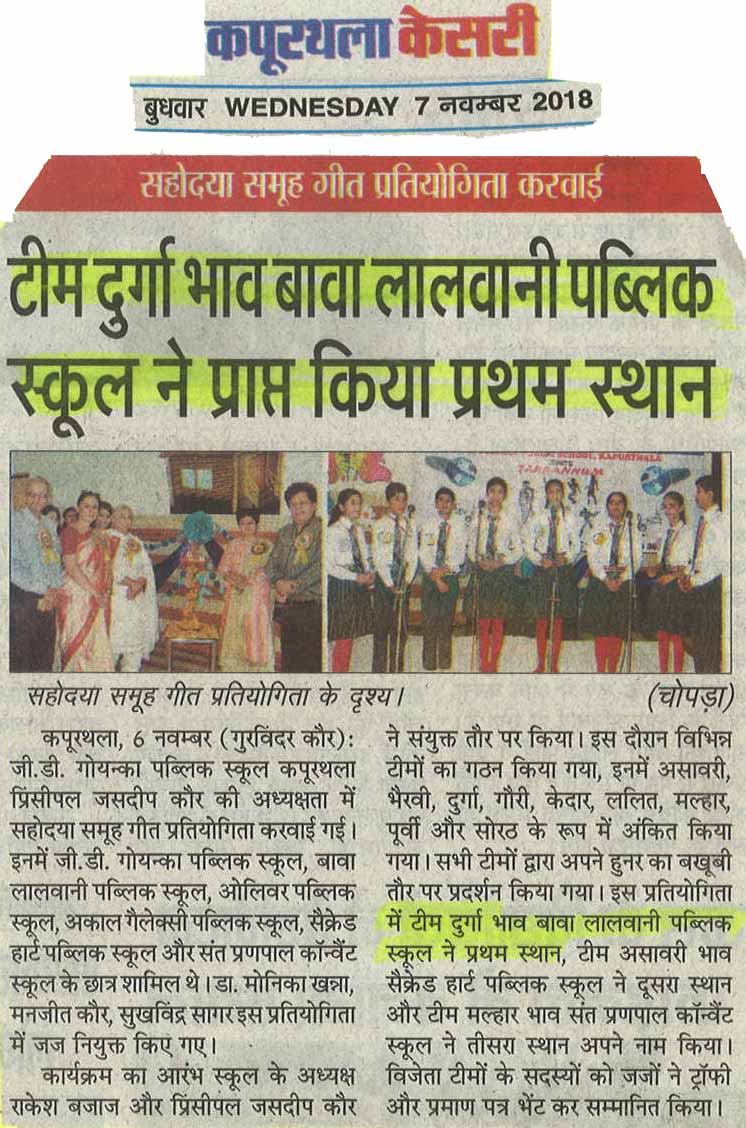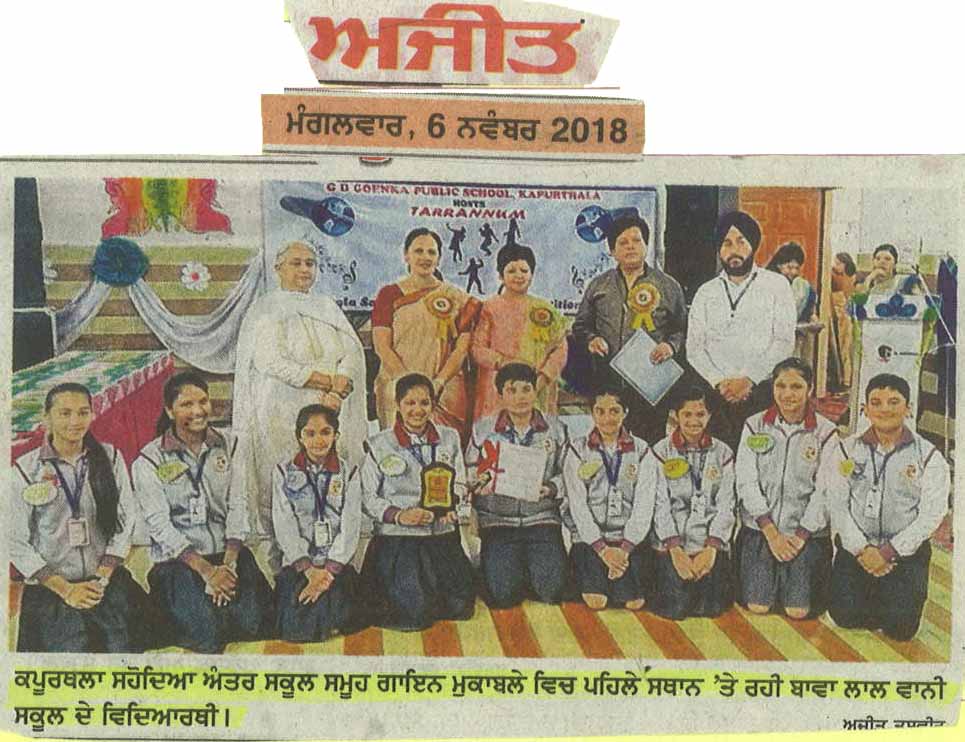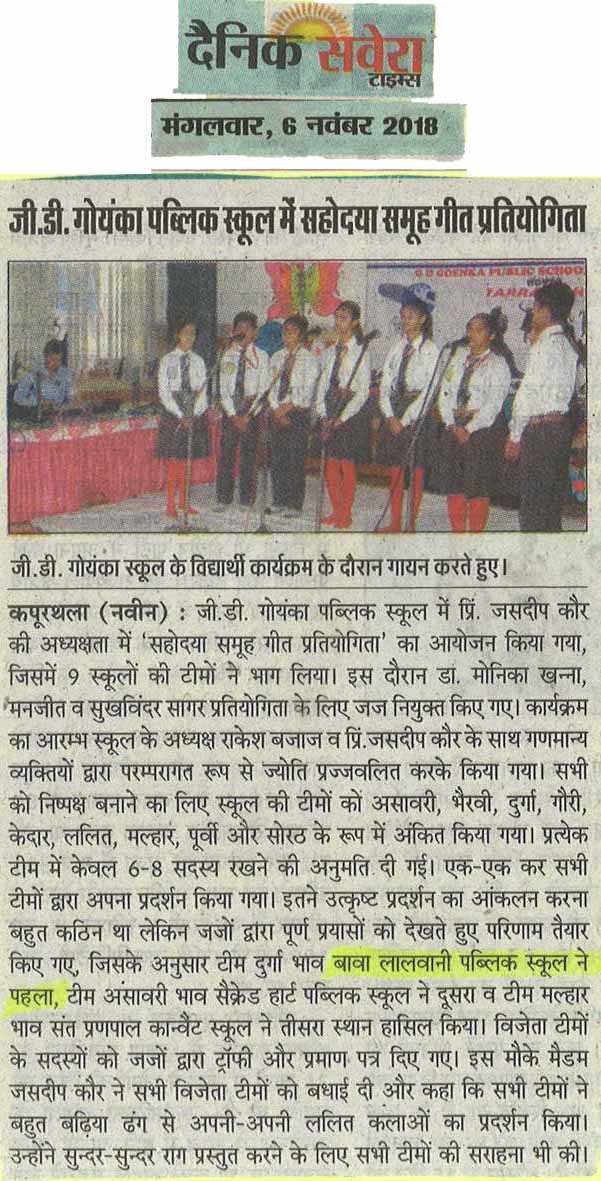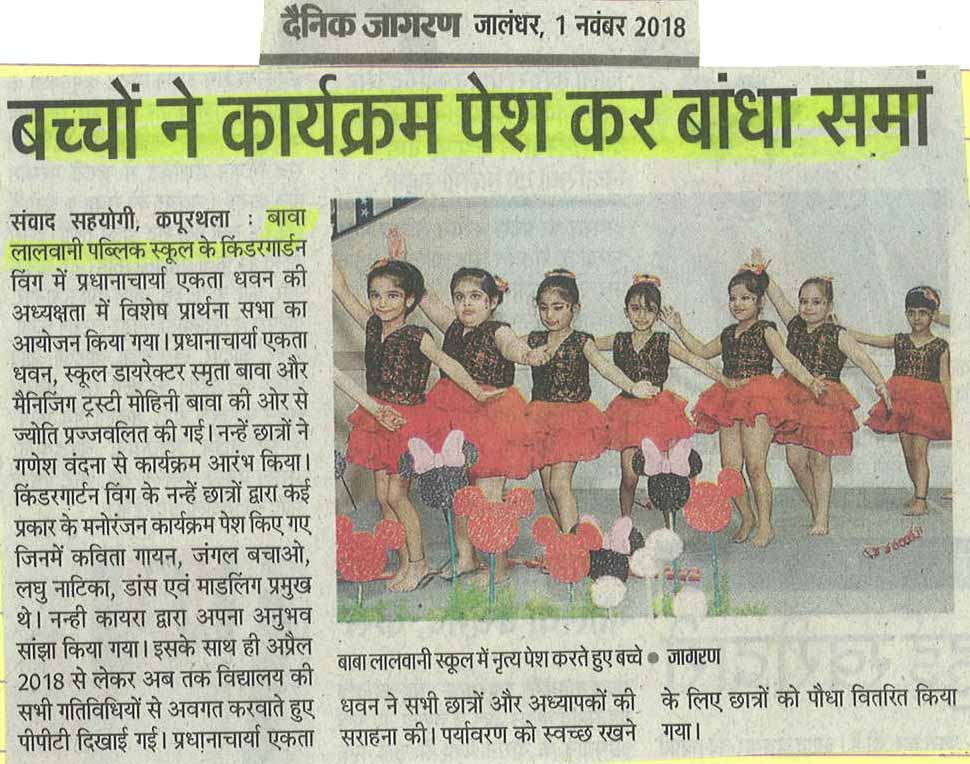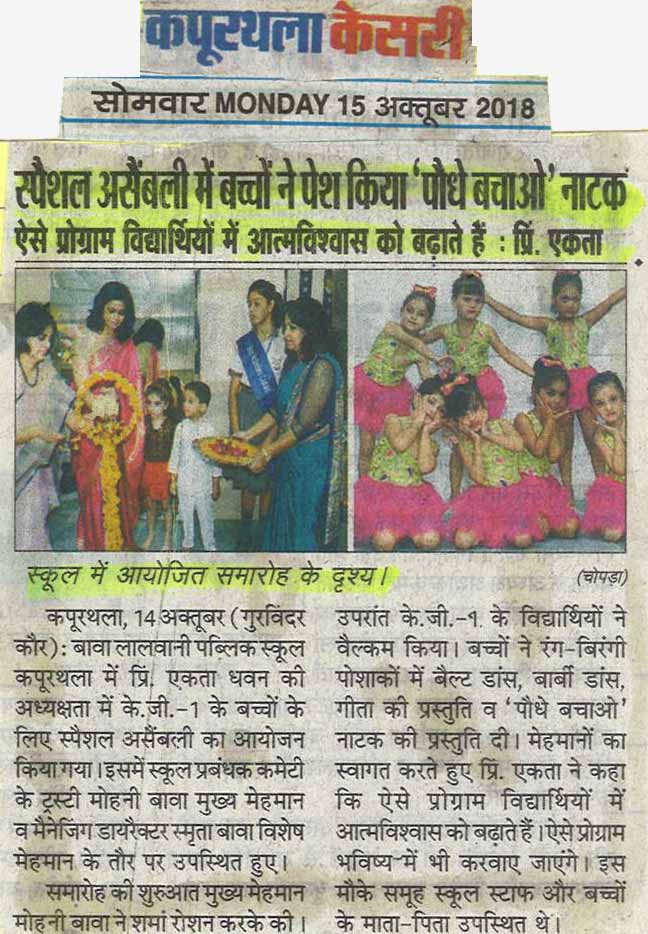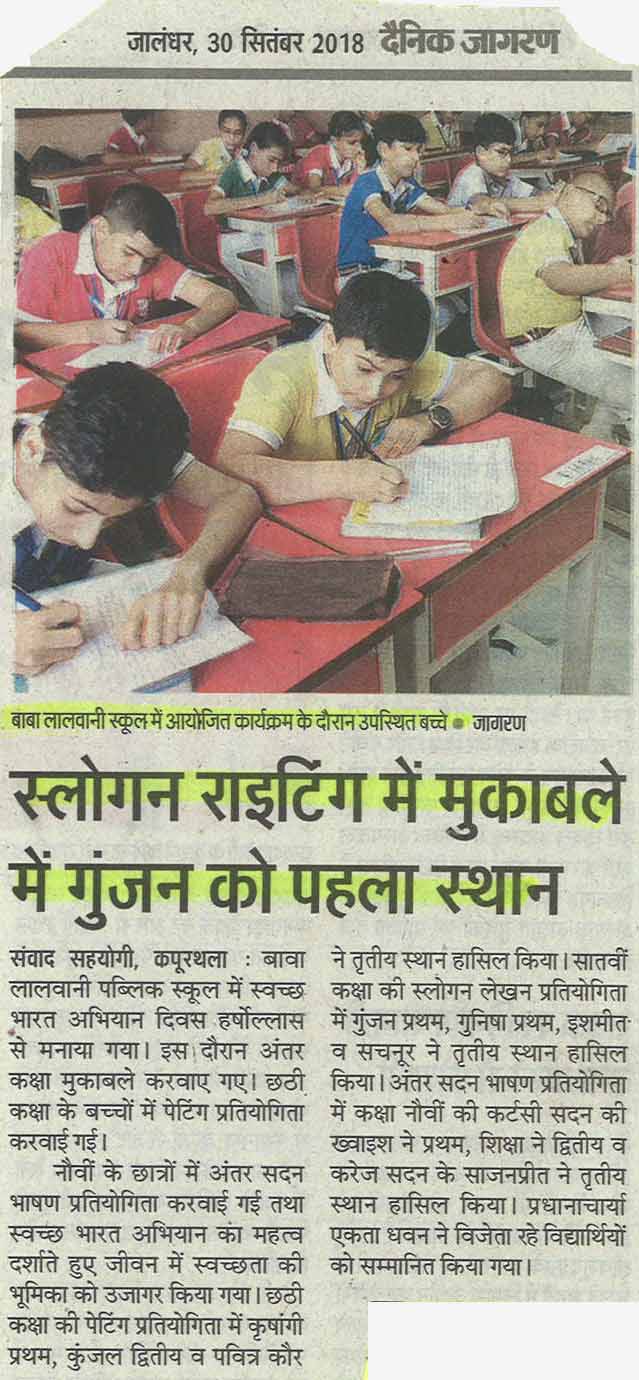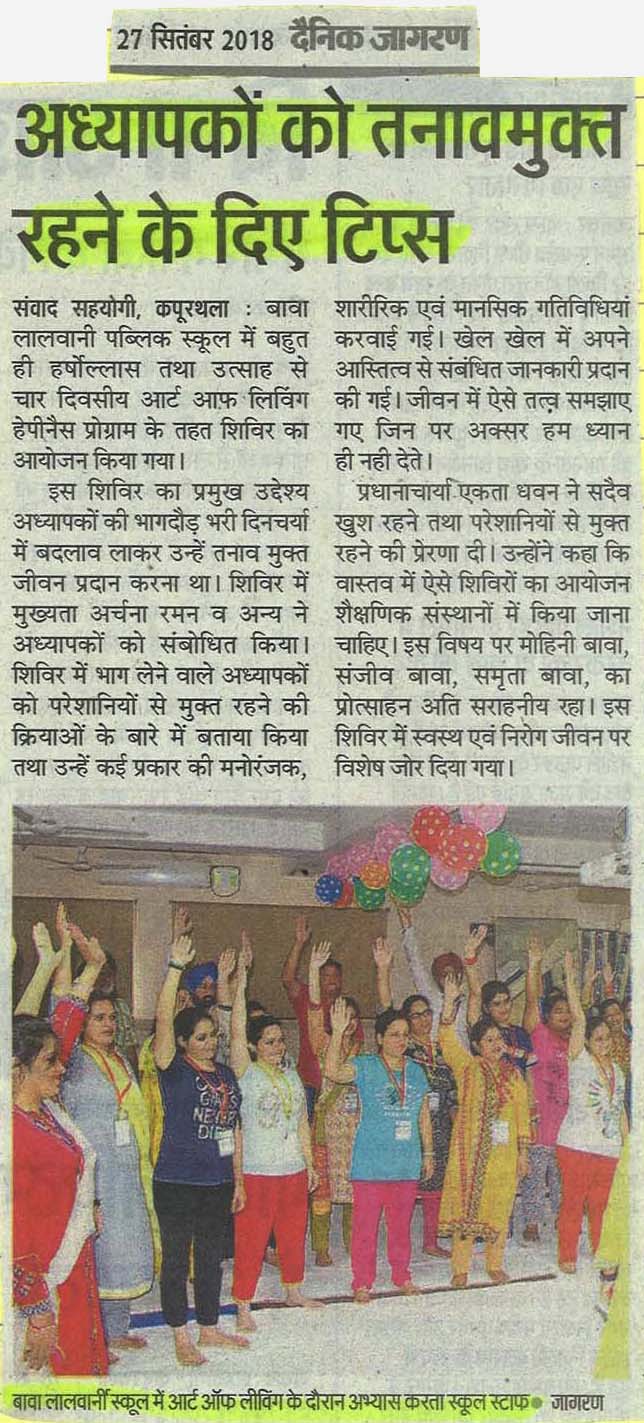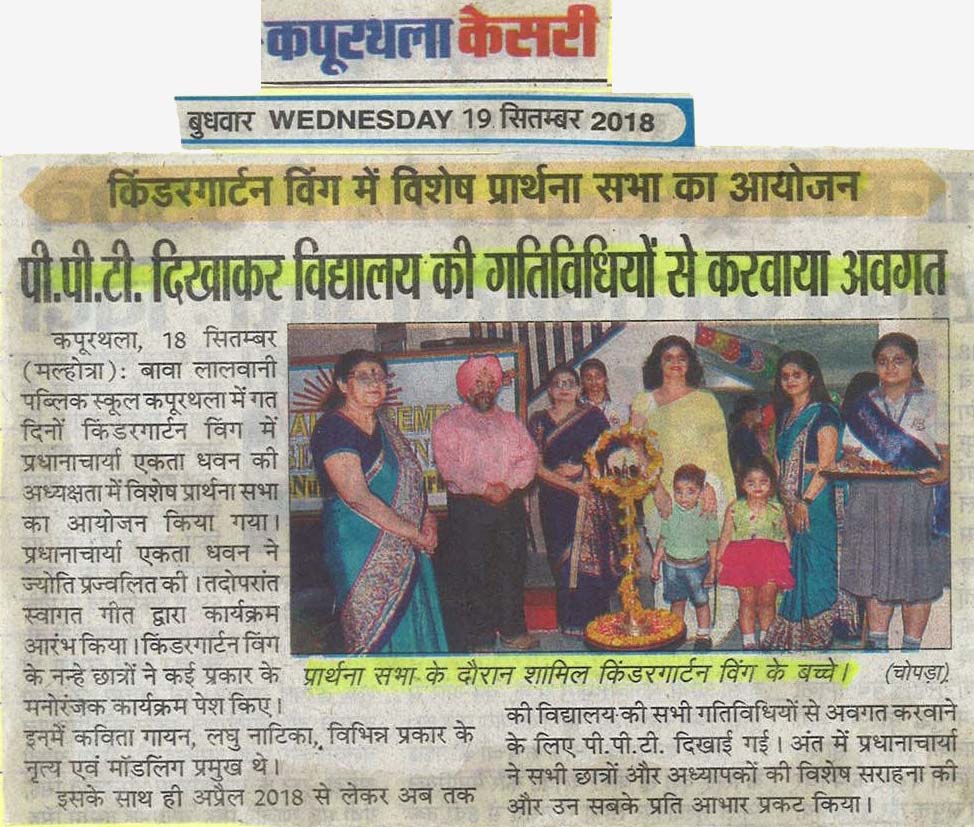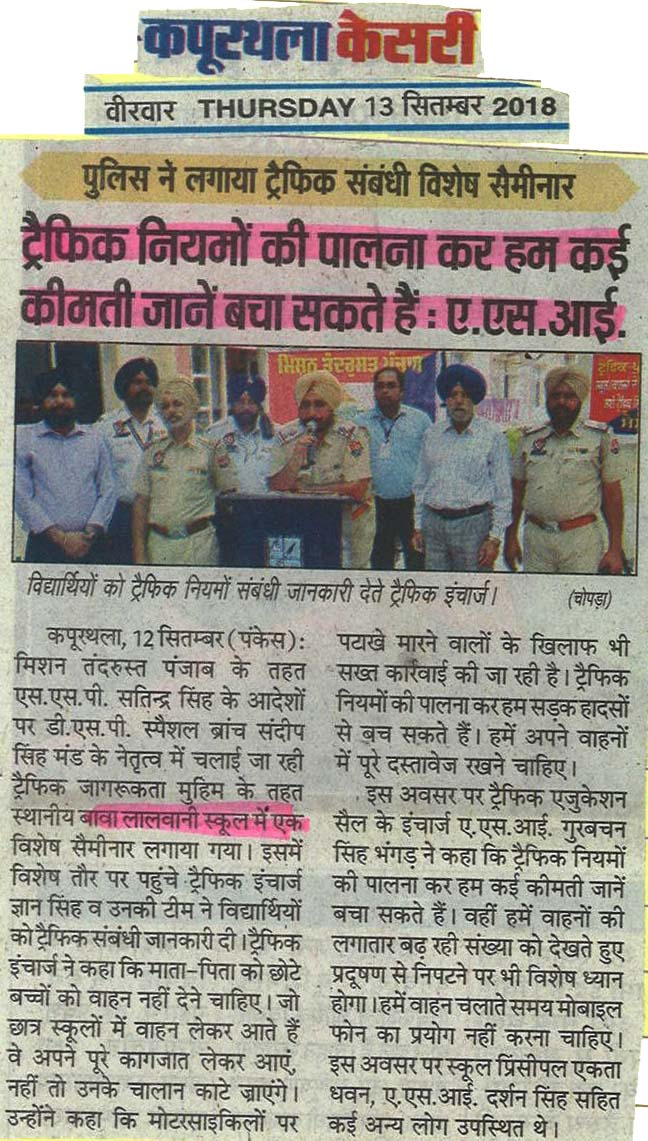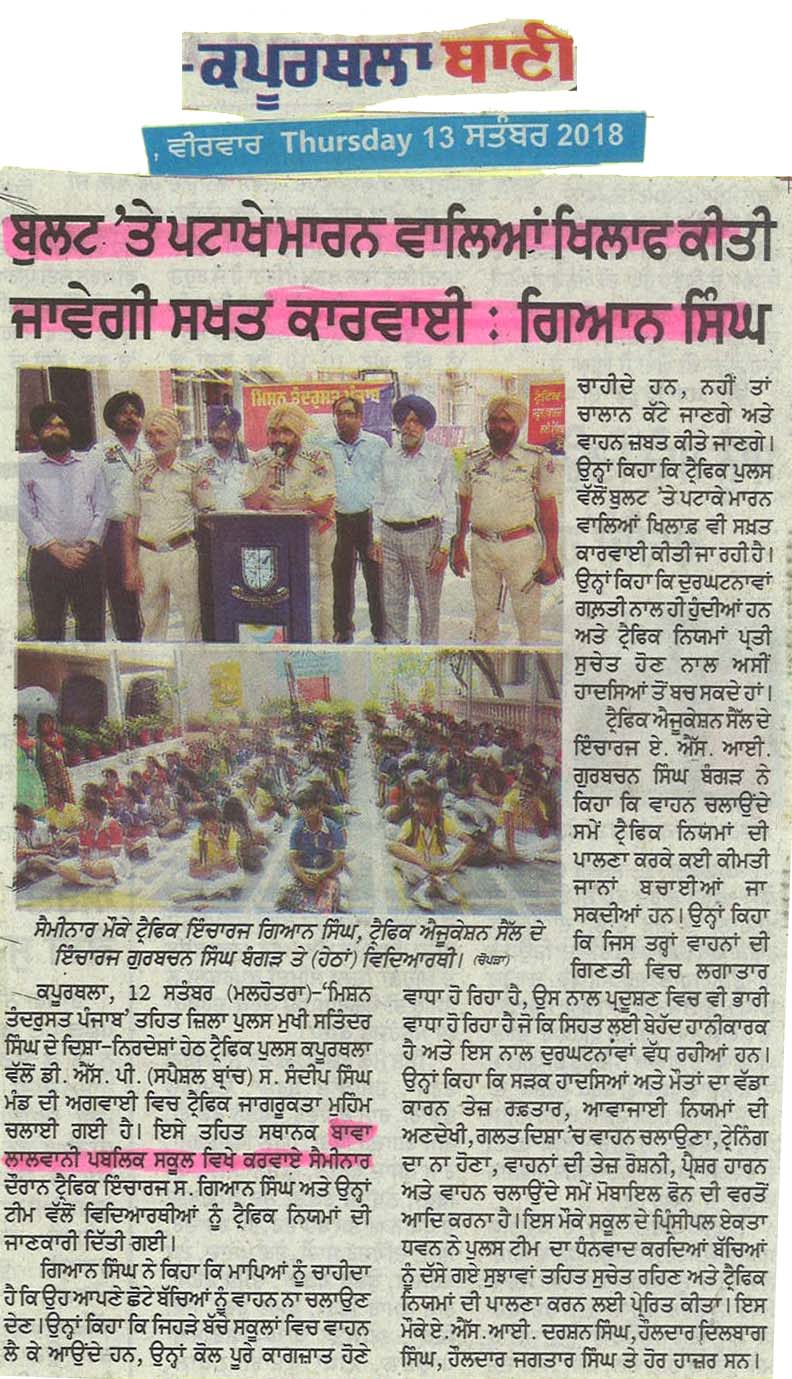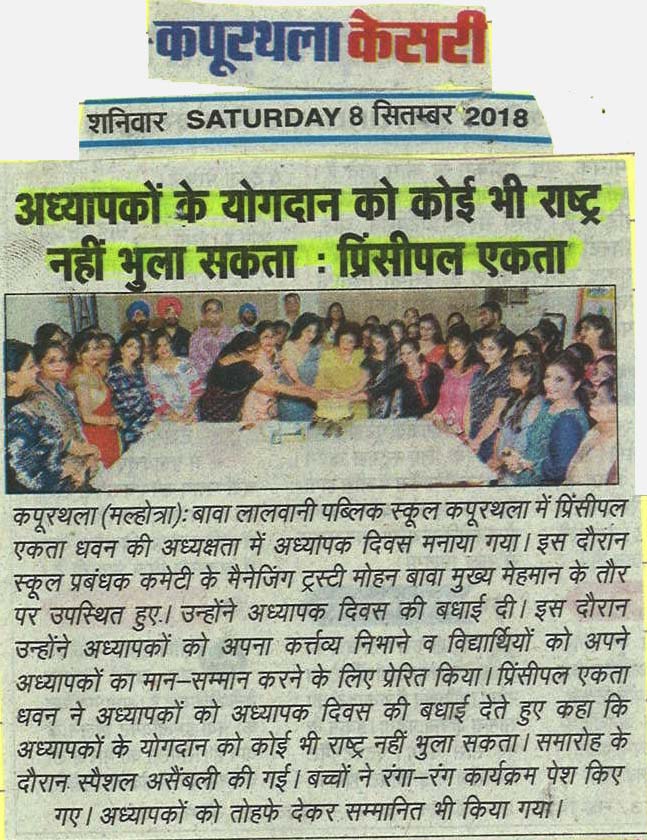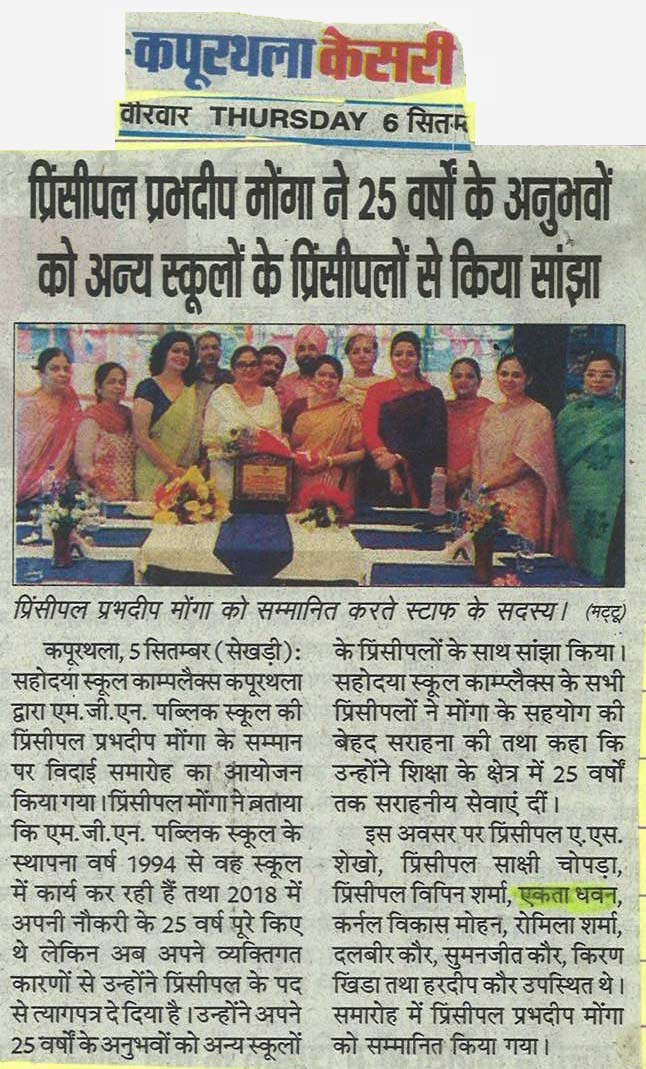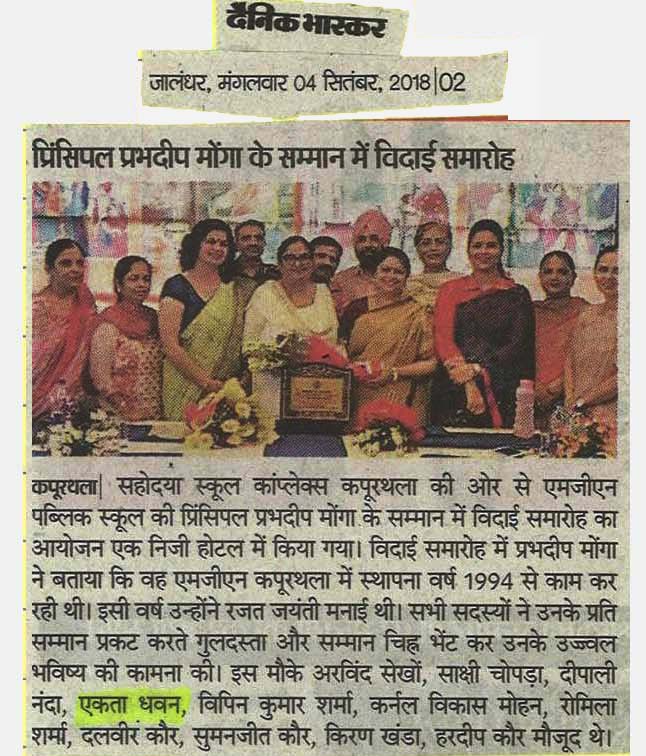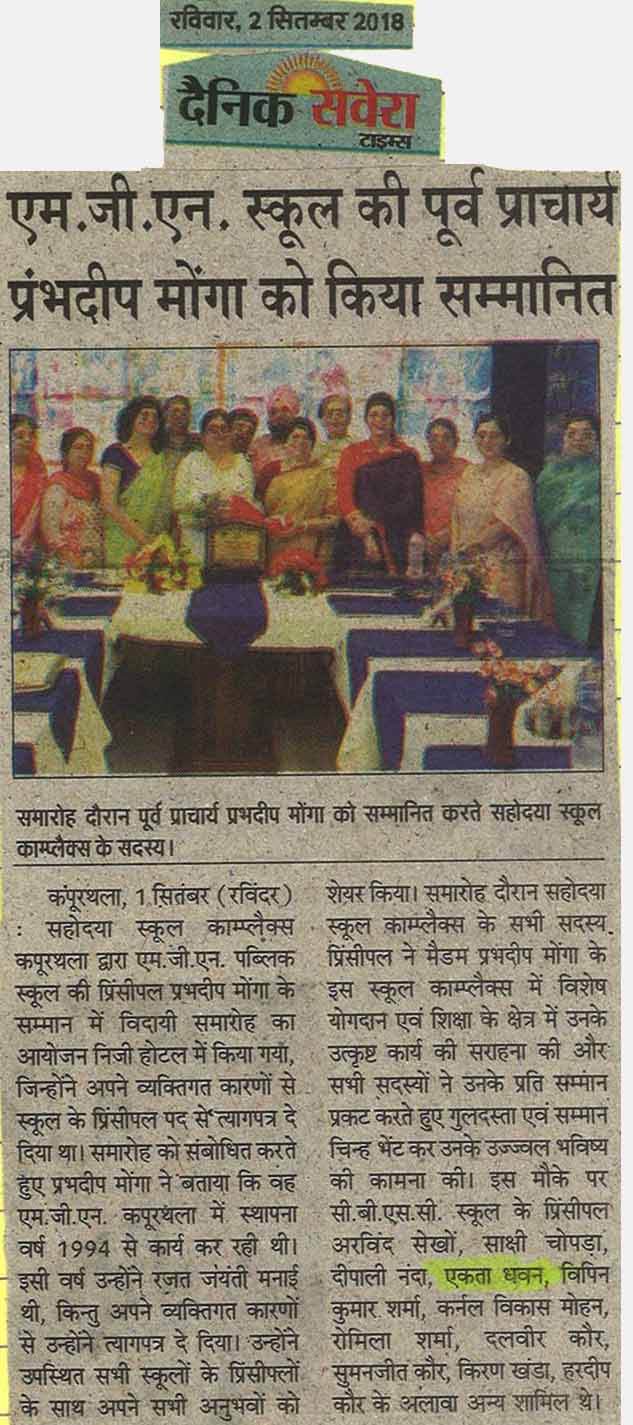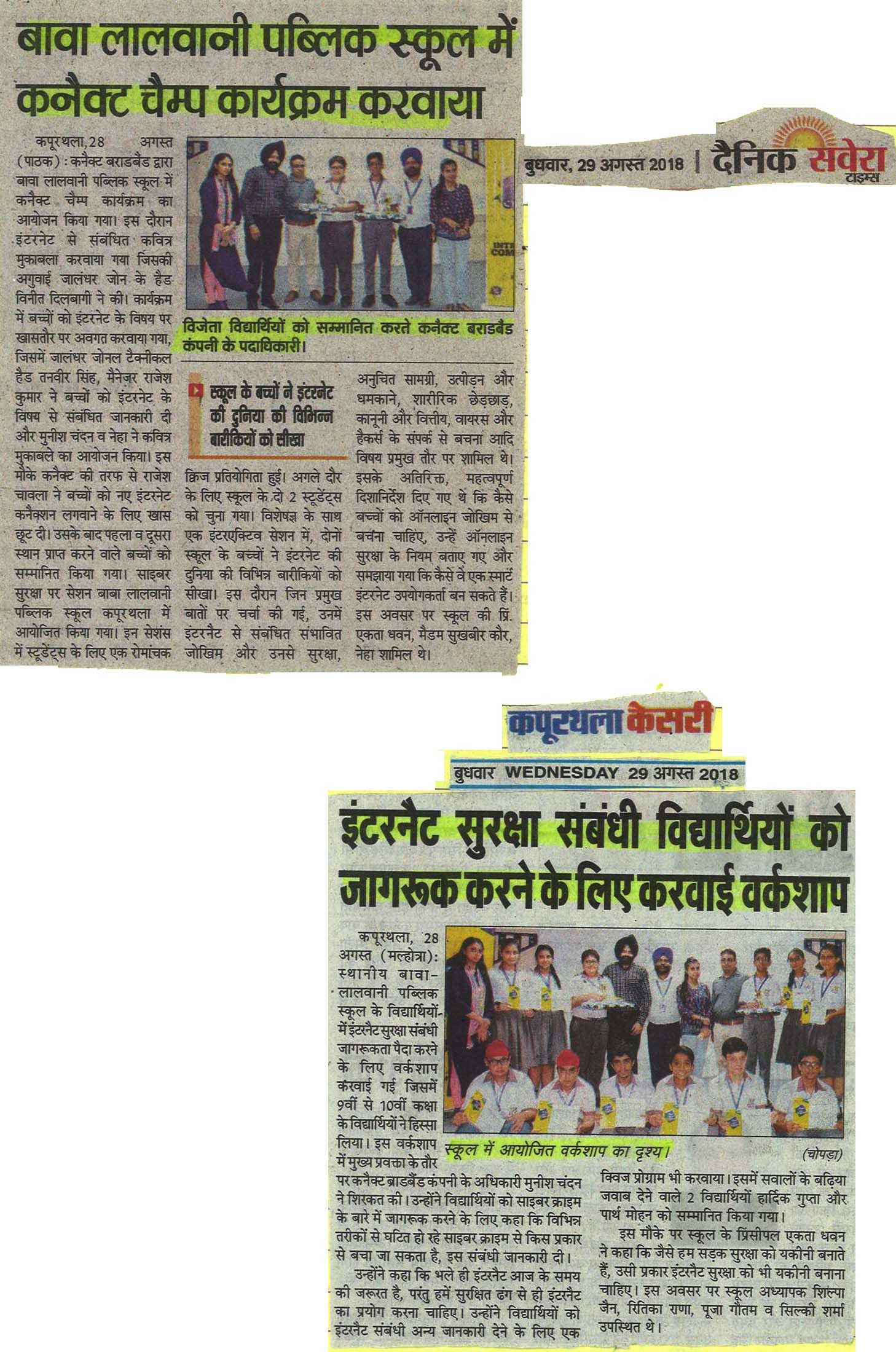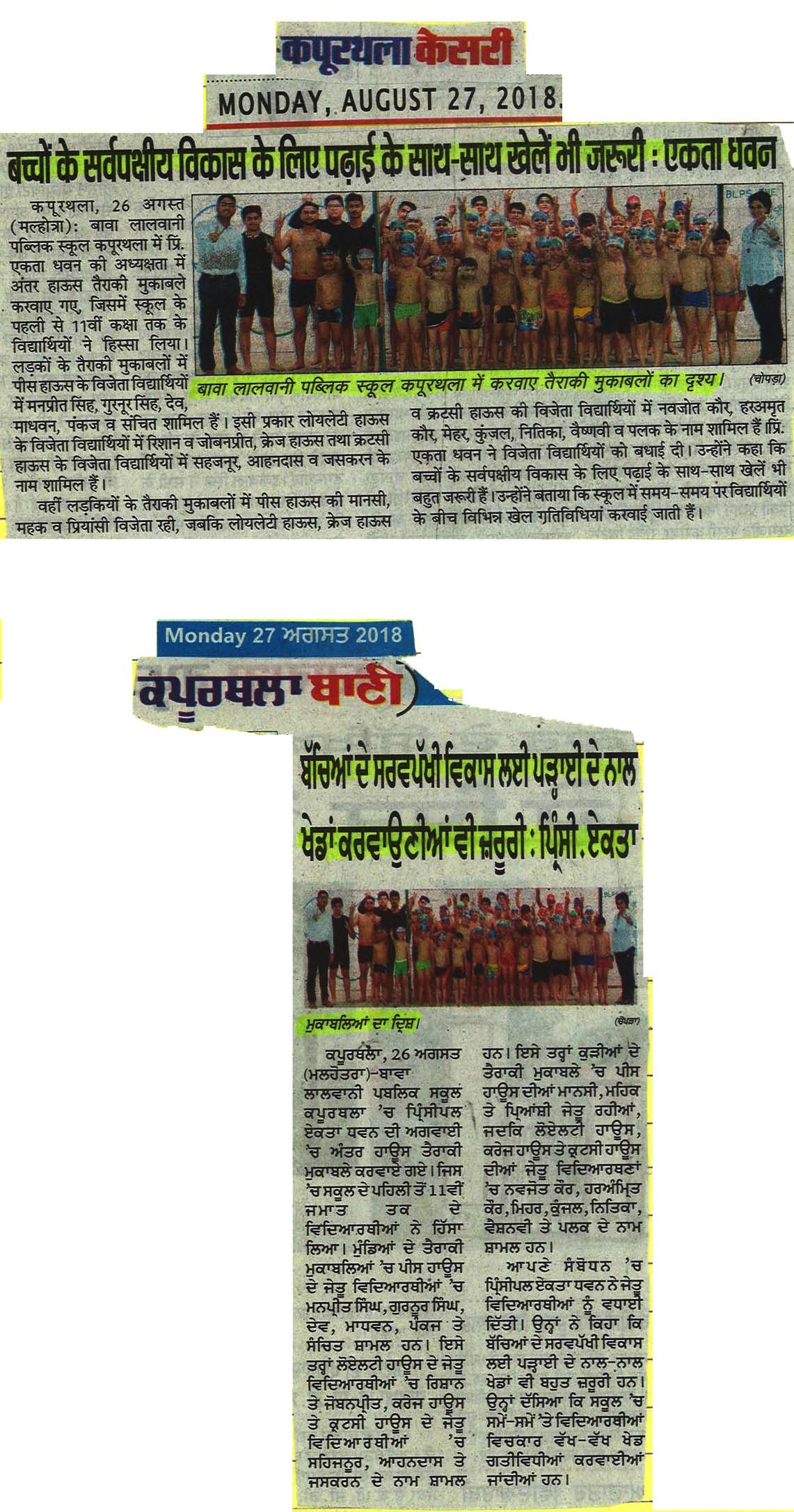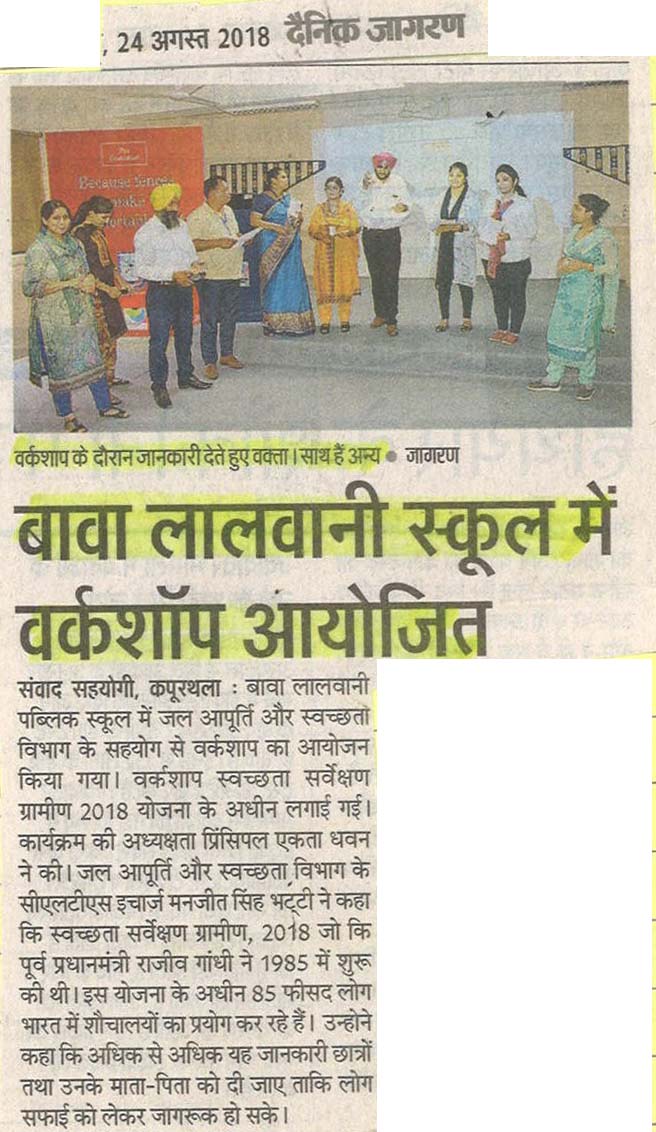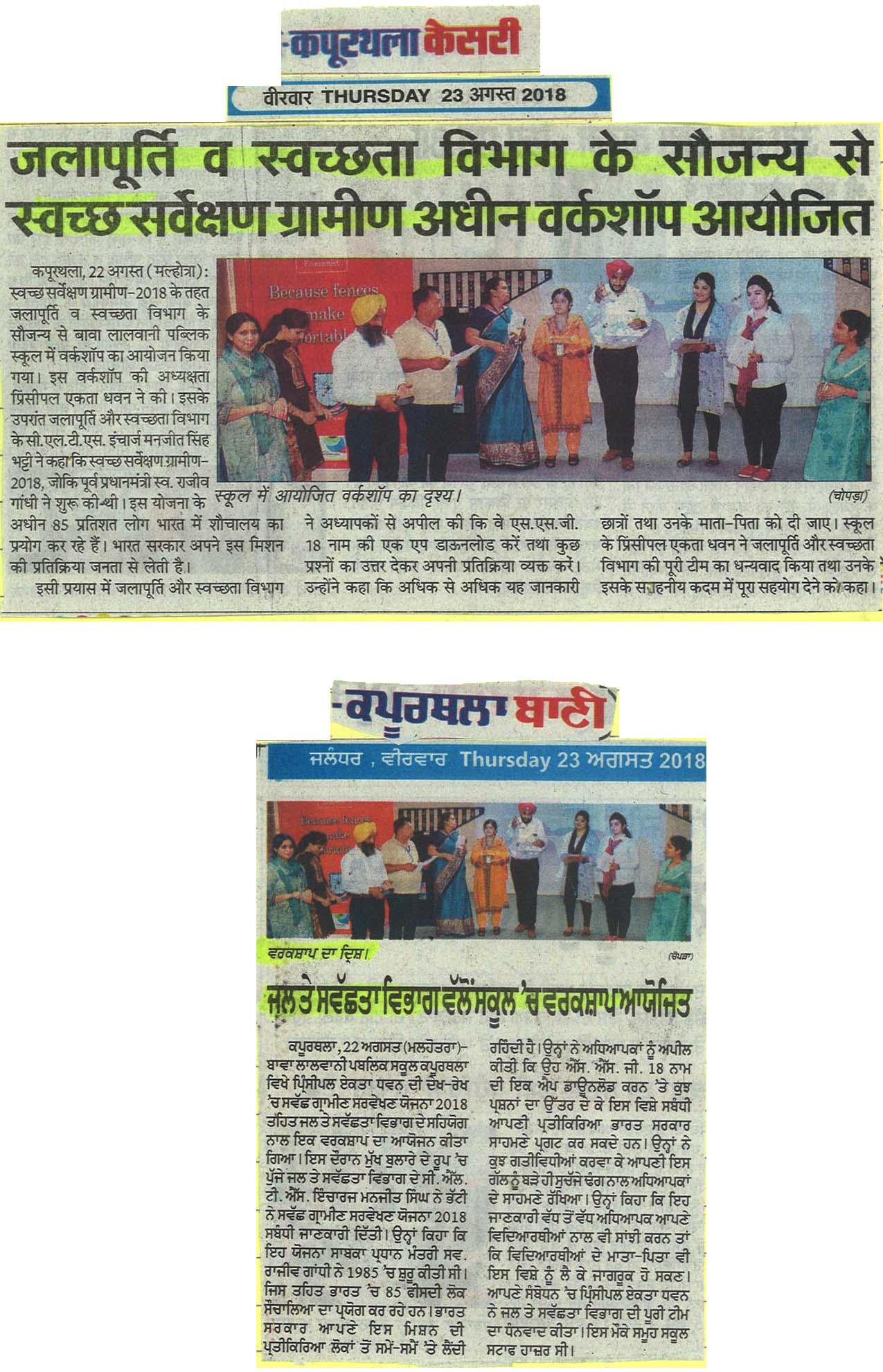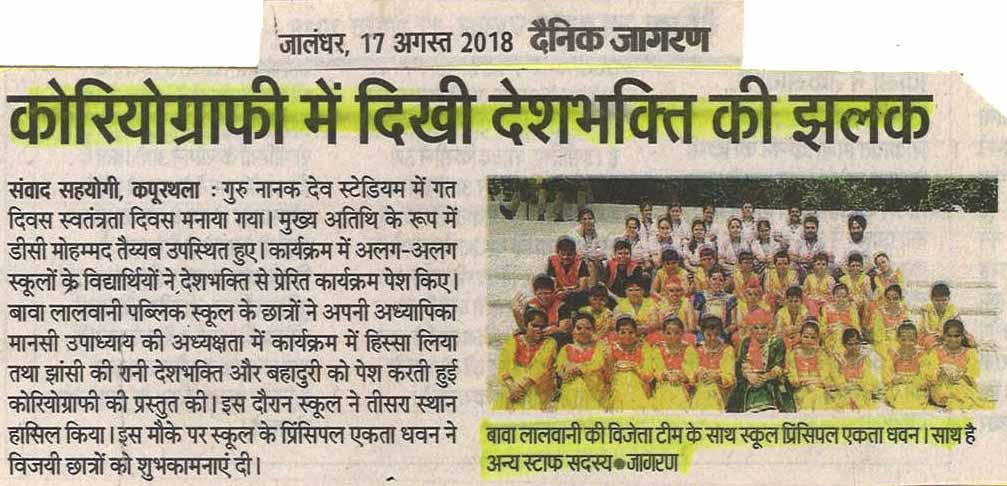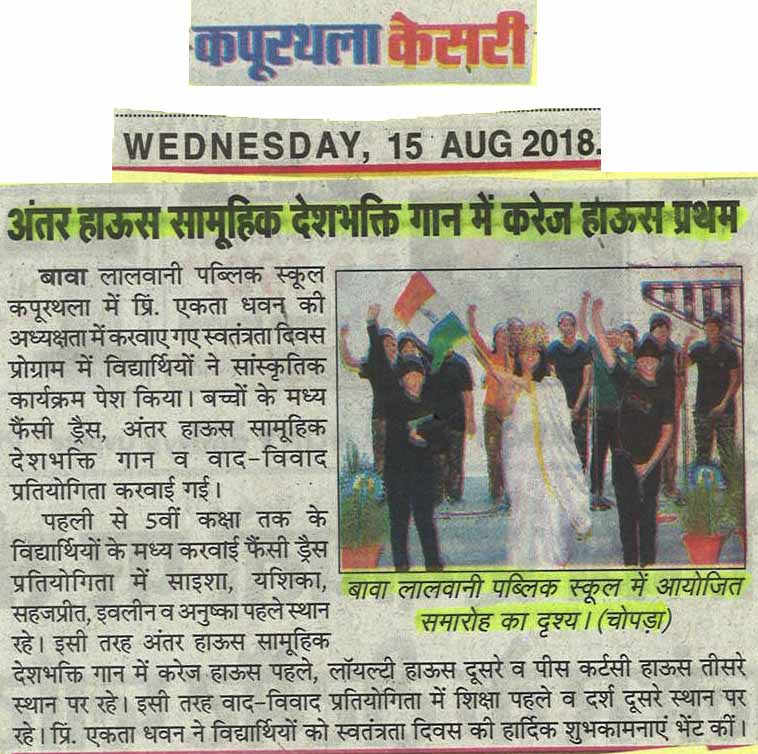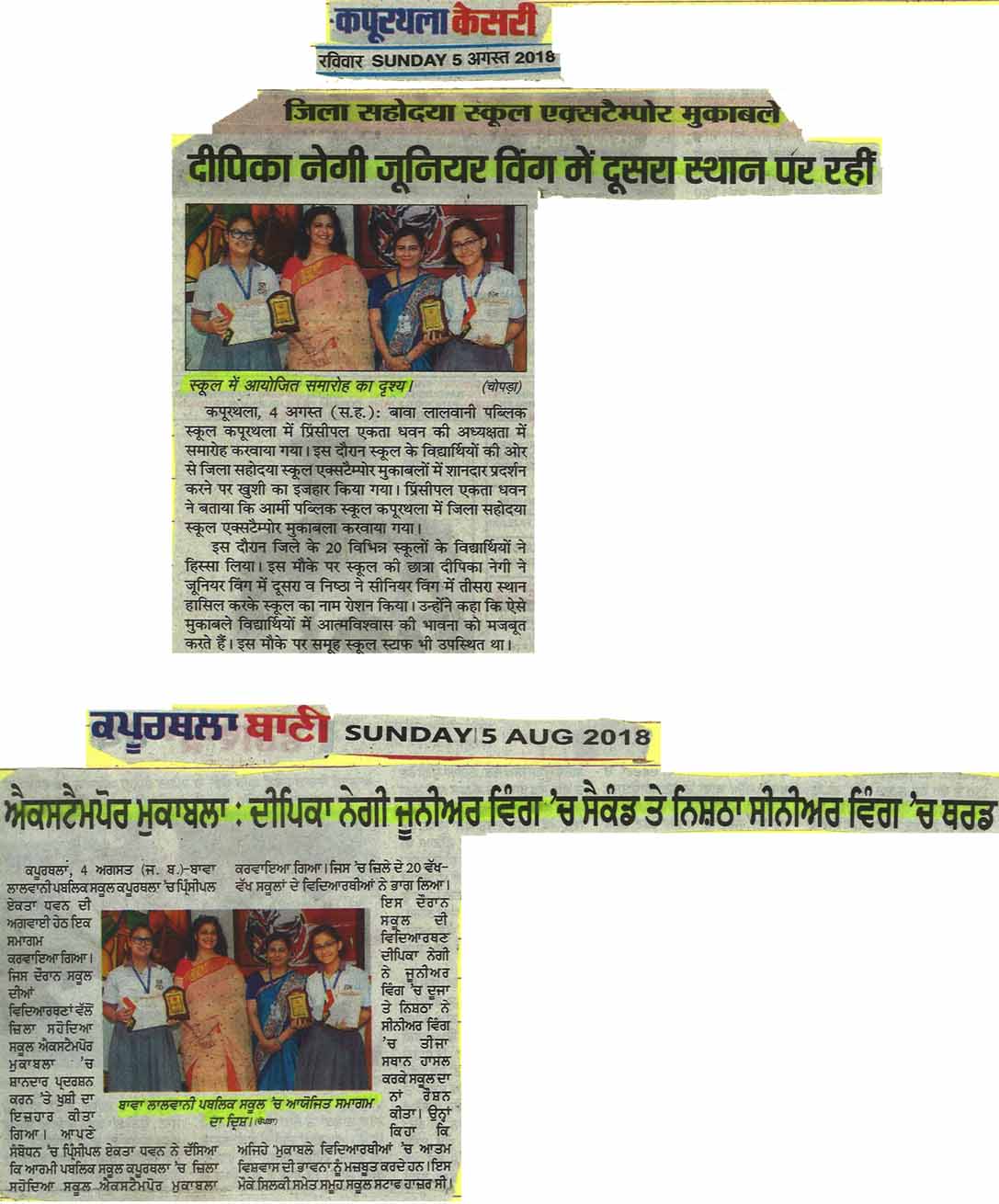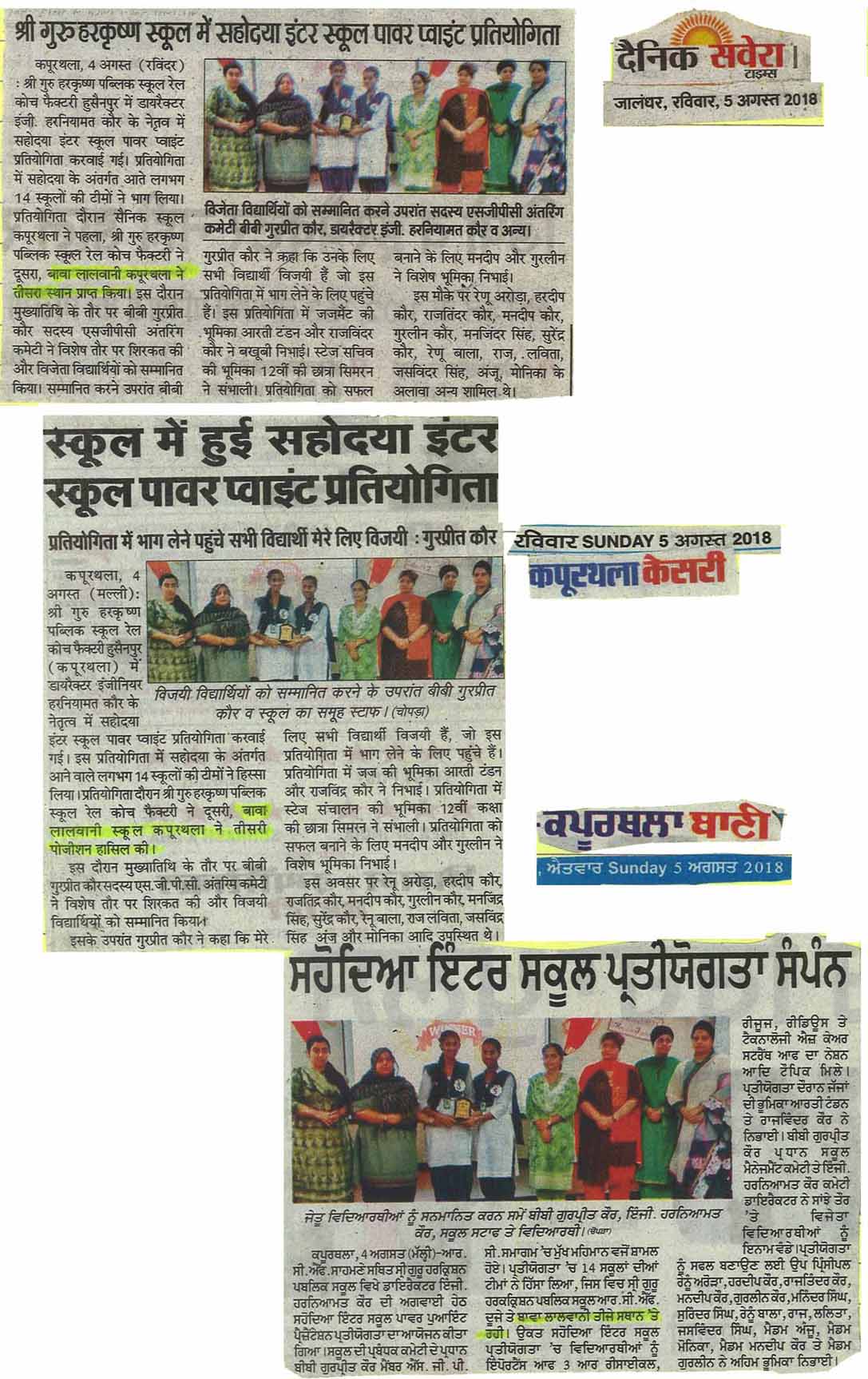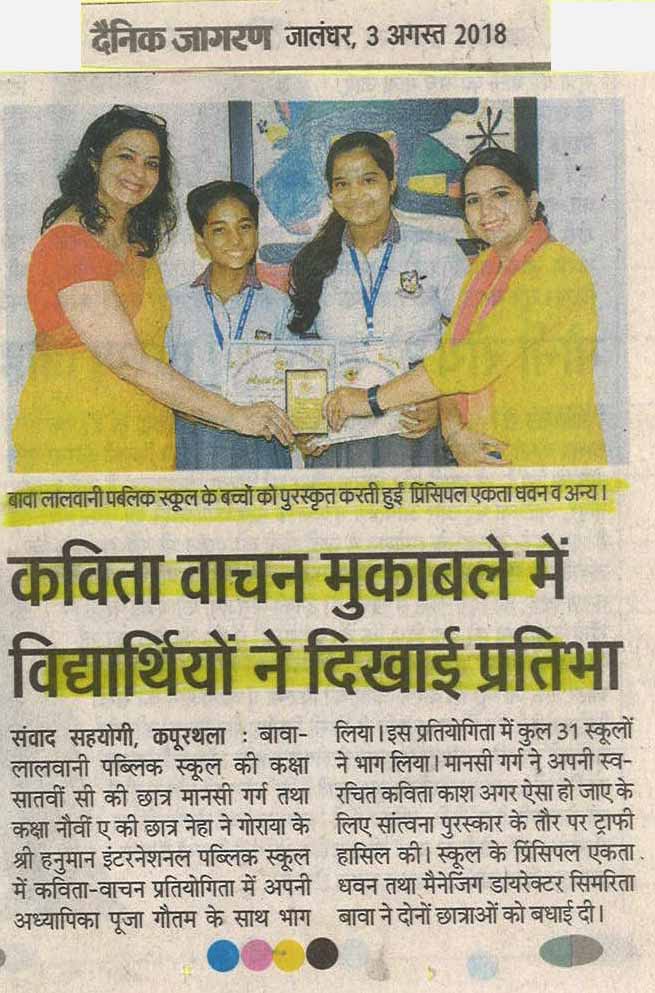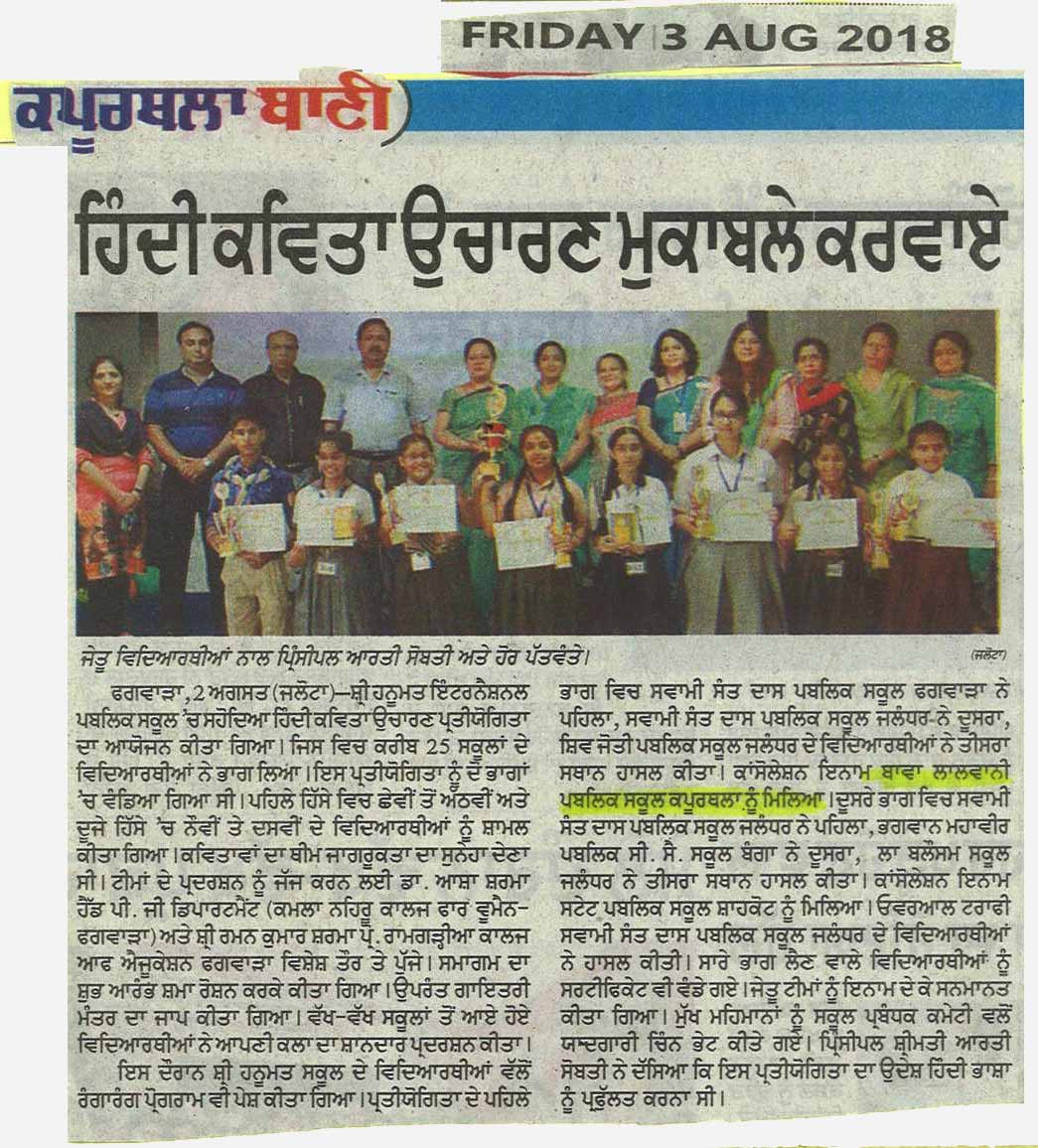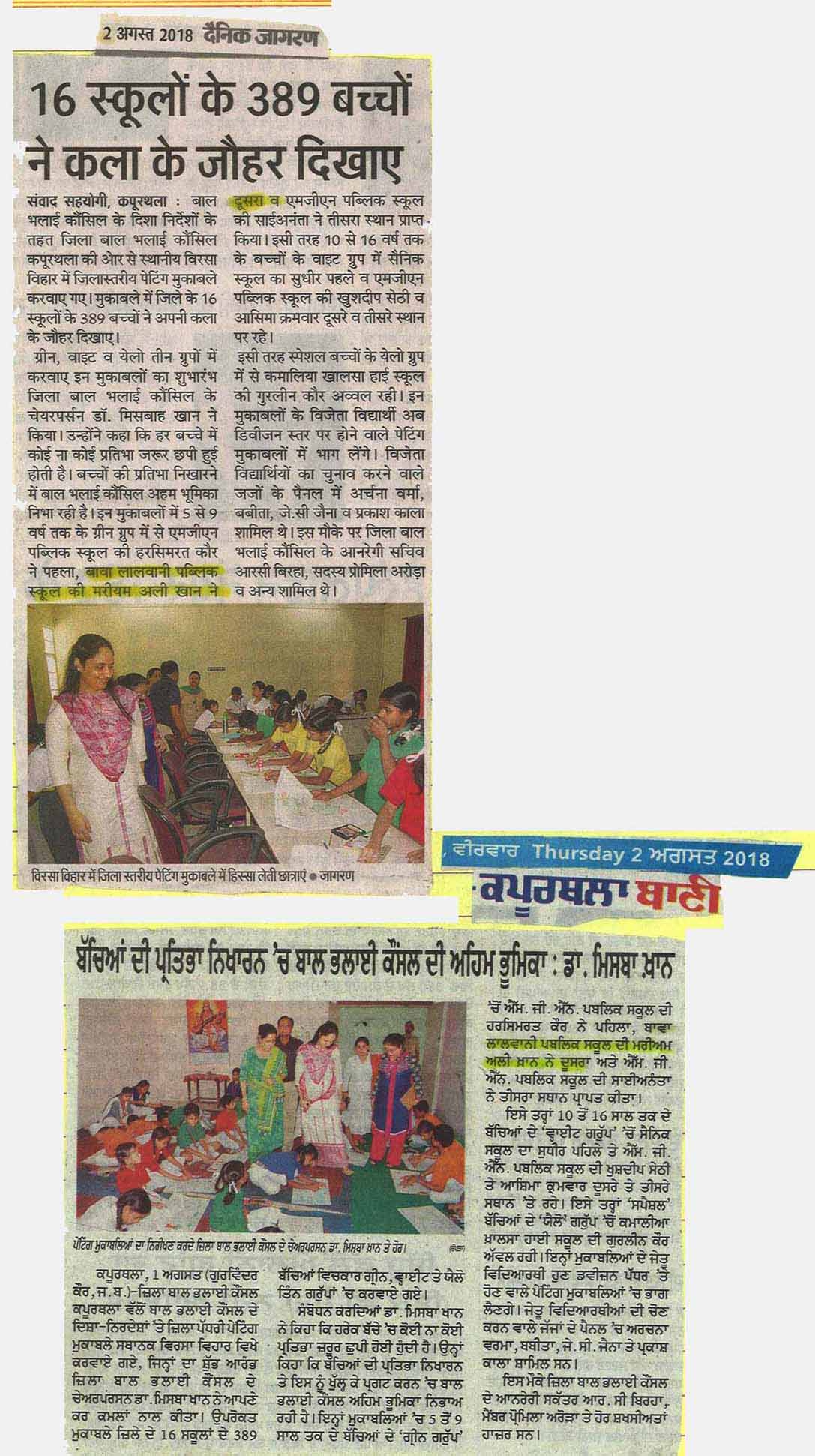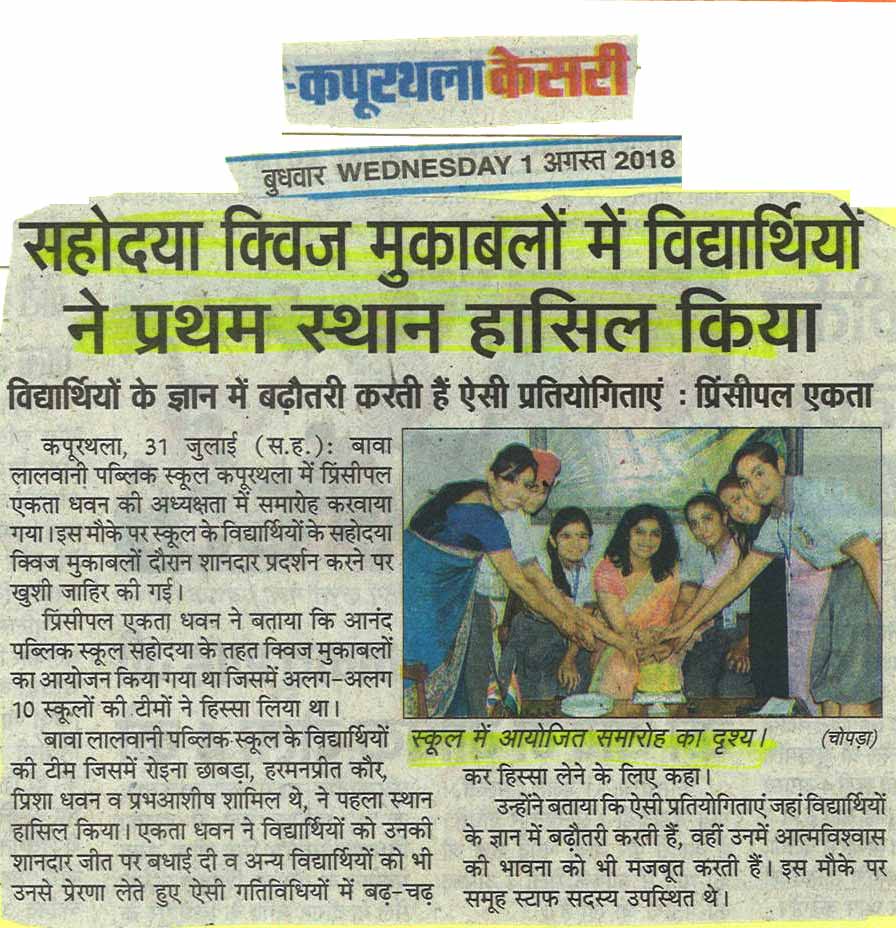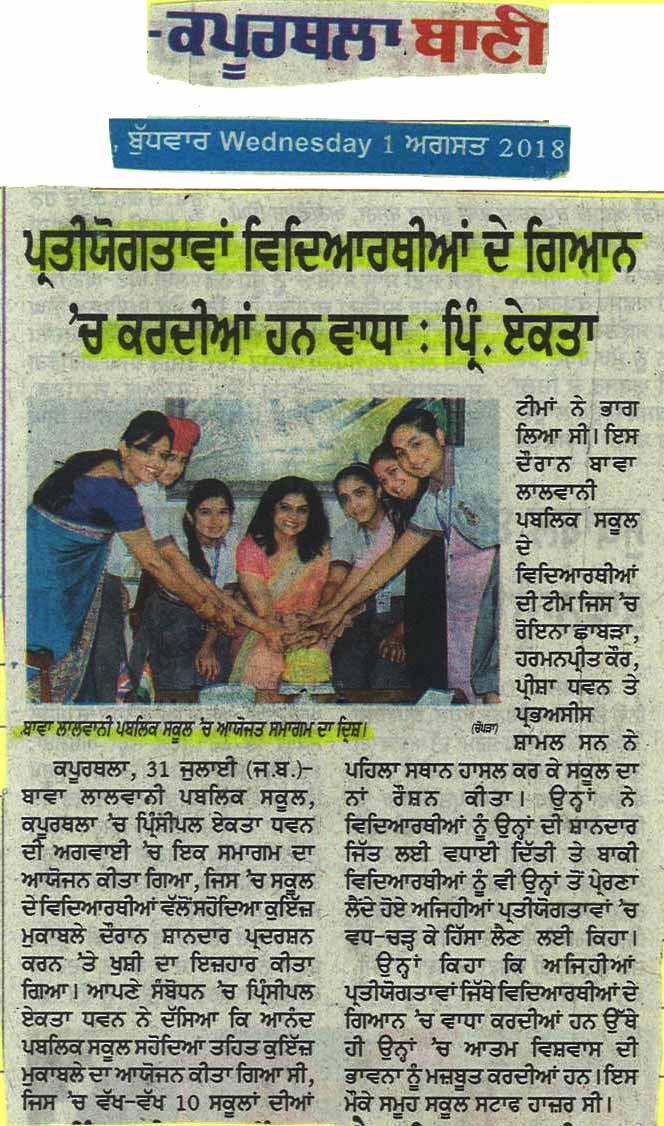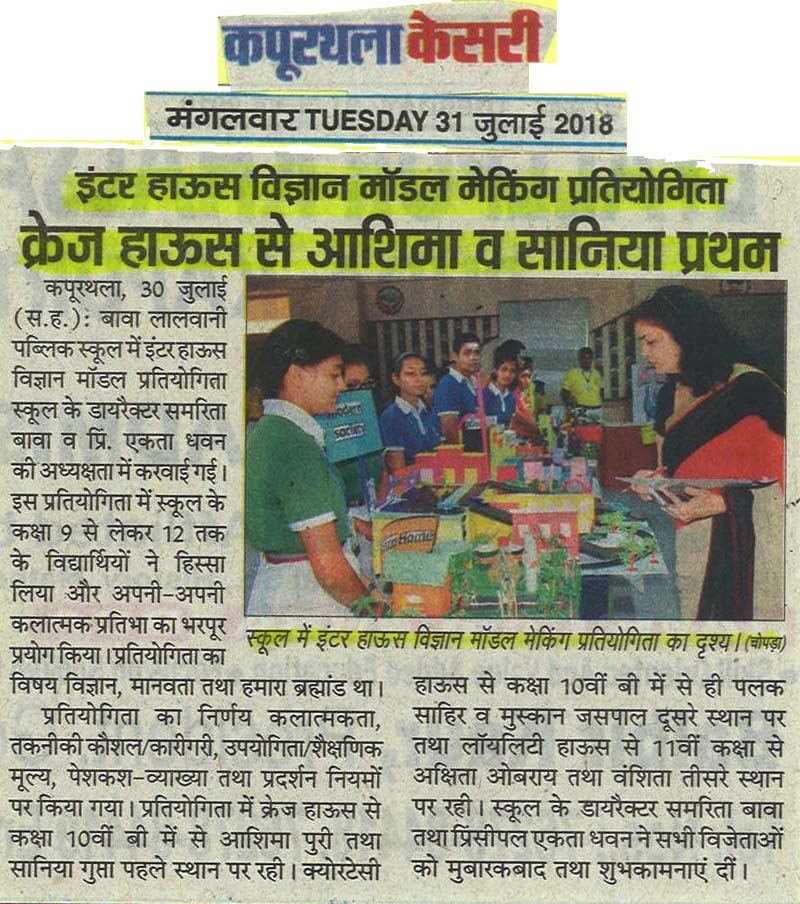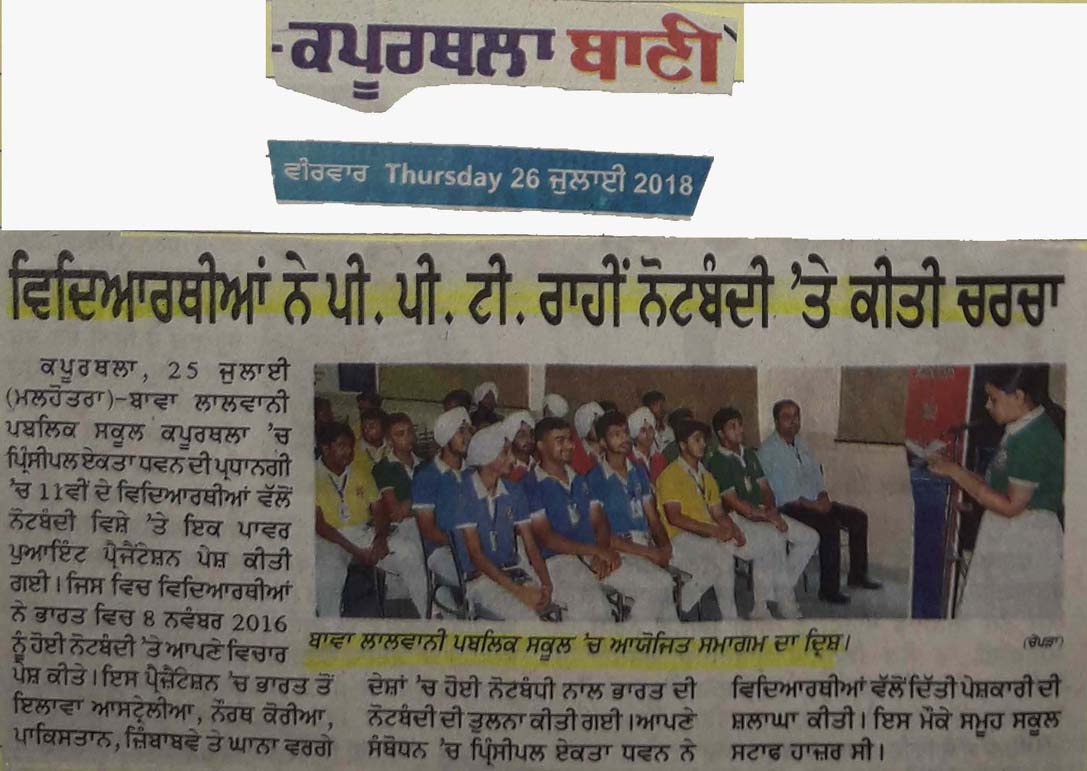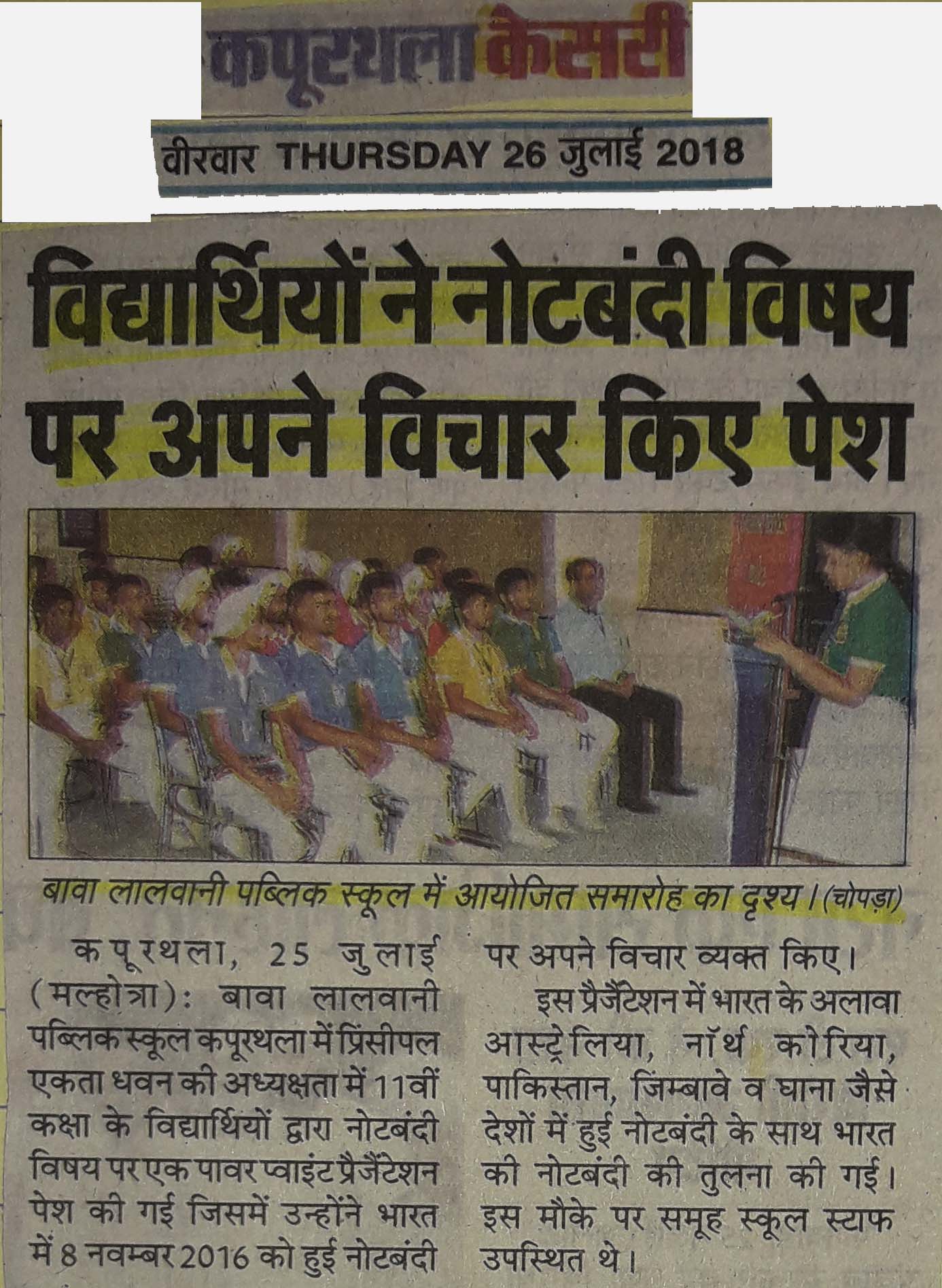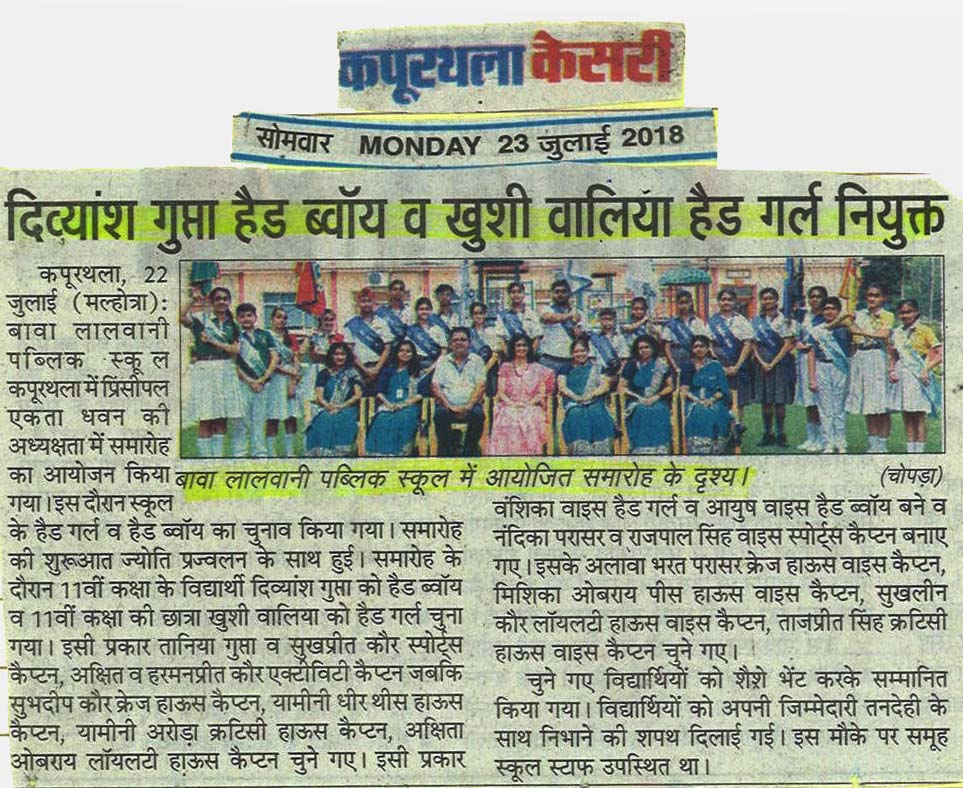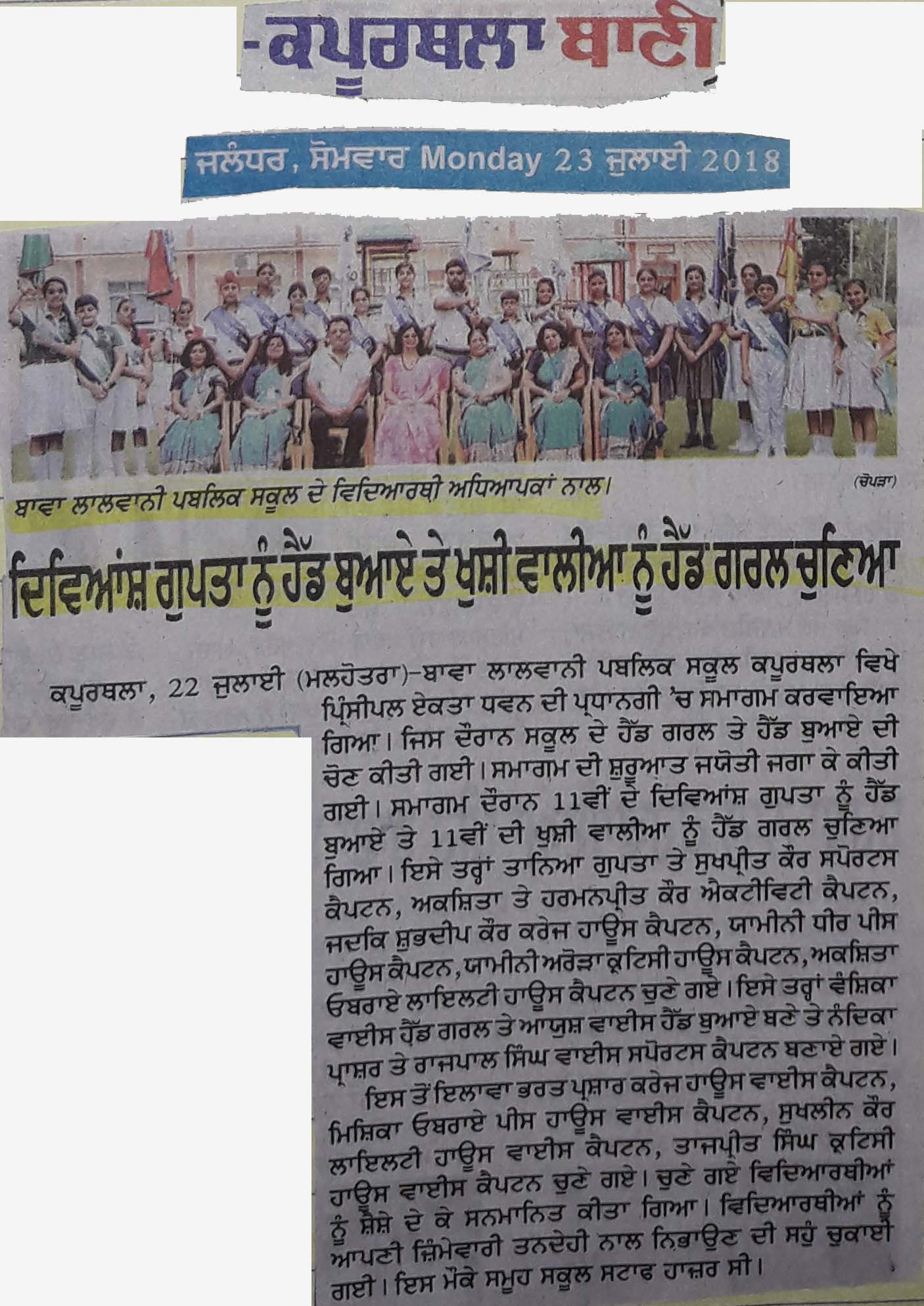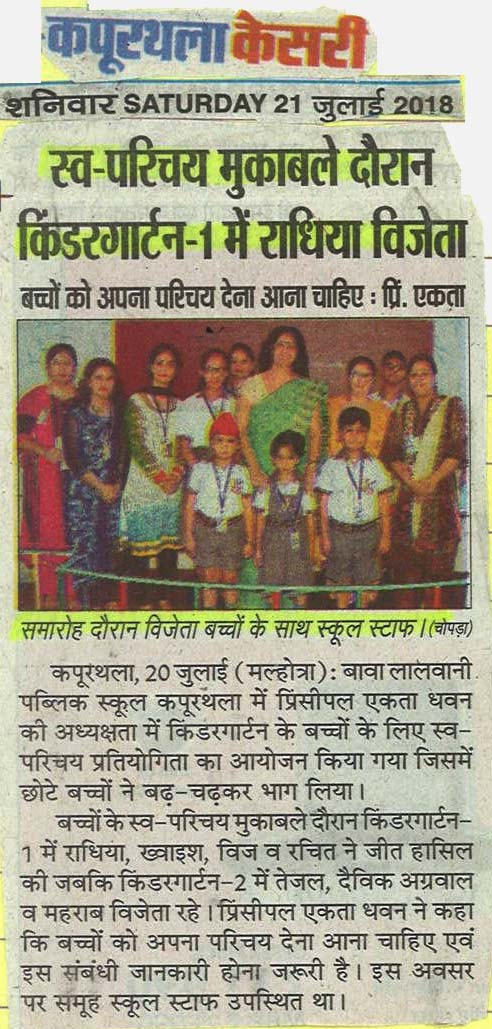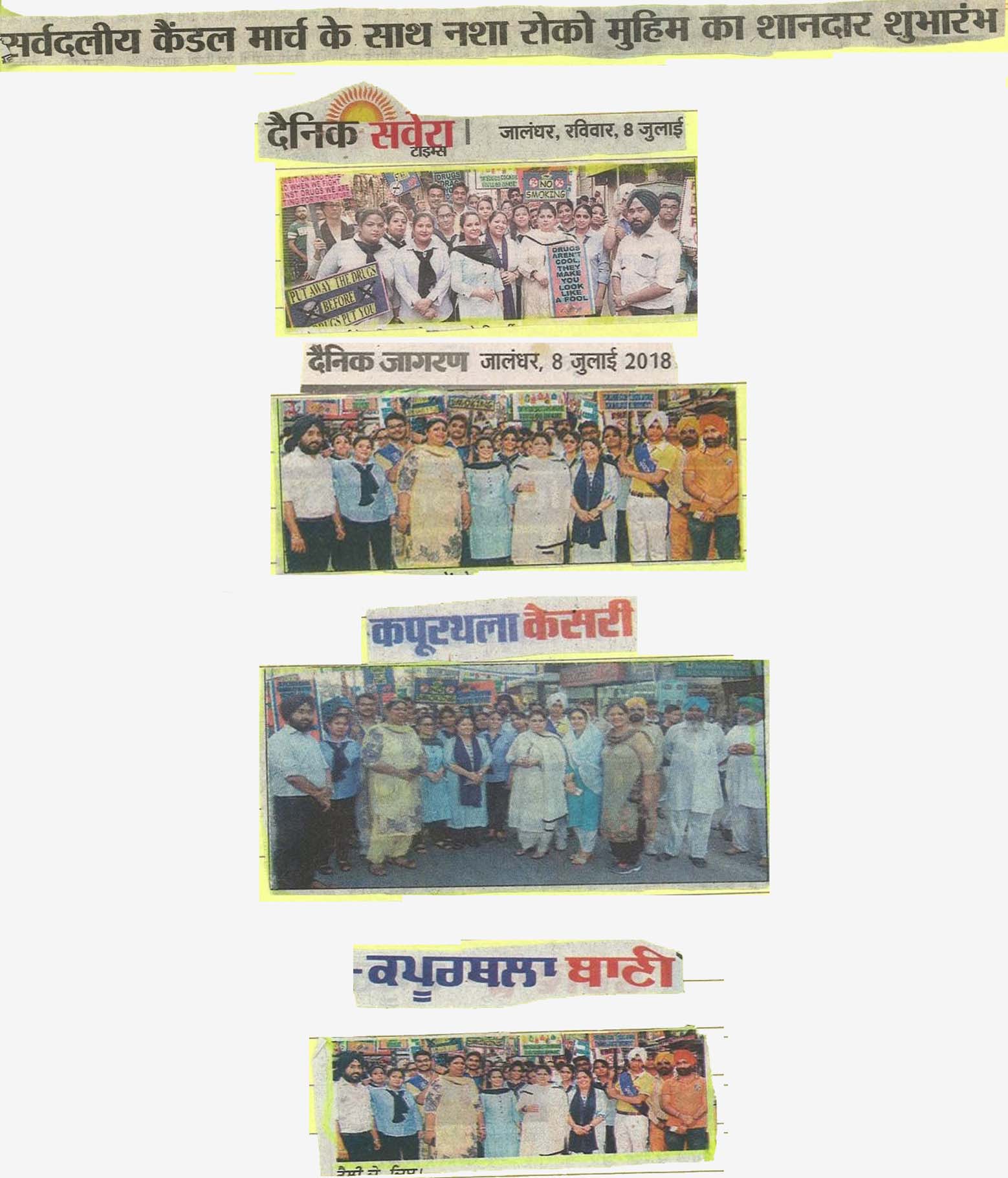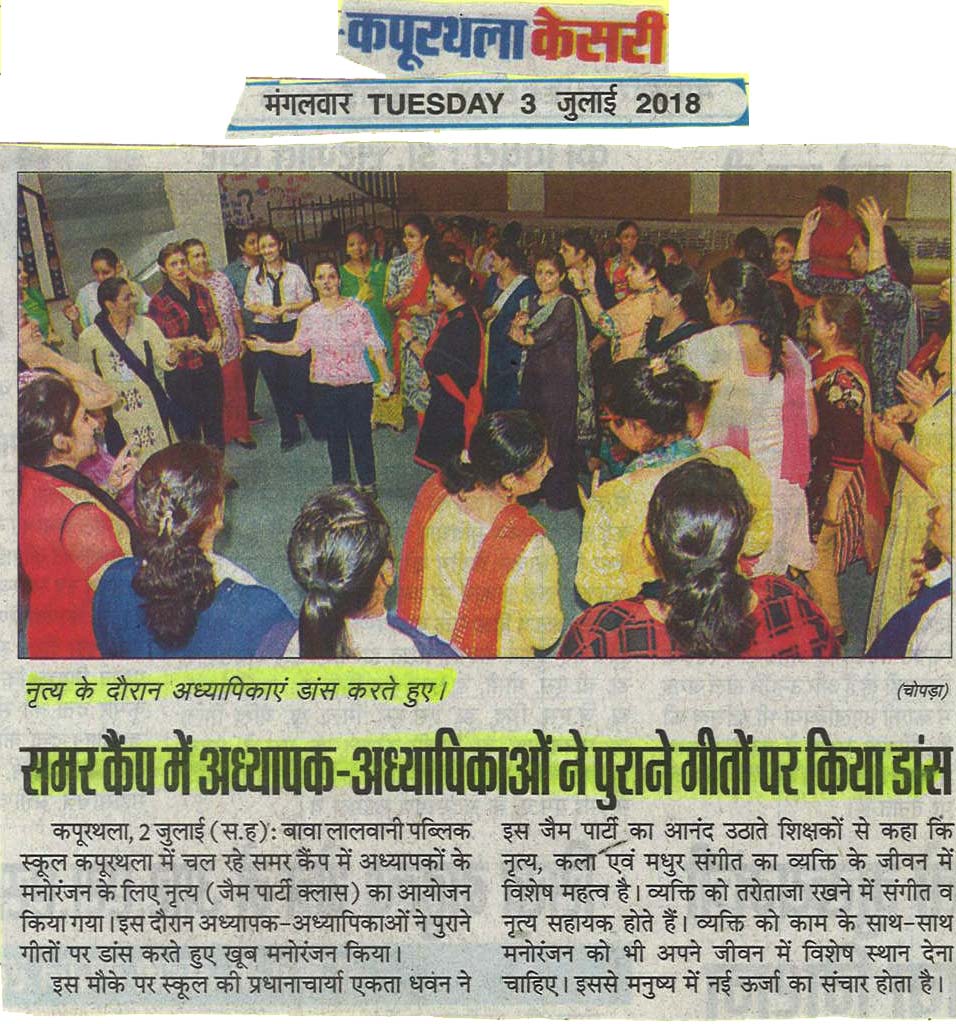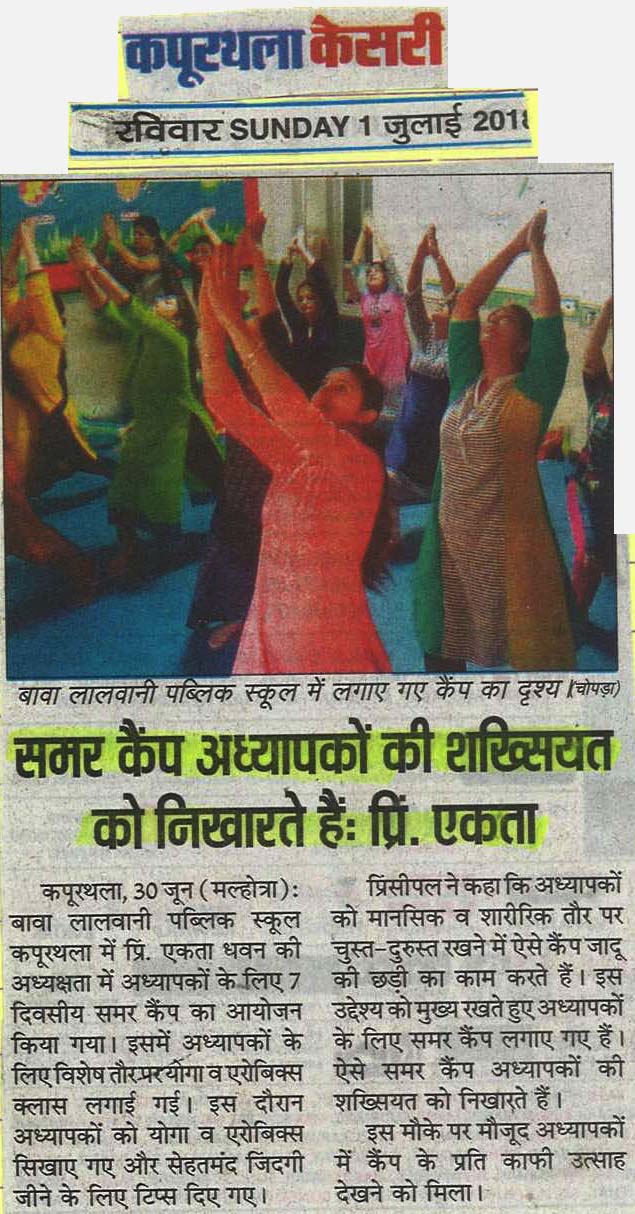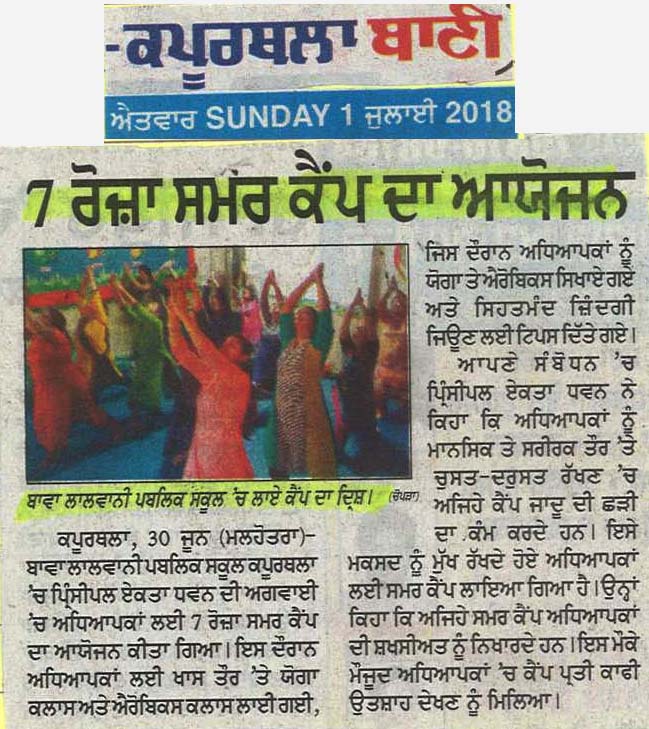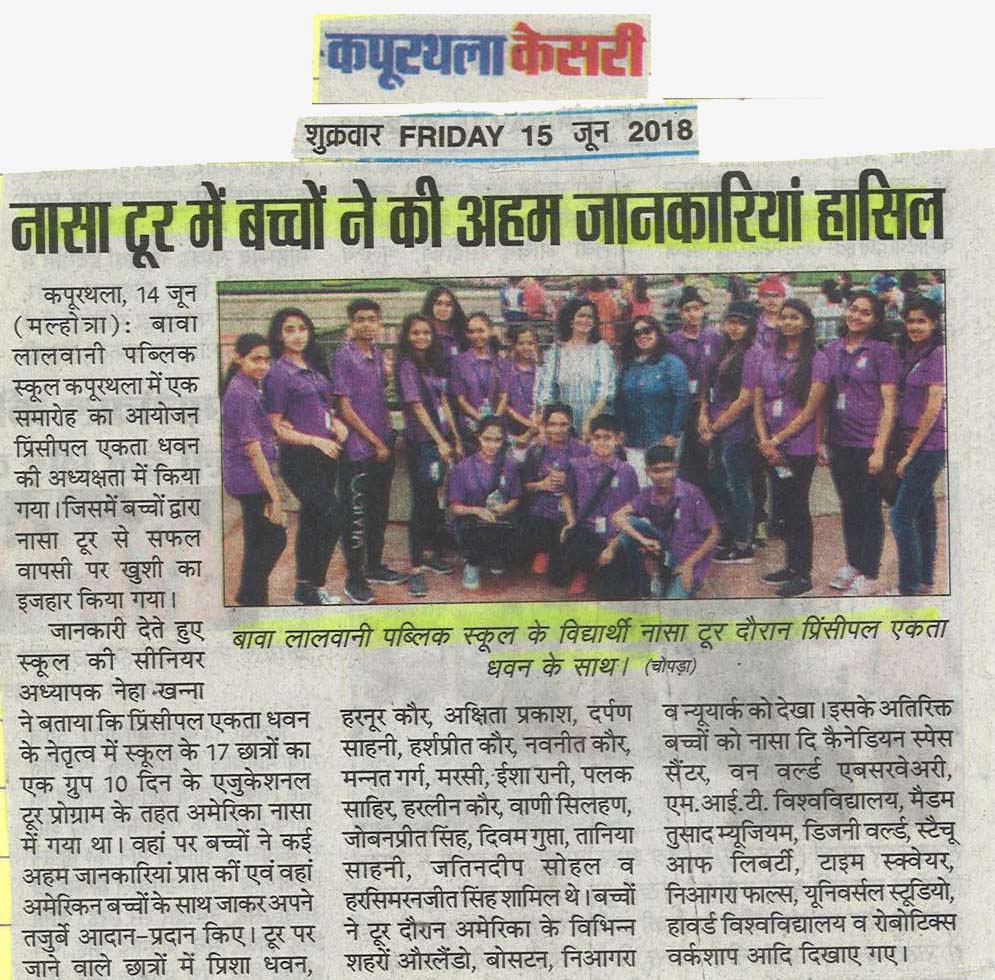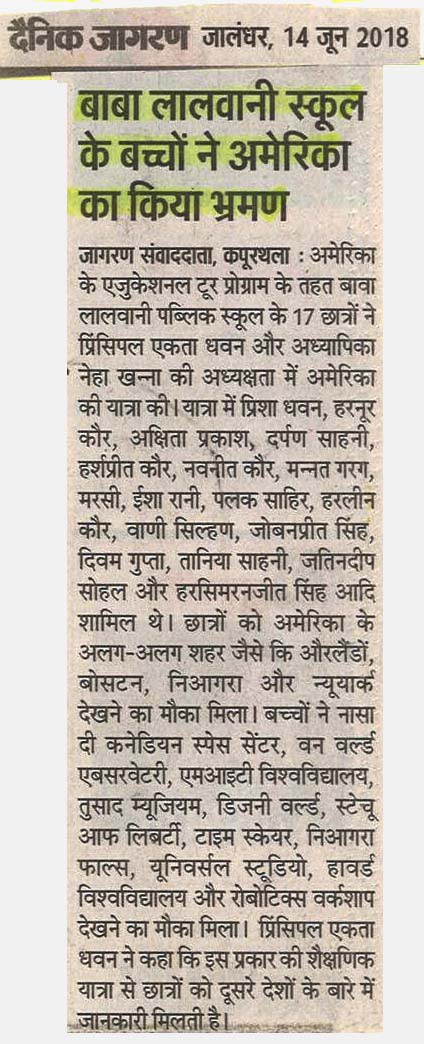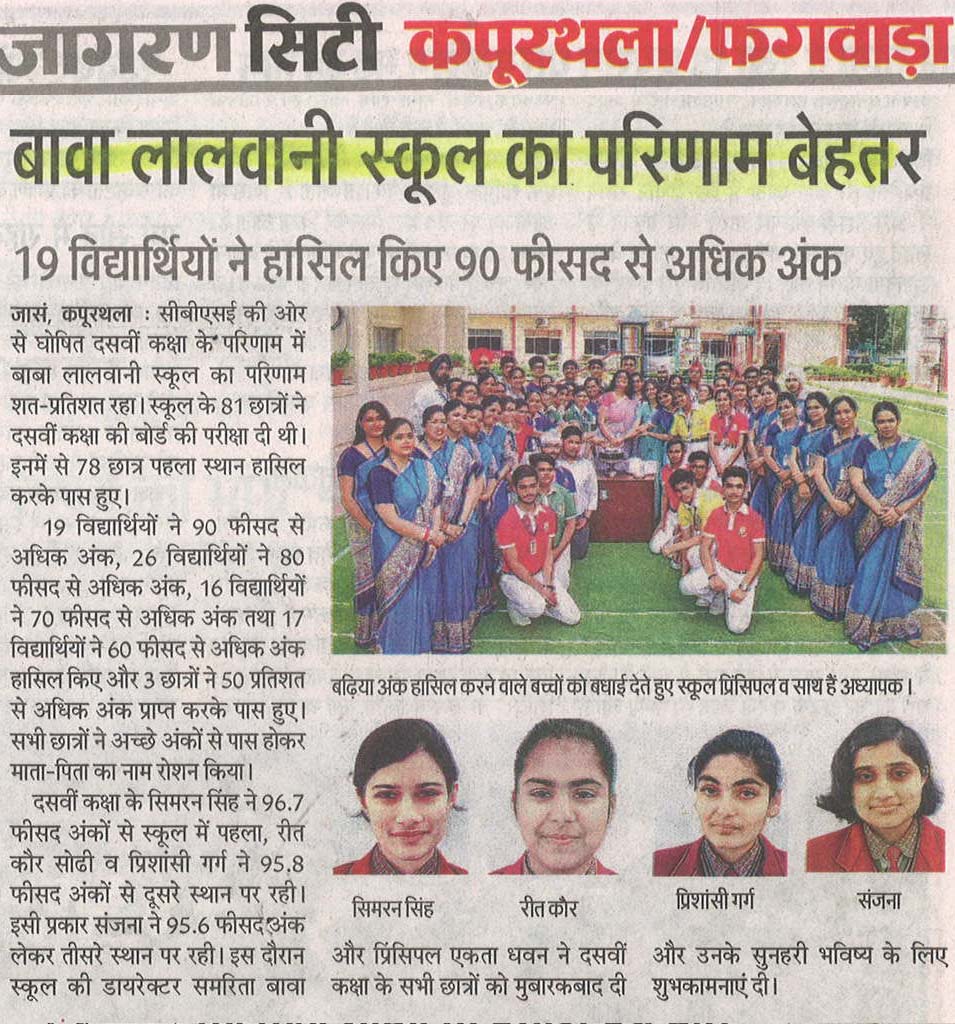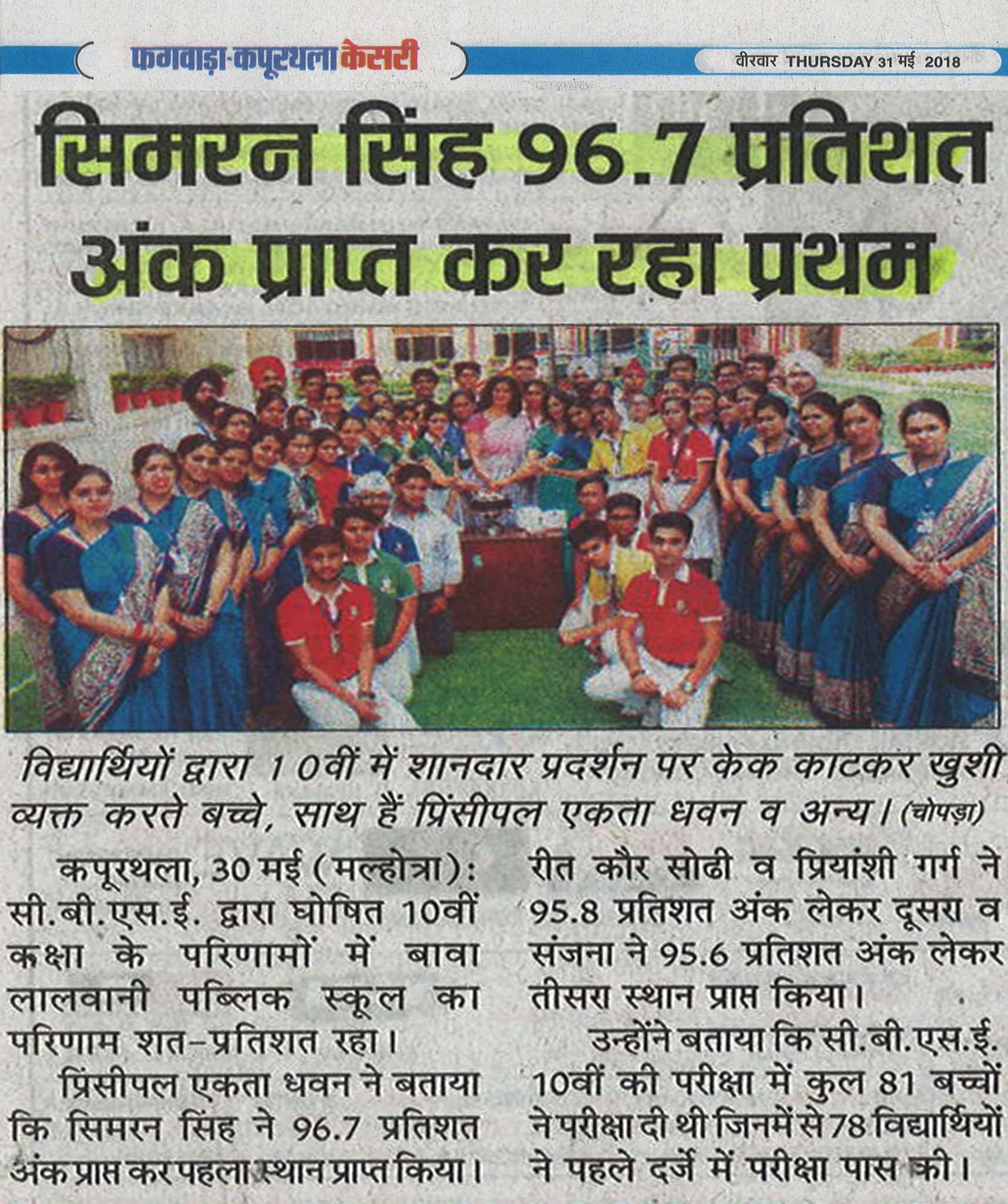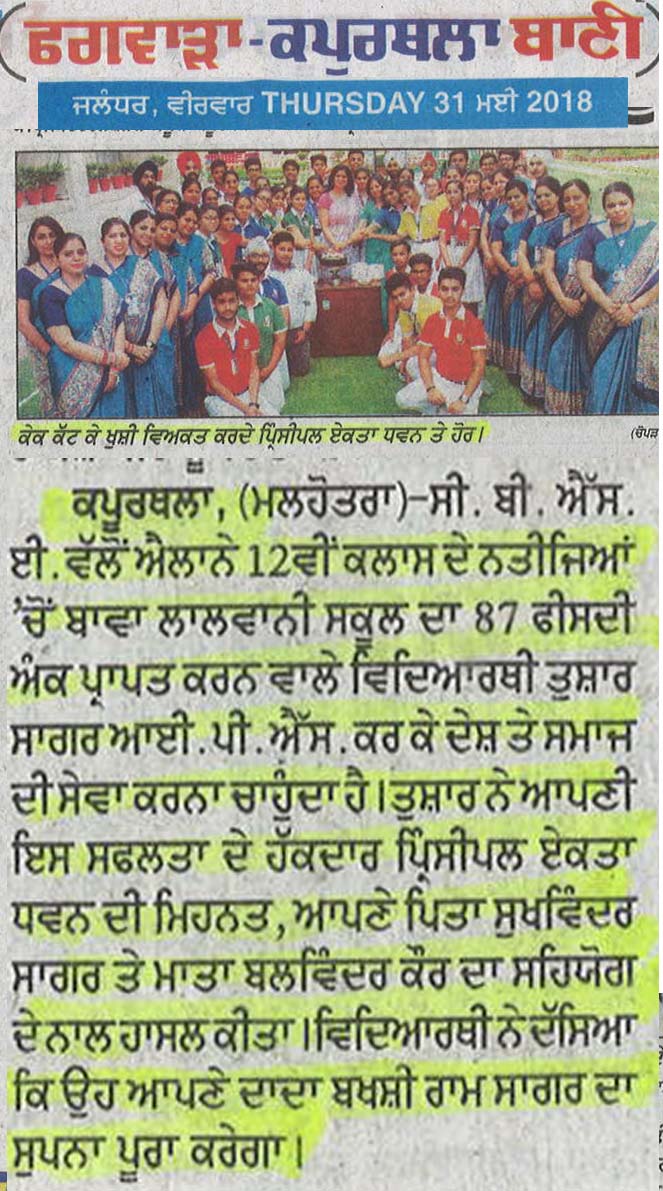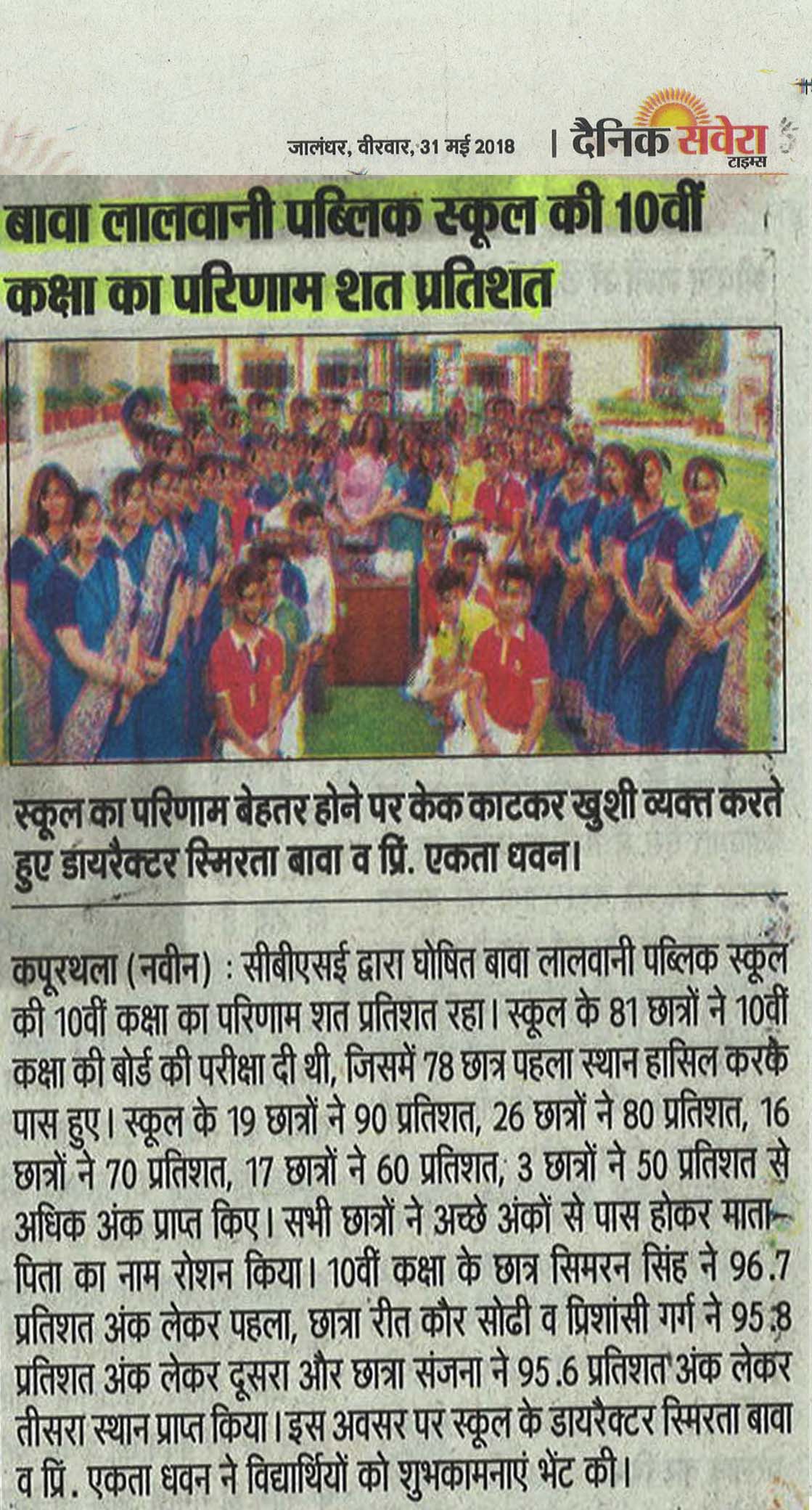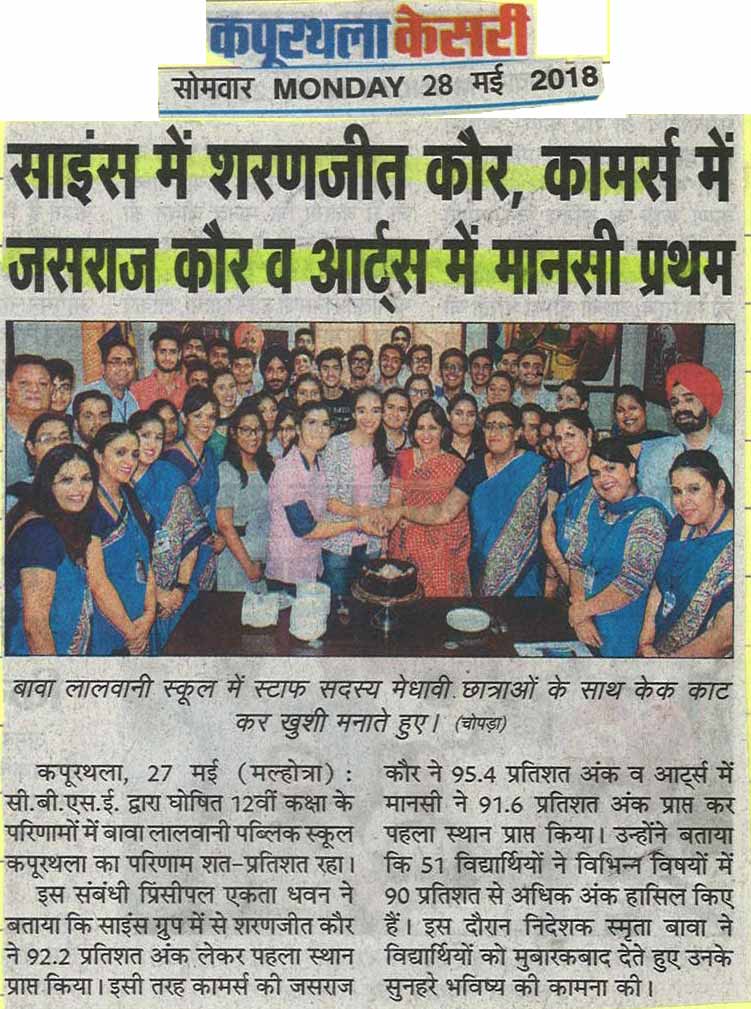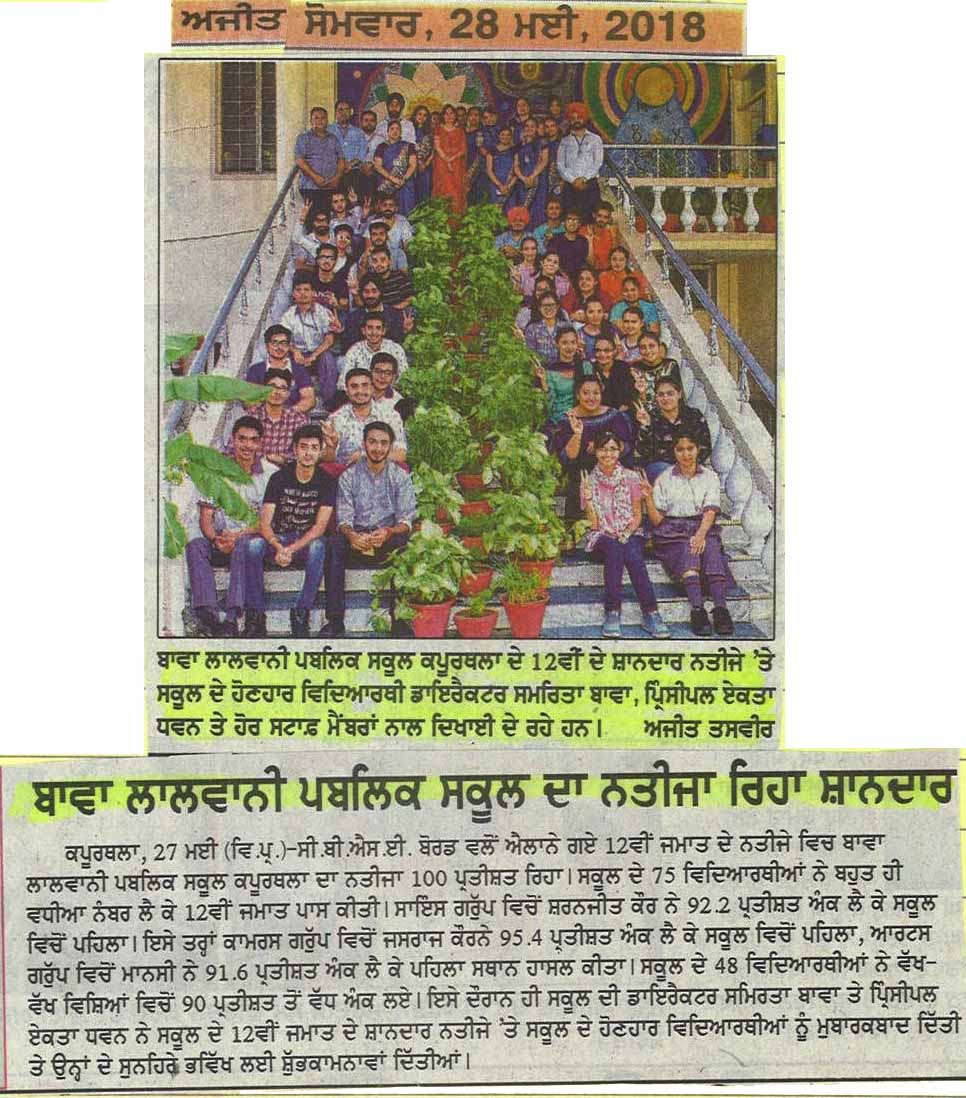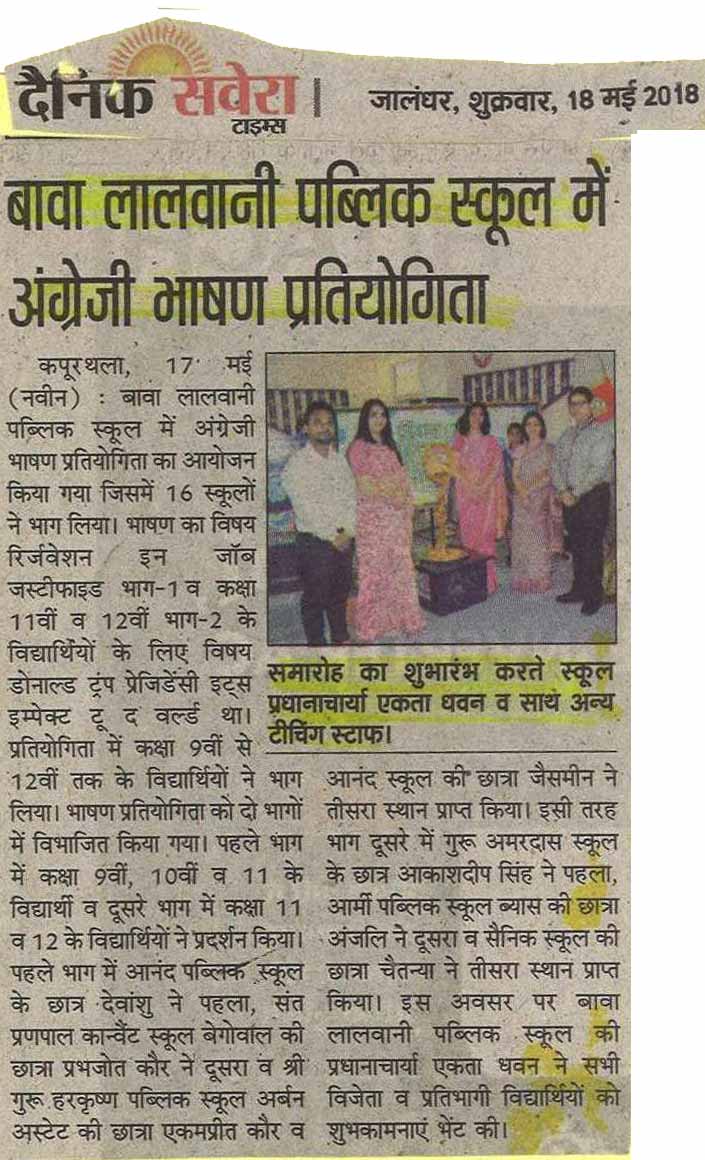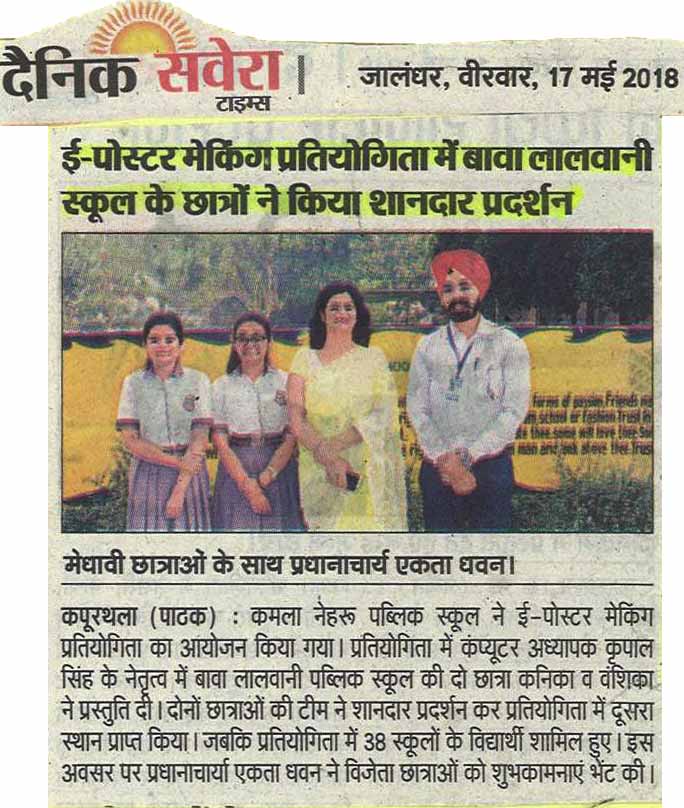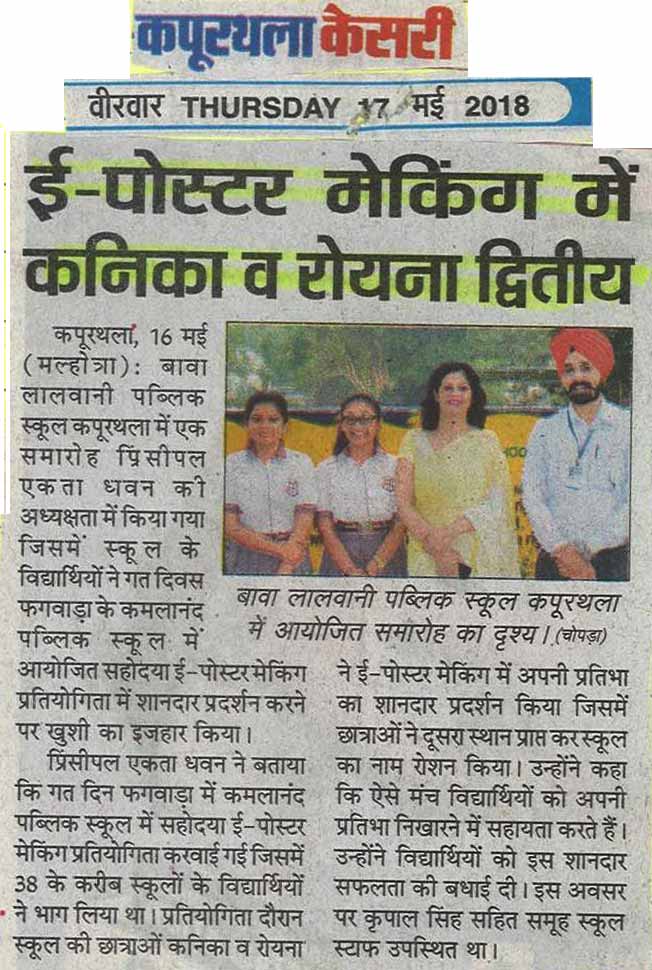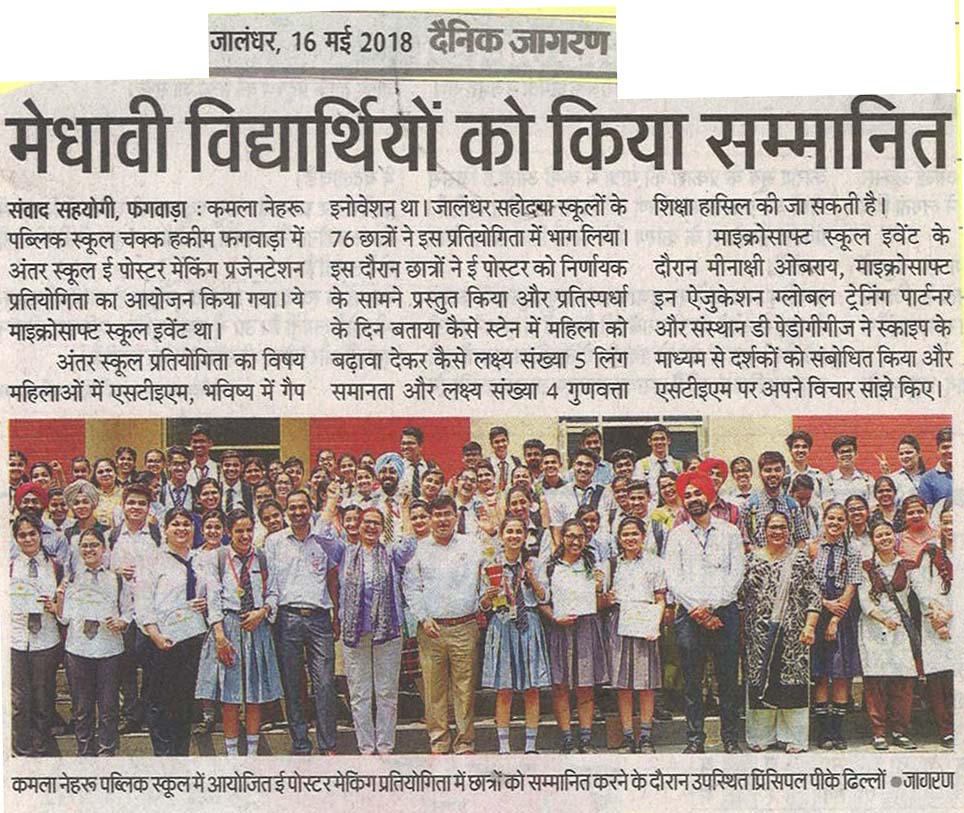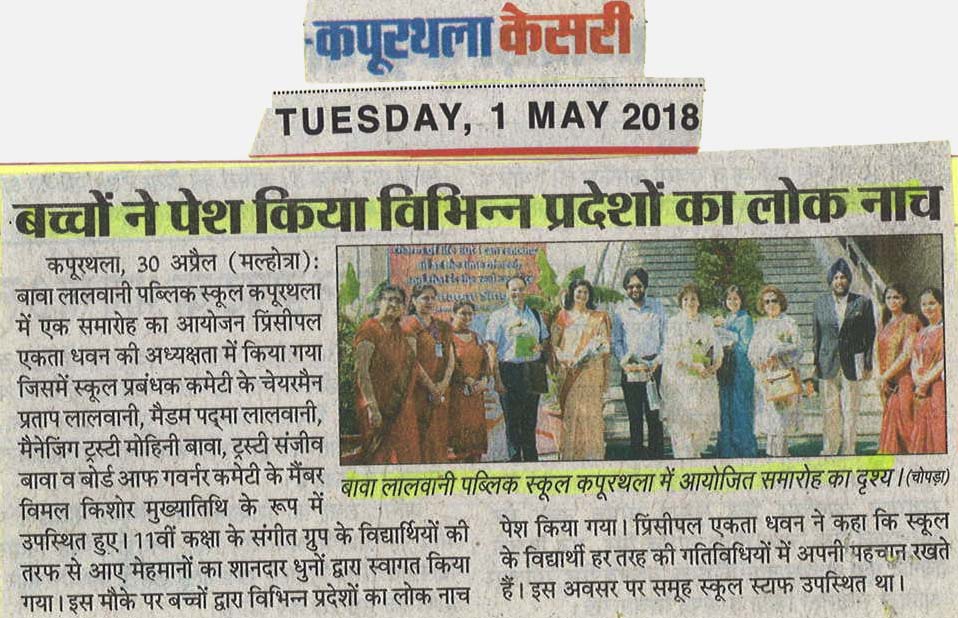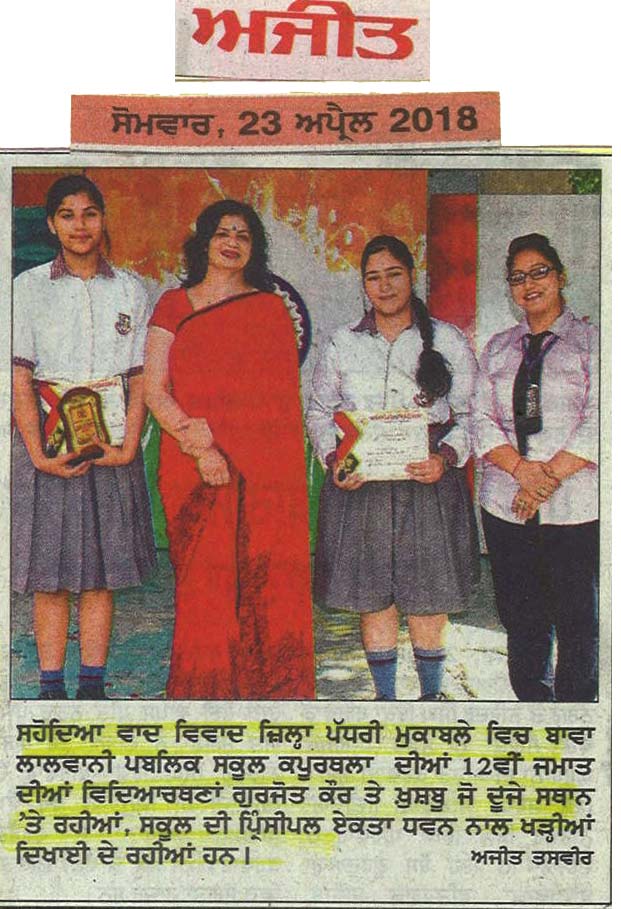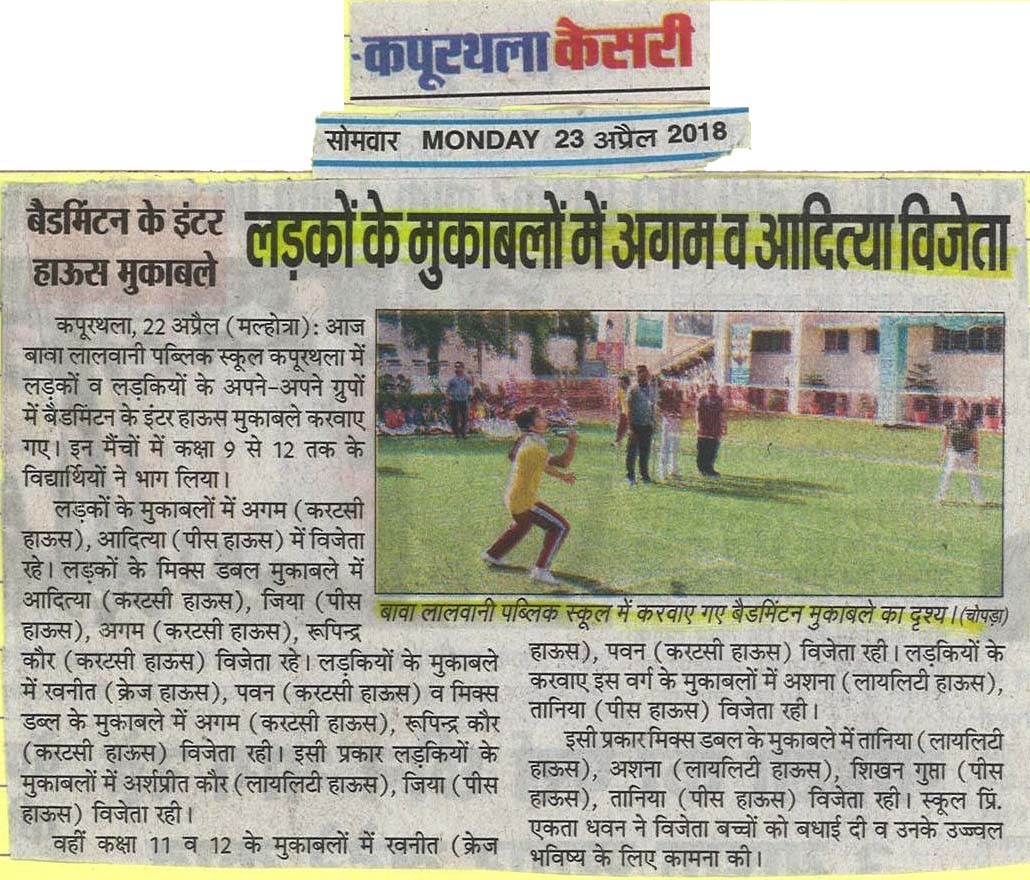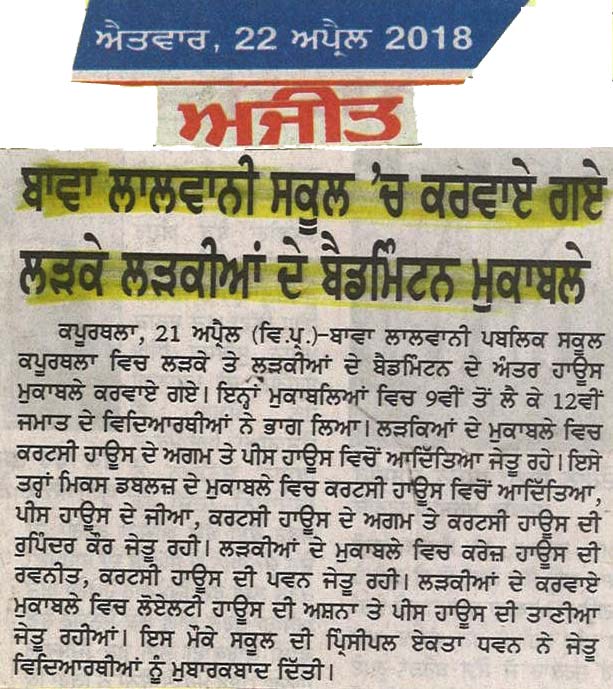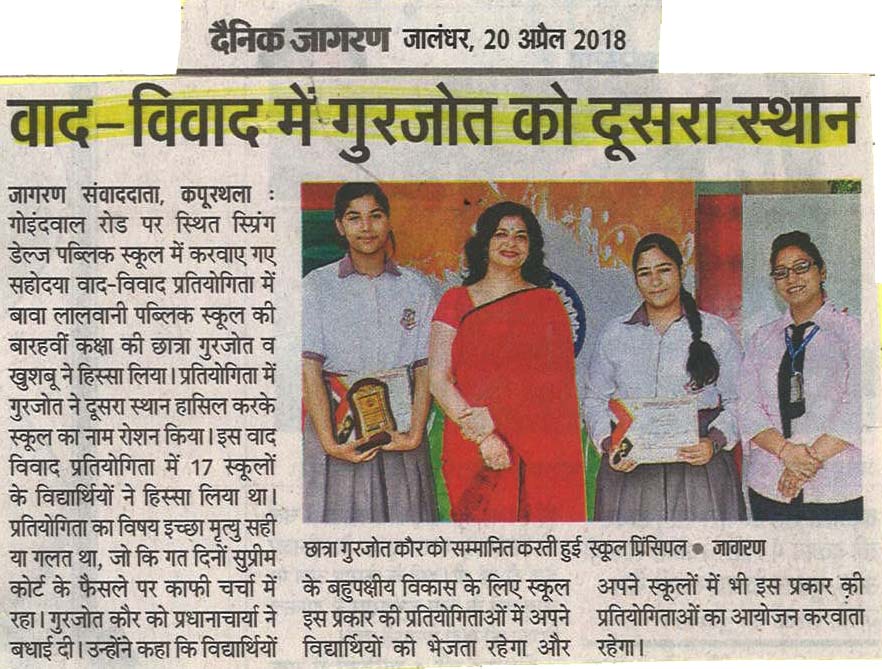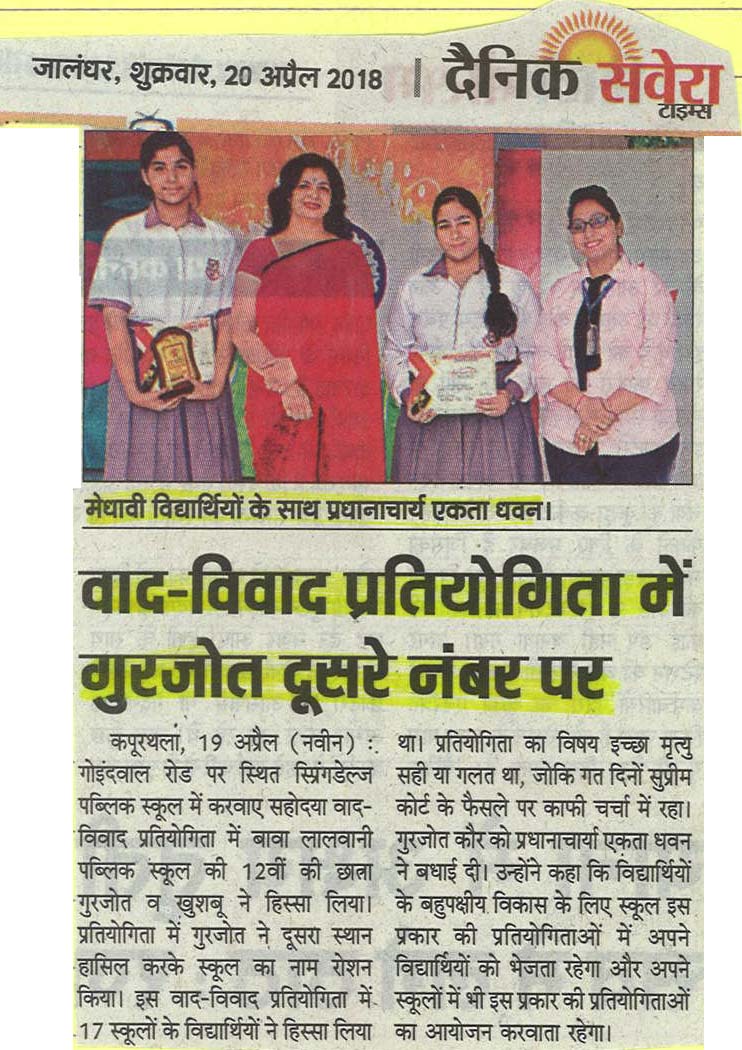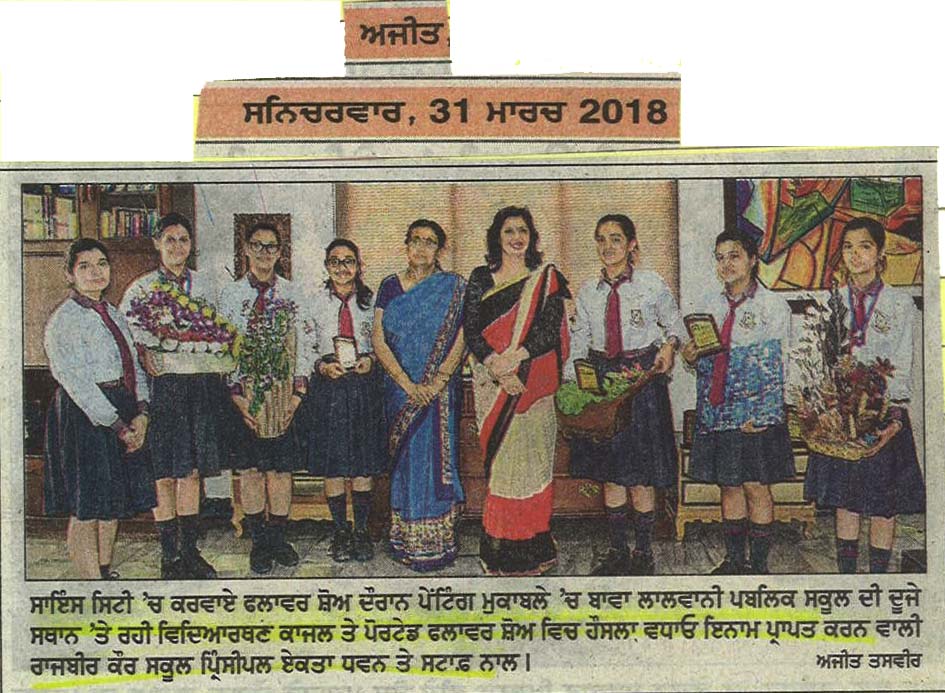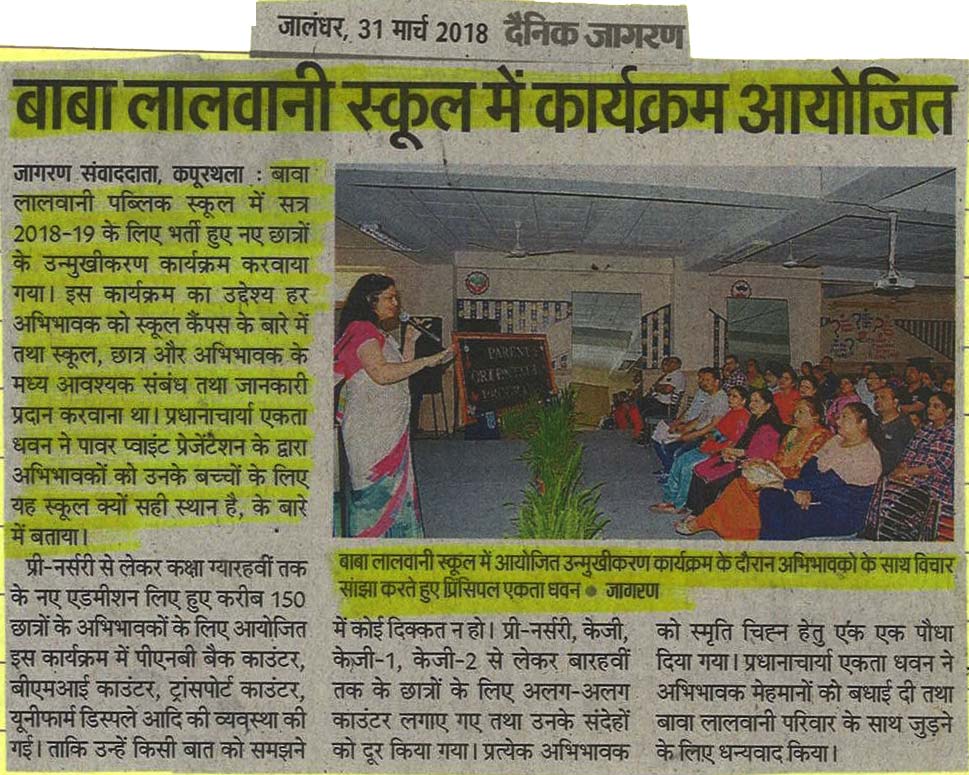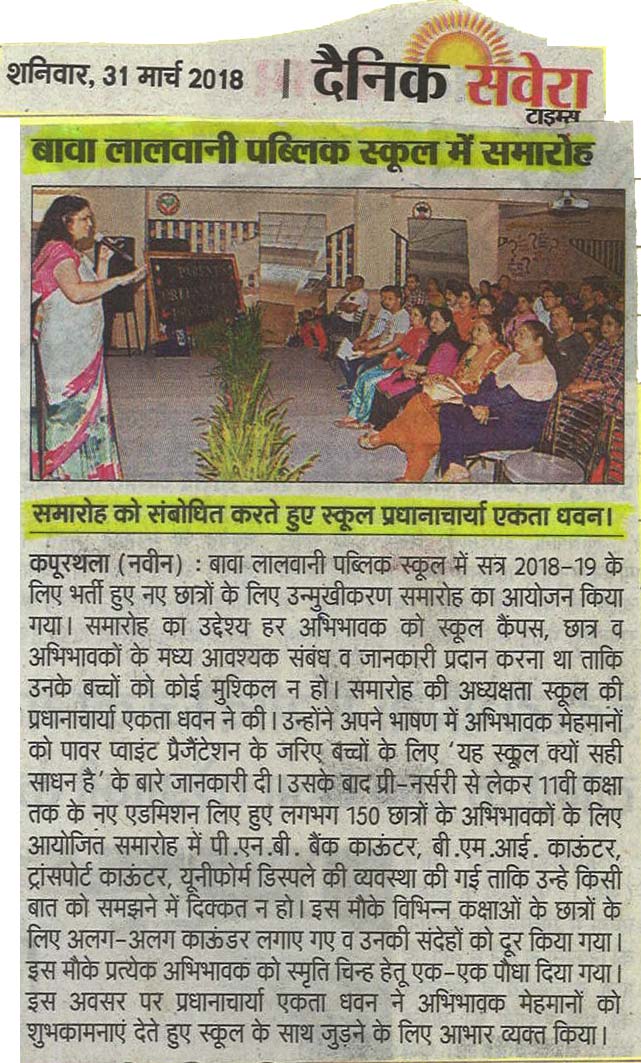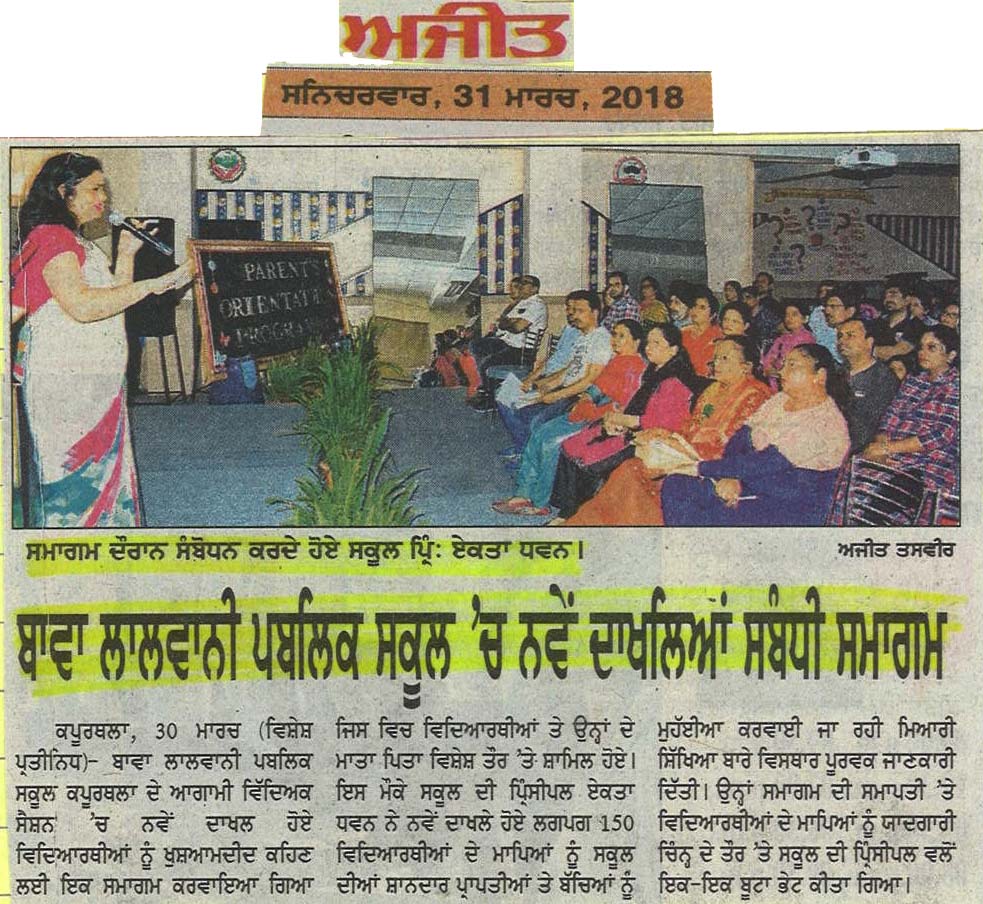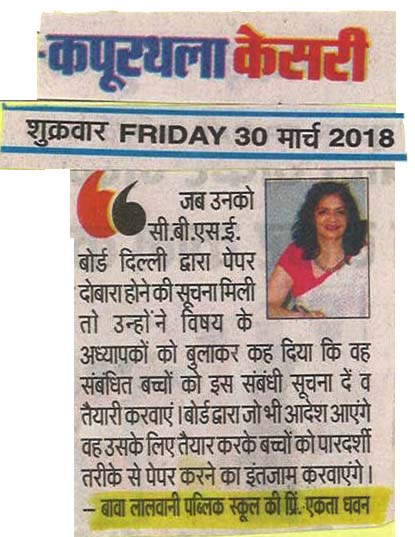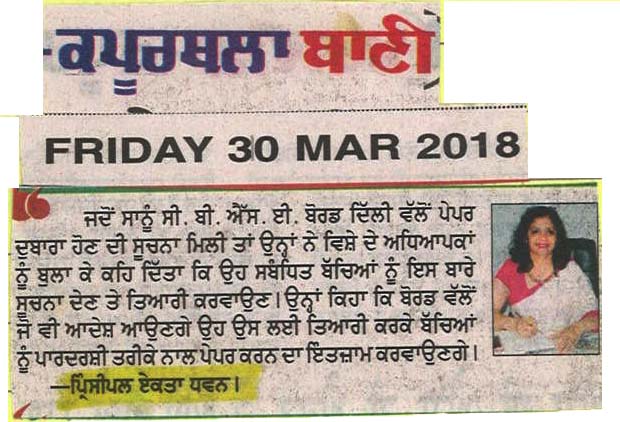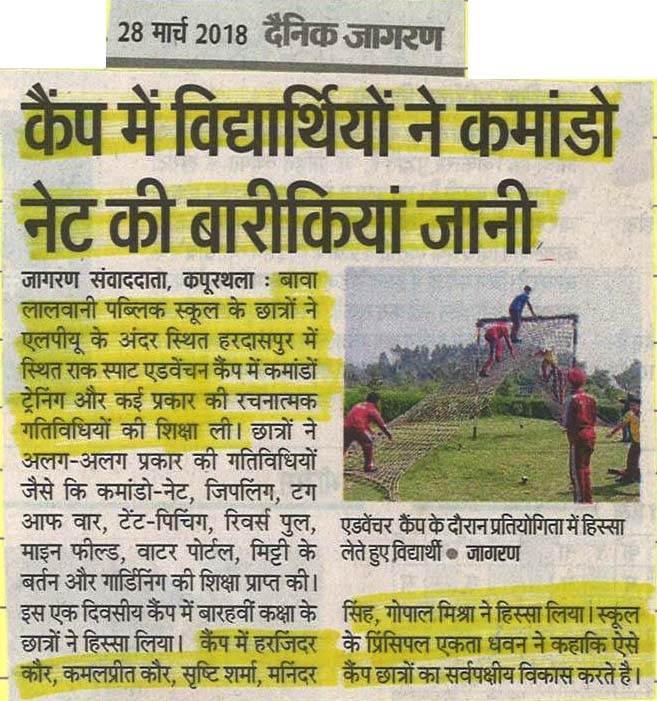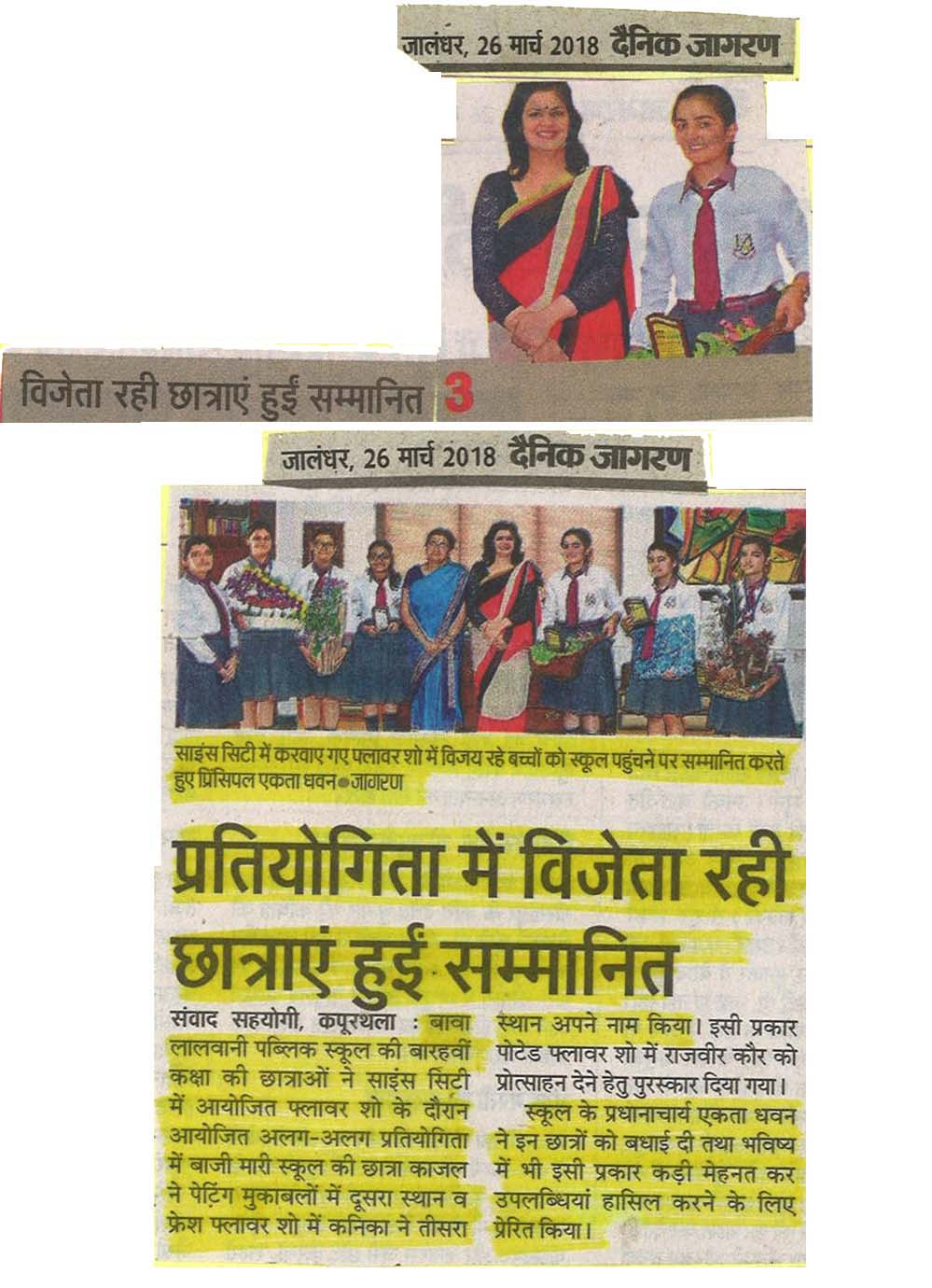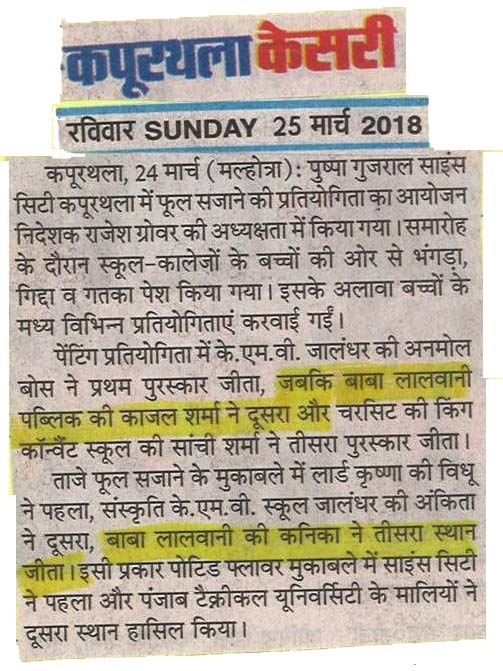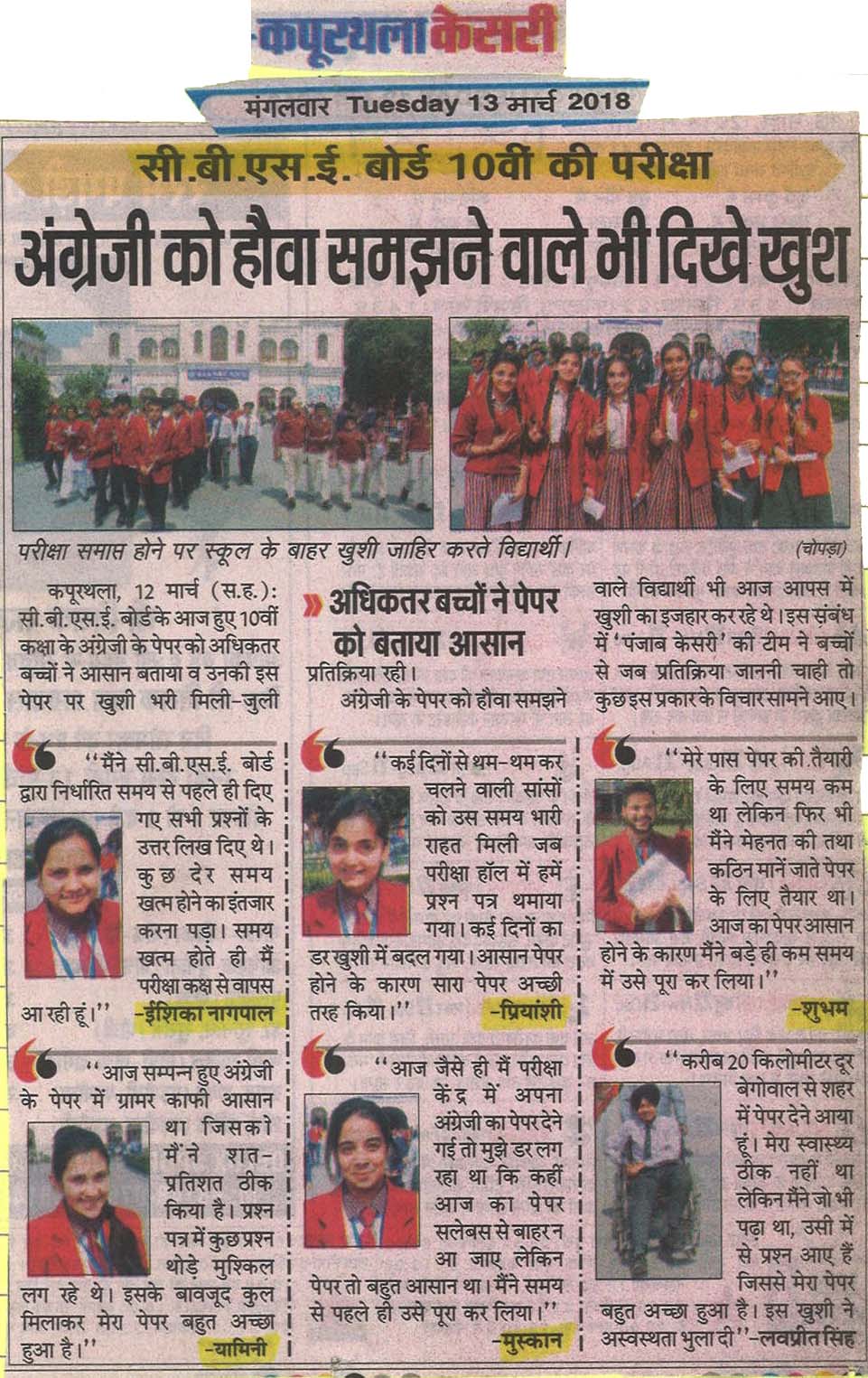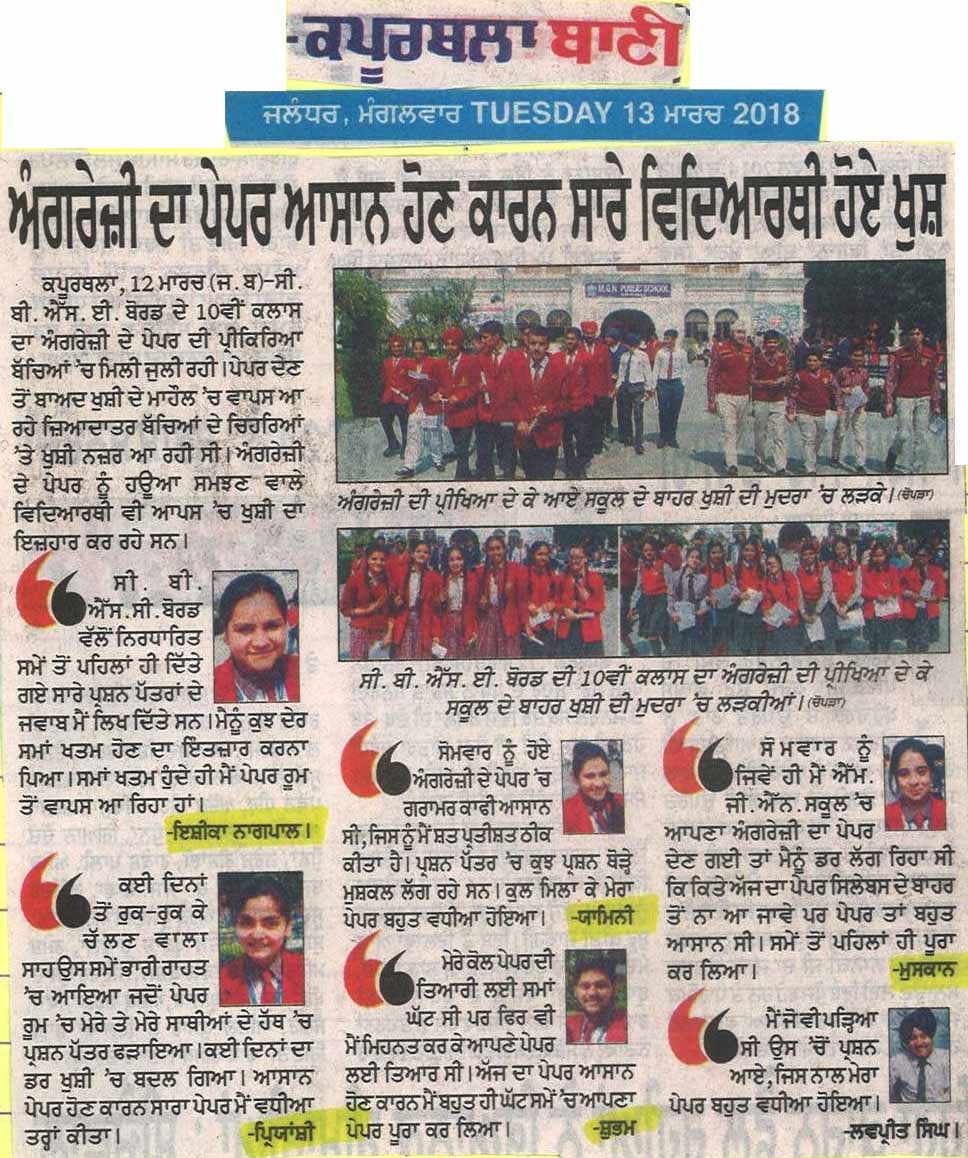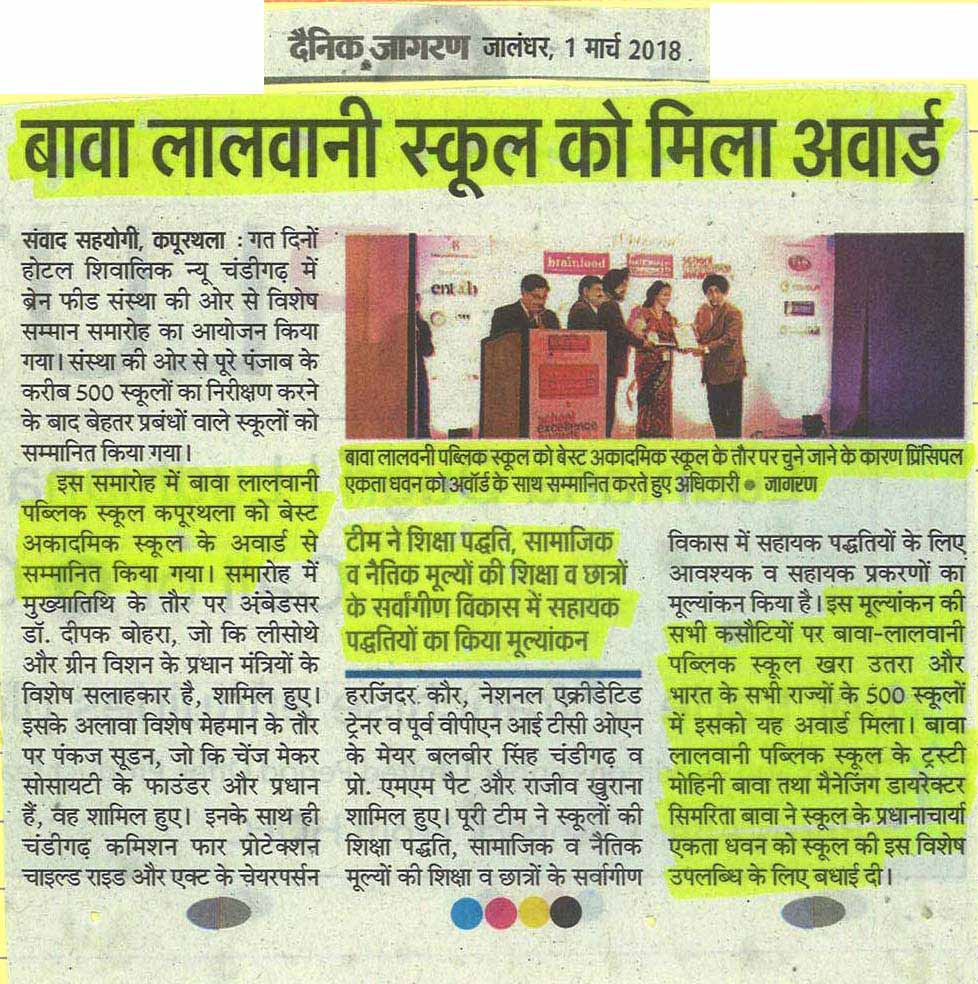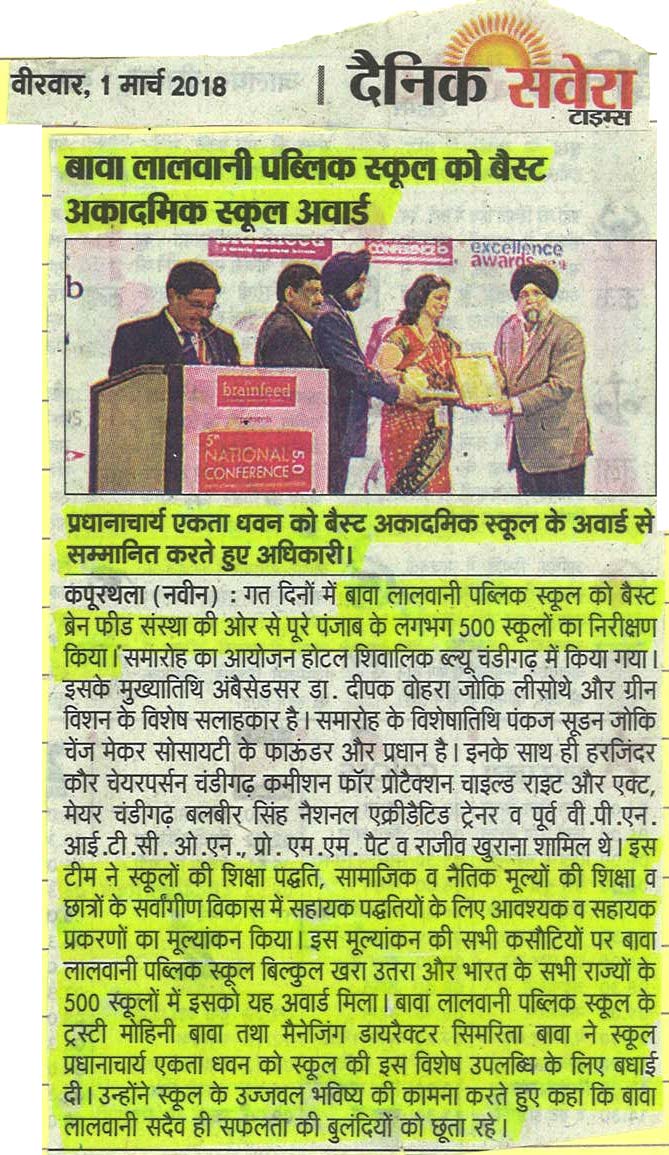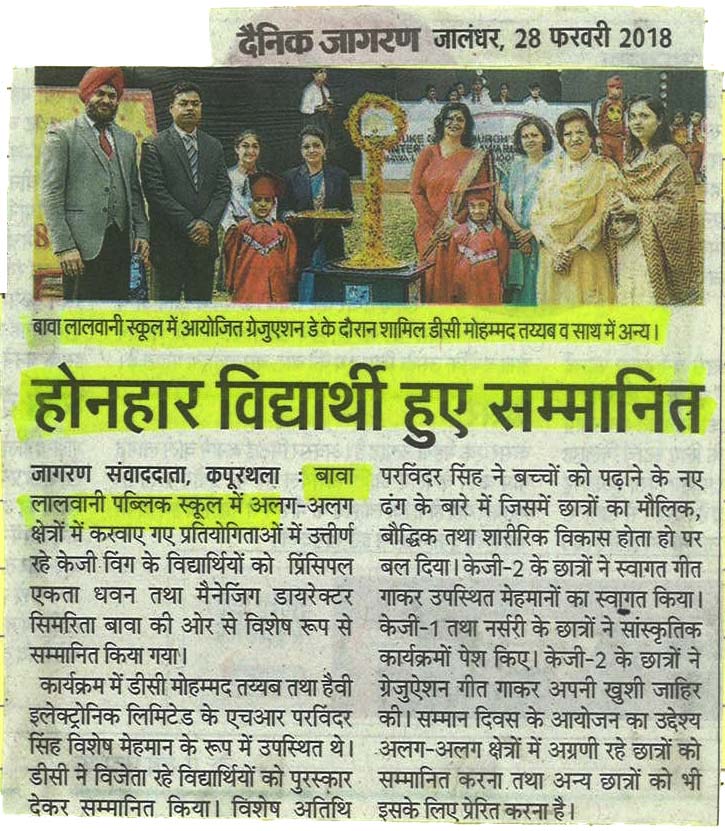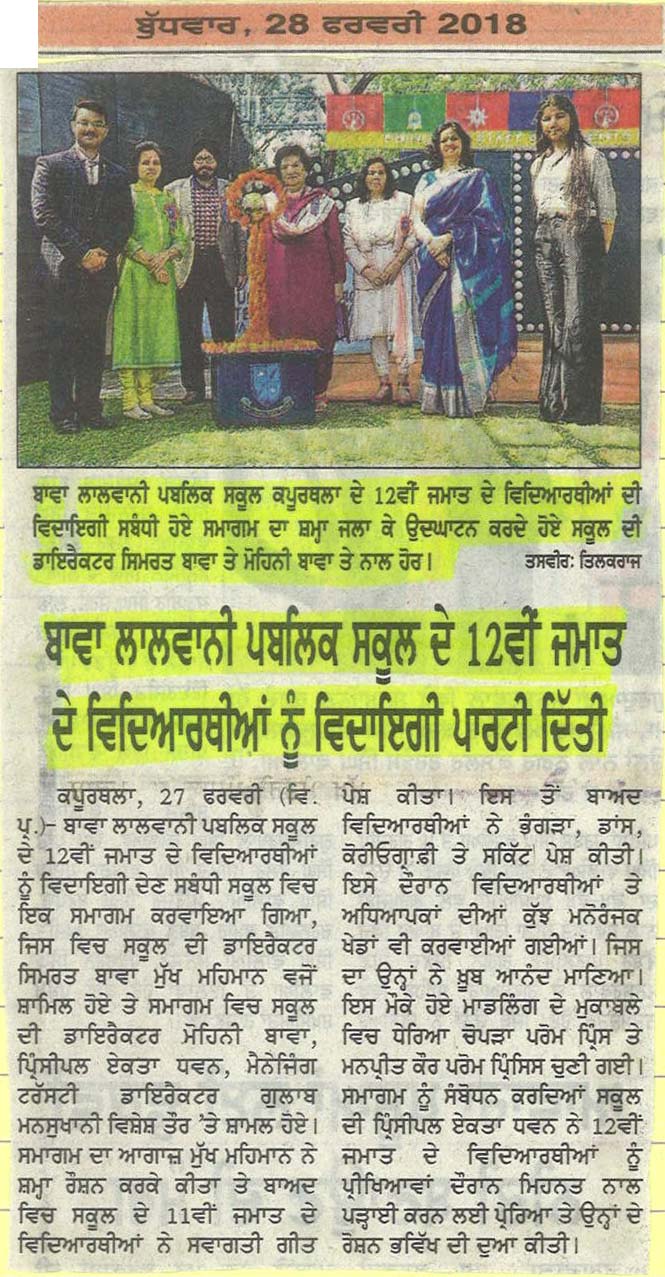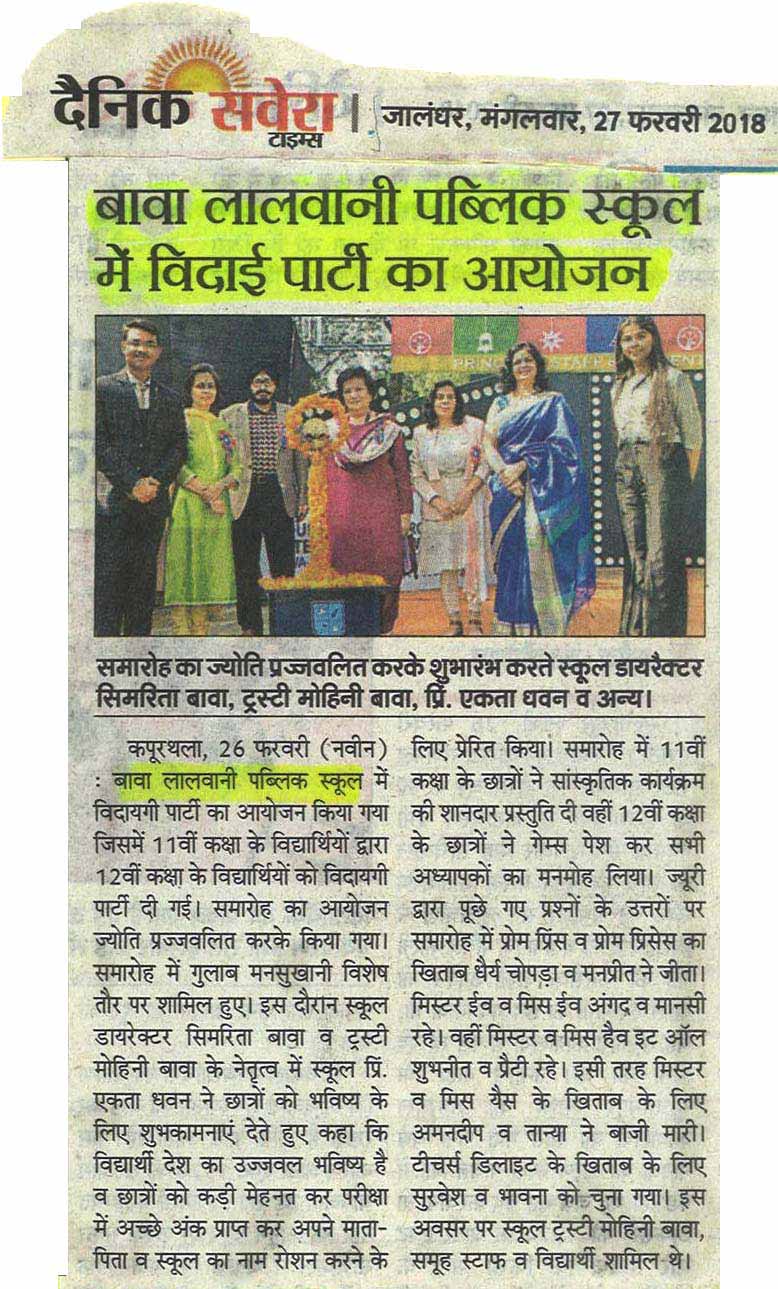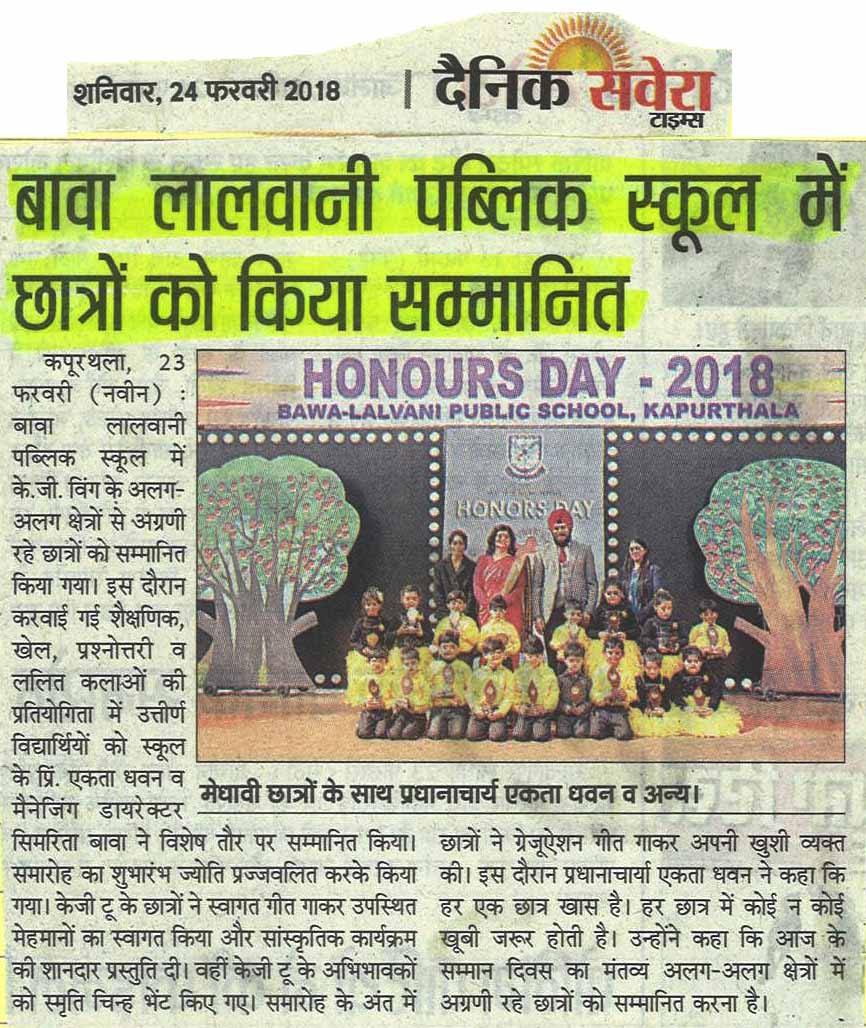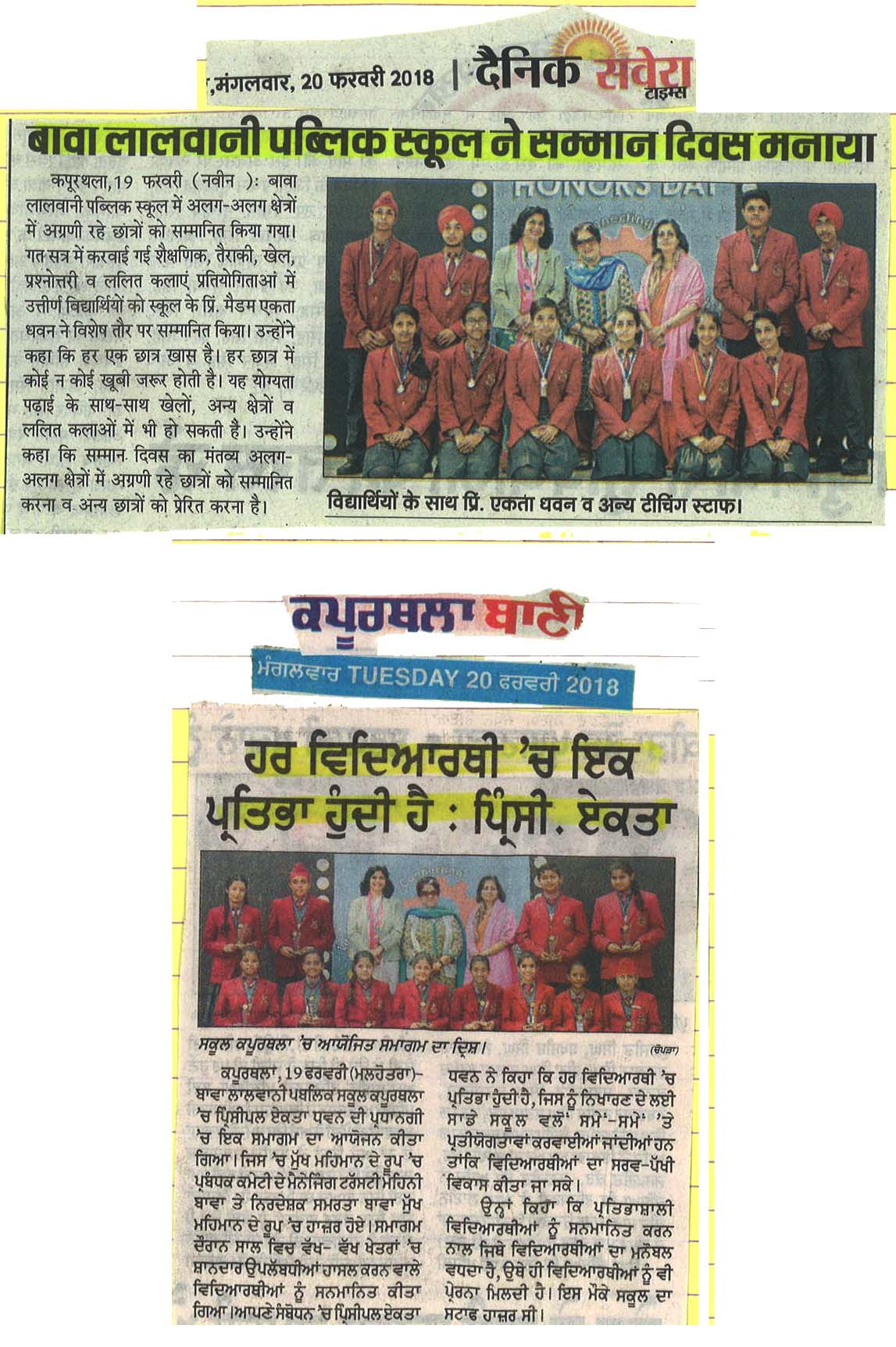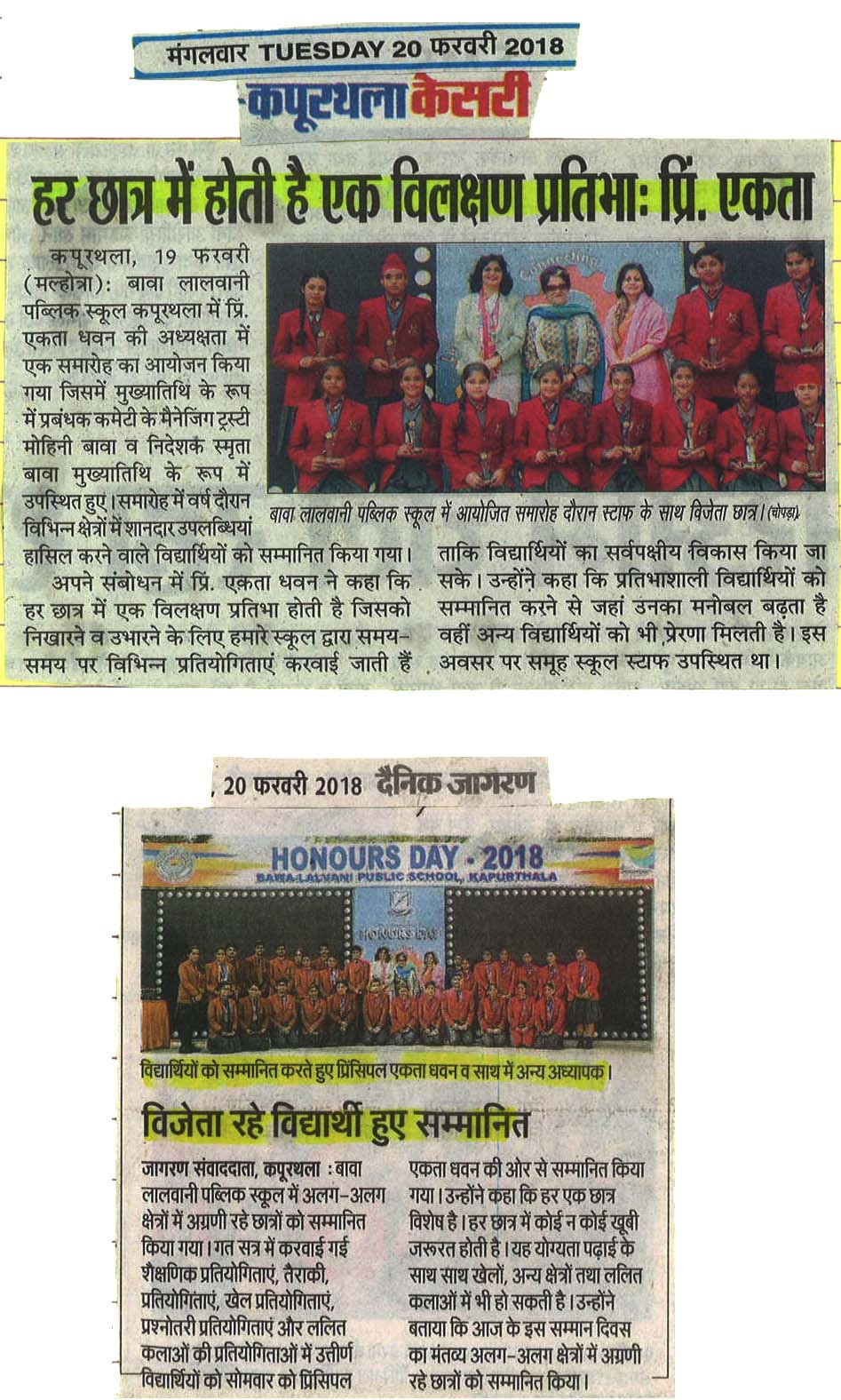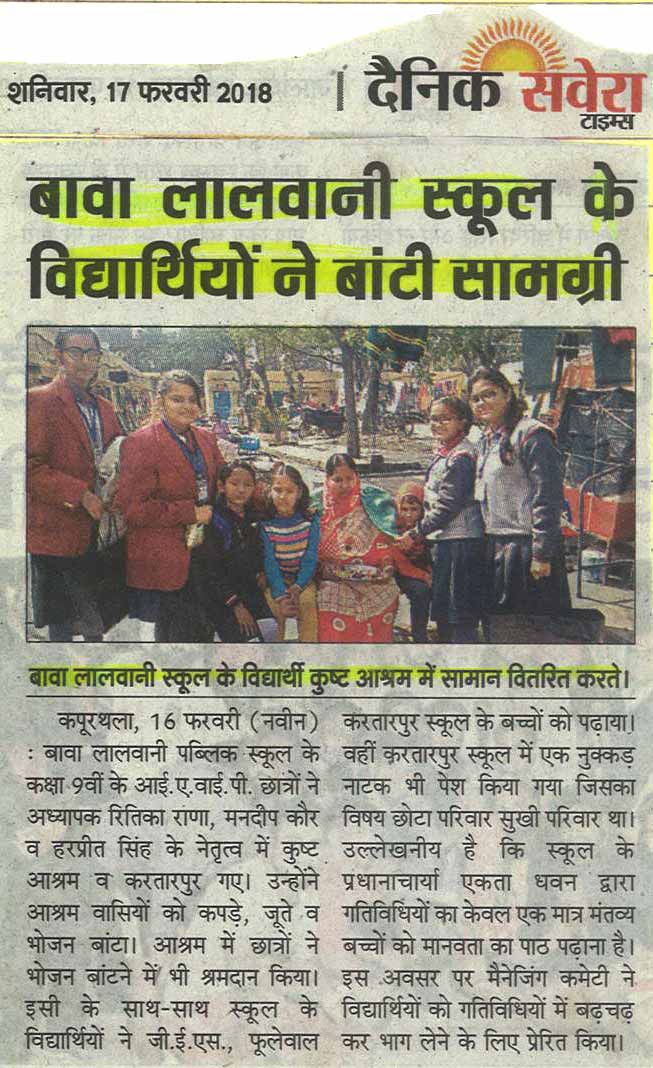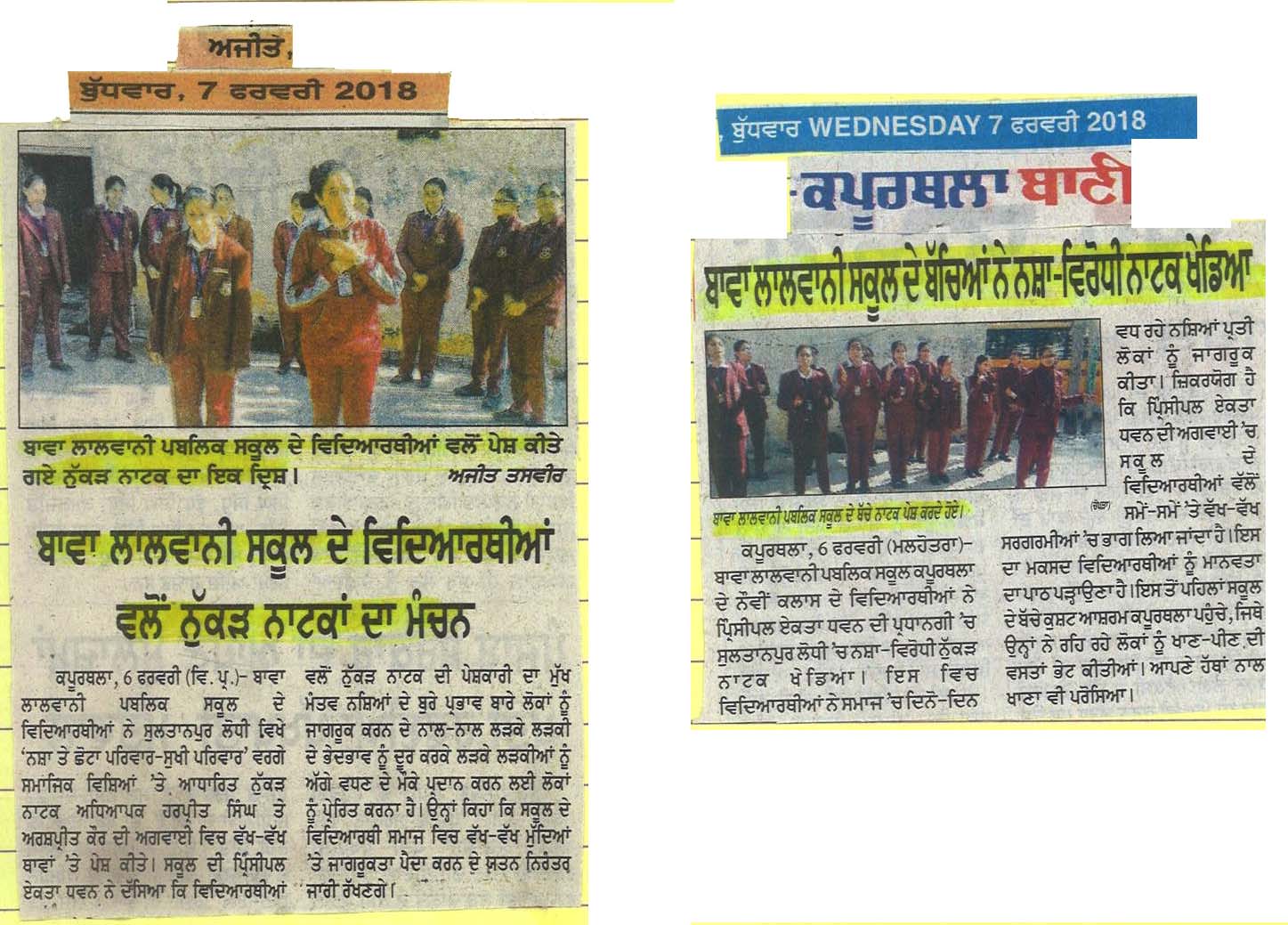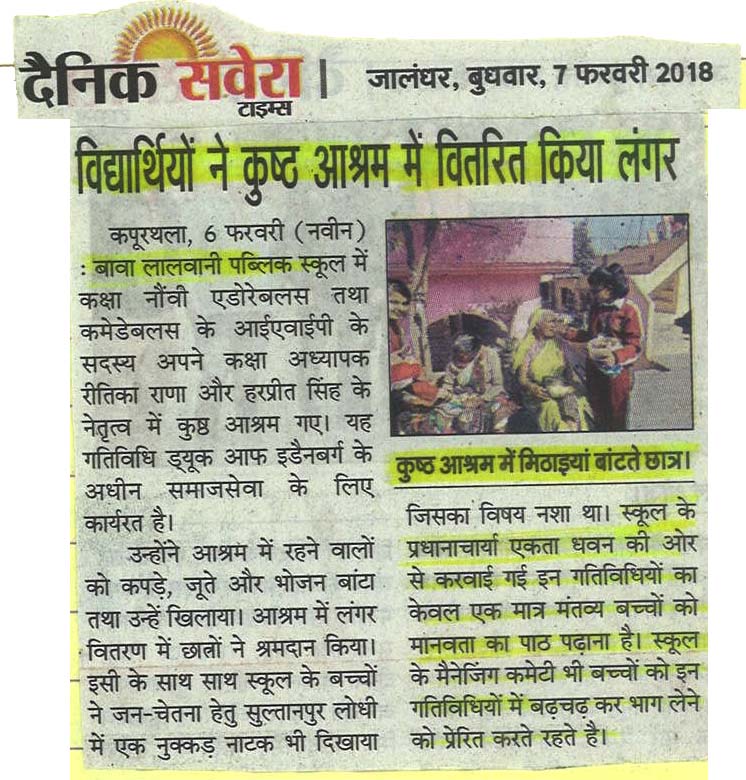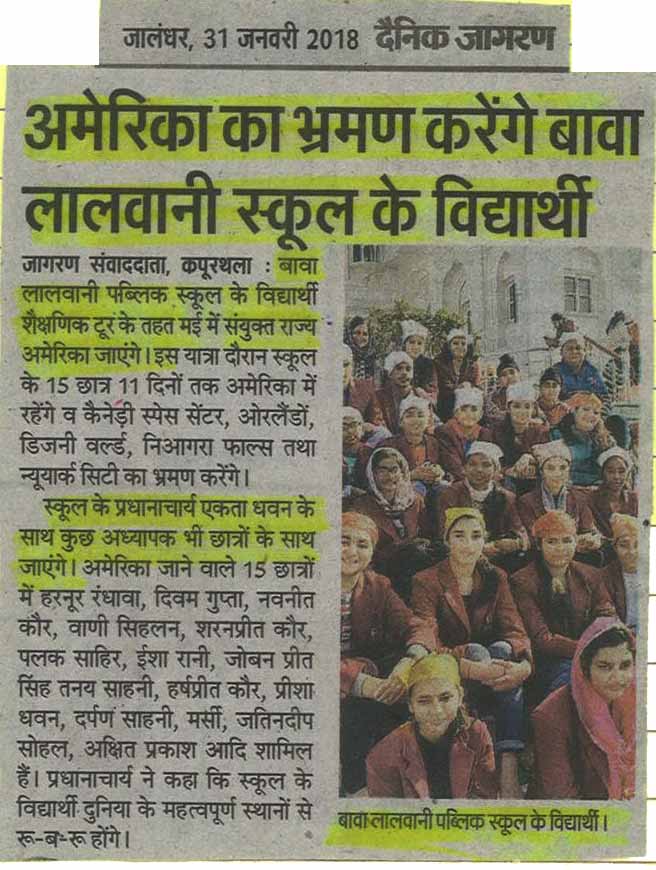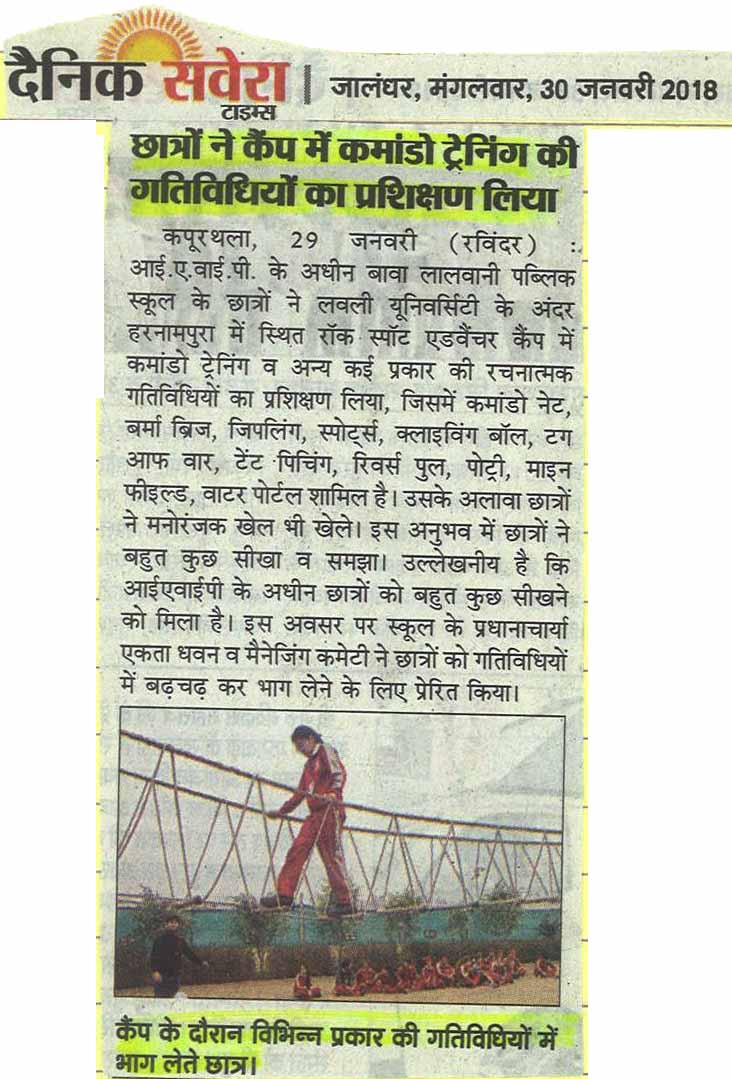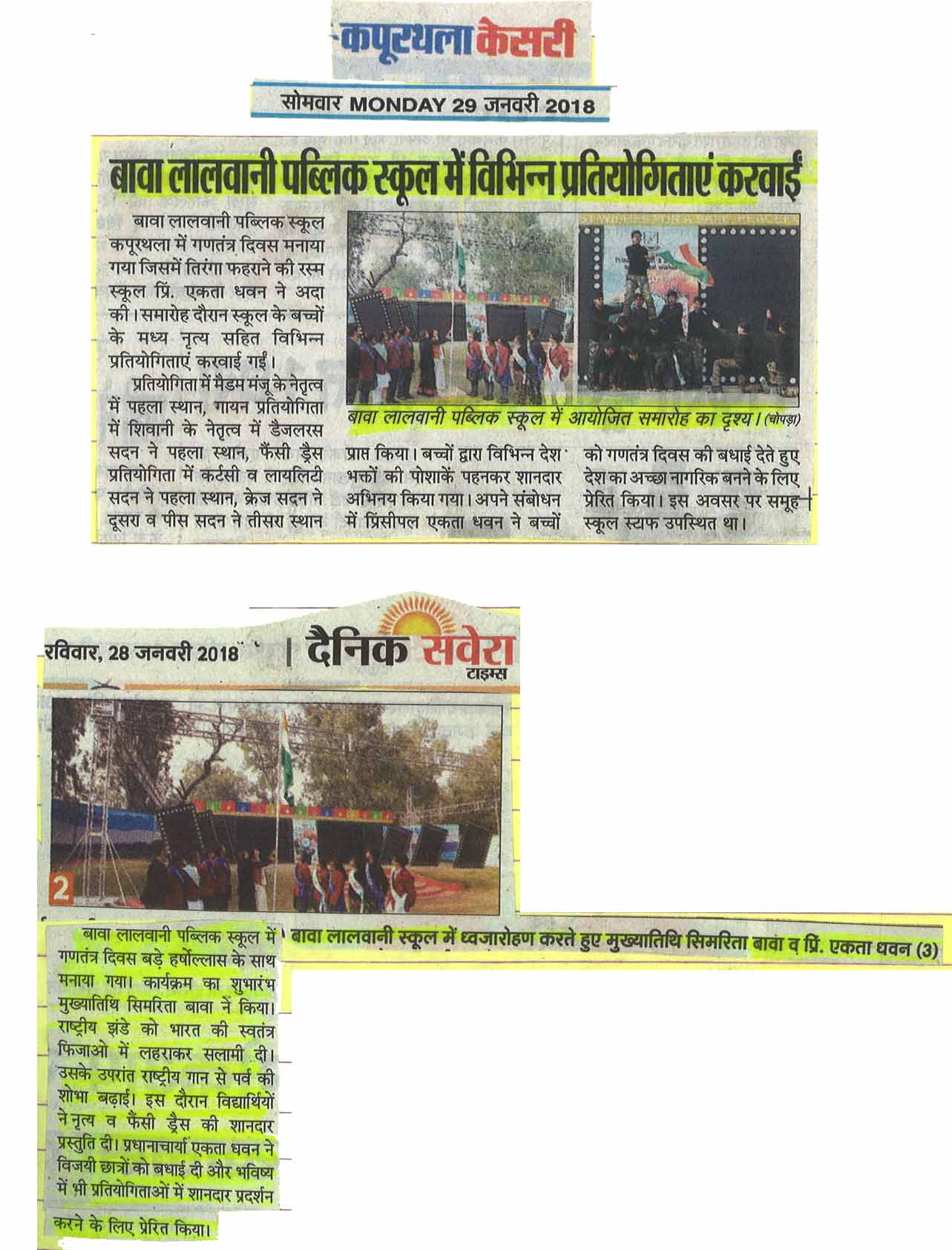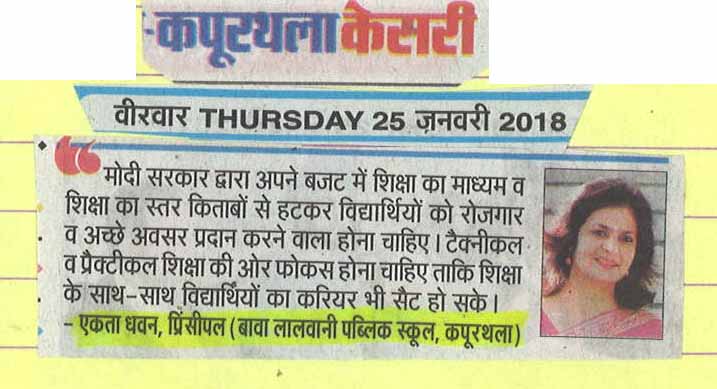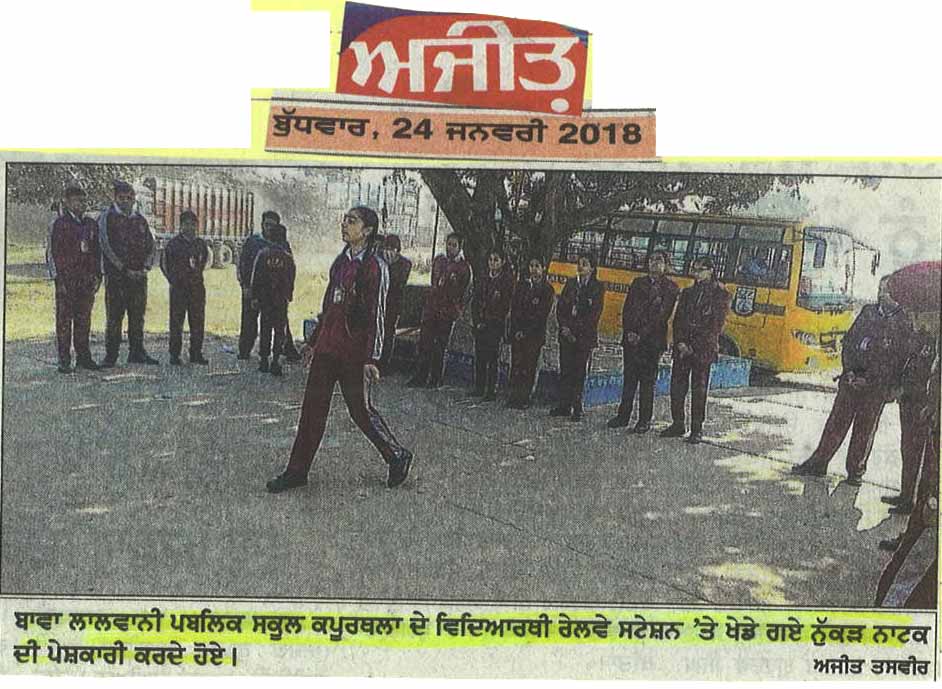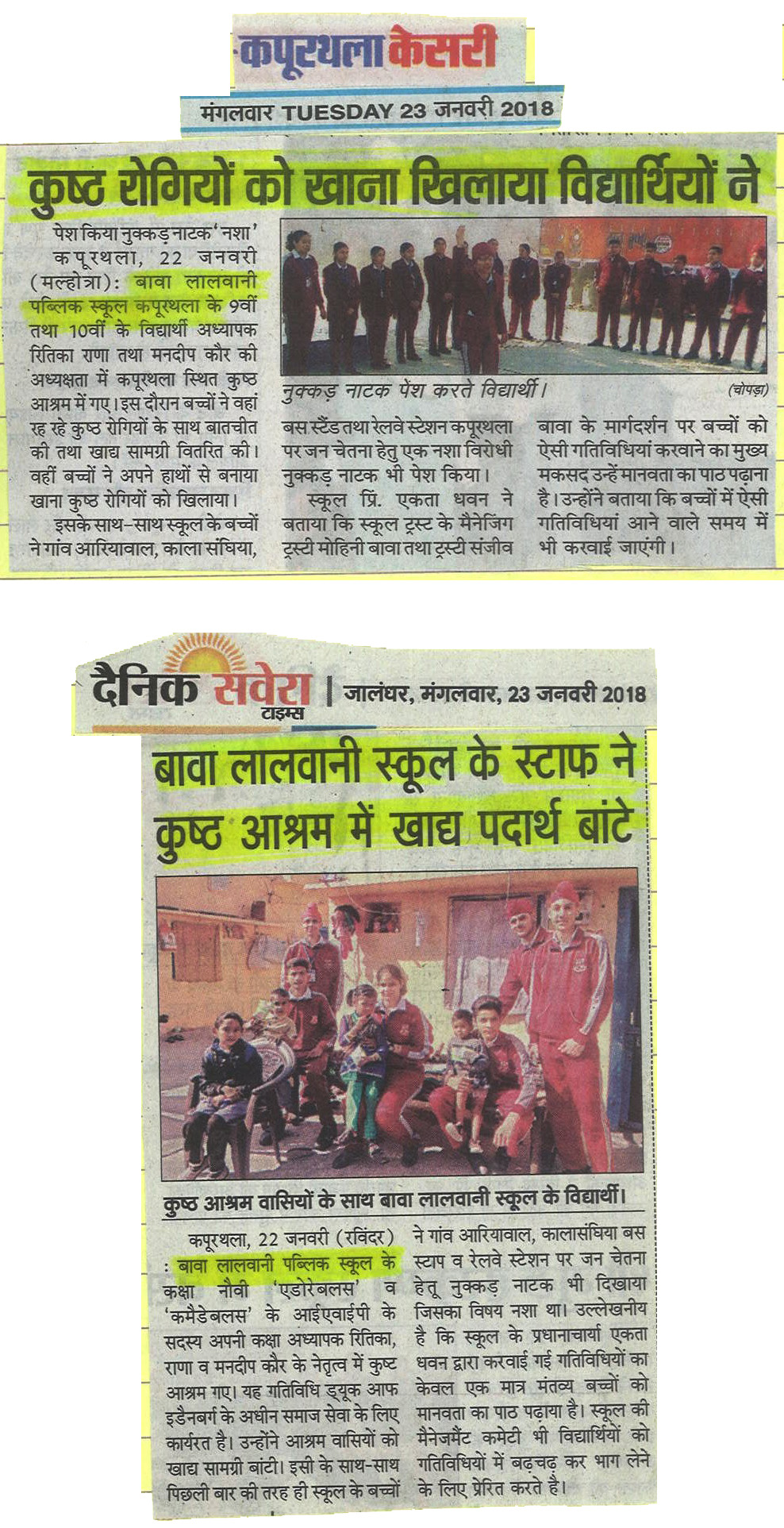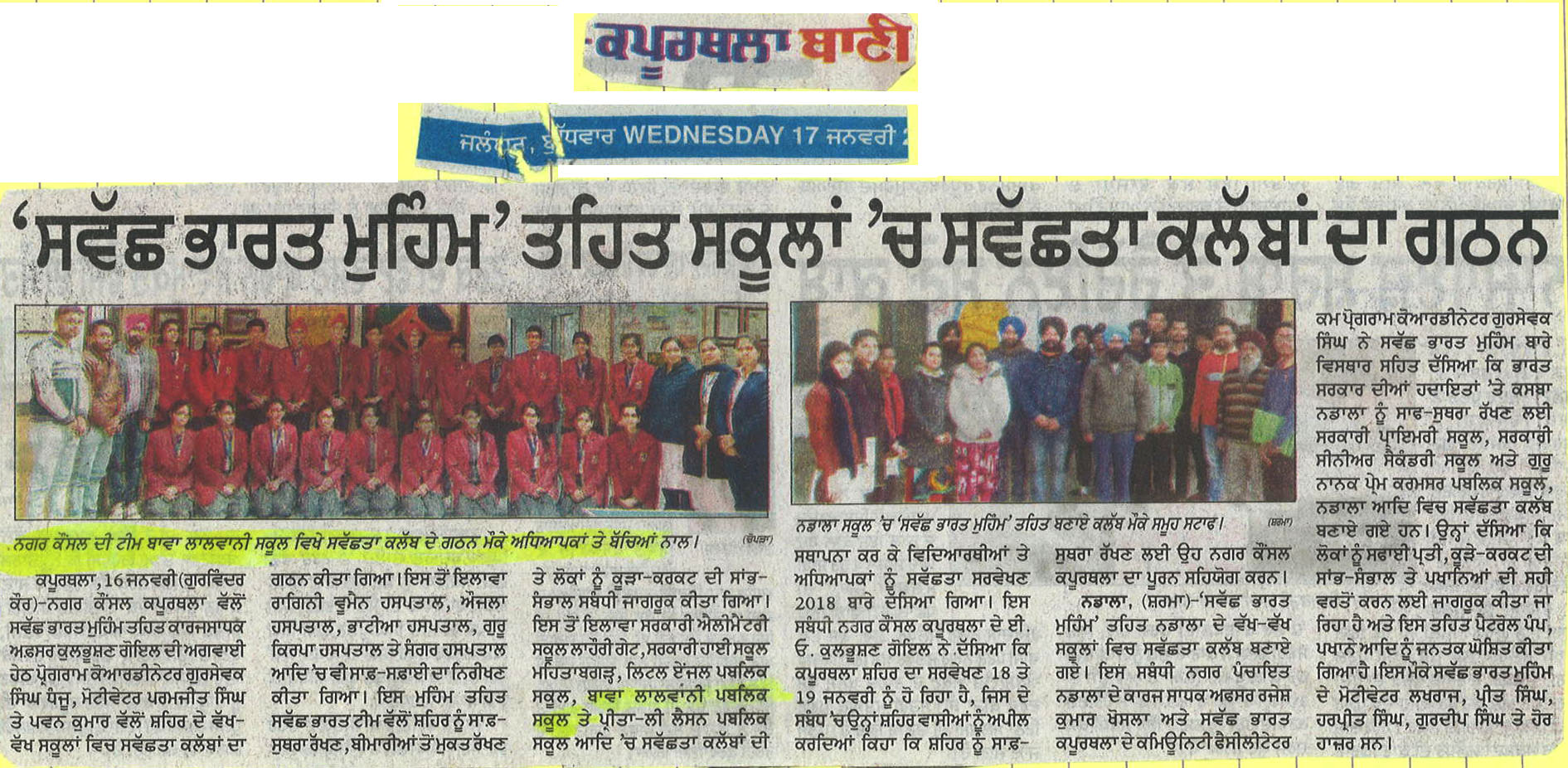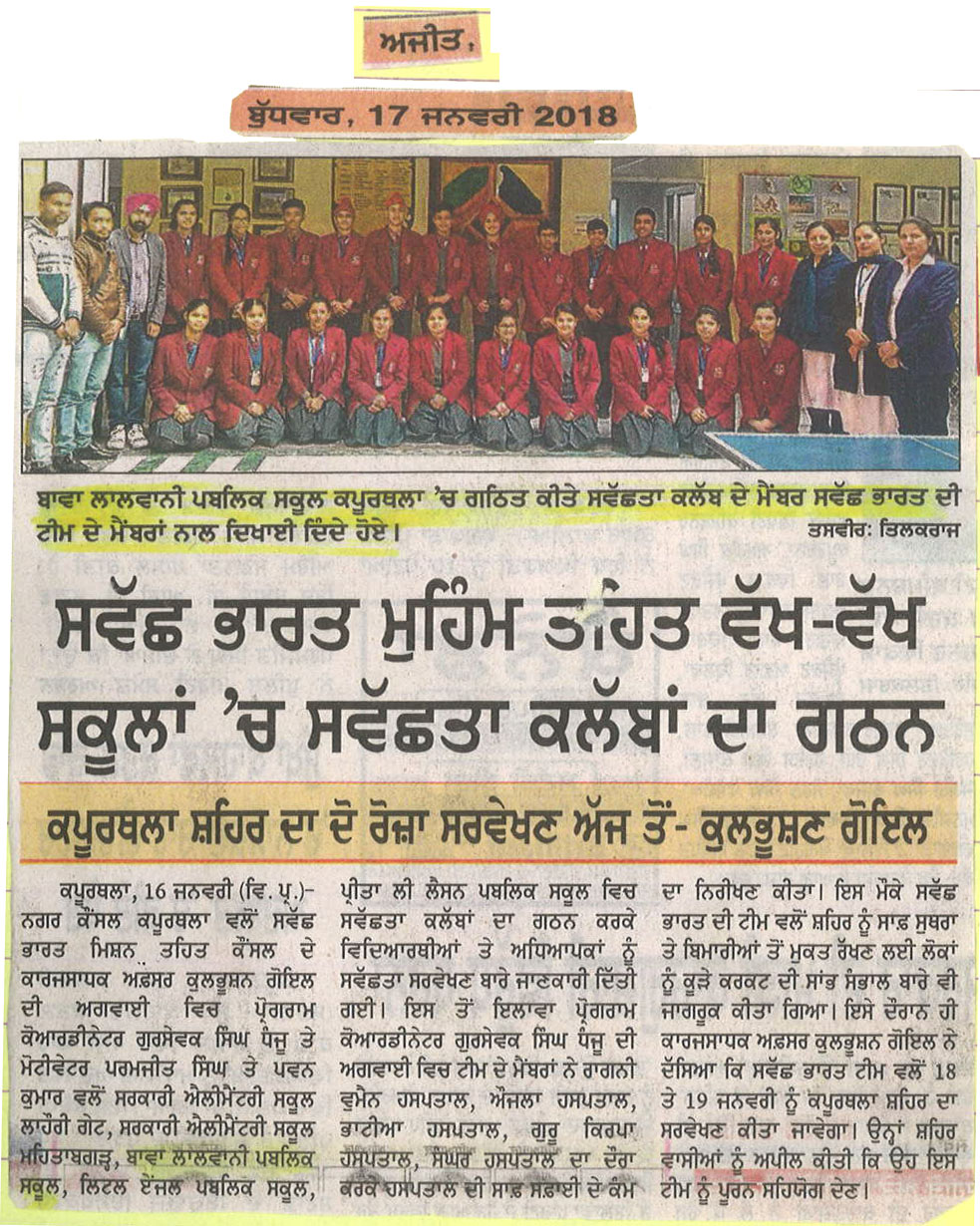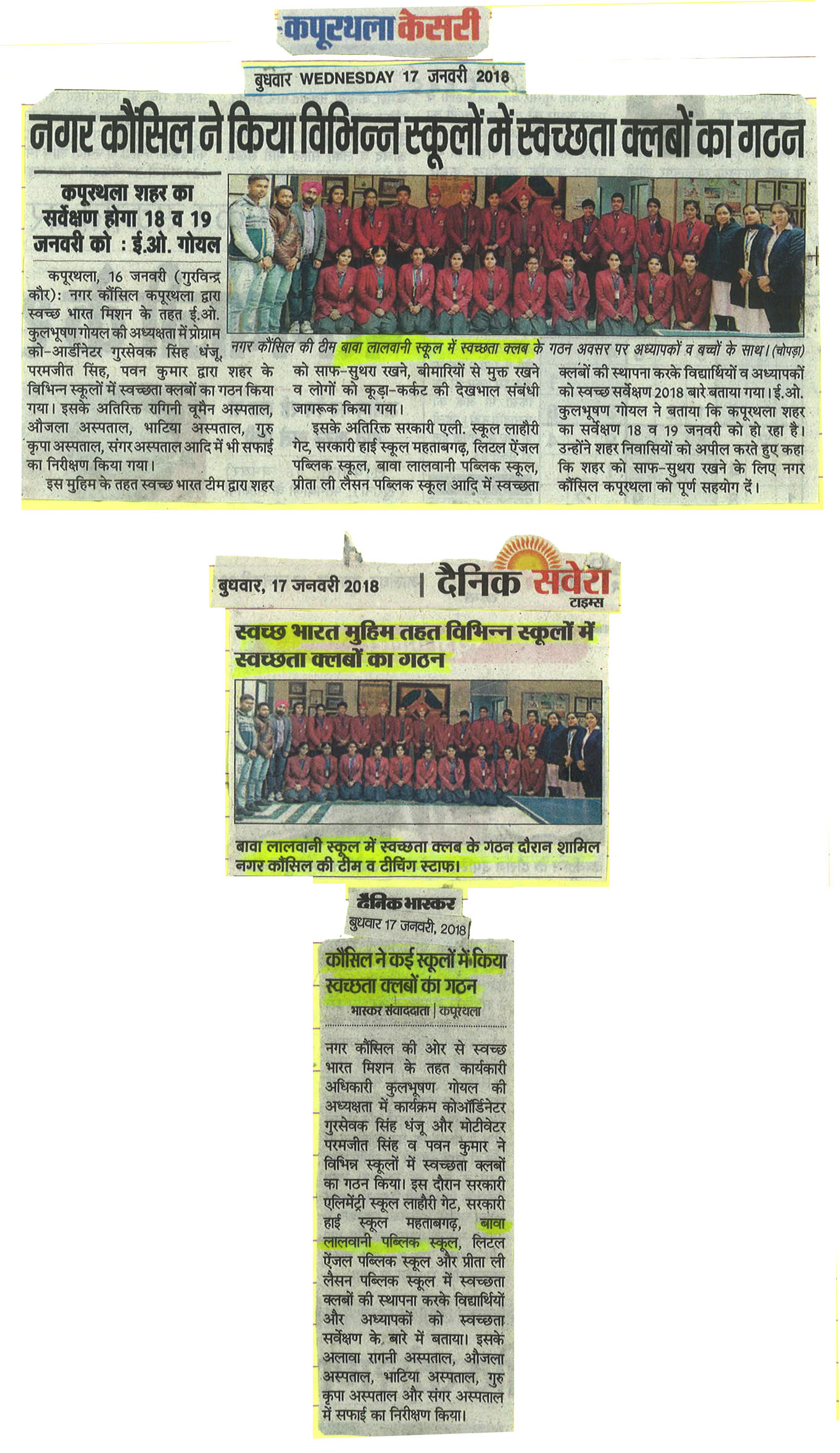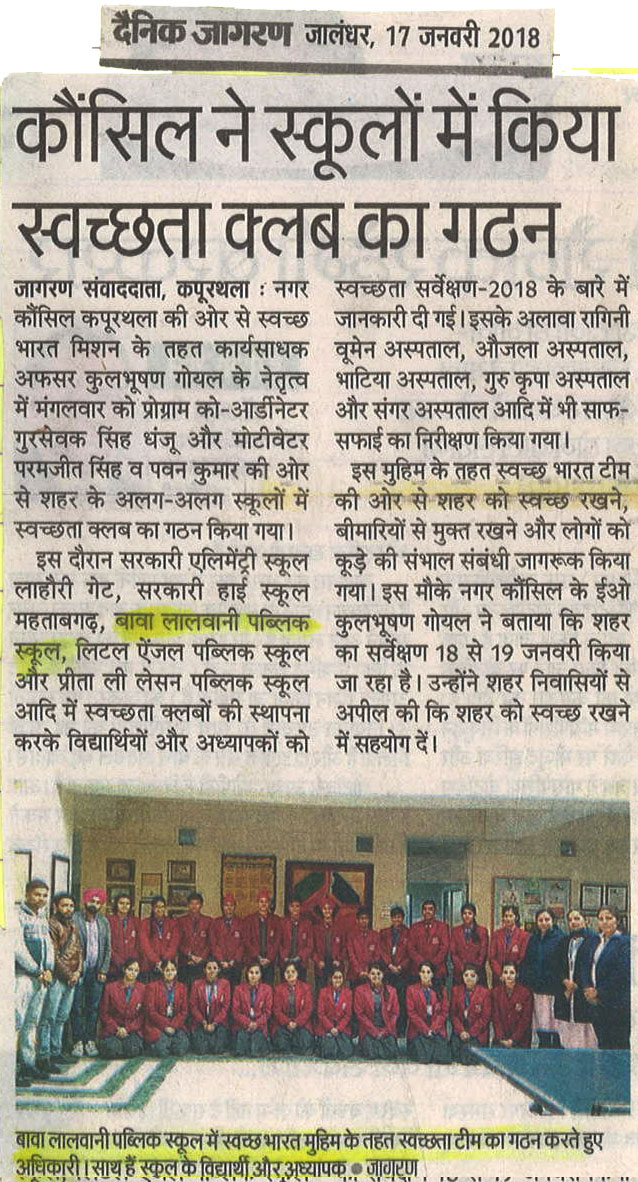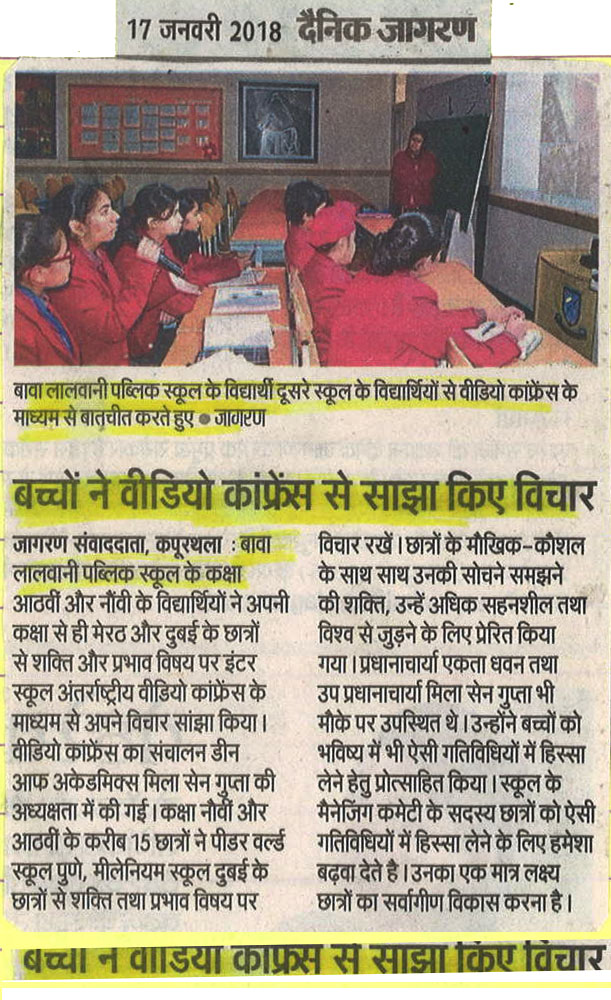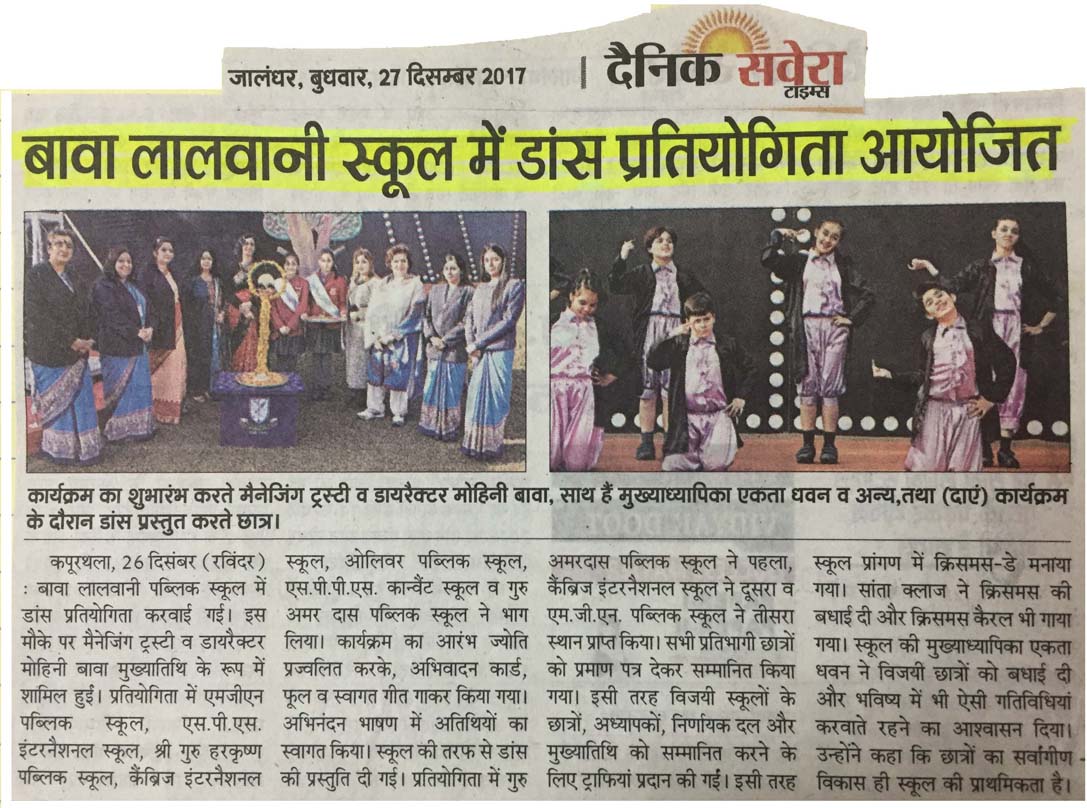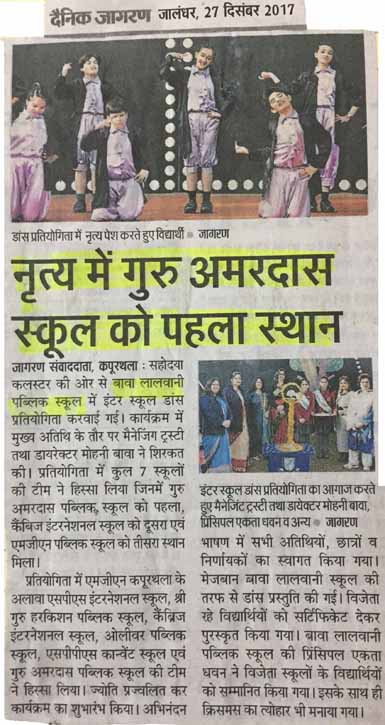 School hosted  an Inter School Group Dance Championship 2017 .The theme of the Group contest was " Rock the Floor" .The Top Honours at the contest were secured by  Guru Amar Das Public School Ucha Bet while Cambridge International secured second & MGN Public school clinched third position.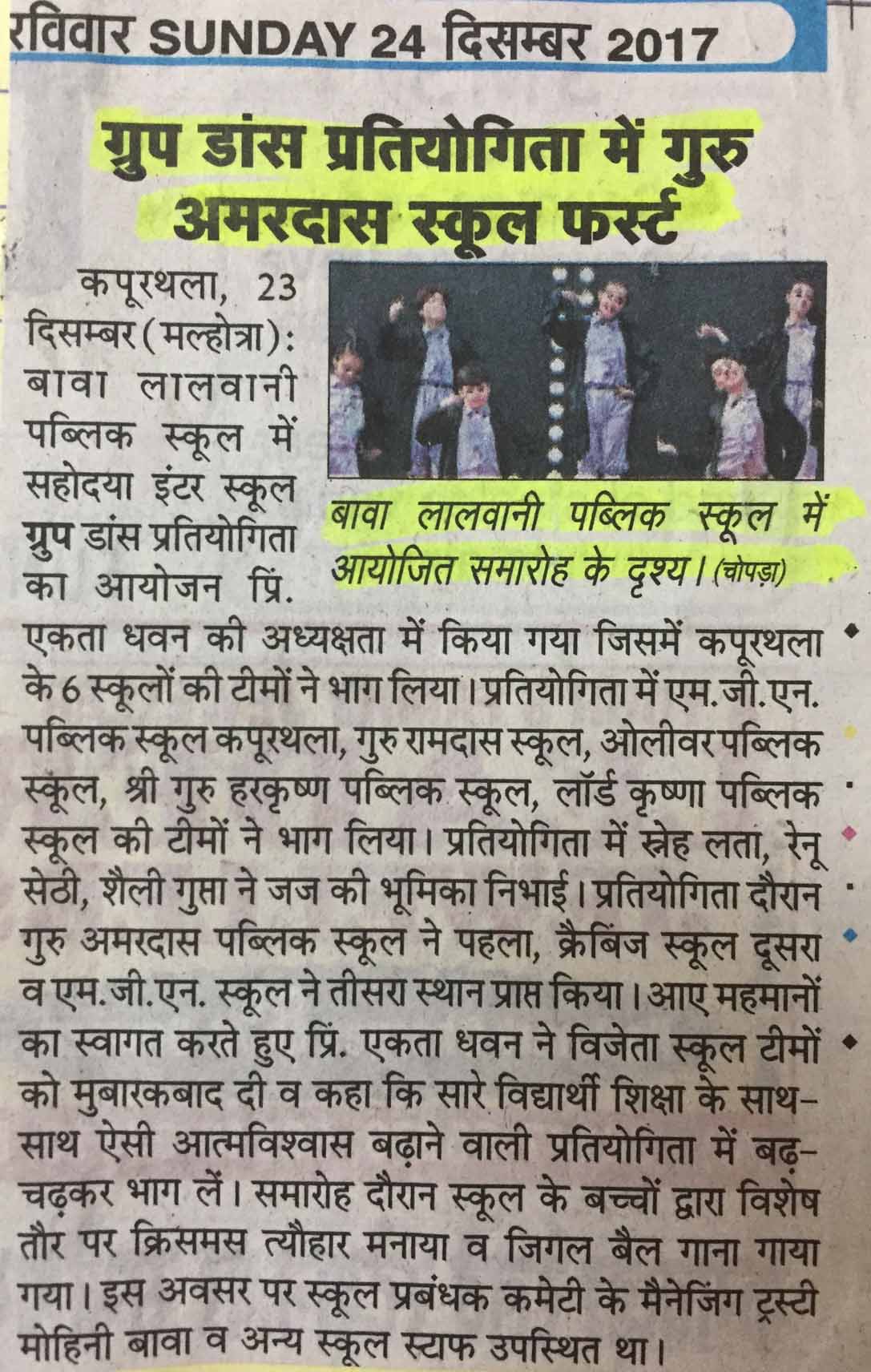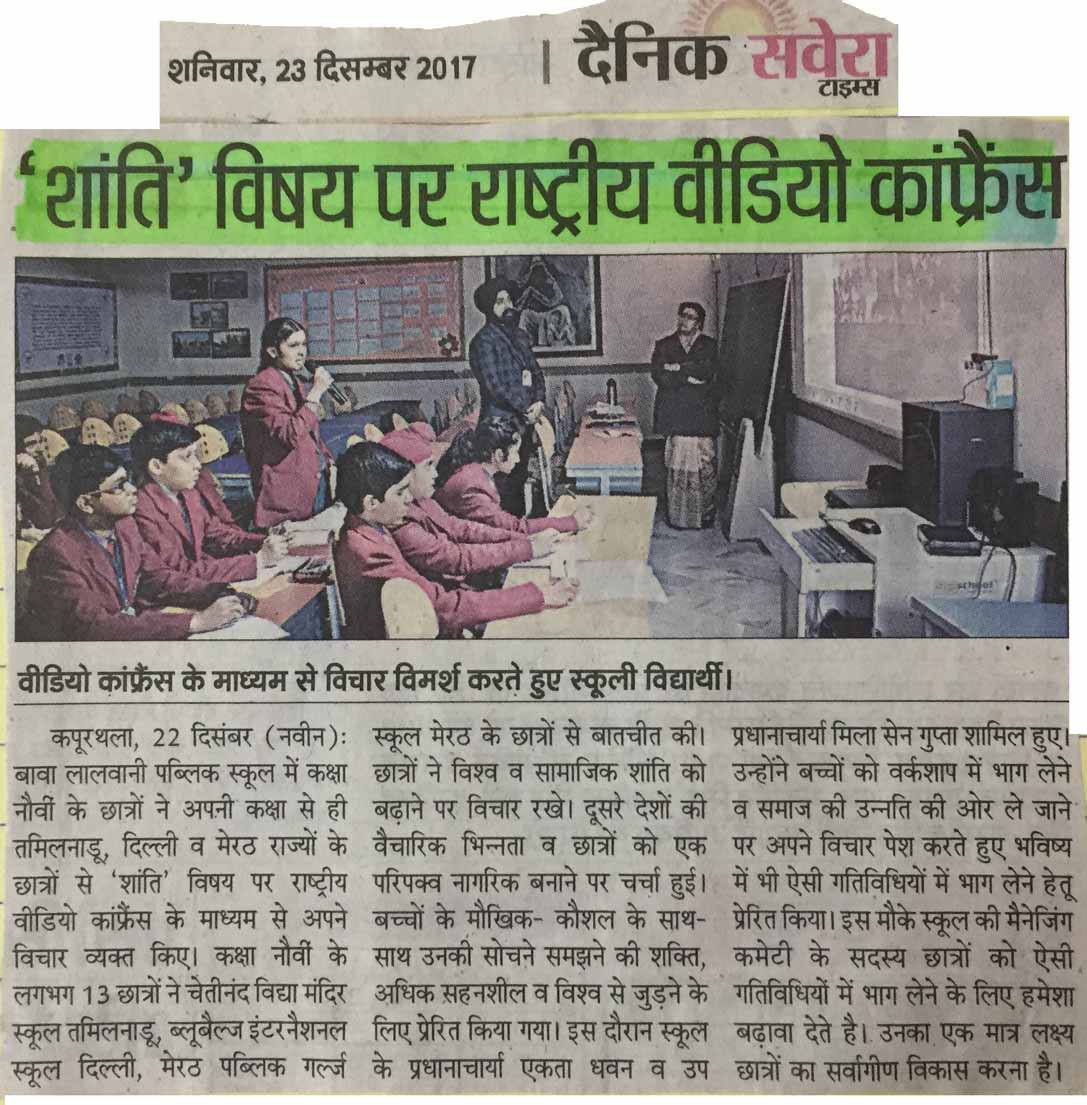 Our Team of 13 Students Studying in Grade VIII participated in an Inter School, National  

Video

 conference, The Students interfaced with Chettinad Vidya Mandir,Tamil Nadu)Bluebells School International, Delhi & Meerut Public Girls School , Meerut. The Conference deliberated on the Topic of "Peace".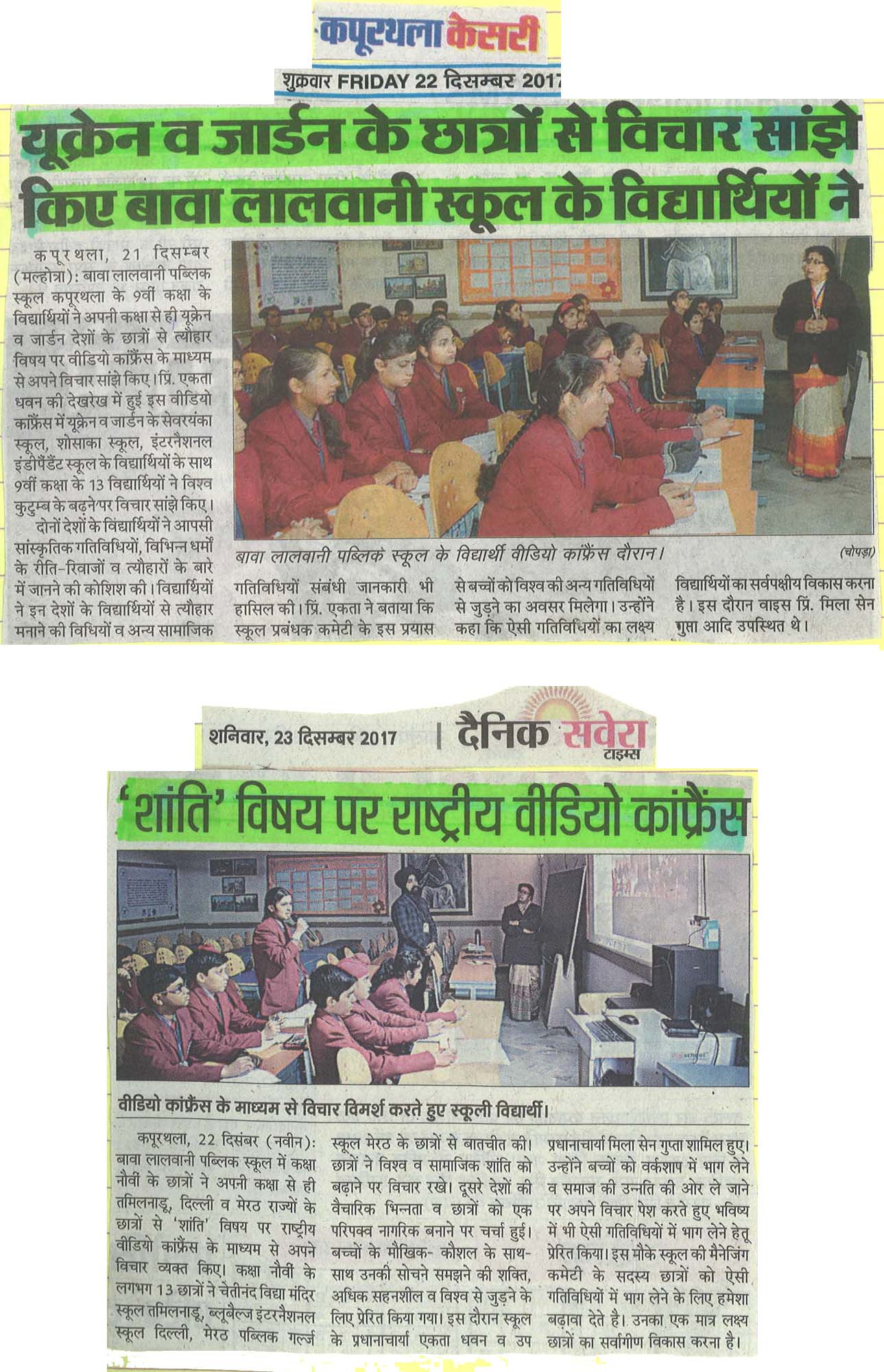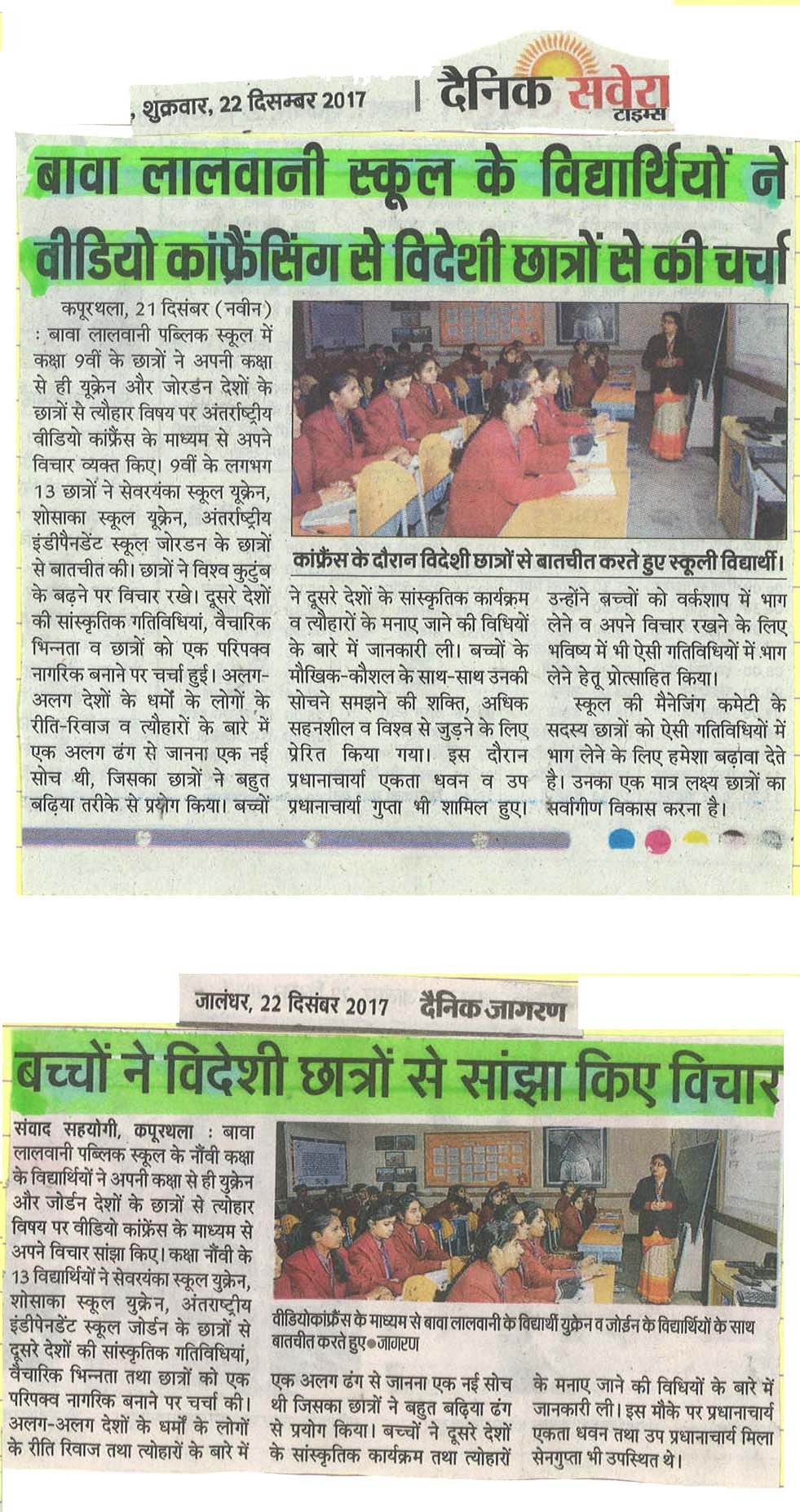 13 Students Studying in Grade IX  got an opportunity to put critical thinking skills into practice, explored the roots  culture -vide a  Video conferencing within the classroom with Severynka Secondary School, International Independent Schools ans Shostka School on the Topic- "Festivals".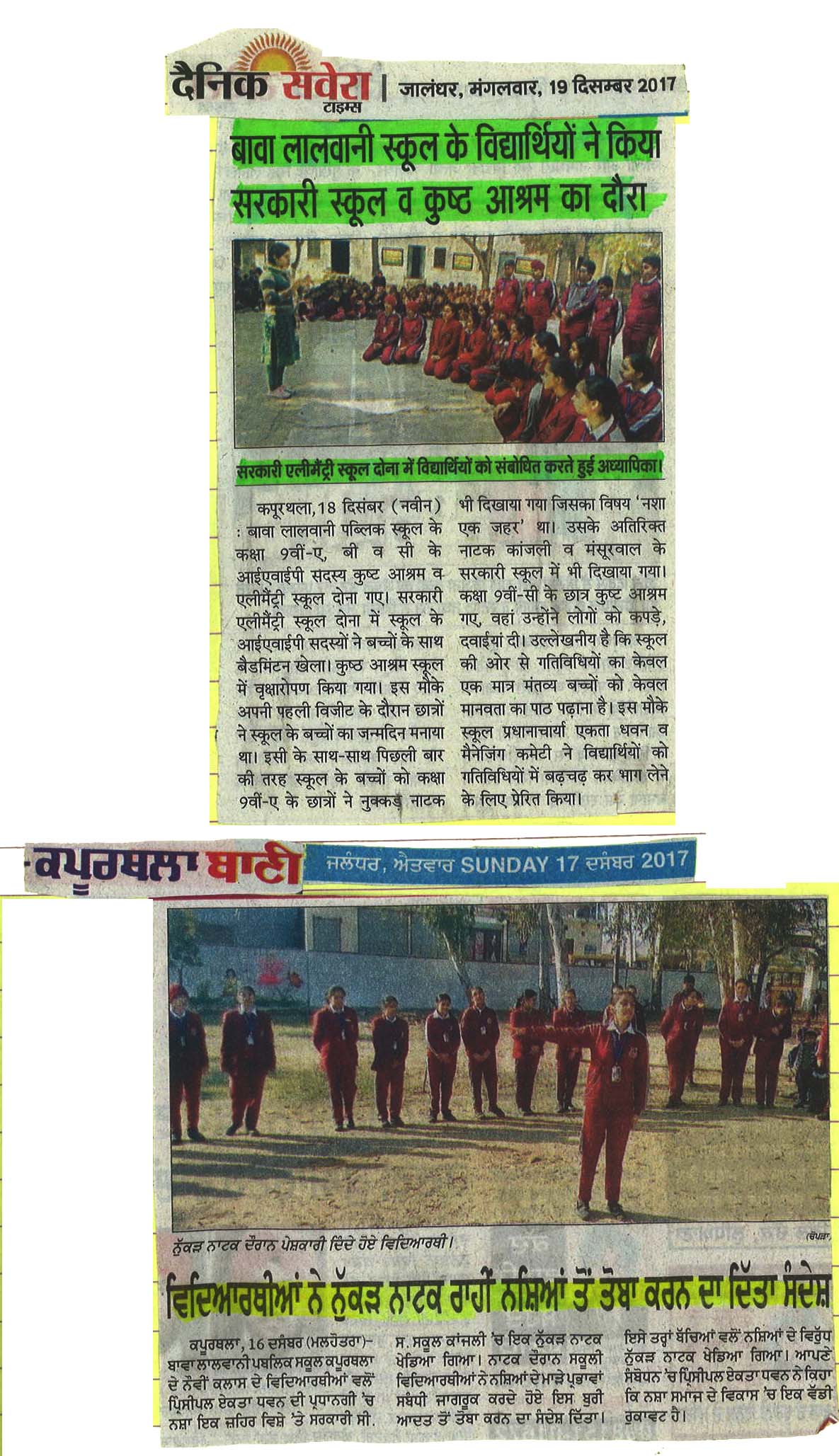 Students Studying in Std IX – Commendables pursing the IAYP / Duke of Edinburgh Bronze Award  visited Sultanpur Lodhi and performed Street Play titled " Drug Addiction"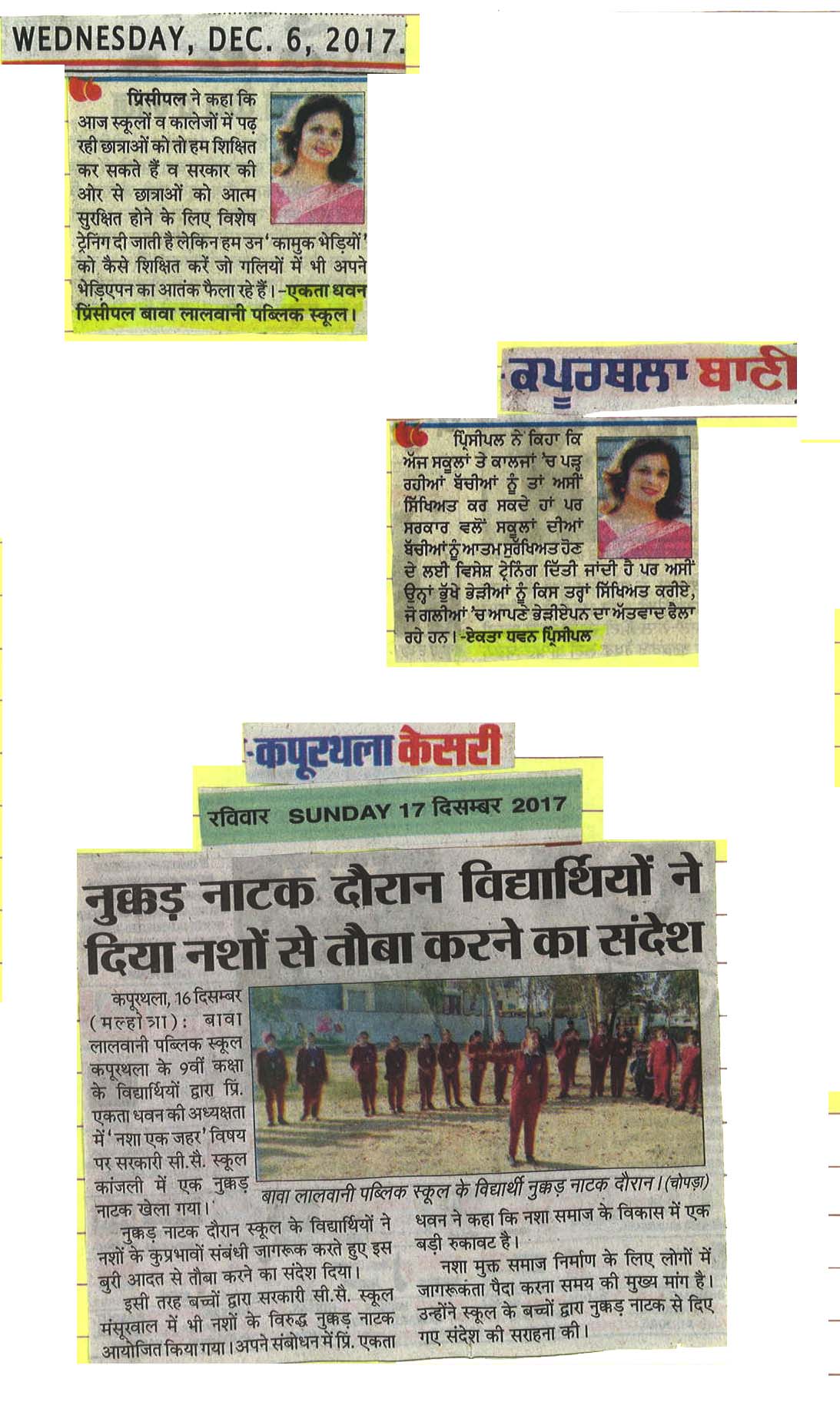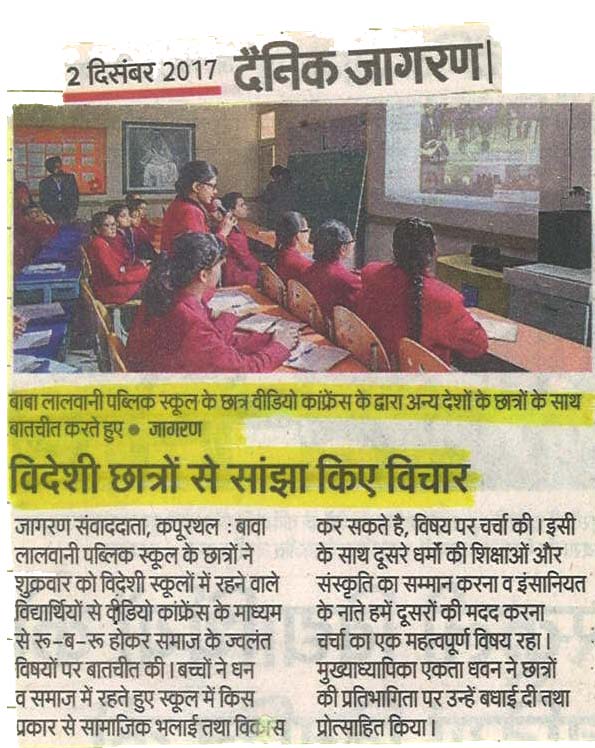 Students  participated in an International Video Conference  interacted with City Montessori School – Lucknow, Bloomfield Hall School,Lahore( Pakistan), Government Boys High School , Hazara (Pakistan). The Topic of the conference was "Wealth,Poverty & Charity".

---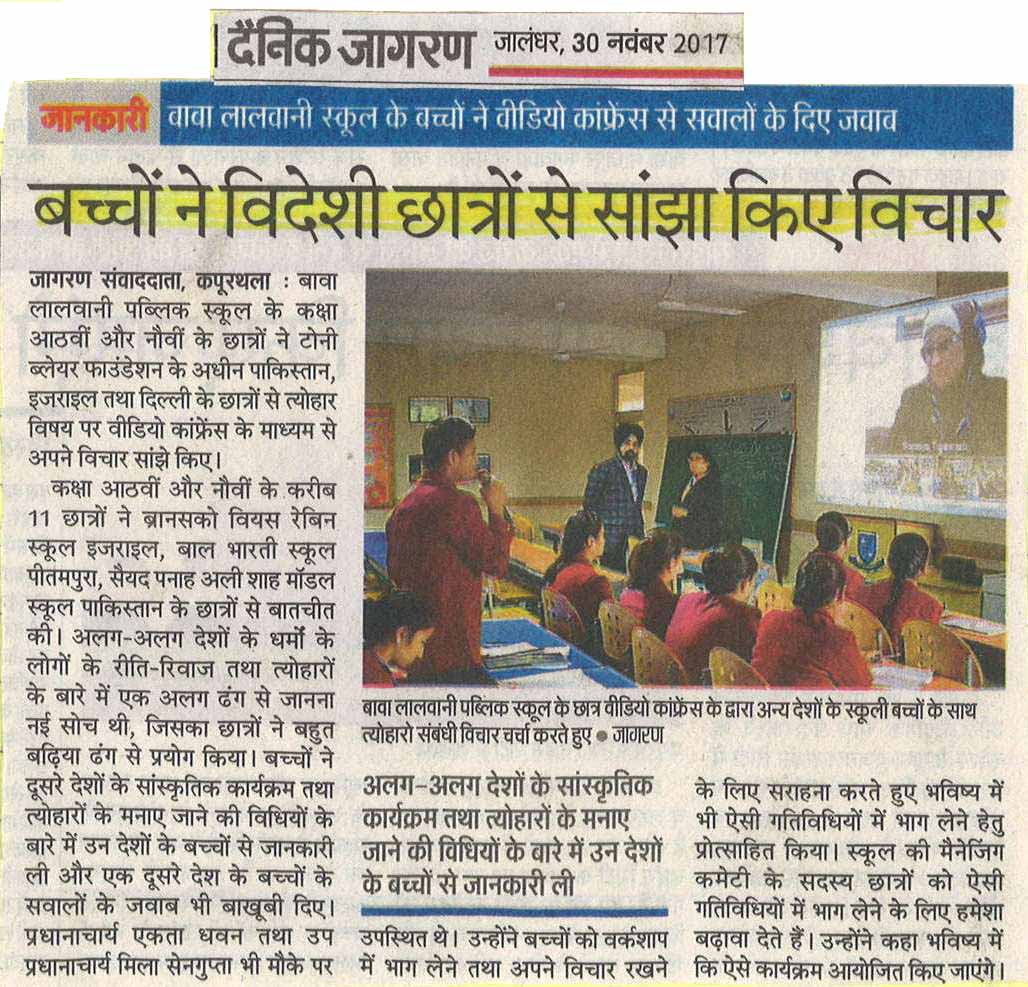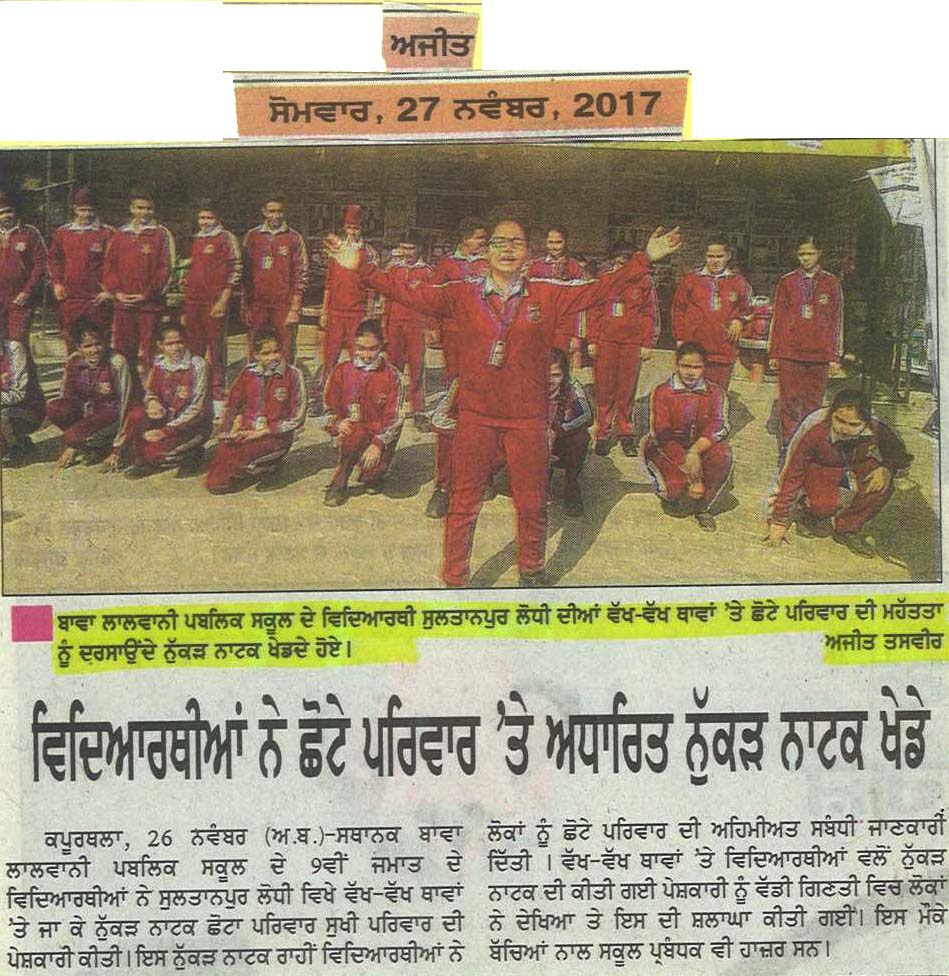 Students attempting The Duke of Edinburgh/ IAYP Award 2017 Bronze Category ,went on a community service to the village-Sulthanpur Lodhi & showcased street play titled-' small family'
Students Studying in Std IX – Commendables pursing the IAYP / Duke of Edinburgh Bronze Award  visited Sultanpur Lodhi and performed Street Play titled " Chota Pariwaar,Sukhi Pariwaar" to create awareness on the crucial topic- Family planning.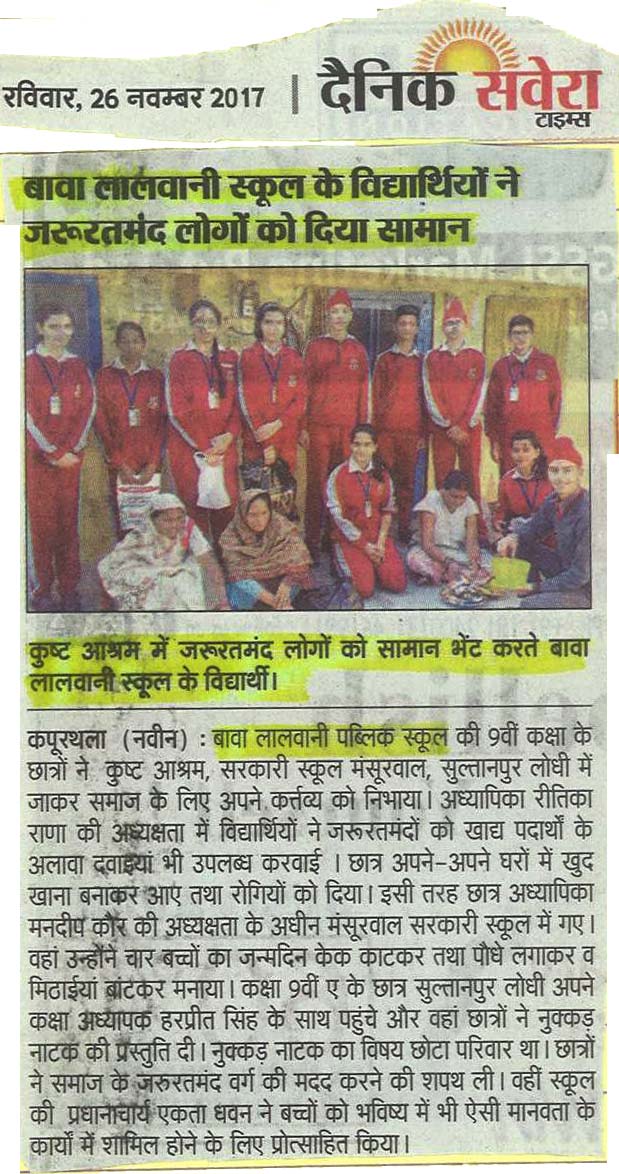 ---
As a part of the School's IAYP programme, Students studying in Std IX C offered sewa / service at the Leprosy Home (Khusht Ashram) in Kapurthala.
---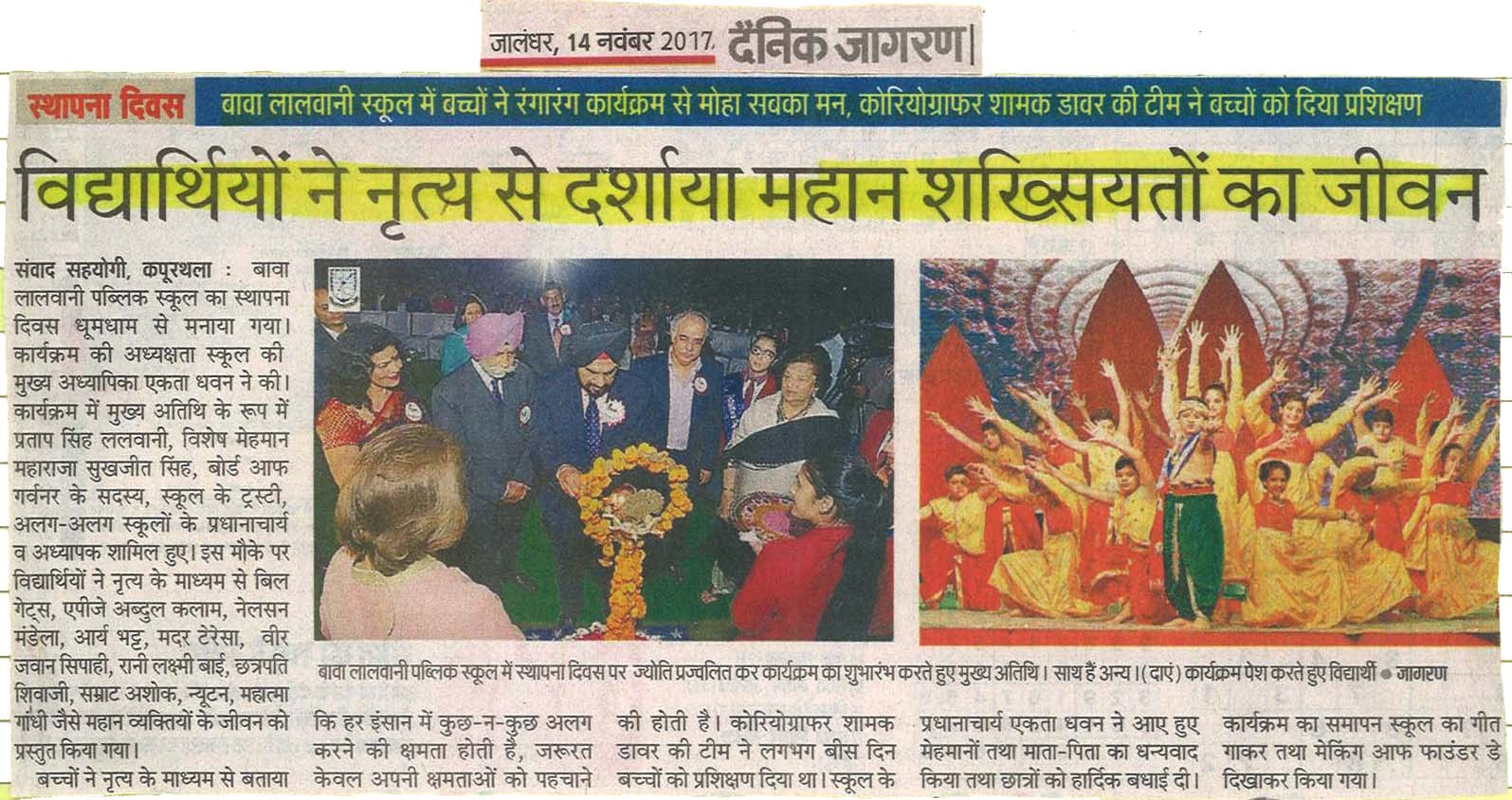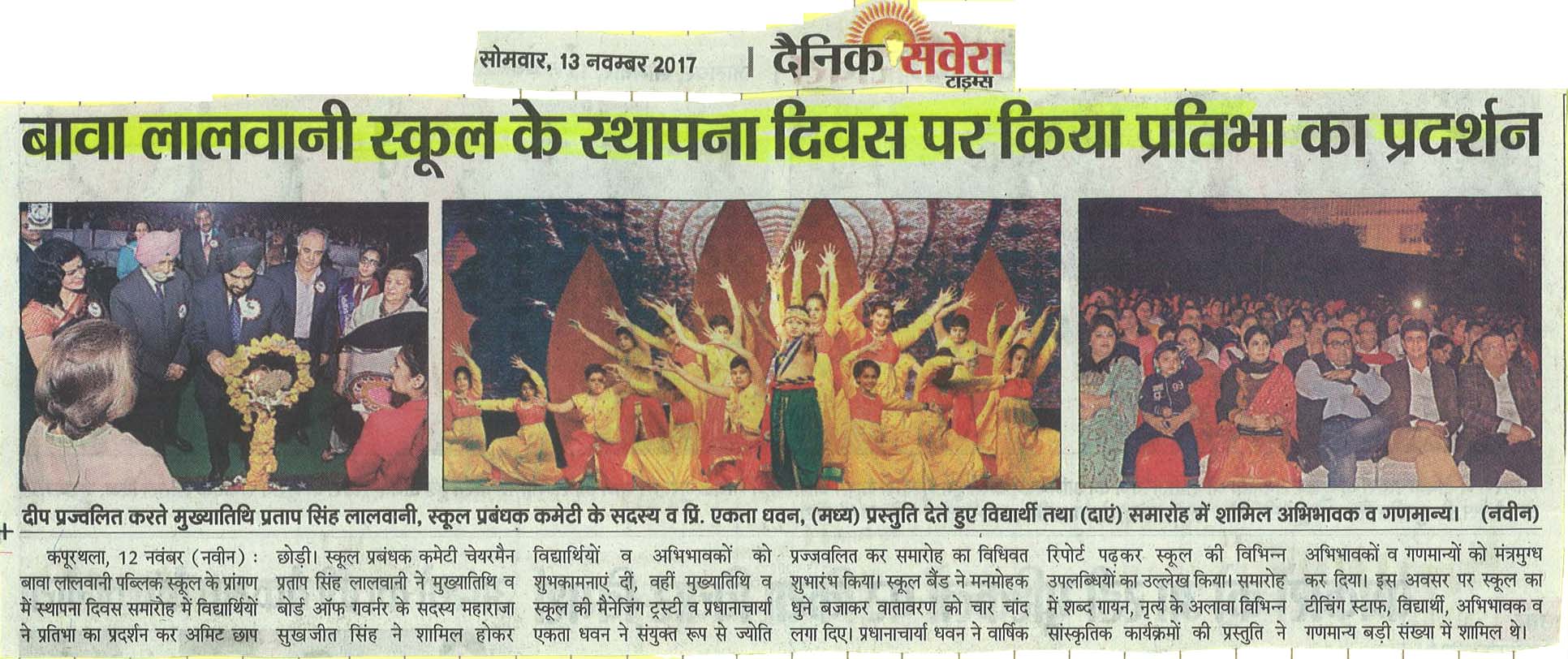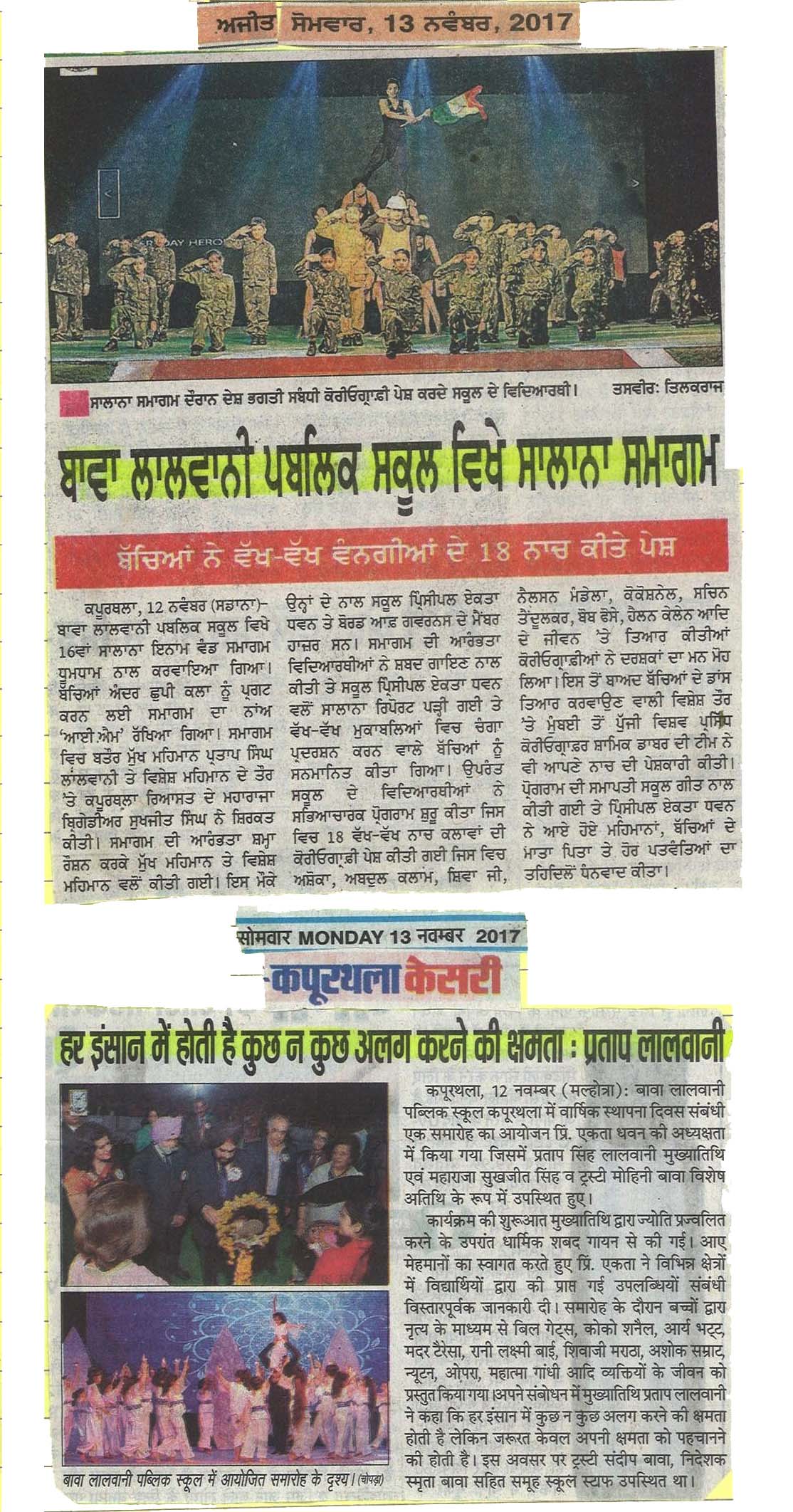 School celebrated it's 16th Founders Day on 11th November. A Ballet performance titled 'I AM'  performed by the students.
---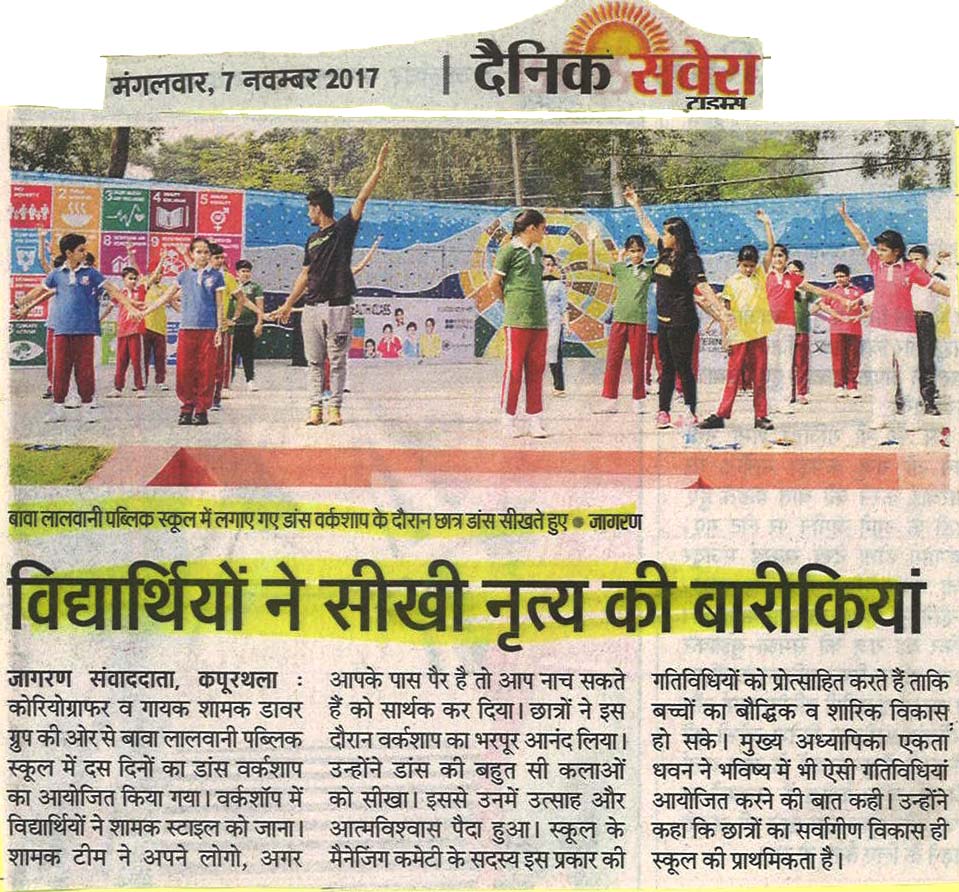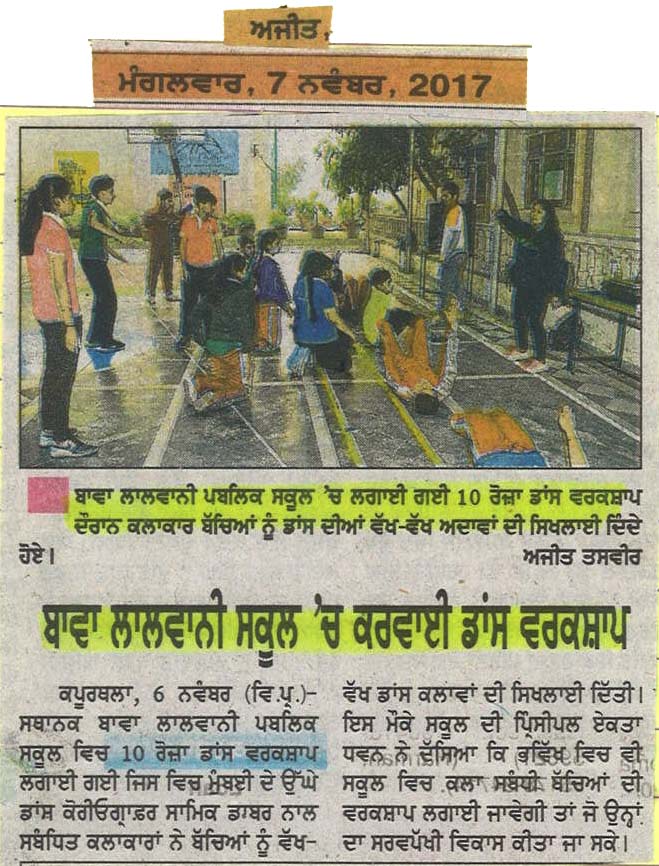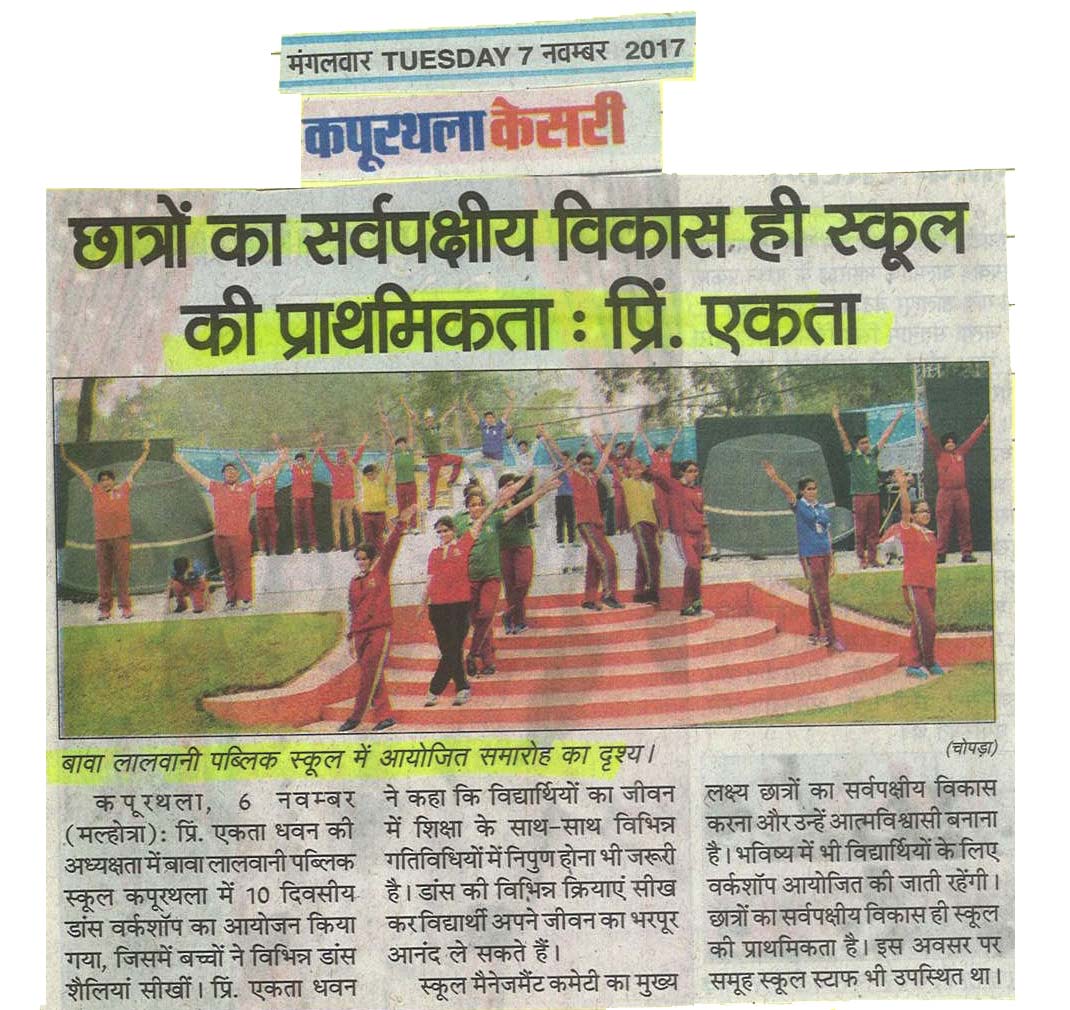 Shiamak Dance Education Workshop 2017 – Unique workshop organised in BLPS for Students of Grade I across XI  TO ACQUIRE A COMPREHENSIVE KNOWLEDGE OF DANCE AS AN ART FORM.
---
---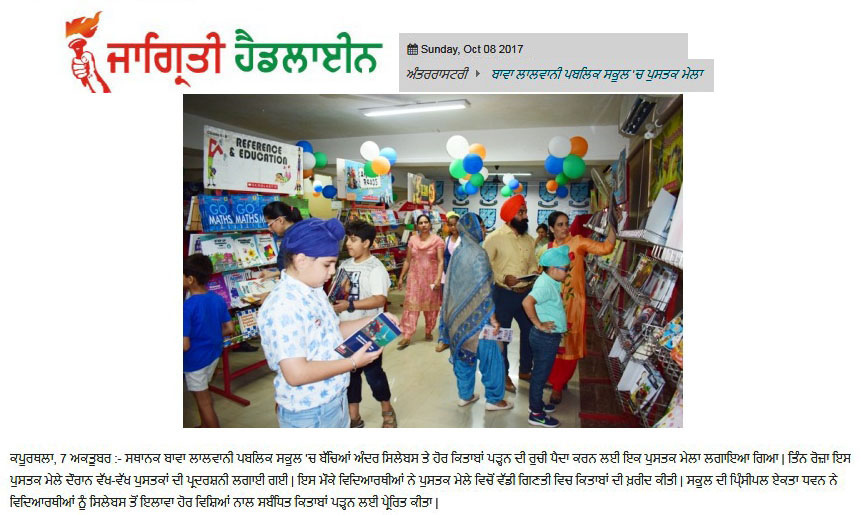 School hosted three-day long  Scholastic Book Fair to promote the habit of reading in the students, by offering children wide selection of books.
---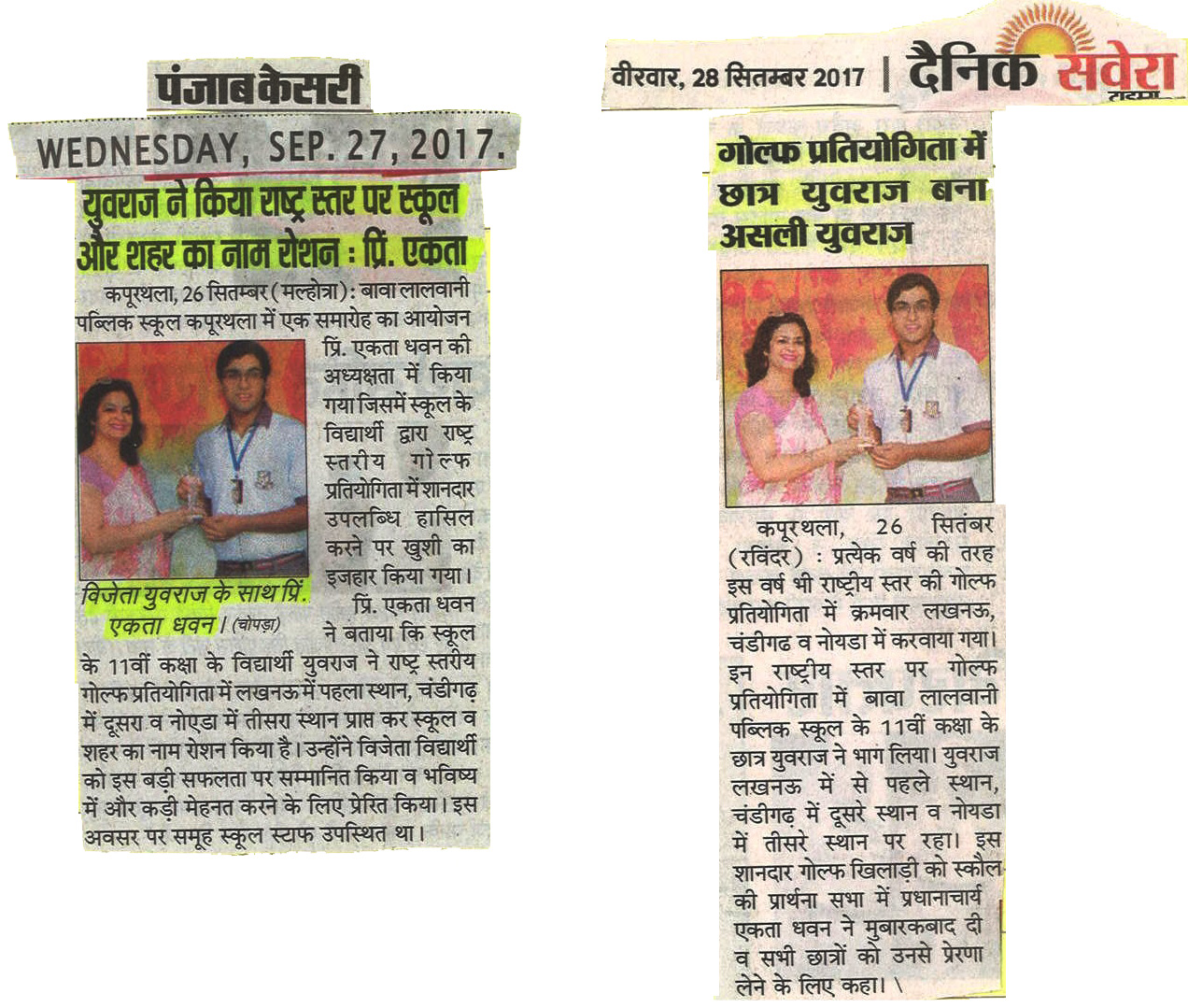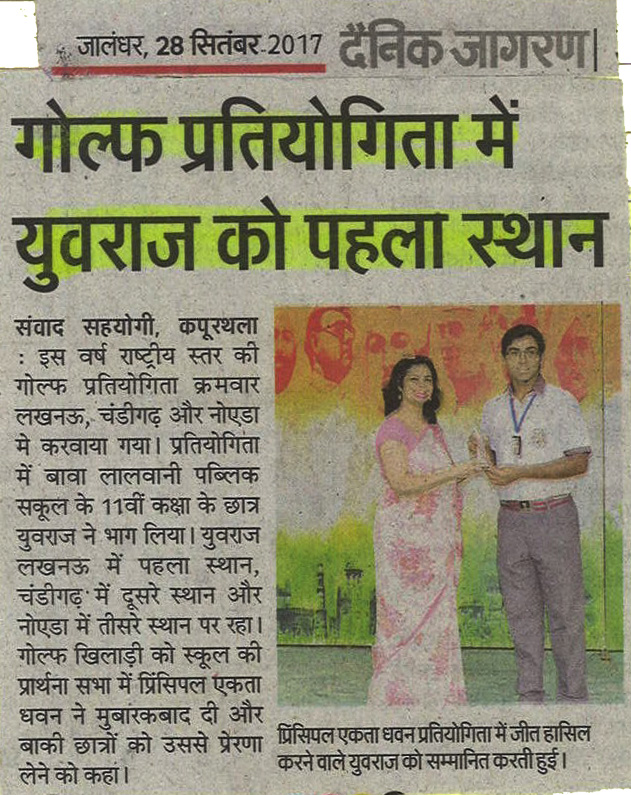 Our Student Master Yuvraj Singh,  successfully concluded sporting tour participating in the Indian National Junior Golf Championships 2017 by securing First position at Lucknow, Second at Chandigarh & Third position at Noida.
---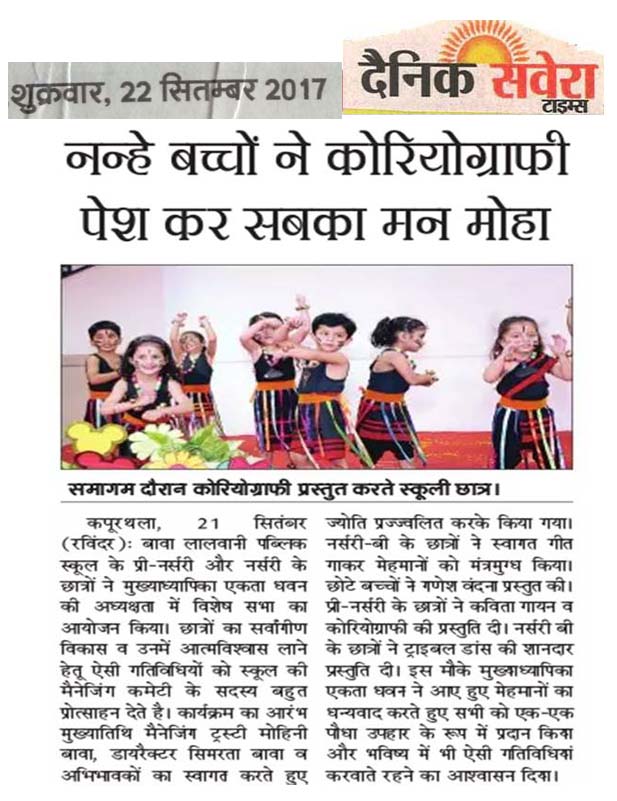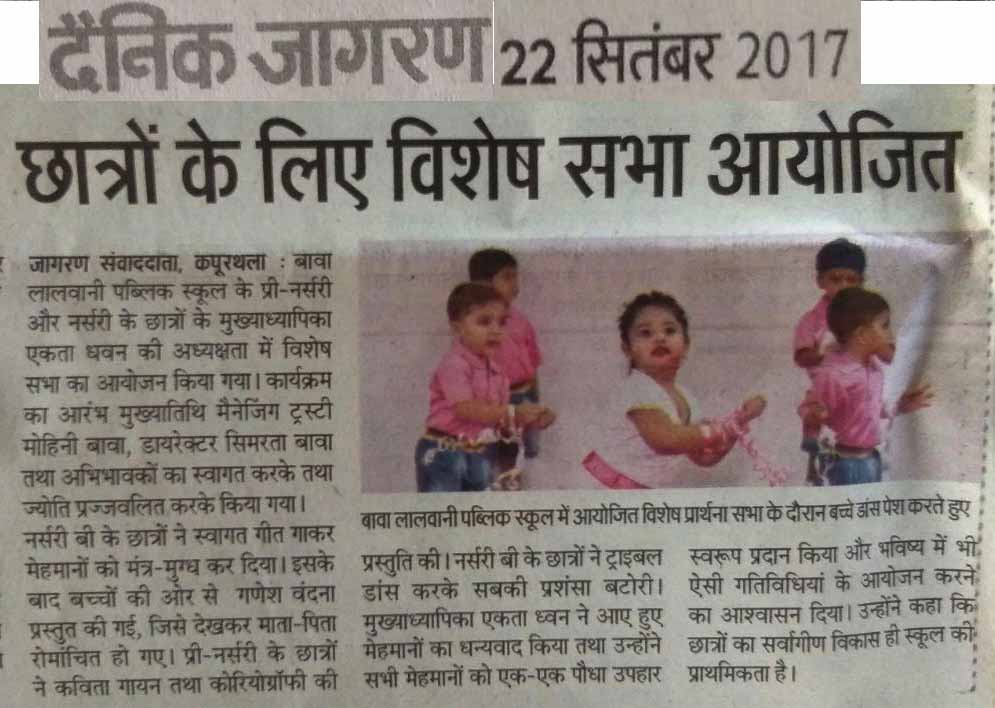 Students at the School Nursery participated in special Assembly followed by a special class enactment  of poems and solo performances. The Assembly event was dedicated to ' Plant a Tree' visiting Parents were encouraged to plant a Tree and were gifted saplings as the Assembly concluded! 
Dhairya Chopra student studying in Grade XII Blossoms participated in the Kapurthala District Badminton Championship 2017  ( under-19)  against R.C.F Sultanpur Distt. in the final. He successfully secured a Silver Medal!Congratulations!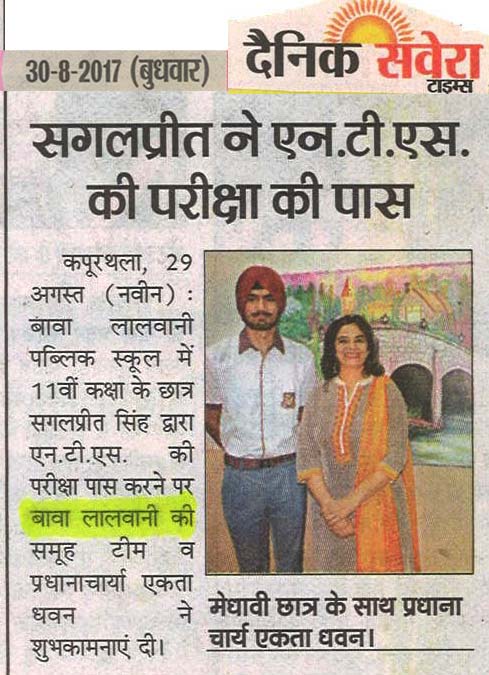 Our Student Sagalpreet Singh has successfully cleared the prestigious NTSE exam with Distinction and now he is a scholar.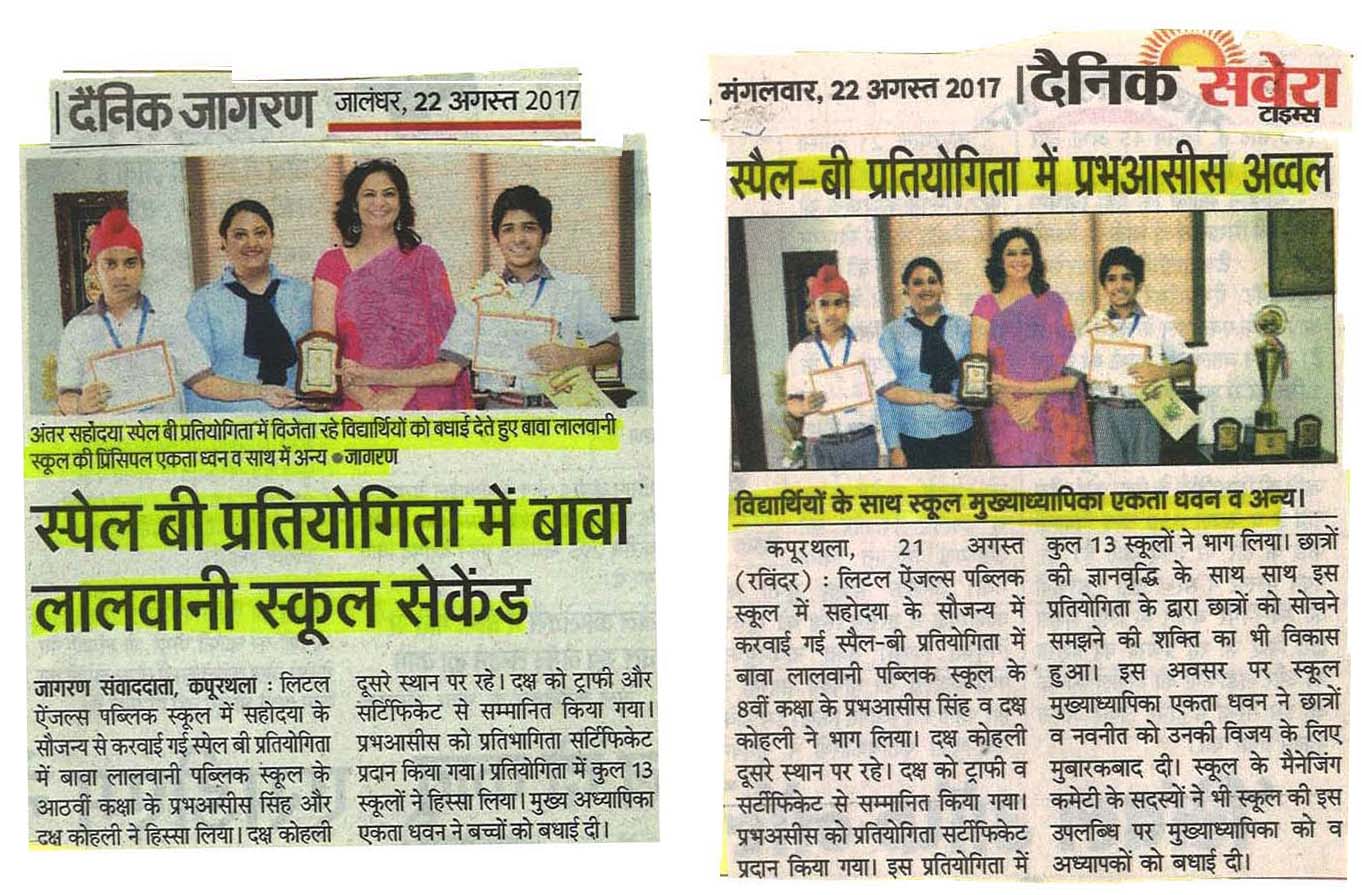 Our Students Daksh and Prabhasees ( Grade VIII Commendables ) participated in the Inter School Kapurthala Sahodhya Spell Bee Competition 2017.  Daksh bagged second Runner-up Trophy , whereas Prabhasses secured a certificate of participation.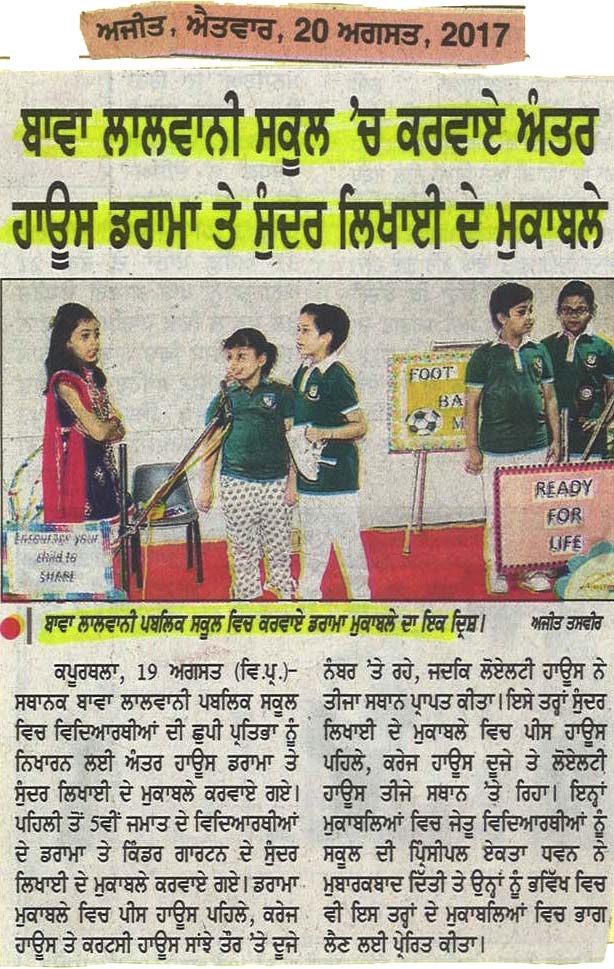 School conducted it's annual 'Inter- House Advertisement Enactment Competition & Handwriting Competition (Kindergartners) 2017'. The competition is considered to be an important educational experience.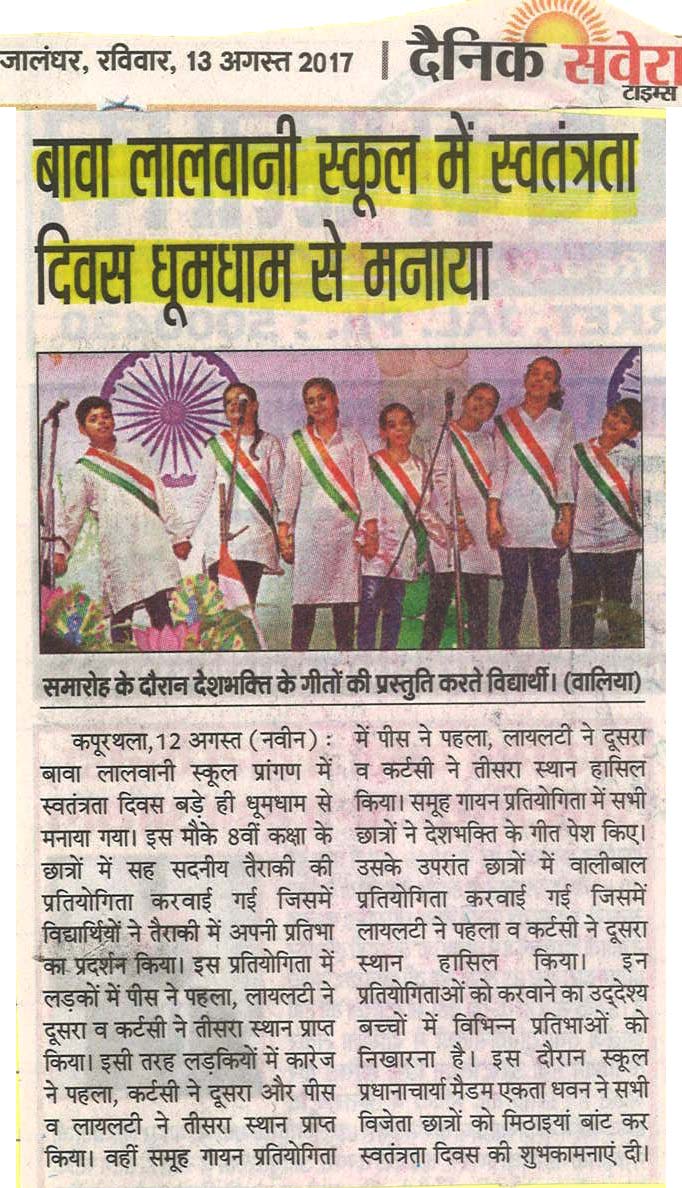 The 70th Independence Day was celebrated with great enthusiasm and patriotic fervor by putting up Inter- House Patriotic Group song Competition.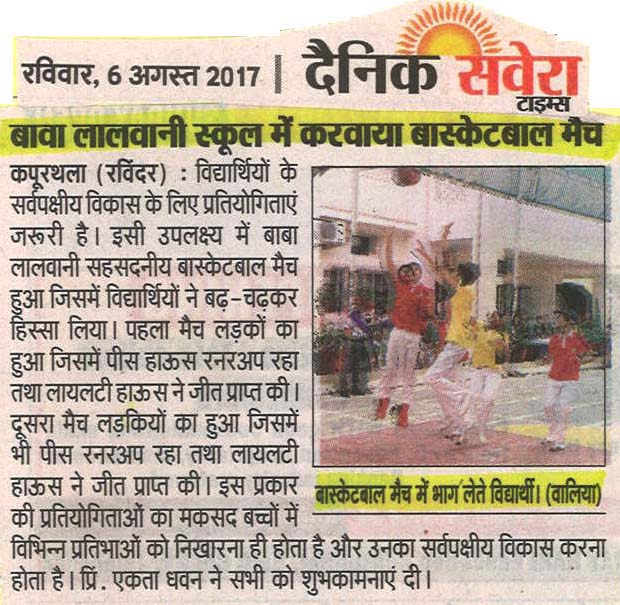 School conducted an Annual Inter-House Basket Ball Competition 2017 Dt:5-8-17. Loyalty House clinched the title by defeating Peace House by margin of 13 baskets (boys) & 26 baskets(Girls).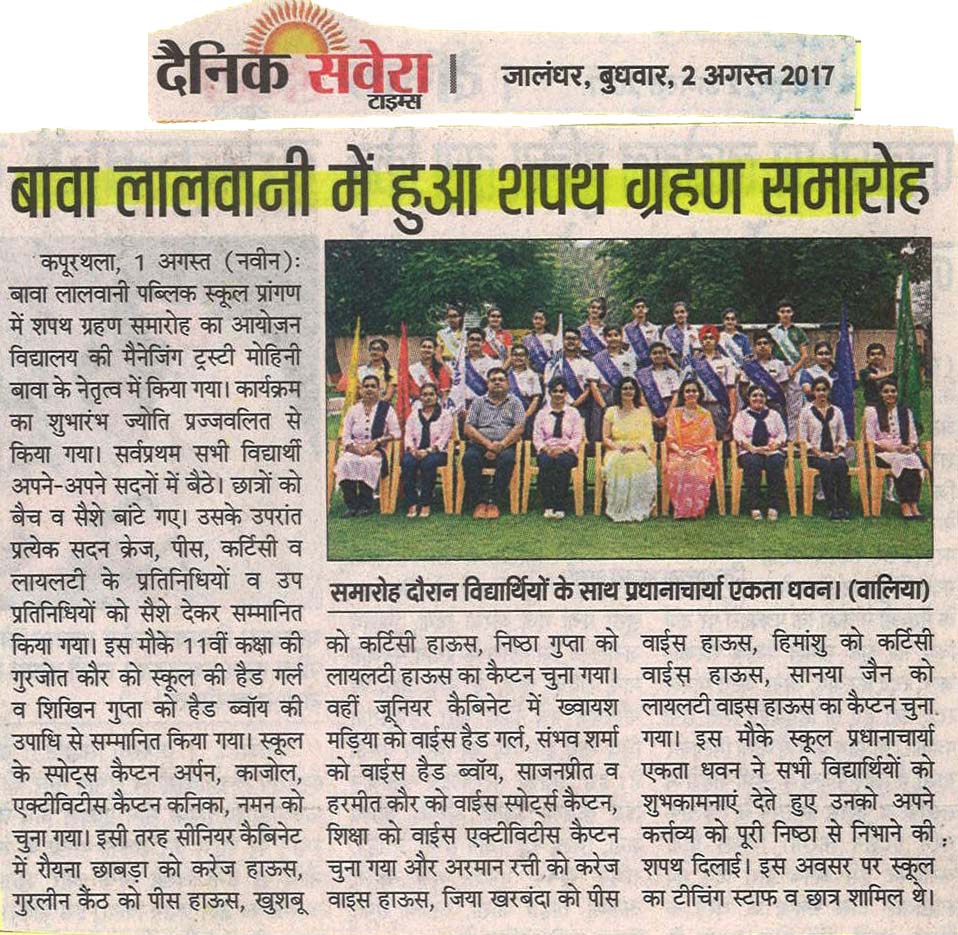 The school's Investiture ceremony marks the initiation of New Prefect's Cabinet in the Academic Calendar 2017-18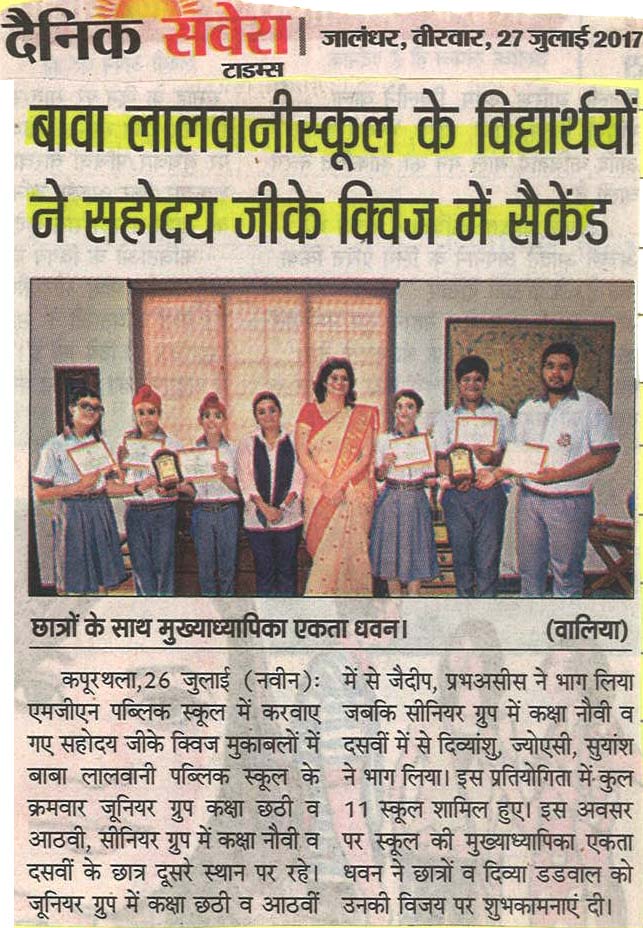 BLPS Students participated & secured Second position in Inter-School Quiz Competition.( Reportage Dt:25-7-17)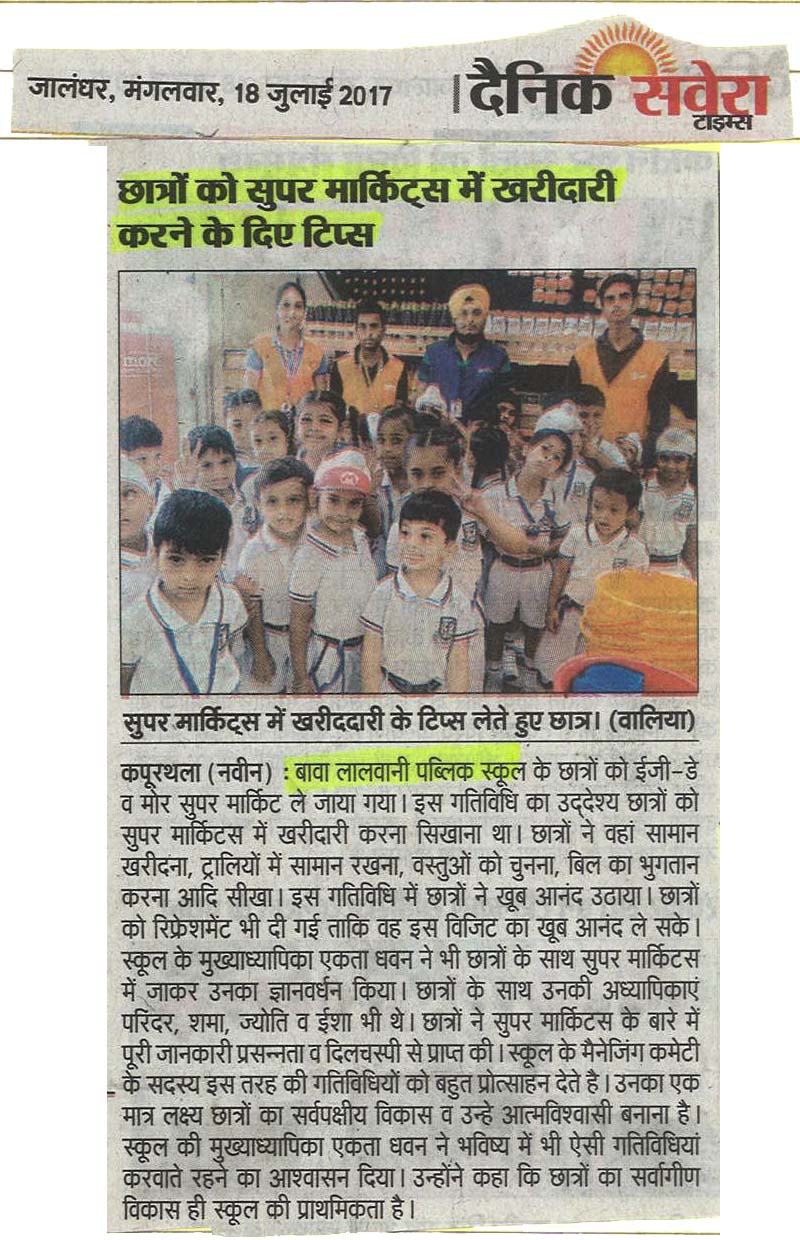 BLPS Kindergartners visited Supermarket(More & Easy Day) as part of a study trip.( Reportage Dt: 15-7-17)