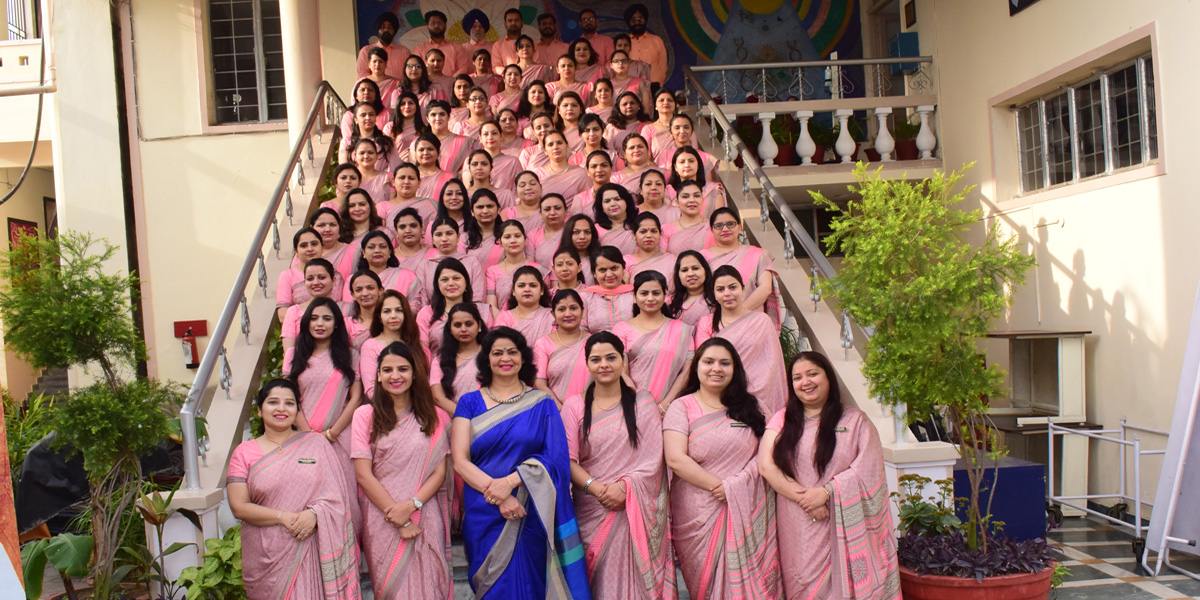 Team of Educators
 "Our Team of  Academic Staff represents competence, skill, dedication and sincerity."
Our Principal and her Team of Staff Members, work towards creating an awareness and respect for the tradition and culture of the region, and allow a synthesis of the best practices of other cultures for national bonding. The team strives to build a society where a child/student feels valued and develops an eminent sense of self-worth. School has a current staff strength of 120 which includes 60 teachers, 17 administrative staff members, auxiliary staff and four senior leadership team members. School attracts and retains highly qualified and dedicated staff. Amongst the teaching staff, there are 46 Post Graduate syllabus developers. 77% of our teaching staff holds a Master's degree with 8% of them holding double Masters degrees.
A robust, transparent and accessible continuous development programme  is in place for all members of staff. The school allocates time daily to this programme on an annual basis as it believes that staff is the school's most significant resource. The aim of the CDP is to ensure the constant upgrading of staff competencies and their alignment with international standards, a bi-annual performance appraisal system allows for ongoing review of standards and professional growth.
A collegial way of working, empathy, consistency in approach and maintaining high standards are the basic tenets of the HR practices followed at the School , which help in turn, to achieve and promote an environment of consistent high quality in learning and teaching. Staff employed at the school must meet the highest standards of responsible and respectful behaviour. A Staff Code of Conduct clearly outlines the behaviour that is expected of all staff in the performance of their duties and when interacting with wider community. Staff members are accountable to students and their families, colleagues and the wider community.
Academic Staff
KG Wing
| | | |
| --- | --- | --- |
| Name of the Teacher | Employee Code | Designation |
| Ms. Amritpal Kaur |  695 | KG Wing Coordinator |
| Ms. Amarpreet Kaur |  1023 | KGT |
| Ms. Anamika Gupta |  1223 | KGT |
|  Ms. Isha Kashyap |  858 | KGT |
|  Ms. Arshdeep Kaur |  887 | KGT |
|  Ms. Anu Sagar |  1087 | KGT |
|  Ms. Ruby |  1140 | KGT |
|  Ms. Sannia Gulati |  1034 | KGT |
|  Ms. Deep Shikha |  1184 | KGT |
|  Ms. Lucky Sharma |  1128 | KGT |
|  Ms. Jaswinder Kaur |  428 | KGT |
|  Ms. Rupinder Kaur |  1021 | KGT |
|  Ms. Chand Arora |  1097 | KGT |
|  Ms. Bharti |  1167 | KGT |
|  Ms. Priyanka |  1208 | KGT |
|  Ms. Mandeep Kaur |  1062 | KGT / PRT |
|  Ms. Meenu |  1224 | KGT |
|  Ms. Reena Rani |  1226 | KGT |
PRT Staff
| | | |
| --- | --- | --- |
| Ms. Nidhi Sachdeva |  1011 | Coordinator Grade IV – VI |
| Ms. Manpreet Kaur |  771 | PRT |
| Ms. Rachita Garg |  1204 | PRT |
| Ms. Mandeep Kaur |  1072 | PRT |
| Ms. Divya |  1076 | PRT |
| Ms. Amardeep Kaur |  1143 | PRT |
| Ms. Harpreet Kaur |  1120 | PRT |
| Ms. Shivani |  1159 | PRT |
| Ms. Sonia Walia | 1205 | PRT |
| Ms. Reema Rani | 1211 | PRT |
| Ms. Rajneet Kaushal | 477 | PRT |
| Ms. Dixit Sood | 1210 | PRT |
| Ms. Harjinder Kaur | 1100 | PRT |
| Ms. Natasha | 1141 | PRT |
| Ms. Sonal Sharma | 1187 | PRT |
| Ms. Rachita Garg | 1204 | PRT |
| Ms. Sonia Walia | 1205 | PRT |
| Ms. Renu Bala | 1209 | PRT |
| Ms. Archana Sekhri | 1156 | PRT |
| Ms. Sonia Saini | 1216 | PRT |
| Ms. Charanjeet Kaur | 1228 | PRT |
| Ms. Lovepreet Kaur | 1213 | PRT |
| Ms. Neha Chopra | 1148 | PRT / KGT |
| Ms. Ram Singh |  1219 | Music Teacher |
| Ms. Preeti Nanda |  467 | Art & Craft Teacher |
| Mr. Navneet Saini |  1045 | PTI/Swimming Coach |
| Ms. Slomi |  1024 | Swimming & Yoga Instructor |
TGT Staff
| | | |
| --- | --- | --- |
| Ms. Priyanka Malhotra |  1032 | Coordinator Grade VII – IX, |
| Ms. Neha Khanna |  421 | TGT – Activity Coordinator & Assembly Incharge |
| Ms. Pooja Gautam | 837 | TGT |
| Ms. Harleen Kaur |  1066 | TGT |
| Ms. Avinash Bharti | 971 | TGT |
| Ms. Sonil Priya | 1002 | TGT |
| Ms. Parveen Kaushik | 867 | TGT |
| Ms. Jaspreet Kaur | 1206 | TGT |
| Ms. Harpreet Kaur | 1070 | TGT |
| Ms. Ritu Arora | 1136 | TGT |
| Ms. Shaminder Kaur | 838 | TGT |
| Ms. Pooja Malhotra | 1124 | TGT |
| Ms. Semi | 1234 | TGT |
| Ms. Vandana Bhalla |  972 | TGT / PRT |
| Ms. Radhika Chawla |  1094 | TGT |
| Ms. Gurjeet Kaur |  884 | TGT |
| Ms. Mahima Bhatia |  1202 | TGT |
| Ms. Mamta Sharma |  1217 | TGT |
| Ms. Veena Kumari |  1110 | TGT / PGT |
| Mr. Vinod Kumar | 1160 | TGT / PGT |
| Mr. Raghav Kapoor |  1181 | TGT / PGT |
| Ms. Harleen Kaur |  1004 | Dance Teacher |
PGT Staff
| | | |
| --- | --- | --- |
| Ms. Seema Dada |   1149 | Coordinator Grade X – XII |
| Ms. Jagjeet Kaur |  899 | PGT |
| Ms. Nitika Monga |  819 | PGT |
| Ms. Mandeep |  1075 | PGT |
| Ms. Srishty Sharma |  878 | PGT |
| Ms. Kanwalpreet Kaur |  832 | PGT |
| Mr. Gursimran Singh |  1162 | PGT |
| Mr. Simranjeet Singh |  1131 | PGT |
| Ms. Nidhi Kapoor |  992 | Exam Cell |
| Ms. Reeta Gaba |  1113 | PGT |
| Ms. Silky Sharma | 928 | PGT |
| Ms. Meenakshi Shukla |  1078 | PGT |
| Mr. Harpreet Singh |  898 | PGT |
| Ms. Arti Puri | 973 | PGT |
| Ms. Mamta Sharma | 973 | PGT |
| Ms. Shriya | 1217 | PGT |
Special Instructors
| | | |
| --- | --- | --- |
| Ms. Radha | 1138 | Dean of Academics (Grade I-VI) |
Administration Staff
| | | |
| --- | --- | --- |
| Name     |  Employee Code | Designation |
| Mr. Sanjiv Singh Bawa |  682-A | School Administrator |
| Ms. Simrita Singh |  001 | HR Director |
| Ms. Ekta Dhawan |  818 | Principal |
| Mr. Nirmal Singh |  657 | Transport Supervisor and Security |
| Mr. Parshotam Duggal |  725 | Hardware/ICT Incharge |
| Ms. Vijay Kumari |  829 | Accounts Officer Cum Store Auditor |
| Ms. Spardha |  1031 | EA to Principal |
| Ms. Ashish Kumar |  895 | Records Officer |
| Ms. Sarbjit Kaur |  1099 | Records Officer |
| Mr. Surjit Singh |  1169 | Store Incharge |
| Ms. Bandana Rani |  1053 | Staff Nurse |
| Ms. Sumita |  1214 | Staff Nurse |
| Ms. Satinder Kaur |  823 | Front Office Incharge |
| Ms. Hardeep Kaur |  1203 | Office Assistant |
| Ms. Amaninder Kaur |  1215 | PRO |
| Ms. Rekha Verma |  572 | Junior Library Incharge |
| Ms. Jyoti |  1207 | Office Assistant |
| Mr. Avtar Singh |  927 | Education Instructor & Gen Supervisor |
| Mr. Charandeep Singh |  1115 | Social Media Anchor |
| Ms. Manjinder Kaur |  1112 | Senior Library Incharge |
| Ms. Swapna Sharma |  1161 | Office Assistant |
| Mr. Mann Singh |  1125 | Transport Service and Facility Supervisor |
| Mr. Jagjeet Singh |  1218 | Administration Officer |
| Mr. Sarvjeet Singh |  651 | Campus Supervisor |