Chairman's Message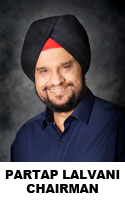 At Bawa-Lalvani Public School we aim to develop responsible global citizens and leaders by providing a world-class education, rooted in its Secular Indian heritage and values, for a diverse group of students, especially for families in Kapurthala and adjoining villages, in a contemporary and pleasant environment.
Bawa-Lalvani Public School believes that education transforms lives, and that transformed people can make a difference in their societies and in the world by working for tolerance, understanding, justice, equality and compassion. Living and learning in a diverse community allows us to recognise our common humanity and promotes practical understanding. We believe that traditional Indian ideals, values and faith are a solid foundation for life and that among other things these ideals and values encourage a sense of responsibility for ourselves, for one another, and for the world.
Our values are common to many other educational institutions: the development of moral character, self-esteem and a sense of responsibility; the fulfillment of academic and leadership potential; critical, analytical and independent thinking; well-rounded, balanced and healthy living; appreciation for what is true, good and beautiful in one's own and other cultures. We believe that Bawa -Lalvani Public School provides a physical, social and spiritual environment in which these values can be more than just words, but can become part of the lives of our students.